New Restaurant Alert: Orange Whisk at Aguirre Avenue, Parañaque
Savory and sweet fare marry in this homey restaurant.
Orange Whisk
162 Aguirre Avenue, BF Homes, Parañaque City
Contact: 738-7627
Open from 11 a.m. to 2 p.m. and 6 p.m. to 10 p.m. (Sunnday to Thursday); 11 a.m. to 2 p.m. and 6 p.m. to 2:30 a.m. (Friday to Saturday)
(SPOT.ph) Korinne Lirio insists that Orange Whisk's kare-kare has a special, secret ingredient. The dish, which is topped with their specialty bagnet, is more creamy than saucy: a nutty lather over eggplant, greens, and resiliently crunchy Ilocos-style pork belly where a bubbly coat of golden skin covers tender fat-laced meat. She racks her brain, the answer on the tip of her tongue.
ADVERTISEMENT - CONTINUE READING BELOW
Her fiancé, Isaiah, walks out of the kitchen. "What secret?" he asks, perturbed. "All the dishes have a secret. The secret is everything has to be tasty."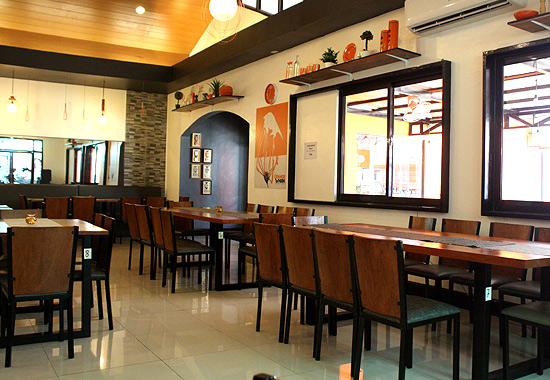 It used to be an events space, hence the high ceilings and built-in kitchen.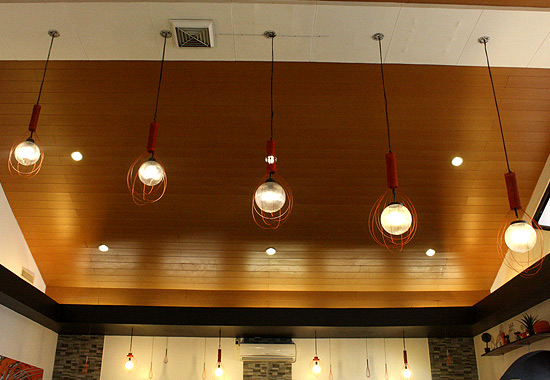 ADVERTISEMENT - CONTINUE READING BELOW
It's a whisk, whisk world.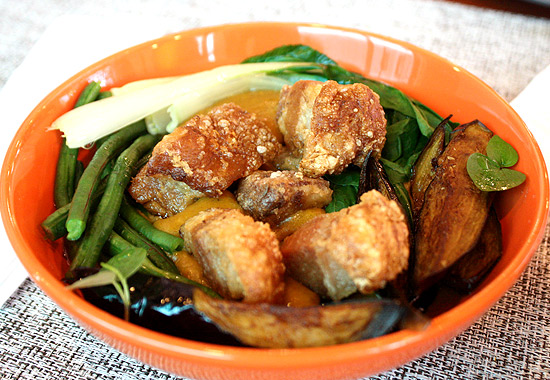 Karnet
And the Karnet (P310), that's Kare-Kare and Bagnet, is. Very. His answer seems so obvious, but overall flavor is actually more amiss in other places than one would expect. Back then, the chef, who splits the work with Korinne by handling all things savory, admits that he liked to play with more inventive combinations, but now he's going for convention executed with precision. It's the type you'll appreciate no matter the mood-so thoughtfully thoughtless that when you take a bite, your taste buds automatically send the message to your brain. It's good.
ADVERTISEMENT - CONTINUE READING BELOW
There's no better style for Orange Whisk than this no-frills, family-style comfort. The building gives off this cozy cabin vibe, brightened by the cheerfulness of Korinne's favorite color. Pop art of orange whisks, wire installations of orange whisks, lights inside cages shaped like orange whisks, and actual orange whisks don't let you forget where you are. The al fresco area, which smoothly morphs into a drinking place at night, deviates from this sweetness with a mural of animé characters-Sakuragi, Son Goku, Sailor Moon, Naruto among those in attendance.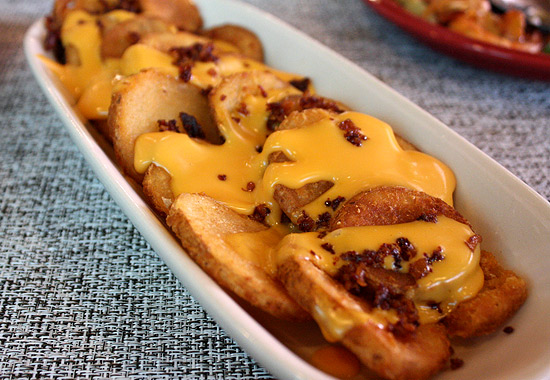 ADVERTISEMENT - CONTINUE READING BELOW
Bacon and Cheese Mojos
Like the cuisine, you just take it all in, not really questioning how it all fits. Eat the Bacon and Cheese Mojos (P175), softer and lighter in flavor than your favorite potato discs, and sit back.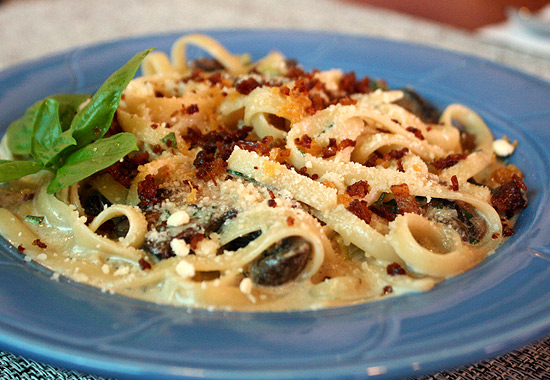 Garlic Portabella and Bacon Parmesan Cream Pasta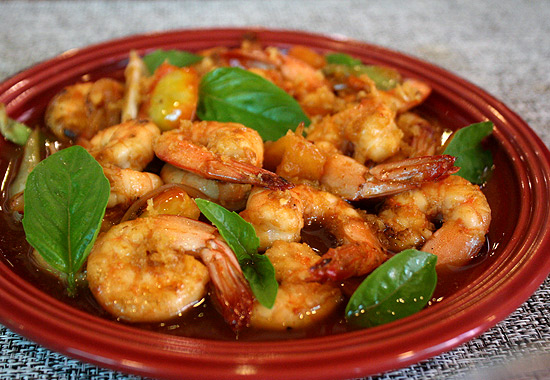 ADVERTISEMENT - CONTINUE READING BELOW
Garlic Butter Shrimp
Chef Isaiah started cooking when he was six, standing on a saucepot for a stool to look over his culinary creations that began with fried eggs and fried hotdogs. The skill that was stirred when the former picky eater was forced to make his own meals grew. Now we have this Garlic Portabella and Bacon Parmesan Cream Pasta (P250) where firm linguini is tossed with a cream sauce light enough to highlight to the earthiness of mushroom and the delectable bits of bacon. The Garlic Butter Shrimp (P360) hides this pleasant bitter undertone of flavor from the crab fat.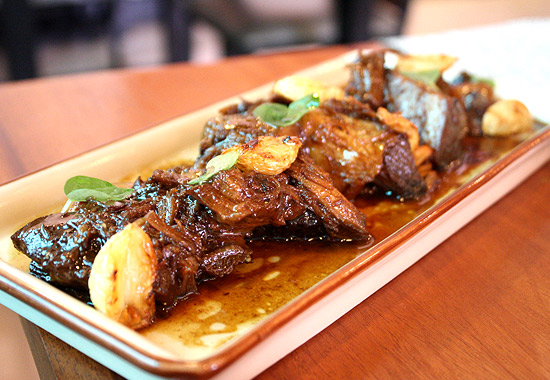 ADVERTISEMENT - CONTINUE READING BELOW
Pork Humba
We don't question their award-winning Pork Humba (P310), whose achievements Korinne and Isaiah display near the entrance like any proud parent. The large cubes of pork pull apart without hesitation, and mashing the soft cloves of garlic against the meat really tips the sweet scale.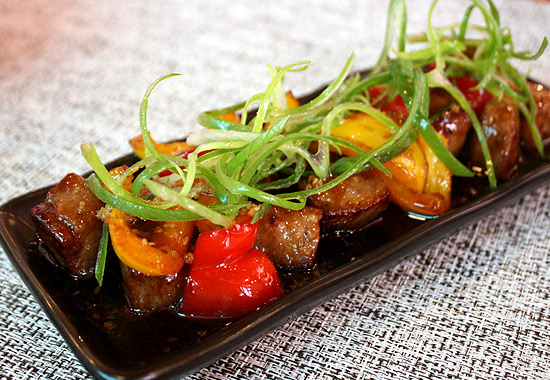 Wagyu Saikoro Steak
ADVERTISEMENT - CONTINUE READING BELOW
But if Isaiah has shifted gears towards familiar comfort food, their Wagyu Saikoro Steak (P698) is, perhaps, a glimpse of that past. Simple yet sophisticated, this affordable answer to steak is like a magic trick: the rich, buttery dice-sized pieces dissolving effortlessly as soon as it touches your tongue. As quickly as it melts in your mouth is how quick you'll finish that plate.
"The menu is actually designed by the customers," explains Korinne. Observations from their first branch in Better Living helped them decide which dishes to include, and customers could also request food they'd like. "If we have the ingredients in the pantry, we'll make it for them, but if not, they can come back and see that we have it on the menu." She motions towards their wall of blackboard specials. Our own request would be to have the Wagyu in jumbo size.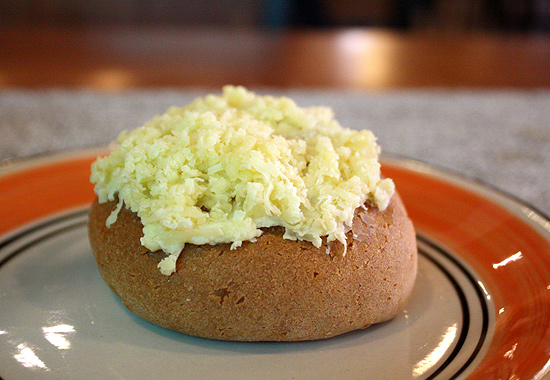 ADVERTISEMENT - CONTINUE READING BELOW
Cheesy Buns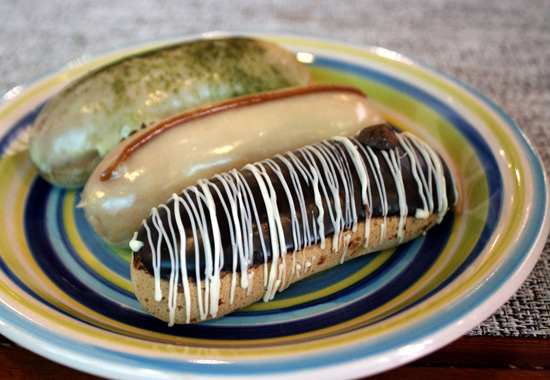 Green Tea, Salted Caramel, and Chocolate Eclairs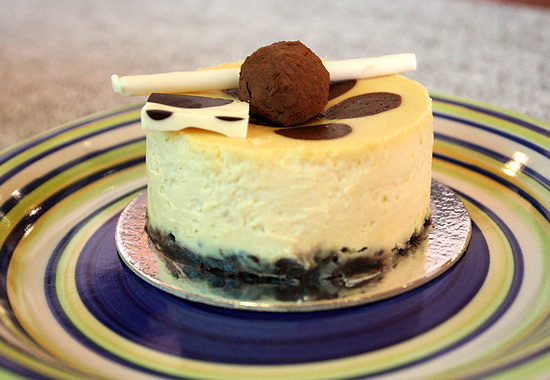 ADVERTISEMENT - CONTINUE READING BELOW
Chocomilk Cheesecake
Korinne, on her end, is in charge of desserts. Her specialty is chewier choux pastry dough that adds a nice texture to her eclairs (P58). The Salted Caramel is especially delightful-not too sweet yet pronounced, the filling thick but not overly decadent. It's exceptional balance that's replicated in her Chocomilk Cheesecake (P138). This new dessert is light, but still so substantial: the cookie crust emblazons some boldness and there's dark chocolate cake embedded like a rich core within the mellow cheese.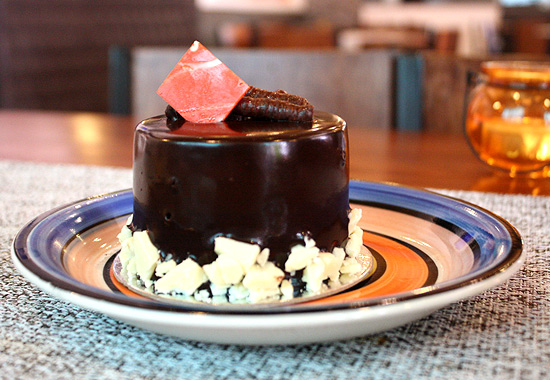 ADVERTISEMENT - CONTINUE READING BELOW
Chocolate Truffle Cake
Korinne likes her chocolate cakes, actually. It's given centerstage in the Chocolate Truffle Cake (P138), which is flourless and gooey-similar to that deliciously tacky, peanut-butter-like consistency that sticks to the roof of your mouth and stays there until it's replaced by the next forkful.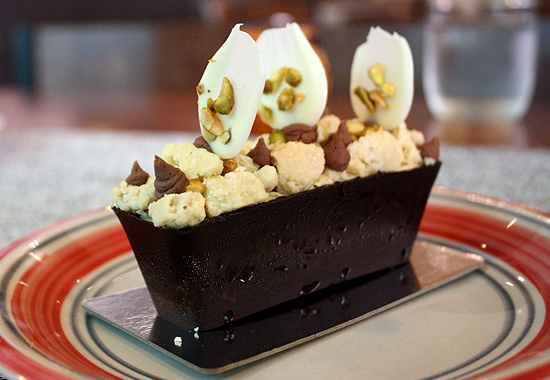 Pistachio Chocolate Crumble
ADVERTISEMENT - CONTINUE READING BELOW
The sweetest tooth would be sated by the Pistachio Chocolate Crumble (P138), which is more cake encased in a white chocolate tub and topped with a homemade wafer crumble, pistachios, and more white chocolate. It's a heavenly ending to a rich meal.
Bellies full and emotions on a high. we didn't find any secret at Orange Whisk. It's just good, good, vibrant flavor.
Recommended Videos
Load More Stories