New on the Menu: Señor Pollo's Latest Chicken Dishes + more
We got the first scoop-and taste-of this chicken joint's newest SPICY offerings.
Señor Pollo
5767 Ebro Street (near Kalayaan Avenue), Makati City
Open from 11:30 a.m. to 12 a.m. (Sunday to Thursday) and 11:30 a.m. to 2 a.m. (Friday to Saturday)
F7 Building, Scout Rallos corner Tomas Morato Avenue, Quezon City
Contact: 0977-142-9273
Open from 11:30 a.m. to 12 a.m. (Sunday to Thursday) and 11:30 a.m. to 2 a.m. (Friday to Saturday)
Also read:
New Restaurant Alert: Señor Pollo at Scout Rallos Street, Quezon City
Now Open: Señor Pollo at Ebro Street, Makati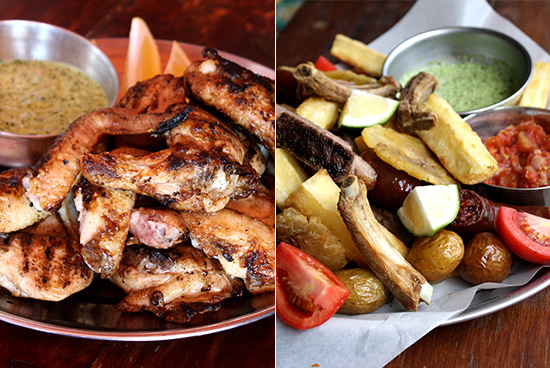 ADVERTISEMENT - CONTINUE READING BELOW
(SPOT.ph) Sometimes, you never know what you're missing in life. That is, until you have it. The missing piece, that little extra thing that you never really thought of suddenly becomes so necessitous.
All this new-found wisdom is, of course, about chicken. Fried or roast, Señor Pollo has never been lacking in both departments, offering flavorful adaptations of each: a flaky blonde crunch over the slightly tangy tender meat for one, and a glistening brown coat covering the juiciest succulence for the other. And they're pretty affordable-from P99 for a solo piece up to P255 for a two piece with two sides. There's nothing else to look for.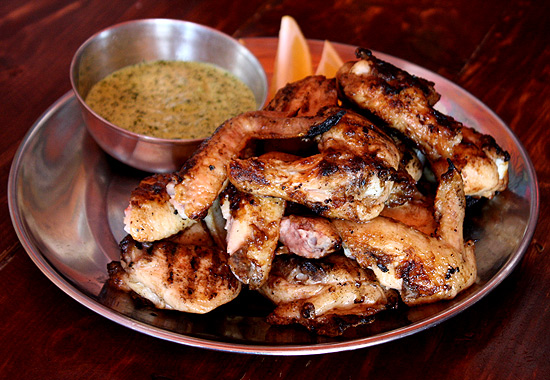 ADVERTISEMENT - CONTINUE READING BELOW
Grilled Wings
But the smell from their new grilled wings (P170 to P275/small; P335 to P440/medium; P499 to P599/large) confirmed that there was still so much more they could do-and have, in fact, done. According to owner Daniel Mabanta, they've had the recipe for a while, but they wanted to introduce it at the right time. Now. Brick-red and black patches hug the larger-than-usual wings that exude a spectacular smoky smell (so intense, we could almost see the smoke come out from the barbecued surface). A quick squeeze of lime brightens that charred flavor, but it's the side of cilintro-slinging aji verde (which is used like ketchup in Peru) that really gives it life. The creamy sauce is a refreshing paint over the bitter hints of smoke.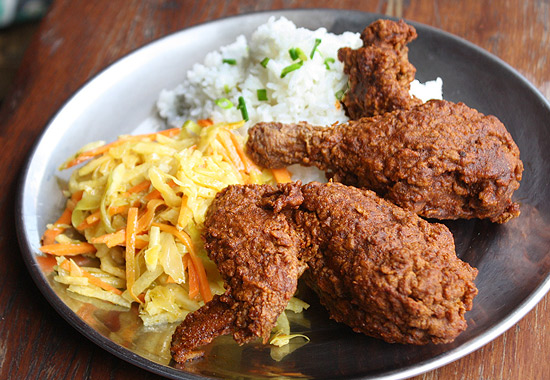 ADVERTISEMENT - CONTINUE READING BELOW
This seriously spicy chicken is not for the faint of palates. We're serious.
And when there's smoke there's most definitely fire-coming from the hands of food technician and operations manager Mario San Pedro who was carrying the next dish out from the kitchen. Its flavor is apparent from the bright red tint that weaved itself in, out, and through the crispy flakes of fried chicken skin. Mario, who concocted the famous original fried chicken, fittingly lends his sniper's palate for this much zingier incarnation. The cayenne creeps up on your taste buds-teasing them at first with this mild peppery tickle, then hitting them hard with fiery heat. It's a little spark that suddenly morphs into a delicious ball of flame-in your mouth. Yes, Mario knows just how to call your taste buds to attention.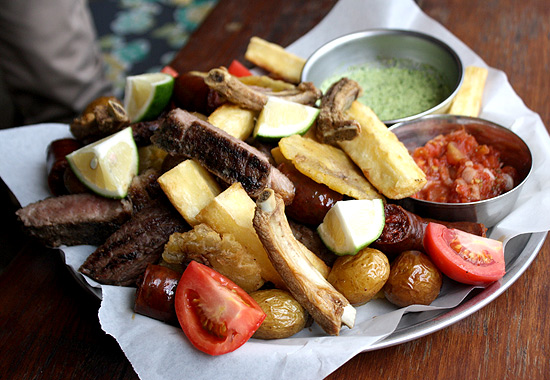 ADVERTISEMENT - CONTINUE READING BELOW
Fritanga
Señor Pollo's general manager Katrina Padilla paid careful attention to the Fritanga (P999/introductory price) when it arrived. The first time we met her, at the first branch, she was also making a fuss-over the platanos, ensuring that they were the right level of sweetness and decided to do so by ripening the plantains themselves in the kitchen. Now, she was watching the yucca fries that have been tossed in a medley of crunchy deep-fried pork ribs, perfectly soft marbled potatoes, crisp crackers of mashed plaintain chips, salty-smoky logs of chorizo, and strips of grilled Angus steak. She's Cuban, and she knows her stuff. The cooking of each element, under her meticulous watch, has to be perfect. There's tomato there, by the way, but you're likely ignore it up to the point when meat becomes a little too heavy.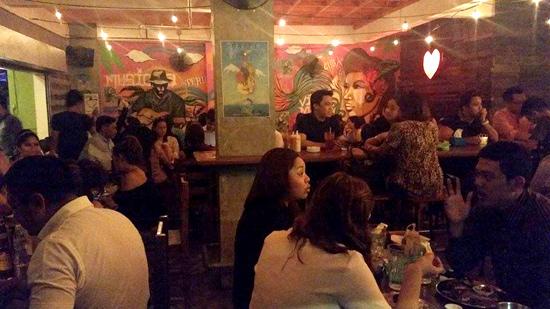 ADVERTISEMENT - CONTINUE READING BELOW
Señor Pollo at night
It's the perfect pulutan food, says Daniel, which is probably why it's available only in the much bigger Ebro branch where the sunlit open restaurant at lunch time transforms into a hopping, glowing celebration of good food and great drinks, and the Latin culture goes beyond cuisine. It's that spirit of relaxed festivity-and some reggae, if you're lucky. Recently, Daniel also installed a roving drinks cart for the late crowd, with a bevy of spirits: Cuba Libre (P100), Jack and Coke (P140), and the wittily labeled Dr. Quinn Medicine Woman (P115), which is their rum juice concoction.
Señor Pollo really doesn't leave any chicken-related craving unanswered: roast, fried, spicy, grilled. Chicken with beer, cerveza, a little dancing. We have to wonder...what else is missing that we don't know about?
The Grilled Wings and Fritanga will be available on Monday, February 23, and only at the Ebro branch. The Spicy Chicken is already available in both branches.
ADVERTISEMENT - CONTINUE READING BELOW
Also read:
New Restaurant Alert: Señor Pollo at Scout Rallos Street, Quezon City
Now Open: Señor Pollo at Ebro Street, Makati
Recommended Videos
Load More Stories