New on the Menu: Chef Robert Spakowski for Tapella
The Spanish restaurant is given new life
Tapella
G/F Greenbelt 5, Makati City
Contact: 0917-468-8028, 757-2710
Open daily from 11 a.m. to 1 a.m.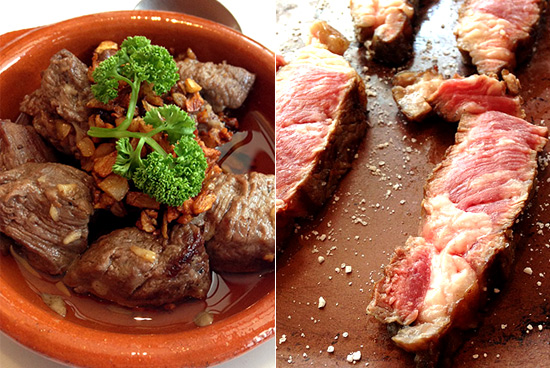 (SPOT.ph) Spanish restaurant Tapella fell off the radar for a while. Yes, there was the barrage of fresh concept restaurants in the last couple of years, plus the foreign franchises that are elbowing their way into the local market, but it's also no secret in the food world that the former chef, who was also the owner's husband, recently passed. The owner herself has shifted her focus on family.
ADVERTISEMENT - CONTINUE READING BELOW
The solution was to call in Chef Robert Spakowski to take over the once-thriving restaurant and breathe new life into its beloved dishes. At the time, he was working in China, honing his skills on the stoves there. But Chef Robert (whose family also partly owns the Greenbelt destination) couldn't ignore the harking of Spanish cuisine-cooking that he grew up with and learned to master during his studies in New York and stint in Madrid.
Upon his takeover last October 2014, Chef Robert knew exactly what he wanted to do to bring customers back. "The flavors had to be authentic-the market knows its Spanish cuisine," he says. Yet he tweaks the dishes to appeal to the Filipino palate. "There has to be a good balance without compromising flavor."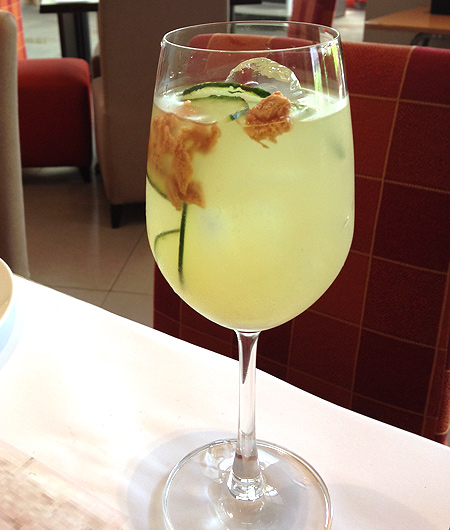 ADVERTISEMENT - CONTINUE READING BELOW
Banzai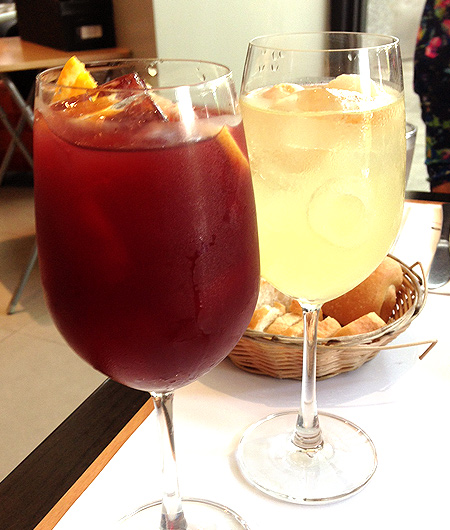 Don Roberto and Ronin
This compromise starts the Banzai (P195) , which is the result of his recent experimentation with fusion flavors. This Japanese take on a Spanish specialty is ginger-infused and sake-based, perfect for a balmy summer afternoon. A more traditional yet still playful drink, the Don Roberto (P225), is a classic red sangria where the fruits are soaked in brandy and then flambé-ed for that flavor only caramelization can achieve.
ADVERTISEMENT - CONTINUE READING BELOW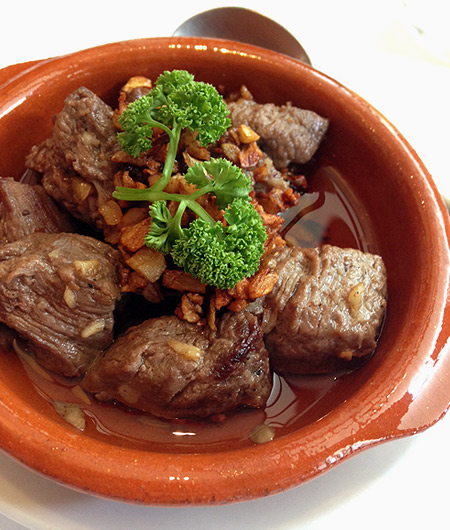 Salpicao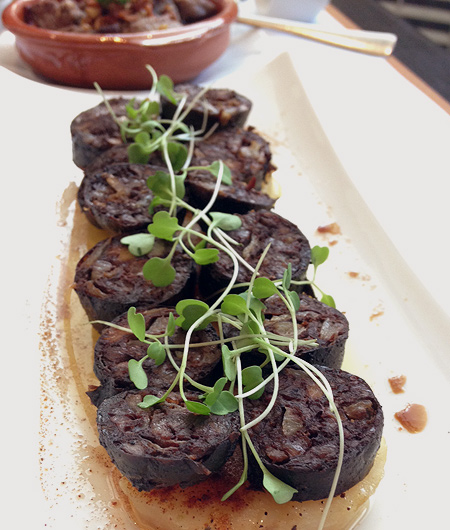 ADVERTISEMENT - CONTINUE READING BELOW
Morcilla de Cebolla
Chef Robert is very particular with the Salpicao (P375), which he insists has "definitely no soy sauce." It's done in proper Spanish fashion-the tender and perfectly seasoned beef cooked in olive oil and flavored with garlic. Tapella's Morcilla de Cebolla (P450), on the other hand, is made in-house. Mildy flavored and not at all gamey, it's delightfully highlighted by the side of vinegar-soaked, paprika potatoes.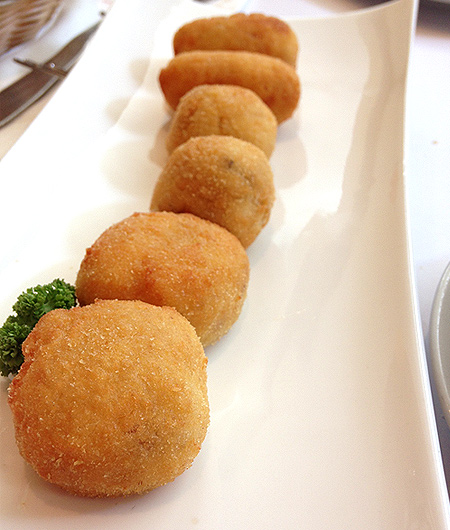 ADVERTISEMENT - CONTINUE READING BELOW
Croquettas Variadas
The Croquettas Variadas (P175), composed of ham, salami, and mushrooms, is a certified crowd-pleaser. Tapella uses bechamel, not mashed potatoes which is a cop-out; coats the soft rounds with breadcrumbs, then fries them to the point that they become precious golden things.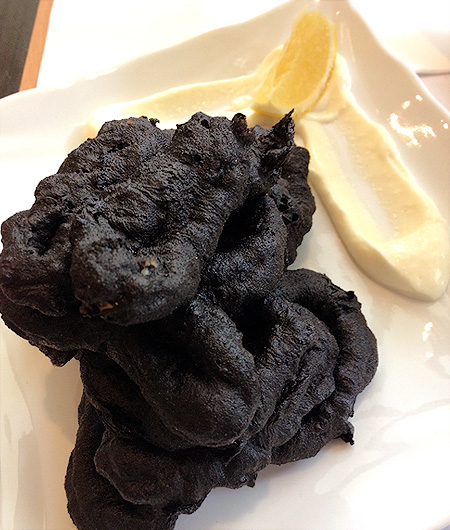 Calamares
The tender Calamares, El Bulli (P385) will ignite your seafood cravings. The squid ink does more than give it that interesting look. Chef Robert really makes sure it imparts a dense umami flavor from the sea. A squeeze of lemon and smudge of aioli bring all the zing it needs to be absolutely addictive.
ADVERTISEMENT - CONTINUE READING BELOW
Bringing the Spanish coast to our shores is the Pulpu del Gallega (P525)-octopus with paprika salt, served on a bed of patatas a la pobre. This is a very simple dish, and yet so flavorful. The sliced octopus tentacles are impressively tender and the simple seasoning allows the essence of the ingredients to shine through.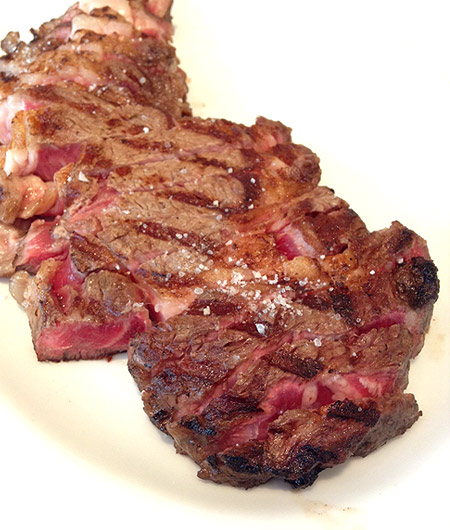 ADVERTISEMENT - CONTINUE READING BELOW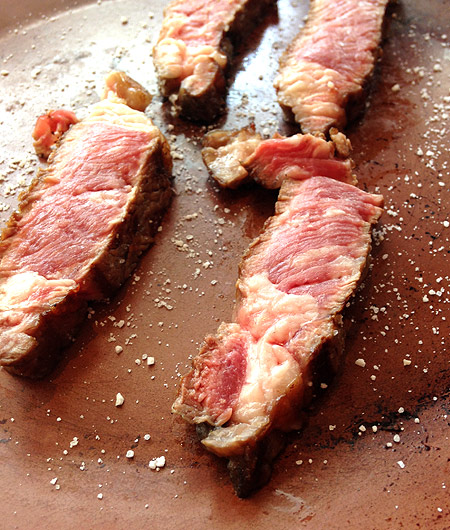 The Chuleton
If small plates are not your thing, then go straight to the Chuleton Villagodio (P300/100 grams)-prime Angus ribeye grilled over a clay plate. The steak is served blue (that's kitchen speak for "still mooing") and sliced, then these juicy morsels are quickly seared until your preferred doneness. The clay plate is speckled with sea salt, which is the only thing you need to flavor high-quality meat. Tapella serves their steak with the traditional pimientos and sliced potatoes.
ADVERTISEMENT - CONTINUE READING BELOW
It might be too soon to tell, but Chef Robert's new style is definitely attracting a wider range of customers. "The Europeans love to sit at our al fresco area," says Spakowski, "while our Japanese customers come in droves. Some would come three consecutive days, bringing in different groups with them." He's confident that people know and look for quality-and that they'd find it in Tapella.
It is always a heart-warming sight to see a booming restaurant, with a hardworking and talented chef in the kitchen and happy and satisfied customers in the dining room. In Tapella's case, this second wind is definitely so much sweeter.
Load More Stories