10 Restaurants to Calm Your PMS-ing Girlfriend
Advice from women to men. You're welcome.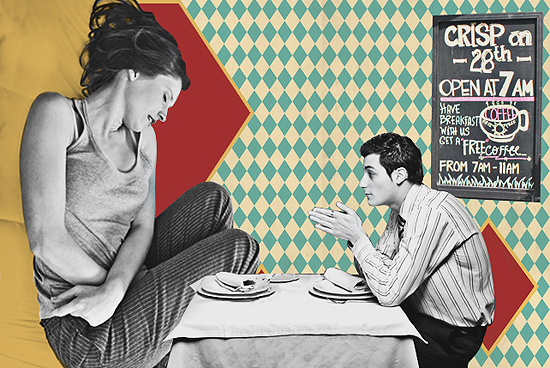 (SPOT.ph) There is never any problem the week before the monthly visit (c'mon, let's be mature here. We can talk about it!). We're fine. We're just bloated, sore in all the strangest areas, tired for some reason, hungry most of the time, insecure because we're breaking out and goodness knows how many pounds we're gaining from all this overeating, emotions on the edge, and irritable. Nope, there is no problem. We. Are. Effin. Fine.
ADVERTISEMENT - CONTINUE READING BELOW
CONTINUE READING BELOW
Recommended Videos
You know what you could do to lighten the load, though? Support us. Be on time. Don't push the issue (even when we do). Indulge our bigger-than-usual appetites. Help us combat this chemical battle with a counter attack of the good hormones (like endorphins) and nutrients (magnesium and potassium are good for the cramps). Whether it's heartbreak-induced sadness or the PMS-forced mood swings, the answer is always good food. Men, we're lending you a hand here by giving you tips on where and how to make your girlfriend comfortable during this stressful monthly period (no pun intended).
Editor's Note: The following dishes (and consequently, restaurants) are chosen based on PMS-friendly food suggestions from Women's Health and Everyday Health.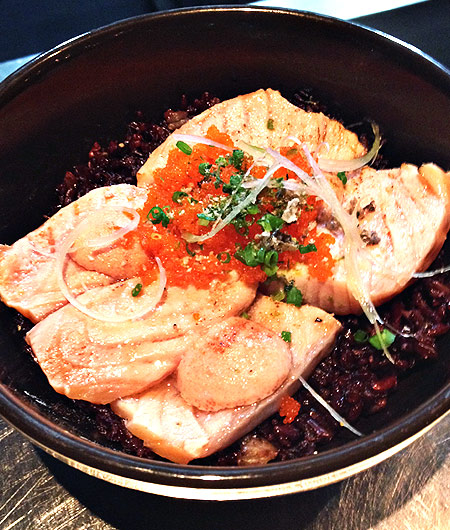 ADVERTISEMENT - CONTINUE READING BELOW
The Counter Attack: Salmon
Fish like salmon, herring, mackerel, and sardines are loaded with Omega 3, fatty acids that also work like anti-depressants that can help lift any mood from occasionally being in the doldrums. Salmon also has a good dose of Vitamins D and B6, which may help keep petulance at bay and alleviate, er, discomfort in the chest area.
Our Suggestion: Salmon Donburi (P390) from Your Local
The crowds at Your Local may make her already precarious mood tip to the nasty side of things, but feed her the Salmon Donburi quick, and she'll forgive you and everything else you've done in the past that she was ready to dig up-at least for the few minutes that she's scarfing down this dish. Pieces of smoky, torched salmon are dressed in roe and mellow Japanese mayonnaise then spread over a bowl of black rice in sweet teriyaki sauce. Forget cramps. This is a tummy-tickling gastronomic experience.
ADVERTISEMENT - CONTINUE READING BELOW
Your Local is at G/F Universal LMS Building, 106 Esteban Street, Legazpi Village, Makati City. Read more about it here.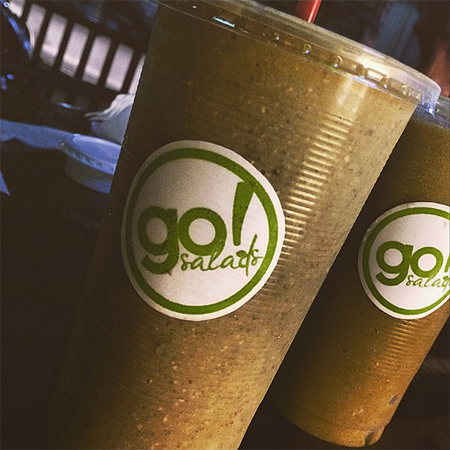 The Counter Attack: Greens
Vitamin A-rich leafy greens like kale and lettuce provide fiber in your diet, which can help detoxify your system. It'll keep your skin looking neat and fresh, combating that annoying pre-time-of-the-month breakout that can give women unnecessary stress. More bonus? They're heavy in calcium but low in dairy. Calcium is great for steering away fatigue and cramps.
ADVERTISEMENT - CONTINUE READING BELOW
Our Suggestion: Green Smoothies (P100) from Go! Salads
This convenient health nook has been known for their affordable organic salads, but for something quicker, more convenient, and ultra-yummy (especially for vegetables), the green smoothies are our bet. Even your inner kid will love them. Each shake is chock-full of greens and superfoods like chia seeds, peanut butter, and flax seeds-all of which are PMS-friendly in their own way. Instead of white sugar, Go! Salads sweetens their drink with coconut water, fruit, and coco sugar. On a side note: These calorie-conscious meal replacements might even help with that bloating issue.
Go! Salads smoothies are only available at the Eastwood and Katipunan branches. Read more about them here.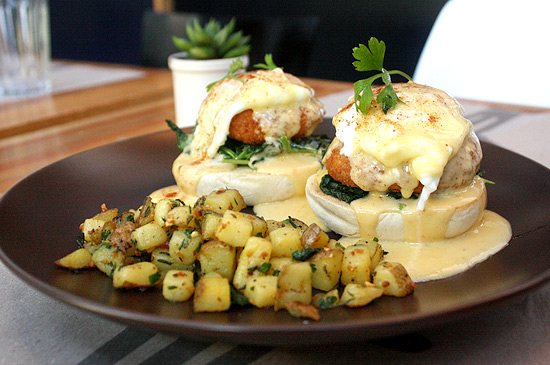 ADVERTISEMENT - CONTINUE READING BELOW
The Counter Attack: Eggs
Eggs are ridiculously nutritious. Egg whites have been known to be great sources of protein, but recent studies have confirmed that a yolk a day falls well within the acceptable range of cholesterol. These little globes contain Vitamins B6, D, and E-each has a role that fights PMS symptoms. Vitamin B6 helps synthesize neurotransmitters that control mood; Vitamin E relieves the breast-pain situation; and Vitamin D assists calcium, which is a major PMS fighter. Sunlight can actually help convert Vitamin D from the cholesterol in your body.
Have eggs for breakfast and you're golden.
Our Suggestion: Crabcake Eggs Benny (P320) from Main Street
It would be a cinch to go with the standard Eggs Benedict, but fatty meats actually support those annoying PMS symptoms. Salmon is good too, and you can have them in practically any decent brunch place, but at Main Street, this yummy staple is given renewed interest by replacing the main protein with the bestselling crab cakes: crunchy blonde batter and beautifully seasoned crab meat. Chubby eggs, seafood, and spinach? Any woman would be happy.
ADVERTISEMENT - CONTINUE READING BELOW
Main Street is at Tuscany Estates, McKinley Hill, Bonifacio Global City. The brunch menu is available during weekends. Read about it here.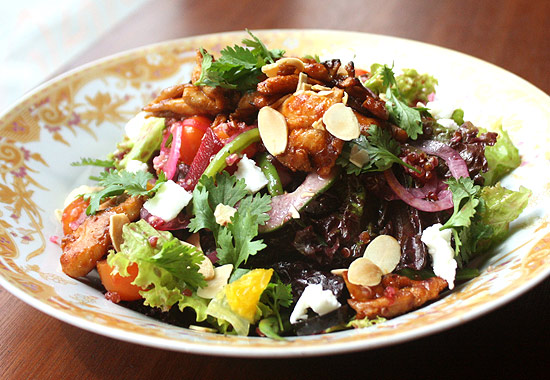 The Counter Attack: Quinoa
These cereal-like seeds flaunt carbs that put the happy hormone, serotonin, on active mode. They're also packed with vitamins (B, particularly), iron, magnesium, zinc, folate, and phosphorous. Quinoa is a favorite among weight-watchers. If your girlfriend is that type to turn into a tiger from dieting-induced hunger, then this is a much safer, calmer alternative to that carb-skipping misconception.
ADVERTISEMENT - CONTINUE READING BELOW
Our Suggestion: Chipotle Chicken Quinoa Salad (P215 to P395) from Crisp on 28th
Before we get started on the magic of quinoa, take note that this non-depriving salad also features greens (which we've established as great sources of fiber), cheese (a calcium-rich ingredient that helps push back several PMS symptoms), chunks of spicy chicken (lean meats ward off lethargy), and other ingredients that put any bland salad to shame with the amount of flavor this one manages to generate. The quinoa is a nutty, crunchy addition to this already powerful PMS combatant.
Make sure to watch for the quinoa-wrapped pea-and-kesong-puti balls, which appear occasionally on the menu.
Crisp on 28th is at Alveo Building, 28th Street, Bonifacio Global City. Read more about it here.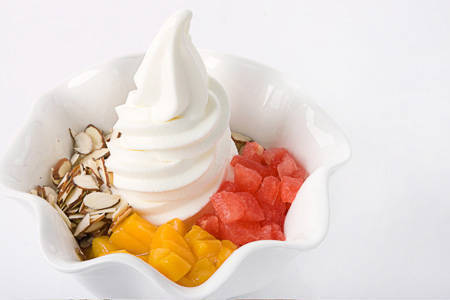 ADVERTISEMENT - CONTINUE READING BELOW
The Counter Attack: Yogurt
Those who are high in calcium have shown reduced bloating, cramps, back pain, and food cravings, but calcium, supplemented by Vitamin D and magnesium, could potentially eliminate those PMS symptoms in the first place. Yogurt is exceptionally rich in both calcium and magnesium. Toss in some fruity toppings or enjoy it under the early sun, and you might just get that extra Vitamin D, as well. A cool cup might help cool down her hot head, too.
Our Suggestion: Red Mango's Original (starts at P85++)
One unwavering frozen yogurt franchise is Red Mango, which still has enough branches around the metro for an emergency PMS attack. Stick with fruits, nuts, or cereal (wheat, if possible, and not the sugary kind) for toppings that could fortify the body with more nutrients. It's a low-fat, but still indulgent snack-slash-dessert. She'll be happy, no doubt.
Click here for a list of Red Mango branches.
ADVERTISEMENT - CONTINUE READING BELOW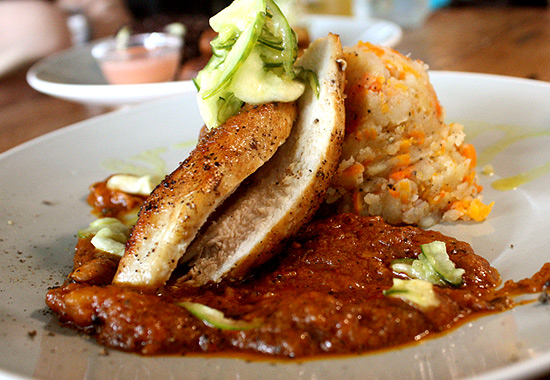 The Counter Attack: Beans
An incredibly versatile ingredient that could be adapted to almost anything, beans are another magnesium-heavy product that helps reduce bloating and regulate happy-hormone serotonin.
Our Suggestion: Pan-seared Chicken Breast (P350) from Runner's Kitchen
Save your girlfriend from herself. Hide the jar of cookies and offer her some bean-based snacks instead. Or better yet, take her to health haven Runner's Kitchen where some dishes doubly battle PMS. Take for instance, the Pan-seared Chicken Breast. The lean meat is a great source of protein, and beans make an understated contribution in the kaldereta sauce.
ADVERTISEMENT - CONTINUE READING BELOW
Runner's Kitchen is at 74 Creekside Square, Tomas Morato Avenue, Quezon City. Read more about it here.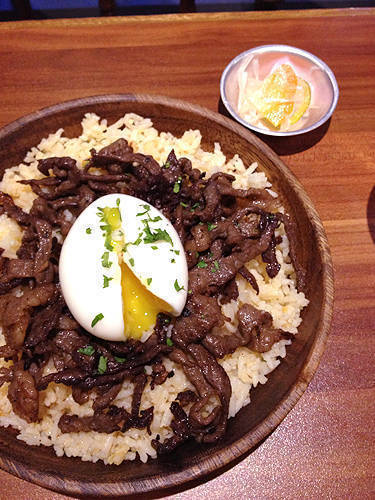 The Counter Attack: Lean Meat
Lean meats have Vitamin B12, which provides energy to fight against weariness during PMS, as well as iron, which women lose a lot of during their period. Beef, liver, and shellfish are particularly high in this nutrient, but there's also a good amount of it in turkey, chicken, ham, and some fish. Just remember that the fat must be sliced off before cooking.
ADVERTISEMENT - CONTINUE READING BELOW
Our Suggestion: Pi Breakfast and Pies' Beef Sirloin Tapa (P225)
This fancy breakfast stars Kitayama Wagyu from Bukidnon-lean but tender strips that flaunt insane amounts of salty flavor only highlighted further by the kimchi-tinted "sinangag" underneath. The crowning glory is a gorgeous six-minute soft-boiled egg whose fragile yolk breaks into a rich, gooey sauce that covers the entire thing in PMS-friendly goodness.
Pi Breakfast and Pies is at 39 Malingap Street, Teachers Village, Quezon City. Read more about it here.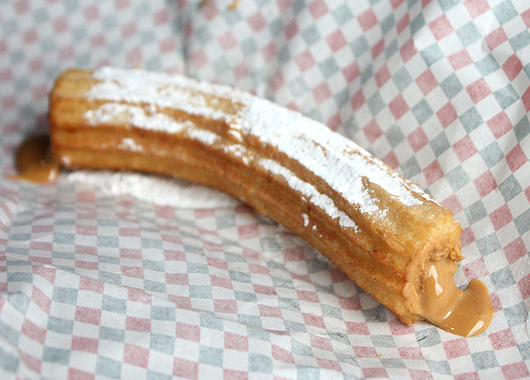 ADVERTISEMENT - CONTINUE READING BELOW
The Counter Attack: Peanut Butter
At this point, we're probably hammering it into your brain that Vitamin B6 and magnesium are the stuff that helps kick out PMS. And guess which has a lot of both? Peanut butter! Magnesium helps boost up serotonin, which is one of the body's natural happy chemicals, and, in turn, helps lift spirits. But don't go eating a whole jar of Skippy now. It's very high in calories.
Our Suggestion: Peanut Butter Xuxos (P120) from Churreria La Lola
Deep-fried ribbed rolls stuffed with crunchy Skippy peanut butter? This will make you happy no matter your physical disposition. Churreria La Lola deep-fries their choux pastry in olive oil, which makes the entire process less of a sin, and the extra time they use stuffing the freshly fried logs lessens the grease even more. These amazing churros are just feel-good snacks that bring out warm, fuzzy feelings in our stomachs.
ADVERTISEMENT - CONTINUE READING BELOW
Churreria La Lola is at LG/F Power Plant Mall, Amorsolo Drive, Rockwell Center, Makati City. Read about it here.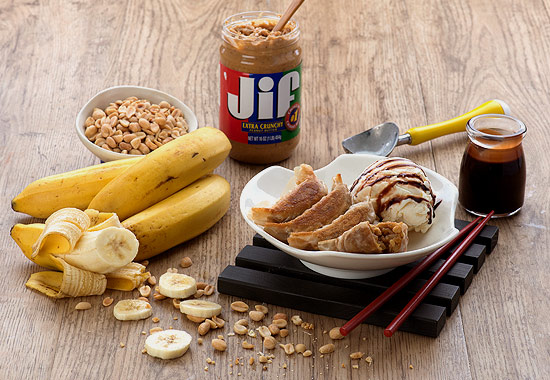 The Counter Attack: Bananas
You know how bananas are great for physical activity? It's their potassium content, which helps prevent cramps and muscle pain. Bananas are also loaded with melatonin, which is a hormone that helps promote sleepiness. Men may not know this, but discomfort brought about by PMS actually disrupts sleep-and the cycle starts there: irritability, fatigue, lethargy.
ADVERTISEMENT - CONTINUE READING BELOW
Our Suggestion: Osaka Ohsho's Peanut Butter and Banana Gyoza (P190/six pieces, P380/12 pieces)
You can take your girlfriend to any grocery or convenience store, and watch how she'll react when you give her the gift of...bananas. Totally sweet, but it might be more effective to do in a subtler way. You know what works wonderfully with bananas? Peanut butter, which we've just explained helps ease PMS. Osaka Ohsho manages to merge this favorite combination into one little gyoza. She can pop these pockets of sweetness in her mouth like happy pills.
Osaka Ohsho is at SM Mega Fashion Hall, Mandaluyong City. Read more about it here.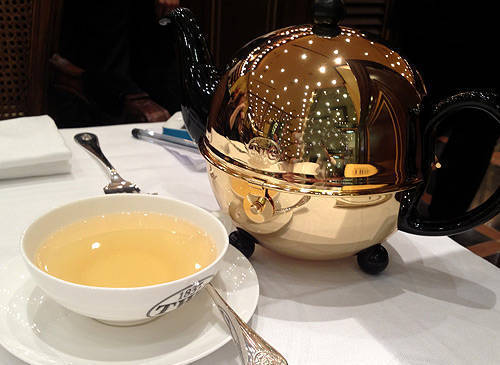 ADVERTISEMENT - CONTINUE READING BELOW
The Counter Attack: Chamomile Tea
Women in PMS should actually avoid caffeine and alcohol, but a pot of tea shouldn't be too big of an issue. Chamomile tea is caffeine-free (those that aren't only have very small amounts), and it is known for its soothing properties that can alleviate muscle contractions and cramps. It's also a great tea to combat stress and help with sleep.
Our Suggestion: TWG's Chamomile Tea (P195)
Chamomile is a common enough tea flavor, but TWG's chic and gilded interiors are extra soothing. There's just something relaxing about being surrounded by hundreds of teas in the prettiest gift-ready packaging. Get one of their outstanding afternoon tea sets, and you can even pretend that it's a real date and not a PMS intervention.
TWG has branches at Greenbelt 5, Makati City; Shangri-La East Wing, Mandaluyong City; Newport Mall, Pasay City; and Power Plant Mall, Makati City. Read more about it here.
ADVERTISEMENT - CONTINUE READING BELOW
Art by War Espejo
Are you sure you want to delete this list?

Load More Stories