New Restaurant Alert: Sabao at Valero Street, Makati
A different take on Filipino flavors
Sabao
G/F Signa Designer Residences, Valero corner Rufino Street, Makati City
Contact: 0917-581-8969 
Open daily from 11 a.m. to 11 p.m.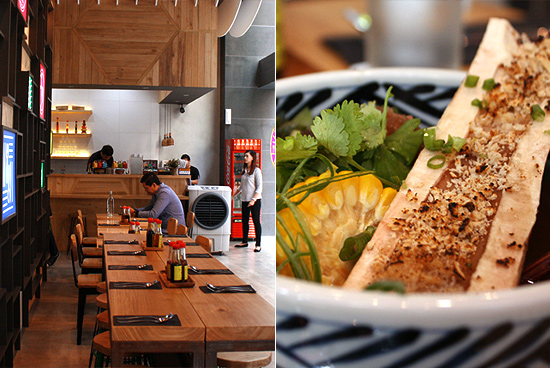 (SPOT.ph) Sabao on Valero has all the bells and whistles you've come to expect from the group behind Bait's, Red Light, et cetera. The glass walls openly display gorgeous high ceilings and chic blonde wood, which come together like a hip nipa hut setting (thanks to design team, Serious Studios). The food? Characteristic mod-Asian influences that would otherwise be Filipino cuisine.
ADVERTISEMENT - CONTINUE READING BELOW
"It's Japanese-Filipino cuisine," a server informs us helpfully. It's not recognizably Japanese, but that is just semantics if you think about it. Sabao is where Filipino food (Japanese, Southeast Asian, or whatever other influence) is scaled down to convenience, allowing hungry cubicle dwellers a chance to enjoy the usually family-style setup into something quicker and individually portioned.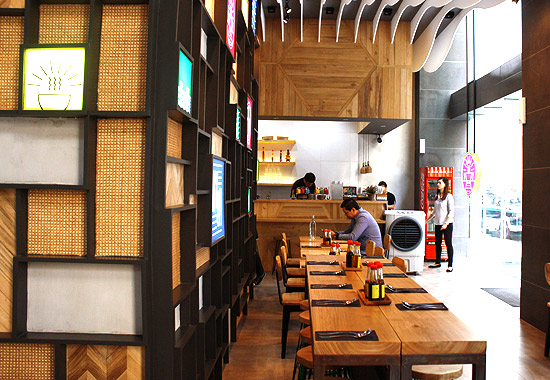 ADVERTISEMENT - CONTINUE READING BELOW
Good job, Serious Studios!
At Sabao, you get two menus: a bigger board that explains this and that, and a smaller checklist type where you actually order. It's a fun little game: noodles or rice? Shrimp or Mochiko Chicken (the latter is a surprisingly pleasant fried chicken battered with rice flour and beautifully cooked)? Over rice or with noodles? Molo or tinola? You could get carried away with the ticking, so you might need a wingman to pull you back (unless he/she is the enabler).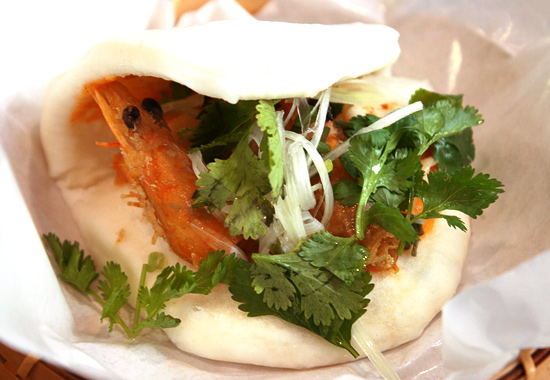 ADVERTISEMENT - CONTINUE READING BELOW
Shrimp Bao (P98)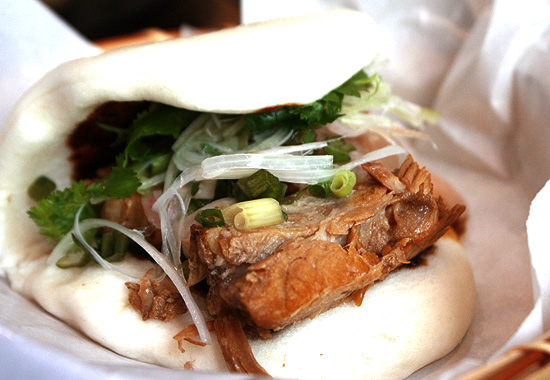 Pork Adobao (P98)
The bao, which is their version of siopao, are soft mantou pockets filled with your choice of shrimps (heads and all), pork (belly with pickled onions), more of that Mochiko Chicken, and other things. Wansoy seems to be a favorite ingredient, a little sprig of Southeast Asian brightness in otherwise hefty local flavor. The baos are passable enough as a quick less-than-a-hundred-peso snack, but if you're looking for more Filipino, you can find it elsewhere on the menu.
ADVERTISEMENT - CONTINUE READING BELOW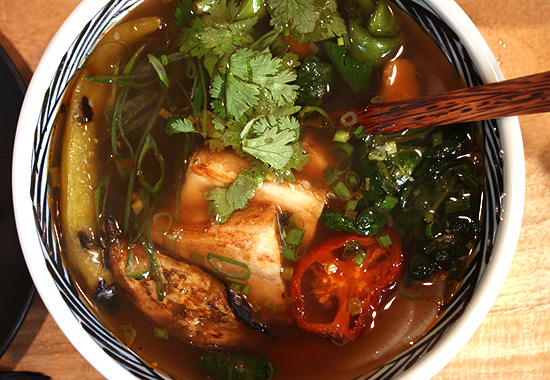 Sinigang
The Sinigang (P324), which also boasts that beloved zesty herb, is sufficiently tangy. The tomatoes are roasted, a much-appreciated extra step, and the three pieces of soft, succulent pork belly (it's another choose-your-own-adventure between pork, shrimp, and vegetables), pickled onions, and knotted green beans are enough for a serving this size (think of your everyday ramen bowl).
ADVERTISEMENT - CONTINUE READING BELOW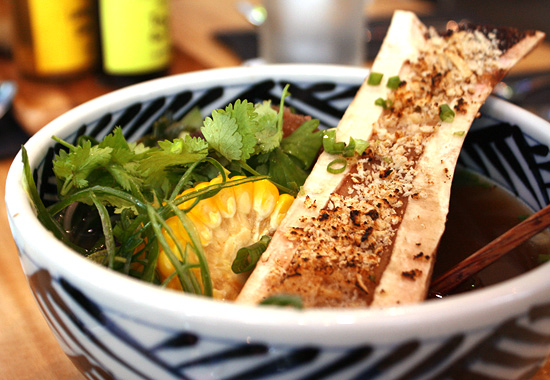 Bulalo
If the Bulalo (P326) was aiming for full visual impact, then it succeeded. A generous slab of bone marrow, seasoned, deep, and buttery, is in full view, supported by a colorful spectacle of corn, marbled potatoes, sprouts, and wansoy (of course). A spoonful is a much more timid version of that bold beefiness that we're used to, as if Sprout, the owners' health-oriented sanctuary a few steps away, is casting a conscientious shadow over the restaurant.
ADVERTISEMENT - CONTINUE READING BELOW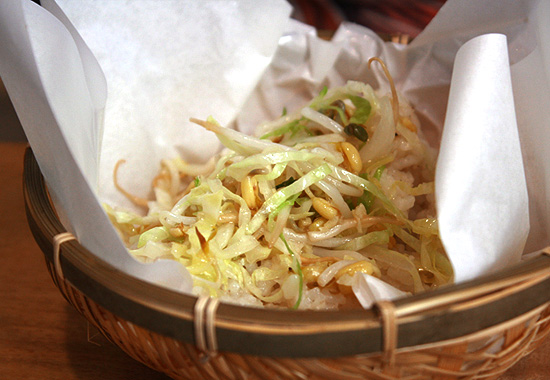 Sabao's Garlic Rice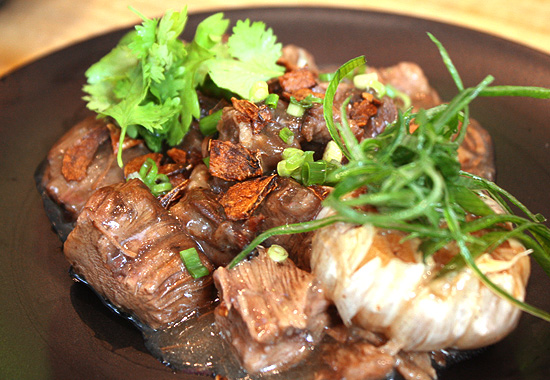 ADVERTISEMENT - CONTINUE READING BELOW
Sabao's Salpicao
Filipino food, modern or not, is a tricky thing. We know the brawny punch of bulalo and the deep tenderness of tinola, and changing it is like changing tradition. There's a risk of having a door slammed in your face-but there may be the reward of a warm welcome. Sabao tiptoes around flavors a little bit. The garlic rice-though good if you forget what it's supposed to be-seems to be made for vampires. There's a wreath of bean sprouts, but the garlic is minimal at best. Certain sauces on the side may bolster up the profile, but then there's the garlic-laced, coriander-sprinkled, and gravy-heavy Salpicao (P178), melt-in-your-mouth beef that's like a less-sweet humba.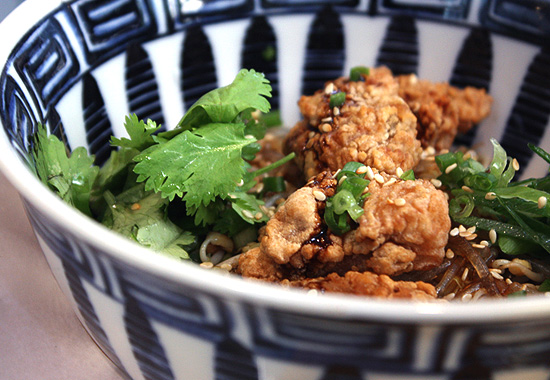 ADVERTISEMENT - CONTINUE READING BELOW
Canton
The Canton, which we ordered with that Mochiko Chicken (P359), comes out out like Korean chapchae. A chubbier type of slippery glass noodles is in a bowl with sesame seeds, wansoy, chicken, leeks, and bean sprouts. It feels like a misnomer, but the intention is conveyed well, and the flavors even better.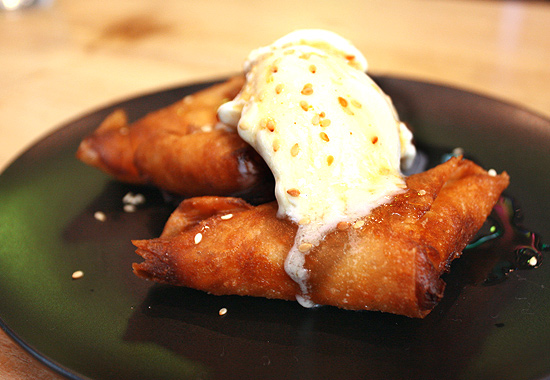 ADVERTISEMENT - CONTINUE READING BELOW
Turon
The Turon (P95)-the winner between a toss-up of only two desserts available-may be one of the few Sabao kept traditional: lumpia triangles filled with bananas and served a la mode. The last bit isn't custom, but ice cream is a necessity.
Sabao may be unconventional, but their flair for contemporary service may be a good thing. It's high time someone served Filipino food in manageable sizes-in case you want to eat it alone.
CONTINUE READING BELOW
Recommended Videos
Share this story with your friends!
---
Help us make Spot.ph better!
Take the short survey
Load More Stories