New Restaurant Alert: RRRR at Valero Street, Makati
The country's first-ever recycle-themed café
RRRR
1089 Valero Street, Makati City
Contact: 454-8585
Open daily from 9 a.m. to 2 a.m.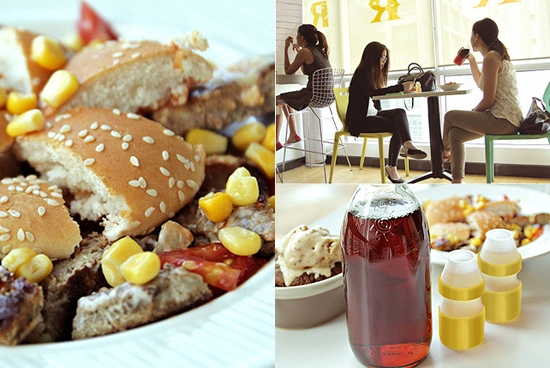 (SPOT.ph) Three Rs and two words make up the world of RRRR, the latest hidey-hole in Makati City. Pronounced like a growl but without the G, RRRR or "Rrrr" stands for Earth. It's a restaurant that reduces, reuses, and recycles, a rather ferocious reminder for Manila diners (and eventually the entire country) to be sustainable and conscientious even while eating.
ADVERTISEMENT - CONTINUE READING BELOW
CONTINUE READING BELOW
Recommended Videos
The walls are painted with smoke-absorbent paint, the furniture is sourced from flea markets (or simply tired pieces from the owners' houses), and the menus are written on the cleaner sides of scratch paper. The plates are mismatched knickknacks, their homemade iced tea is ironically in Sola and Tazo bottles, and the shot glasses are-wait for it-old Yakult containers. The wares have gone through a very rigid sanitation process. We checked.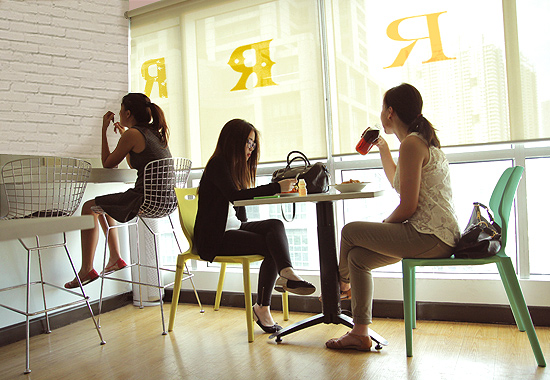 ADVERTISEMENT - CONTINUE READING BELOW
Bright interiors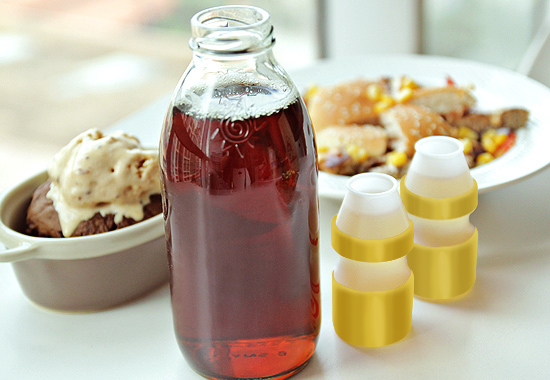 Recycle!
It feels very faddish-though we were told that RRRR skips the Mason jars because they weren't into trends. "This is no gimmick," declares owner Corrie Putmo. "Saving the environment is a way of life."
Deconstruction and reconstruction are the convenient shorthand for what RRRR is trying to do. "We are destroying Mother Earth so we should do everything we can to rebuild it," says the passionate environmentalist-turned-restaurateur.
ADVERTISEMENT - CONTINUE READING BELOW
This two-fold cycle is something that Corrie bears in mind in developing every aspect of RRRR. Even the dishes, as if to really pound this philosophy into her customers. The Compost Cheeseburger (P780) is served deconstructed-a bun, a patty, and a cheese single chopped up, served almost like a salad, and biting is made optional. The beef is local Wagyu, she says, but ethically farmed. The actual salad, nicknamed The Greenhouse (P580), is a warm cooked garden of beans, greens, potatoes, tomatoes, and cracked pepper.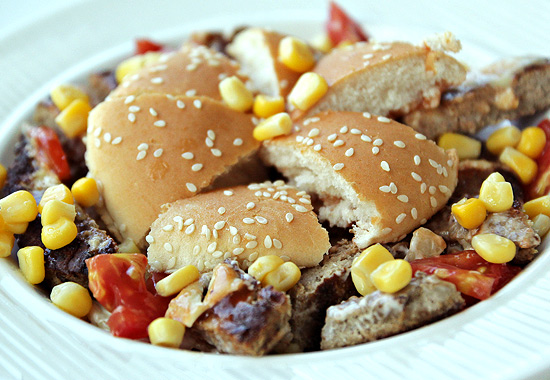 ADVERTISEMENT - CONTINUE READING BELOW
Compost Cheeseburger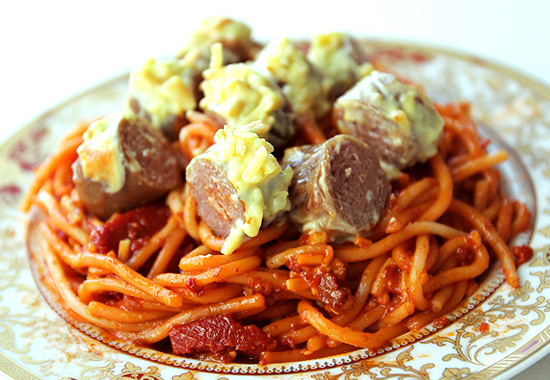 Reclaimed Pasta
The Reclaimed Pasta (starts at P600) is a build-your-own adventure which begins with the type of noodle you want and ends with the number of toppings. As expected in this kind of mission-oriented restaurant, RRRR uses only organic ingredients to pepper their menu. The choices for toppings change every now and then. According to Corrie, it really depends on what's left over from the day before. "We're very homey here, and this is what people do at home. I don't understand why some restaurants think they're too good for it," she says matter-of-factly. "We refresh leftovers into something different."
ADVERTISEMENT - CONTINUE READING BELOW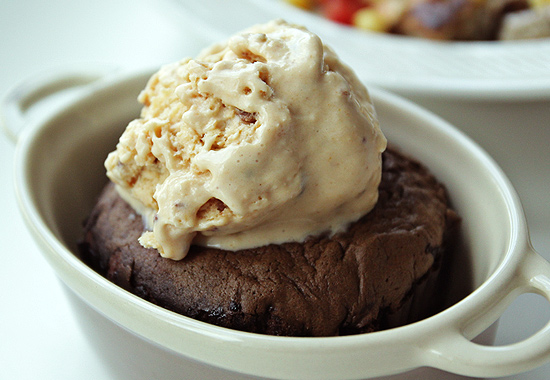 Global Warming
The Global Warming (P550) is topped with luscious butterscotch ice cream that melts over the hot chocolatey sphere. The metaphor isn't lost on us, but the rich velvet flavors are bound to make you think of nothing but the emotional benefits of chocolate.
We had to ask about the price point, especially since Corrie insists on local sourcing if possible. "I'm really pushing for awareness. The price we pay for destroying the Earth is really expensive."
ADVERTISEMENT - CONTINUE READING BELOW
The message at RRRR is clear: Reduce, Reuse, Recycle, and Reconstruct.
*Yes, this restaurant is fictitious. Happy April Fool's Day, Spotters! Remember the environment!
Are you sure you want to delete this list?

Load More Stories