10 Cool Places for Your Cold Cravings This Summer
Ice cream and milkshakes are simple (and scrumptious) solutions to dealing with the heat.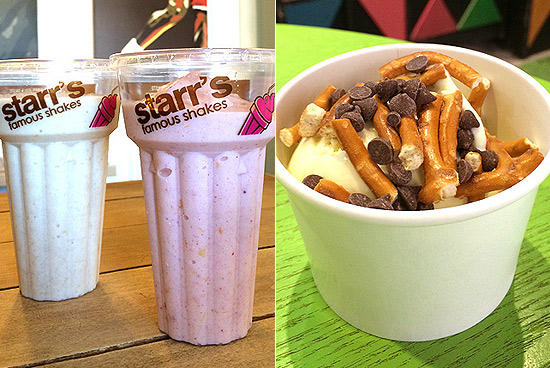 (SPOT.ph) When normal weather is upwards of 30 degrees, we all need to be creative about finding workarounds to keep our cool. Our advice: dress accordingly, always have water ready, and whenever possible, stay indoors (unless, of course, you're at the beach or pool-bound, in which case, good for you!). But when these aren't enough, here are 10 other ways to conquer this sweltering situation.
(Hint: A lot of ice cream is involved.)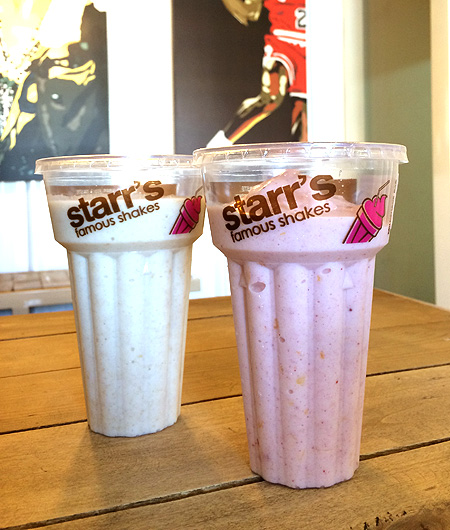 Starr's
It's so hot out...that milkshakes are the only thing that make sense right now.
Come and grab one at Starr's, where the goal is not really to have dessert in a glass (although you could) but a sensible refreshment for high-temperature days. Many shake places will whip up some ice cream, milk, and blend it with ice-but none so profoundly as Starr's. For one thing, their selection blows the mind. Their "Famous Milkshakes" start at P85 a pop, after which you can add things like Twix and Snickers; or go the indulgent route with dreamy concoctions like PB&J and Oreo Cheesecake. For guilt-free(ish) options and the lactose-sensitive, let sugar-free redemption come in the form of their yummy Yogurt Milkshakes.
ADVERTISEMENT - CONTINUE READING BELOW
Order these: Retro Malt Shake made with Horlicks powder (P120), and Cherry Pineapple and Peach Yogurt Milkshake (P125)
Starr's is at Rosa Alvero Street corner Katipunan Avenue, Quezon City.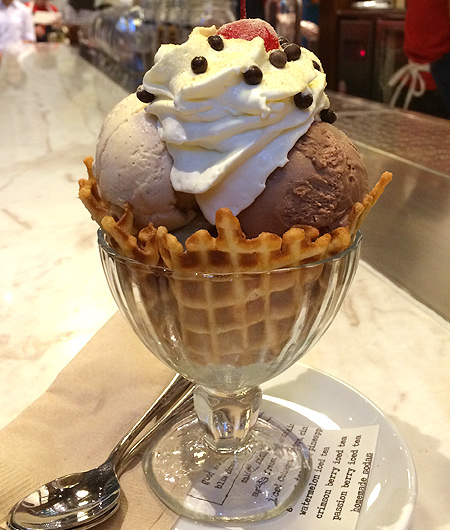 CONTINUE READING BELOW
Recommended Videos
Farmacy
It's so hot out...and to top it all off, you're having a bad day.
In many ways, Farmacy is just what the doctor ordered if you're suffering from heat or some form of heartbreak. (EDSA traffic. PMS. Work stress. The list goes on.) This ice cream and soda fountain in BGC is where prescriptions for sundaes, soda floats, ice cream sandwiches, even spiked desserts exist to serve some ice-cold healing. Vibe-wise, they're more upscale than your usual colorful, kid-friendly ice cream parlor, but unquestionably just as rewarding. Every flavor from their 26-count ice cream repertoire is fresh and handmade, so you can definitely drown your feels and let ice cream therapy work its magic here. Plus points: They're open 'til midnight everyday.
ADVERTISEMENT - CONTINUE READING BELOW
Order these: Milk, Pistachio, and Banana with Salted Caramel Ice Cream (P130/scoop), and the Dusty Road Sundae (P280)
Farmacy is at Net Lima Building, 4th Avenue corner 26th Street, Bonifacio Global City. Read more about it here.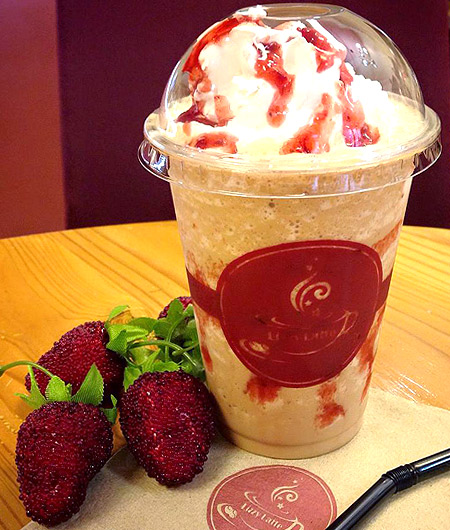 Lizzy Latte
It's so hot out...that you're just not in the mood for hot coffee.
You love your hot Americano-but not in this weather. Good thing a freshly opened third-wave coffee hub in Legazpi Village serves handcrafted iced lattes worth breaking your morning ritual over. Aptly called Freezy Lizzies, they come in 'habitual' or 'addicted' sizes and are made with a signature roast from premium quality beans from four different countries. To create unabashedly flavored coffee, Lizzy Latte mixes their signature blend with premium fruit purees, so you get a tasty kick. The result is a smooth, subtly flavored brew even the deepest Americano loyalist could really get used to-heat or no heat!
ADVERTISEMENT - CONTINUE READING BELOW
Order these: Blueberry Bliss (P160), Pinacolada Passion (P160) and Mocha Mint Marvel (P150)
Lizzy Latte is at Builder's Center Building, Salcedo Street, Legazpi Village, Makati City.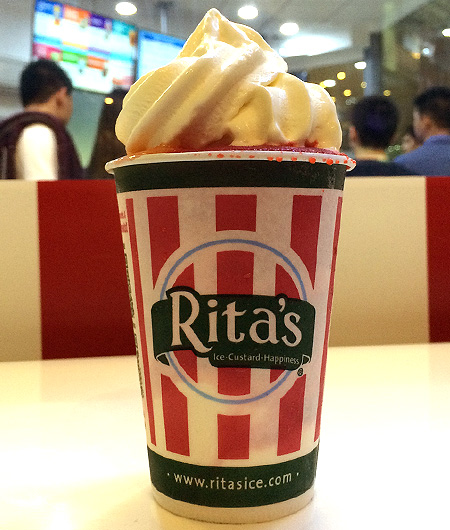 Rita's Italian Ice
It's so hot out...that your tastebuds have gone crazy, and you can't decide whether you want a slurpee or ice cream.
At Rita's Italian Ice, you kind of get both. That slurpee-esque satisfaction and rich ice cream flavor are present in their gelatis-a mix of freshly made Italian ice and old-fashioned custard stacked on top of each other. Since opening in November, Rita's has enjoyed a steady stream of fanatics queuing for this nifty tandem so expect the lines to double this summer. The texture of their italian ice is super soft and fine, and comes in enticing flavors like Strawberry Banana, Mint Chocolate Chip, Cherry, and a dozen others, which, when paired with their frozen custard, creates a divine combo perfect for cooling off. Definitely worth the wait.
ADVERTISEMENT - CONTINUE READING BELOW
Order these: Strawberry Banana Italian Ice with Vanilla Custard Gelati (P130) and Cherry Italian Ice with Vanilla Custard Gelati (P130)
Rita's Italian Ice is at G/F V-Mall, Greenhills Shopping Center, San Juan City. Read more about it here.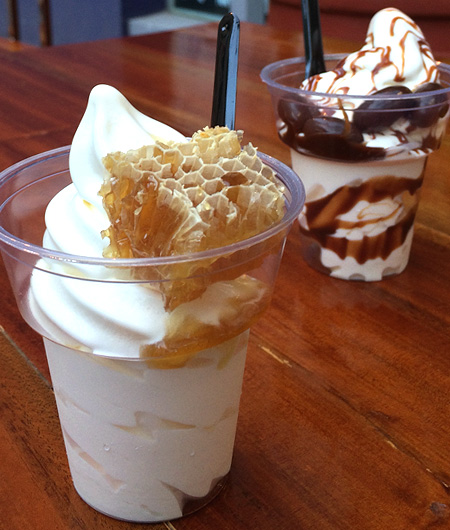 Milkcow
It's so hot out...and feeling bloated is out of the question, so you're craving something light and unfussy.
Simplicity is what makes Milkcow a star player in the city's soft-serve wars. Taking the organic milk ice cream trend from Japan to clever new heights, Korea's Milkcow built a following out of fascinating combinations where the unique taste of organic milk makes all the difference (Read: No yucky sugar overload). When it debuted in Manila last December, their pretty little cups topped with a cube of organic honeycomb flooded Instagram feeds. There's only one flavor of soft-serve here-the milkiest Milk ever-that works wonderfully as a base for its curation of add-ons like honey, cotton candy, chocolate, and macarons.
ADVERTISEMENT - CONTINUE READING BELOW
Order these: Milky Cube (P170), Milky Pop (P150), Macao Dream (P170)
Milkcow is at Eastwood Mall, Quezon City. Read more about it here.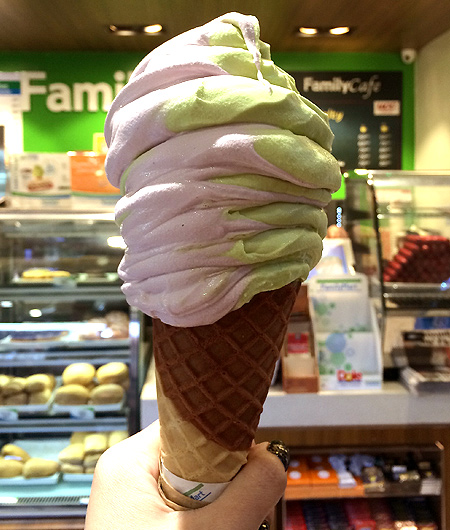 Family Mart
It's so hot out...and you're a little bit broke and in search for a cheap thrill.
Everybody knows Family Mart is a sanctuary of budget-friendly eats. Their swirl-all-you-can soft-serve ice cream is what will get us through the scorching summer months at the least cost. It's practically a no-brainer at only P30 for a sizable waffle cone and as much Blueberry and Green Tea ice cream your swirling strategy permits. There's not much to this sweet treat, but the fact that you'll likely run into a Family Mart no matter where you're off to makes this the most convenient option to mellow out without having to splurge.
Order these: Current flavors are Blueberry and Green Tea Ice Cream (P30)
Click here for a list of Family Mart branches.
ADVERTISEMENT - CONTINUE READING BELOW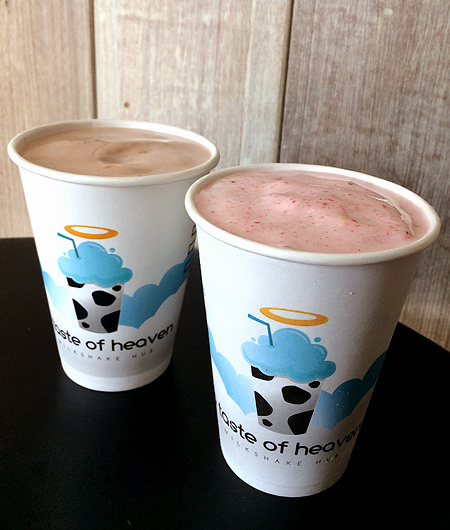 A Taste of Heaven
It's so hot out...that you want ice cream-in shake form.
For chill-seekers in QC, A Taste of Heaven is your mini refuge-especially for those who want ice cream they can sip on. It's a cozy milkshake mecca for the sweet-toothed, popular for shakes that are really thick and creamy that it's literally like eating ice cream with a straw. They make 'em with soft-serve vanilla ice cream, strawberry, and chocolate ice cream plus your choice of chocolate bar (Violet Crumble, woohoo!) and dessert favorites like S'mores Banana and Salted Caramel.
Order these: PBC aka Peanut Butter / Banana / Chocolate (P95) or Strawberry Banana Milkshake (P95)
A Taste of Heaven is at 71 Maginhawa Street, Quezon City.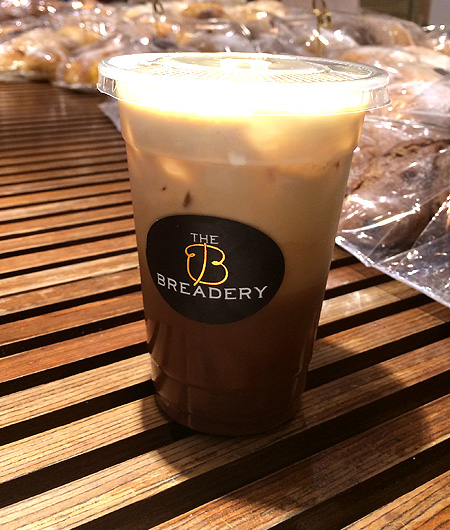 ADVERTISEMENT - CONTINUE READING BELOW
The Breadery
It's so hot out...and this scorching weather is making you sleepy, so more coffee is in order.
This buzzy little bakery in Ortigas and UP Town Center is, in two words, bread heaven. But their meticulously prepared cold brews caught our attention. To make their coffee, The Breadery uses coarsely ground beans from Seattle and a drawn-out 14- to 18-hour brewing process to provide bold, full flavor. The Cold Brew San Pellegrino (P190), not for the faint of heart, offers a deconstructed fix that lets you add soda water in your coffee to taste. But, if you're not feeling too adventurous, we recommend their White Chocolate Macadamia-a luscious iced brew perfect for kicking back on a humid afternoon.
Order these: White Chocolate Macadamia (P170), Dolce Fine Shooter (P180)
The Breadery has branches at UP Town Center, Quezon City; and Emerald Mansion, Emerald Avenue, Pasig City. Read more about it here.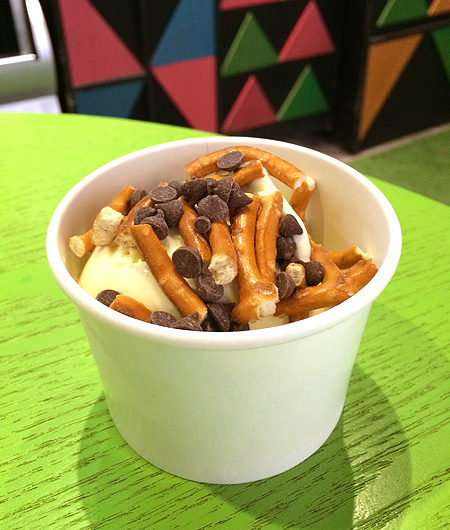 ADVERTISEMENT - CONTINUE READING BELOW
Kool Kids
It's so hot out...that you're in the mood to see-and eat-something cool
The spectacle of preparing liquid nitrogen ice cream is a huge draw here. Set up on the 5th floor of Mega Fashion Hall, Kool Kids uses fresh cow's milk as a base to make ice cream fresh as you order. Part of the thrill is watching a mini science experiment as they add nitrogen to freeze it on the spot. The transformation happens in a mixer bowl, with lots of smoke and vigorous shaking, until ta-dah-you get the smoothest, potently-flavored ice cream in a cup. Add a few toppings and you're all set. It's quite a trip, and we imagine an even bigger hit if you're here with kids in tow.
Order these: Madagascar Vanilla with Pretzels & Chocolate Chips (P150), Frodough (P90)
Kool Kids has branches at 56B East Capitol Drive, Kapitolyo, Pasig City; and SM Mega Fashion Hall, Mandaluyong City.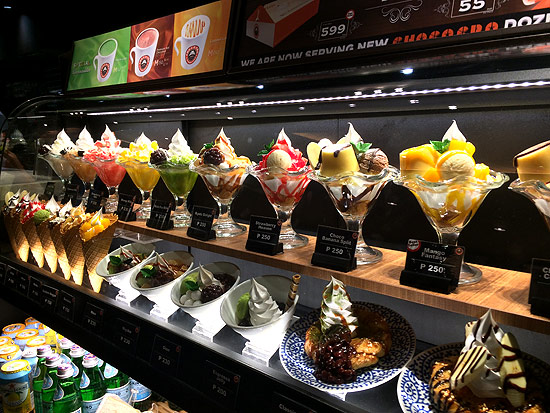 ADVERTISEMENT - CONTINUE READING BELOW
St. Marc Cafe
It's so hot out...that you just want to hole up in a cafe until the sun cools down.
While they're probably best known for the chococro (their version of a chocolate croissant), St. Marc does a nice job of outsmarting the heat wave thanks to a colorful selection of desserts. Largely ice cream-based and often Japanese-themed, there's a ton of options for every desire and occasion. Their signature Fuji desserts are an upgrade to the usual coffee break pastries-because they pair them with ice cream. Intricately crafted parfaits topped with fruits and Ice Kacang (shaved ice) concoctions also make fine alternatives to halo-halo.
Order these: Sunshine (P150), Classic Fuji (P230), Choco Berry Celebration (P250)
St. Marc Cafe is at SM Mega Fashion Hall, Mandaluyong City. Read more about it here.
Share this story with your friends!
---
Help us make Spot.ph better!
Take the short survey
Load More Stories