10 Best Things We Ate This June
Noteworthy dishes in this food-filled month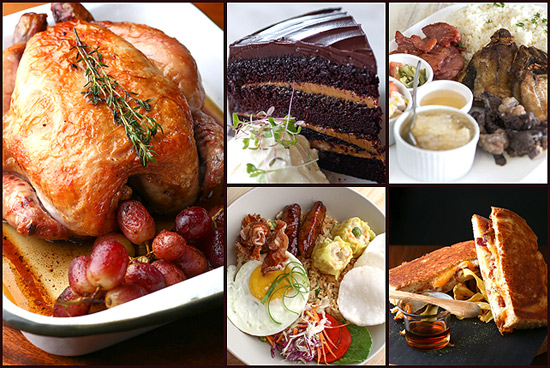 (SPOT.ph) If you didn't already know, here at SPOT.ph, we love food. You need it to live, but we find that there are some dishes that go well past the virtue of necessity. While others content themselves with a deep fryer and the usual salt and pepper, there are some who make—or at least try to make—an art out of it, with delicious displays and even yummier flavors. We believe those that go above and beyond their duty deserve necessary recognition. So here are our top picks among the dishes we ate throughout June.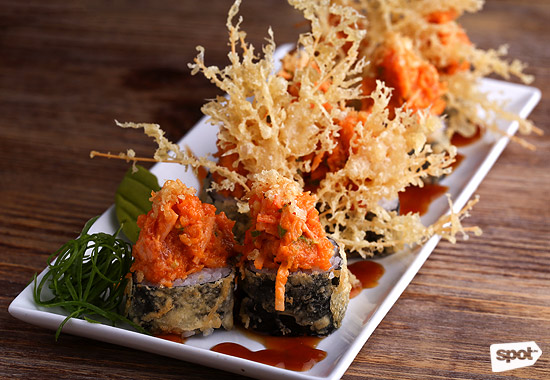 Aburi's Lorenzo Maki
One bite treats you to layers of texture—from the gooey, torched cheese to the crisp tempura coating to the plush tuna core and topping. When you get to that final point at the center, you get an explosion of just-right heat. This is certainly a good way to acquaint you with modern sushi.
Aburi is at 2/F Madison Galeries, 398 Don Jesus Boulevard, Alabang, Muntinlupa City. Read more about Aburi.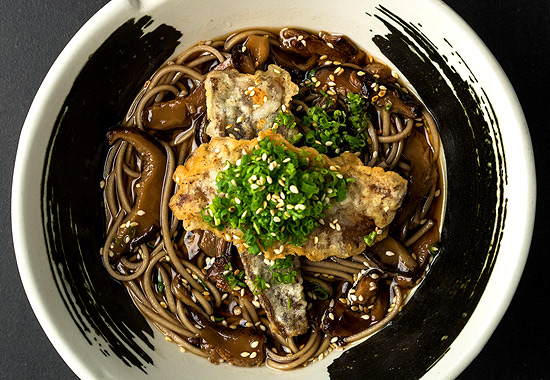 Ooma's Anago Truffle Mushroom Hot Soba
This exquisite dish is the antithesis of another Ooma bestseller: the Uni Udon. While the latter is blissfully rich, this one is exceptionally light. It's served hot, but still refreshing—in the way soba usually is. We're pinning the responsibility on the perfect blend of mushroom and seaweed flavors.
The Anago Truffle Mushroom Hot Soba is only available at Ooma Rockwell.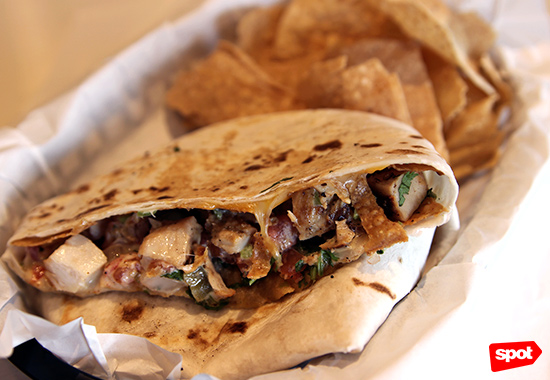 Stacks at Moe's Southwest Grill
Finally, the torment you feel from having to choose between hard and soft tortillas is over! The recently opened Moe's Southwest Grill solves this dilemma by wrapping what is essentially taco filling in a crispy shell before encasing everything in a soft, chewy pocket. It's the best of both worlds—it's like a gift for our taste buds.
ADVERTISEMENT - CONTINUE READING BELOW
Moe's Southwest Grill is at Uptown Place Mall, Uptown Bonifacio. Read more about Moe's Southwest Grll.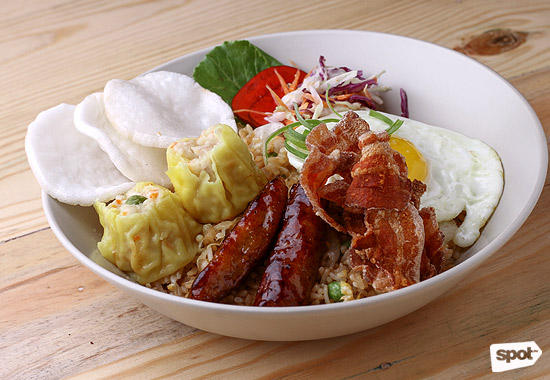 Paseo 59C's Brunchfast of Champions
This isn't your run-of-the-mill heavy breakfast. First off, it's Chinese-themed, so you get dumplings, sesame slaw, fried egg, fried rice, bacon (just because bacon goes beyond the bounderies of geography and time), and kropek—hitting all the right spots to satisfy your cravings. This sampler set is pretty generous, but anyone who's looking to load up for the day wouldn't have a problem finishing it solo.
Paseo 59C is at 59C Paseo de Roxas Street, Makati City. Read more about Paseo 59C.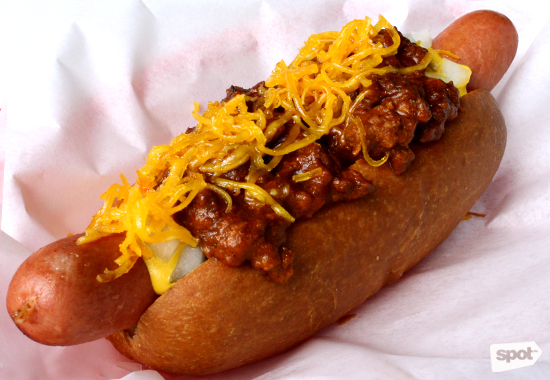 Pink's World Famous Chili Cheese Dog
Hollywood's legendary hotdog stand is now in the Philippines, and the two-year-wait was pretty worth it. The local Pink's gets their hotdog ingredients abroad, but assembles them fresh in Manila, guaranteeing a snappy hotdog experience. The bun is sourced from their sister restaurant, Wildflour, and it's the perfect canvas to the perfectly seasoned banger and lightly spiced chili.
Pink's World Famous Chili Cheese Dog is at Shangri-La at the Fort, 5th Avenue, Bonifacio Global City. Read more about Pink's.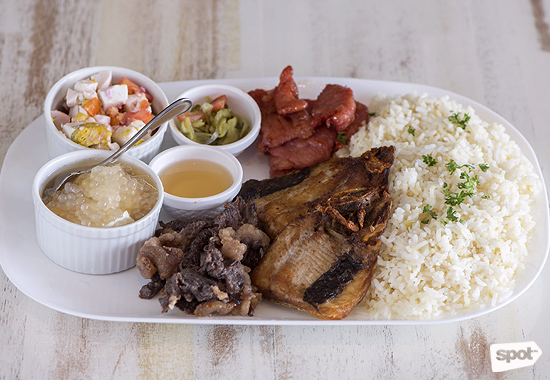 The Breakfast Plate's Filipino Breakfast Plate
What we love about The Breakfast Plate is how they accurately predicted how their customers would have a hard time picking just one option. The Filipino Breakfast Plate is a sampler of several beloved Filipino breakfast favorites, like daing na bangus, salted egg with tomatoes, beef tapa, tocino, sinangag, and fried eggs. 
The Breakfast Plate is at 80 Maginhawa Street, Teachers Village, Quezon City. Read more about The Breakfast Plate.
ADVERTISEMENT - CONTINUE READING BELOW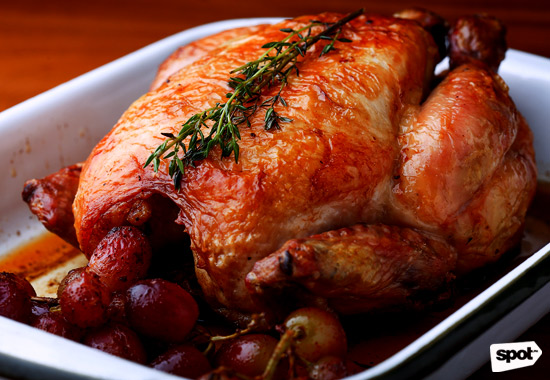 Spoon Eat + Drink's Roast Chicken with Smoked Paprika Grapes
Roast chicken is an easy favorite. Nearly everyone has a version, but Spoon's owner Philane Ponio makes hers stand out thanks to the addition of grapes! This bird is brined for six hours just so the flavor can come through. The fruits inject a subtle sweetness all throughout the chicken, and the paprika steps in with a nice smokiness just in time to keep things on point. 
Spoon Eat + Drink is at 319 Aguirre Avenue, BF Homes, Parañaque City. Read more about Spoon Eat + Drink.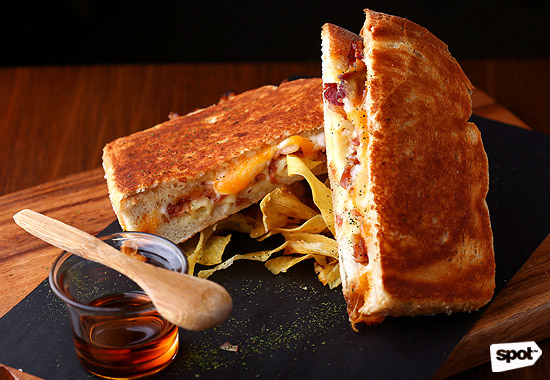 Melt Grilled Cheesery's Big Buff
A pizza-flavored grilled cheese sandwich? Tell us that this isn't the sandwich of your dreams! Melt Grilled Cheesery's blend of cheeses is balanced by Buffalo sauce-coated chunks of chicken, pepperoni, bell peppers, caramelized onions, and smoked paprika. No ingredient in the kitchen was left untouched for this one.
Melt Grilled Cheesery is at Uptown Place Mall, Uptown Bonifacio. Read more about Melt Grilled Cheesery.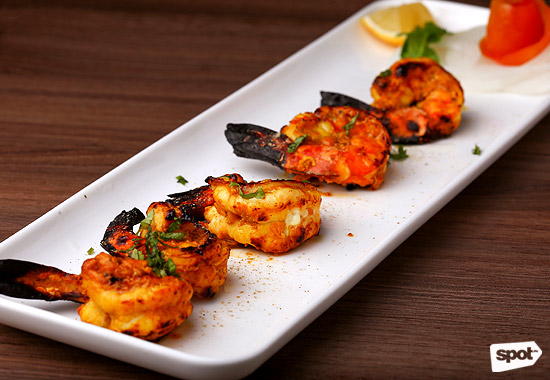 Mantra Bistro's Tandoor Prawns
Showing us the exciting gastronomy of Northern India is this cozy nook in Legazpi Village. Mantra Bistro is savvy with their tandoor oven, and because of the delicate natural profile of prawns, it's the best stage for that extra smoky flavor that seeps into the dish.
Mantra Bistro is at Grand Midori, Bolanos Street, Legazpi Village, Makati City. Read more about Mantra Bistro.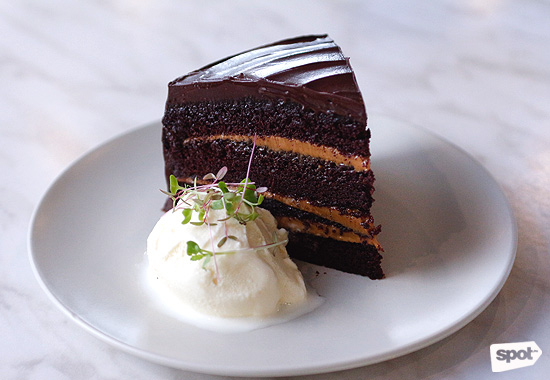 Come Forth Kitchen's Dulce de Leche Chocolate Cake
It's quite easy to be satisfied with Come Forth Kitchen's specialty brunch selection, but the desserts should never be overlooked. The Dulce de Leche Chocolate Cake, particularly, is a showstopper. The cake is moist without being too rich, flavorful without being cloying. The dulce de leche is enough to provide just the right amount of sweetness to lift up the heaviness of the chocolate.
ADVERTISEMENT - CONTINUE READING BELOW
Come Forth Kitchen is at 120 Jupiter Street, Bel-Air, Makati City. Read more about Come Forth Kitchen.
Load More Stories