Cuillere Comforts the French Way
Finally - no fuss French food in Manila, where all you need is an open mind and a hearty appetite.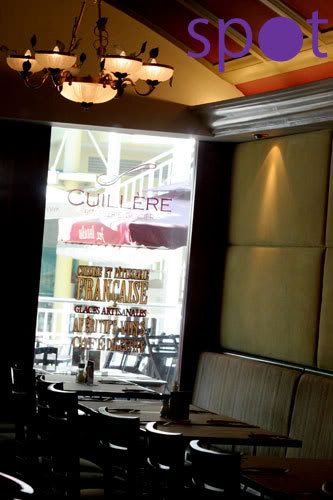 Cuillere chose to go with warm colors for their interior.
It's not every day that Filipinos can actually encounter a brasserie here in Manila. And when people say the name Cuillere (ku'yer), most of us are intimidated because it sounds like a fancy restaurant with an equally hard to pronounce French name. But anyone who has ever dined at Cuillere will tell you otherwise. Maybe it's best that we start off this article with a definition. A brasserie is a simple restaurant that serves comfort food and alcoholic beverages. In France, there's a brasserie in every corner, filled with people looking for comfort food and a drink, so it really isn't the snooty fine dining establishment that you may think it is.
Katrina Arce Kuhn, who holds a Gande diplome de Cuisine et Patisserie from the Cordon Bleu Culinary School in Paris, was the woman who decided to bring the country's comfort food to Manila. What started as a small time catering business actually led Katrina and her business partner and aunt, Arlene Arce, to open a restaurant counterpart - Cuillere. "The food we serve here at Brasserie Cuillere is not the fine dining, haute cuisine I served at the restaurants where I worked but rather what I ate when I wasn't working."
ADVERTISEMENT - CONTINUE READING BELOW

The steak weighs about 400 grams and comes with blue cheese sauce and fries.
CONTINUE READING BELOW
Recommended Videos
Among the dishes that the restaurant prides itself in is their Steak and Friess. At first glance, it's a simple dish; it's just steak and fries. But what makes the dishes that Cuillere has different from any other restaurant out there is that the technique of cooking that they use is exactly how a chef in France would do it. Everything is made from scratch. Kuhn believes that it is in this way that she can perfectly capture the essence of the dish, its history and its origin. This distinction is very evident in the taste of their dishes - delicious, savory and each bite is an experience. With this in mind, they really did pick a perfect name for the restaurant. Although it is a little difficult to pronounce, the word "cuillere" actually means "a spoonful" or "the perfect bite".
ADVERTISEMENT - CONTINUE READING BELOW

Cuillere's Carabao Milkshakes now available to-go.
It's also welcome news that Cuillere will be expanding its menu to accommodate more "slow food". This means more casseroles and more happy stomachs. Wine lovers will also love the new wine menu that the brasserie is currently developing. "We'll be having an illustration of a map and each kind of wine will be segregated according to region." For those who can't live without milkshakes, Cuillere also has plans of expanding their already extensive lineup of Carabao Milkshakes. As for the flavors, we'll all have to wait and see. But what we can tell you is that Cuillere will be closed on June 20 because Katrina will be getting married. So SPOT gives its hearty congratulations to Cuillere's owner and chef, Katrina Arce Kuhn.
May there be more cooking to come!
To read our user reviews on Cuillere, please click here. For reservations and inquiries, please call 856-3325.
ADVERTISEMENT - CONTINUE READING BELOW
Images by Karl Bustamante
Share this story with your friends!
---
Help us make Spot.ph better!
Take the short survey
Load More Stories