Chawanmushi in a Cup
At Century Tsukiji, the kitchen's attention is on you, announced by the taiko drum when you enter. Two beats alert the kitchen to anticipate the cooking and preparation of your meal.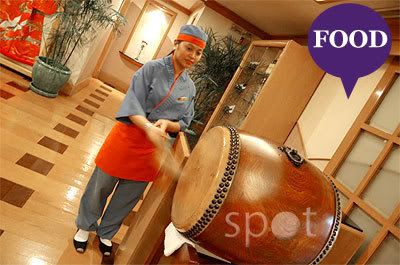 The taiko drum announces the patrons' arrival to the kitchen.
The recent incarnation of Century Park Hotel's Japanese restaurant outlet offers a little something extra: It is named after Tokyo's bustling and biggest seafood market, Tsukiji. Century Tsukiji has its seafood shipped fresh from its namesake market in Japan twice a week via Philippine Airlines.
When to go: At lunch time, you don't have to jostle with the crowd at Century Tsukiji since most of Metro Manila prefers to dine elsewhere. It's actually a good thing if you like your lunch or business meeting serene and relaxed. Plus, the kitchen's attention is on you, announced by the taiko drum when you enter. Two beats mean two guests have arrived, alerting the kitchen staff to anticipate the cooking and preparation of your meal.
What to eat: The regular shipment translates to the freshest sashimi slices possible, plump prawns tucked inside a delicately crisp tempura shell, and all other seasonal ingredients needed in Century Tsukiji's kitchen. The 15-page plus menu reflects the breadth of Japanese cuisine cooked from the simplest to the choicest ingredients. You will not be wanting of noodles, sushi and maki, tempura, teppanyaki, rice toppings, tofu, rice balls, rice soups and more.
ADVERTISEMENT - CONTINUE READING BELOW
The prices are a large percentage more than your chicken teriyaki meal with iced tea since it's a hotel outlet. That's what Century Tsukiji's bento box and set meals (teishoku) are for: a complete meal with a reasonable price tag. For example, a tempura meal of prawns, fish and vegetables (Tempura Teishoku) will set you back around P680. It is served with two appetizers, sashimi, steamed rice, miso soup and dessert on the side. The bento box, a full-course meal served on a beautiful lacquered tray, ranges from P795 to P1,360. It's an elegant, grown-up's lunch box with everything on it.
CONTINUE READING BELOW
Recommended Videos
Teppanyaki chef Seiji Kamura prepared a feast of the outlet's bestsellers. Ten varieties of sushi, the matsu nigiri (P1,130), occupied our chopsticks first. Chef Kamura said vegetarian maki/sushi roll can be made especially for vegetarians–just request from the chef. The special chawanmushi (P455) is the ubiquitous steamed egg custard, made "special" with the addition of seafood and vegetables hidden beneath the curd and served on a bigger and better-looking cup.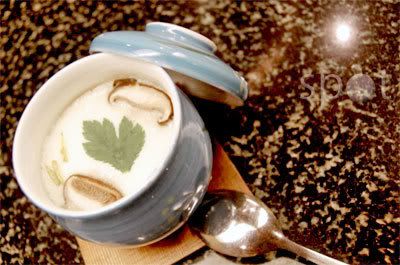 ADVERTISEMENT - CONTINUE READING BELOW
A small version of the chawanmushi or steamed egg custard.
The main meal is the colorful matsu bento (P1,020) which contains sashimi, salmon teriyaki, a pink fish cake, yasai (vegetables boiled in soup stock), prawn, and others. Chef Kamura said they make their soup stock from scratch, a blend of dried seaweed and fish and other secret ingredients. The yasai soaked up the flavors of the stock, giving what could have been a boring slice of vegetable its 'umami-ness.' The stock is also used for the miso soup, teriyaki sauce, soba base and others.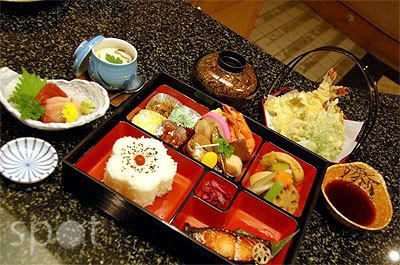 Their matsu bento is no fast food bento box.
The chef is particularly enamored with their prized Ohmi Wagyu, the finest brand of the famed beef which the restaurant serves as sukiyaki, shabu-shabu, sashimi and tataki (half-cooked). We sampled the Wagyu teppanyaki (P1,450) and was promptly rewarded with the tenderness and flavor associated with this meat.
ADVERTISEMENT - CONTINUE READING BELOW
Our instant favorite is the prawn teppan, smacked with what looked like hollandaise sauce. The sauce is made with kimi (egg yolk), hence the bright yellow color, and rice wine vinegar (the sweet variety) whipped over a pan of hot water till thick. Straightforward but rich.
The Scene: The muted interiors, furnishings and décor of the outlet's previous self had been retained, with the addition of a large glass case at the entrance to the dining area. It houses a traditional samurai garb called yoroi complete with a kabuto (helmet). The whole costume weighs about 20 kilos, a hefty sum that would make anyone hungry after a while. The shelves near the entrance are now lined with bottles of sake and shochu.
Insider's Tip: Go ala carte if you're feeling adventurous, indulgent or hankering for just one dish, say a noodle dish like the Tempura Udon (prawn tempura swimming in a bowl of wheat noodles and vegetables) or Teppanyaki galore.
I'd usually go for the green tea ice cream after dinner but the abekawa mochi (P285), a rice cake dusted with powdered soy beans, lay on the plate waiting. It was served warm and has the consistency of a thick palitaw (Filipino rice cake boiled in water) minus the shredded coconut. After sampling other dishes way beyond the confines of my bento, I found the mochi a bit heavy. The rice cakes would definitely complement a lighter meal while Century Tsukiji's homemade ice cream will satisfy even the fullest of stomachs. There's always a next time.
ADVERTISEMENT - CONTINUE READING BELOW
Century Tsukiji is located at Century Park Hotel, 599 P. Ocampo Street, Malate, Manila. For reservations and inquiries, please call 528-5835.
Images by Cathy Paras-Lara
Share this story with your friends!
---
Help us make Spot.ph better!
Take the short survey
Load More Stories