On the Spot: Alicia Sy, author of Eat Out Now: 115 Restaurants We Love
Who is Spot.ph's new food blogger?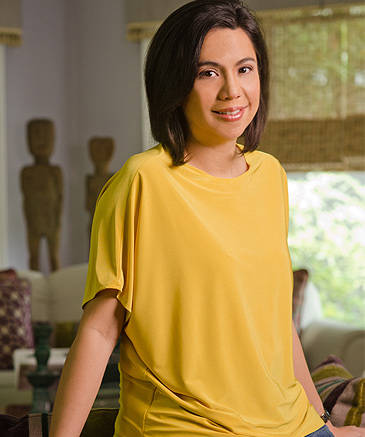 (SPOT.ph) When Town and Country Philippines published the article 62 Reasons to Eat Out Right Now in its November 2011 issue, most of Manila went abuzz. "I know that place!" "Agree!" "We have to eat there!" were just some of the most common comments thrown in, but the loudest of them all was: "Who is Alicia Sy?"
ADVERTISEMENT - CONTINUE READING BELOW
CONTINUE READING BELOW
Recommended Videos
It was a natural question to ask because, well, what an awesome list she put together. Apart from the expected recommendations (Sala, Antonio's, Cirkulo), she included childhood favorites (Pancake House, Milky Way), as well as down-to-earth places (Mann Hann, Chili's). She clearly knows food, or at least knows good food.
And so, another list. A bigger, better, more massive one at that: Eat Out Now: 115 Manila Restaurants We Love has recently hit newsstands. The book, written by Sy (with a little help from her friends) lists down the best of the city in terms of food. Brunch? Yes. Balikbayan entertaining? Of course. Date nights? After hours? People watching? You name it.
But even better: Alicia is also Spot.ph's newest food blogger. So how about we get to know the person who's been pointing Manila in the direction of fantastic food?
Can you tell us a little bit about yourself? What were you doing before you joined Town & Country?
I was a stay-at-home mom for the past seven years. Prior to that I have worked several jobs in retail and management consulting.

What brought about your love for food?
I suppose I have always had a heightened interest in food, but I began eating out with a passion in my early twenties while living in New York City. About the same time I became interested in cooking. It was a  very holistic interest in food culture.

ADVERTISEMENT - CONTINUE READING BELOW
What do you think is the hardest thing about writing about food?
Writing the text for any list is very challenging for me because I feel that I always am constantly repeating myself and using the same words. Every restaurant is unique and has its own character and I wanted to make sure that I captured that with every entry.


ADVERTISEMENT - CONTINUE READING BELOW
What are your all-time favorite eating places in Manila; the places you find yourself visiting over and over again?
The answer to that question can be found in the book! But the restaurants I frequent the most are Segundo Piso at Terry's Selection, Cirkulo, Masseto, Sala, Mamou, Lusso, Ukkokei Ramen Ron, Mann Hann, Mien San, Tsukiji, Milky Way, People's Palace, and Tao Yuan.  The reality is I could go on and on and on.


Which restaurant would you say is your favorite for 2012?
Don't ask me to choose a favorite, it really depends on my mood for the day and the particular cuisine I am craving. But I would have to say Wildflour Cafe+Bakery is definitely a noteworthy newcomer and its popularity is well deserved. I have also rediscovered the pleasure of eating at Caruso Ristorante Italiano recently. I used to frequent Caffe Caruso years ago but since I began writing the book I would have to say that I have loved rediscovering its many pleasures.


ADVERTISEMENT - CONTINUE READING BELOW
Some say the world will end in December. What would you order for your last meal on Earth?
I have been limiting my carbohydrate intake lately so if the world were ending tomorrow I would be feasting on  large plates of pasta accompanied by baskets of fresh bread and bowls full of fried rice. Oh, and then of course there would be copious amounts of cakes and pies.


What's your fast-food guilty pleasure?
A freshly made quarter pounder with cheese, french fries and a diet coke. Definitely. After that it would have to be Magoo's Famous Combination pizza  and Shakey's mojos.


What's the craziest or most unusual thing you've ever eaten?
Sorry, I have been thinking about this for a while but I really can't think of a compelling answer.  I have eaten many types of meat and fowl-all of their parts. Slithering and crawling animals as well. Nowadays, I think people are not as easily shocked with certain food choices.


ADVERTISEMENT - CONTINUE READING BELOW
How did you decide on 115 restaurants for Eat Out Now, the book?
Initially we were thinking about 100 restaurants for the book but when I began discussions with my panelists, I decided that 100 restaurants were  just not enough.  The local dining scene is expanding daily and we are spoilt for choice nowadays. Who knows, perhaps next year there will be more than 115 on the list.


Is there anything you don't eat?
I will try anything once but I draw the line at putting living things in my mouth.  I also don't particularly care for the flavor of coriander but I am trying to teach my palate to appreciate it. I have learned to love it though in Indian chutney with my samosas and dhokla.


Read more of Alicia Sy's restaurant recommendations in Eat Out Now, her new Spot.ph blog. Eat Out Now! 115 Manila Restaurants We Love is a product of Summit Books in partnership with Mastercard. It is now available in newsstands and bookstores for only P250.
ADVERTISEMENT - CONTINUE READING BELOW
Are you sure you want to delete this list?

Load More Stories