Five Minutes with Chef Josh Boutwood of The Bistro Group
What and where he eats when he's not cooking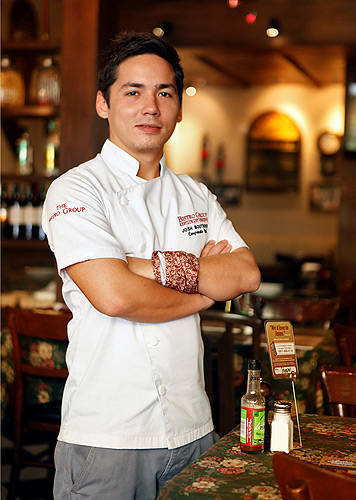 (SPOT.ph) To say that he knows his way around kitchens would be an understatement. Chef Josh Boutwood grew up in his parents' restaurants in England and Spain and at 12, he was already dabbling in European cuisine. Cooking was his favorite game.
Now, where most 25-year-olds are barely making their marks in the world, Josh Boutwood is already an award-winning chef with experience that can compare with colleagues twice his age. The Fil-Brit chef took up formal culinary education in Spain's Escuela de Culinario Mojacar before apprenticing for French Chef Raymond Blanc at  Le manoir aux Quat' Saisons  in Oxford, England. After various kitchen jobs, he worked for Noma, a Copenhagen-based restaurant which topped San Pellegrino's 50 Best. He also became head chef of Sweden's Svaneholm or "Swan Lake Castle" after only two years of working as a sous chef.
He returned to the Philippines in 2010 and opened his own restaurant (Alchemy in Boracay) and, to add to his already bulky resume, was appointed corporate chef of the Bistro Group, the company responsible for bringing in the likes of TGI Friday's, Bulgogi Brothers, Italianni's, Village Tavern, and more.
But enough about his achievements-especially when it's certain he'll have more of those. We sat down with the head-turning chef as he talks about his favorite food, restaurants, and the most unforgettable meal he's ever had.
Chef Boutwood: Are these going to be easy questions?

Yes... they're pretty fun. So, you've been in different countries in Europe. What's your specialty?

(Pause) I thought you said they were going to be easy! Well, before I left Sweden, I was nicknamed an alchemist because I was able to change textures of food very simply using basic techniques but completely changing the aspects of the dish. Thus, when I was called the "alchemist," I opened a restaurant in Boracay called Alchemy. So my forte is playing around with what you see as food, but it tastes completely different or the texture's completely different, the flavor's different. I like to play around with the different flavors. With Bistro, my forte is Western food.
ADVERTISEMENT - CONTINUE READING BELOW


What's the dish that you're most proud of?

Within Bistro?


Yes.

It's not launched yet. It will be launching any time soon. In the next couple of weeks, I think. It's going to be in Italianni's, very lovely country-style flavors. Very rustic Italian style and it's going to be quite interesting, [something] we haven't done before in Italianni's.


You can't give us a preview?

I don't know if I'm allowed! (Laughs)


You studied in Spain and we're guessing you're a fan of Spanish food...

Yes!


Where do you go for Spanish food in Manila?

I was never a fan of Spanish food when I was living in Spain. It was ever since I came away from Spain that I really appreciated it. There's this place, Las Flores here in the Fort, which is fantastic. Spain has many different regions, different influences of food. They captured Galicia, they captured Andalucia, they captured Catalan. So yeah, that's a nice place to eat.
CONTINUE READING BELOW
Recommended Videos


Do you have favorite restaurants apart from Bistro?

Yes, many!


Give us your top five.

My top five. Do I actually have to classify them or can I just say which ones are my favorite? I love Aubergine, it's a fantastic little restaurant. I love [Brasserie] Cicou in Greenhills. I love Achiote in Rockwell. I love Stella downstairs. I really like that.

That's left me with one more... Can I say McDonald's? No, no, no. Let's leave it at four?
ADVERTISEMENT - CONTINUE READING BELOW


Can you tell us about the last unforgettable meal that you had?

It's not even in the Philippines. It was in Sweden [in 2009]. Daniel Berlin is the name of the chef and he named the restaurant after himself, Daniel Berlin. It was in a little hamlet in the countryside in Sweden and he opened his restaurant just for us and it was so personalized. He really made me feel at home. The food was spot on, I could not fault anything. They had a beautiful tasting menu. Wines were perfect, everything was perfect.


This was Swedish food?

Yes! It was Nordic food. Every ingredient that he had came from his garden. I will never forget that meal. That still is my ultimate.


Share this story with your friends!
---
Help us make Spot.ph better!
Take the short survey
Load More Stories