The Sexy Chef Sisters on What It Means to Be Sexy
Here's a Q & A with The Sexy Chef sisters Rachel Alejandro & Barni Alejandro-Rennebeck.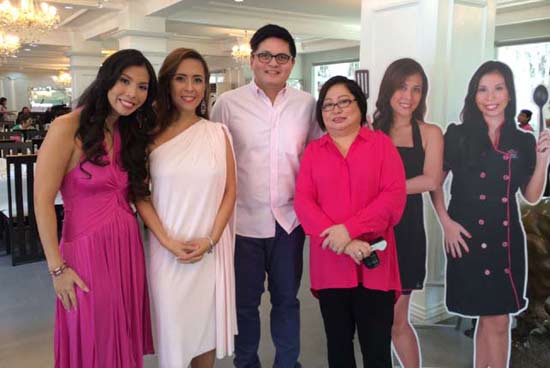 Barni Alejandro-Rennebeck, Rachel Alejandro-Santamaria, Rowell Santiago, and Girlie Rodis
(SPOT.ph) Days after the joint celebration of my birthday and their company's 10th year anniversary, I got a chance to sit down with my longtime artist, Rachel Alejandro, and her sister, chef Barni Alejandro-Rennebeck. They're co-owners of Manila's top health-food delivery service, The Sexy Chef. Over the past decade, I witnessed these girls turn a mom-and-pop operation into a thriving food business that delivers hundreds of healthy meals everyday to figure-conscious Pinoys.
Also read:
SPOT.ph Roadtest: The Fit & Sexy Summer Challenge (Final Week)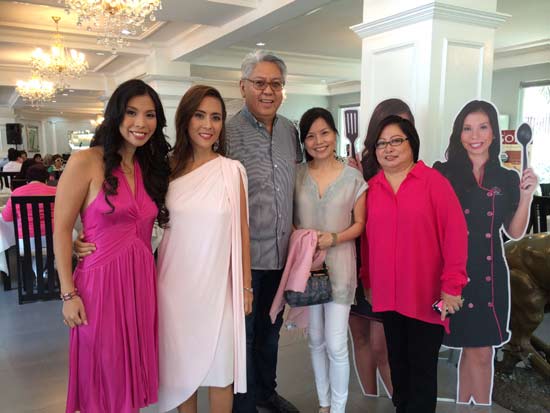 The Sexy Chef sisters with Ryan and Emmy Cayabyab and Girlie Rodis
I have been Rachel's manager for nearly 20 years and she's the closest thing I have to a daughter. It feels like I've been a part of nearly all the milestones in her life, including, most recently, her evolving from being a young singer-actress to total performer, entrepreneur, and now bestselling author.
ADVERTISEMENT - CONTINUE READING BELOW
I know firsthand that the Alejandro sisters walk the talk. They are committed to healthy living as much as they are dedicated to their company. I thought, who better to ask than them what it truly means to be healthy and sexy?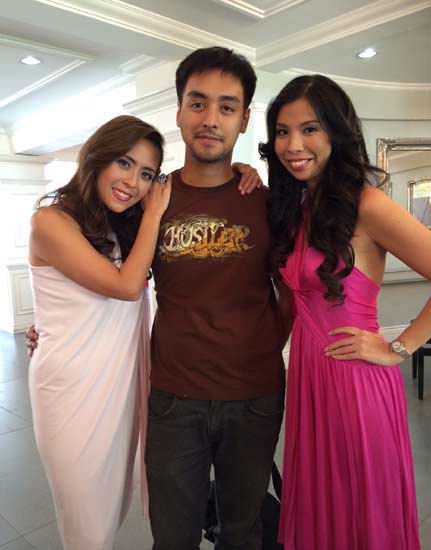 CONTINUE READING BELOW
Recommended Videos
Rachel, Ali, and Barni Alejandro
In your opinion, what makes a man or woman sexy?
Rachel: Funny, confident people are sexy! I find that I'm most comfortable and at ease when I've been taking care of myself-eating well and exercising regularly. It isn't all about being slim. For me, being sexy comes from feeling good about yourself.
Barni: I think that being healthy is sexy. I've observed that men and women who eat right not only look good but also have a happier disposition. Exercise and a balanced diet do wonders to the way you look and feel about yourself.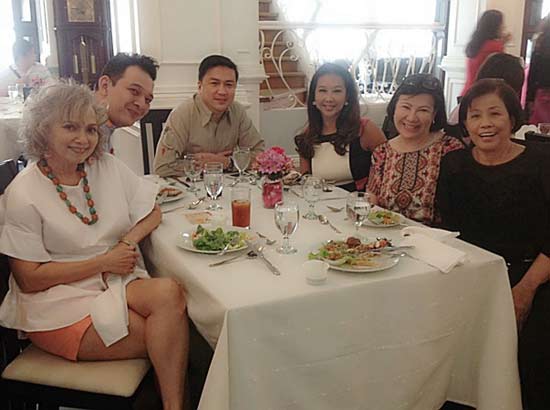 ADVERTISEMENT - CONTINUE READING BELOW
Celeste Legaspi, Chuck Gomez, Arnold Vegafria, Korina Sanchez, Shirley Kuan, and Lily Monteverde
What is your #1 best advice for those who want to be fit and fab?
Rachel: Order healthy meals from The Sexy Chef! Haha. But seriously, experts say that fitness is 20% exercise and 80% nutrition. A little bit of knowledge and planning your meals in advance go a long way to help you stick to your goals. Don't wait 'til you're starving because then you'll most likely grab whatever is accessible-which more often than not is junk. Besides, starving yourself is the surest way to slow down your metabolism and make your body store fat.
Barni: Having a healthier eating lifestyle doesn't have to be rocket science. It's all about making a few substitutions here and there and wise food choices every day. To save on a lot of fat and calories, limit eating deep-fried food. Stick to grilled, baked, stir-fried, sautéed, etc. Make yourself feel full for a longer period of time by having a lot of fiber in your meals. Incorporate green leafy vegetables, brown rice, and other whole grains. Fiber also lowers bad cholesterol. To keep hunger at bay, make sure you have healthy snacks on hand, like fruits, yogurt, hard-boiled eggs, and vegetable sticks. Clean out your pantry and load up on healthy items. That way there is less temptation to eat junk food.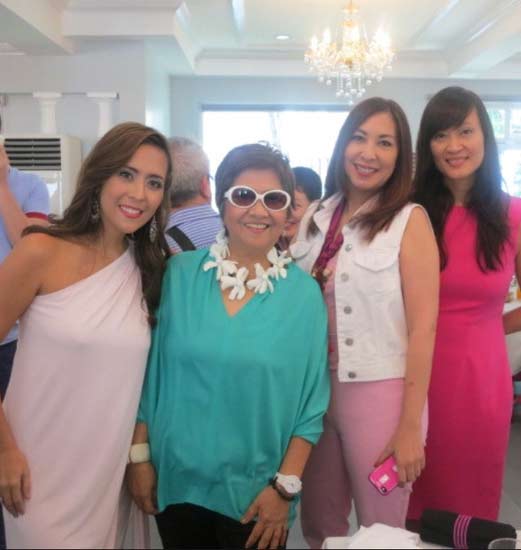 ADVERTISEMENT - CONTINUE READING BELOW
Rachel Alejandro, Susan Joven, Fannie Yuchengco, and Myrza Sison
What is the latest diet trend that we should all watch out for?
Rachel: Think inclusion instead of exclusion. Old diet fads make you ban certain food groups or macronutrients. According to the co-creator of many of our diet programs, resident food coach of The Biggest Loser Nadine Tengco, one of the fastest, most effective ways to lose weight is to make sure to eat meals rich in what she likes to call the Fat Fighting 4 Nutrients-Calcium, Fiber, Vitamin D, and Omega 3 Fatty Acids. These work together to make you feel full longer, prevent the storage of fat, and sweep away toxins from the body.
Barni: Back in the day, I used to be overweight and sickly from eating a lot of packaged and processed food. When I started cooking fresh home-cooked meals, I lost 20 pounds in 8 months and my immune system got stronger. I think the lifestyle to follow now is to eat "real" or whole food. All natural is the way to go.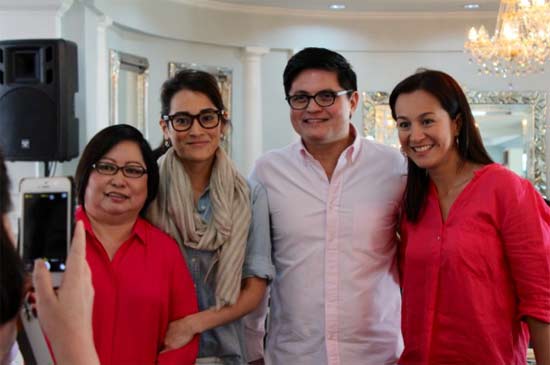 ADVERTISEMENT - CONTINUE READING BELOW
Girlie Rodis, Mai Cojuangco, Rowell Santiago, and Mikee Cojuangco-Jaworski
What is your greatest accomplishment?
Rachel: As a performer, my greatest achievement is having been given the opportunity to play my dream roles on stage. It's when I'm doing a musical play that I feel happiest and at my best.
But as a company, it's that we've debunked the popular misconception that healthy food is tasteless, expensive, and difficult to prepare. We have gotten messages from folks who bought The Sexy Chef Cookbook telling us they tried making the recipes themselves and they were super easy to follow. They even posted photos of their creations.
Barni: I think that being an extremely hands-on Mom to my daughter, despite my busy schedule, is my No. 1 accomplishment. I thought at first that having a baby would slow me down but it actually did the opposite. It was when I became a Mom that my dream to write The Sexy Chef Cookbook became a reality.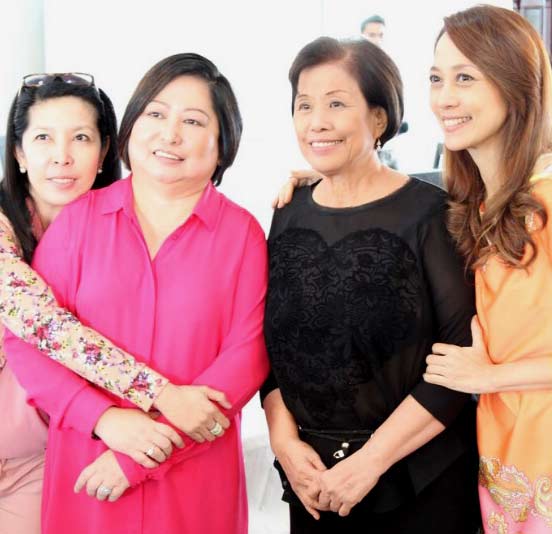 ADVERTISEMENT - CONTINUE READING BELOW
Dolly Anne Carvajal, Girlie Rodis, Lily Monteverde, and Kara Magsanoc-Alikpala
I've noticed that The Sexy Chef is led by women-you girls, your mom, and a management team made up of all females. Was that a conscious choice?
Rachel: No, it never occurred to us until recently, actually. Yes, the management team is all women, but we are also only as good as the men who make up our kitchen and delivery staff.
Barni: Our parents always taught us that we could do anything we wanted and gave us all the opportunities. The passion for great food had been passed on to us from the great women in our family-our Lola and Mom. We are proud to be a team of empowered women, always struggling to be better everyday.
Rachel and Barni are soon hosting their own cooking show, also titled The Sexy Chef,  to premiere on the Colours Channel of Cignal Digital TV. To learn more about their offerings, visit The Sexy Chef or follow their Facebook and Twitter.

Share this story with your friends!
---
Help us make Spot.ph better!
Take the short survey
Load More Stories