Get Fancy This V-Day With Resorts World Manila's Fine-Dining Offering
The seven-course meal features creations of award-winning chefs.
SPONSORED BY RESORTS WORLD MANILA
(SPOT.ph) It is said that "you are what you eat," but this Valentine's season, perhaps it is more fitting to say that "you are how you eat." A well-orchestrated and leisurely paced gourmet dinner is much more romantic than your typical buffet setup.
This year, treat your beloved to a true fine-dining experience and enjoy a once-in-a-lifetime event at Resorts World Manila's (RWM) Valentine's Day at Lumina Rose Garden on the evenings of February 13 and 14.
Lumina is RWM's brilliantly lit indoor walkway connecting Maxims Hotel and Newport Mall. For this special dinner, it will be transformed into a lush rose garden with thousands of roses set against the walkway's glowing lights. The strains of classic love songs will fill the hall to create a true feast for all your senses.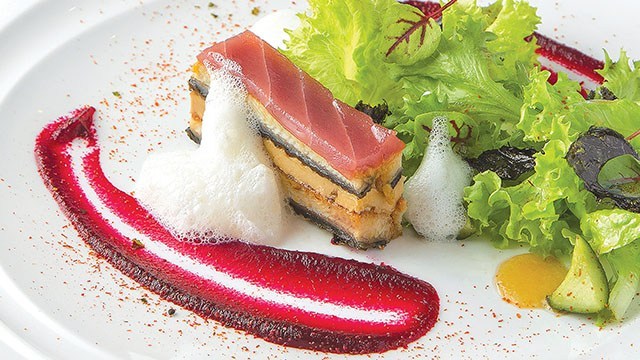 Lovers can savor a seven-course sit-down dinner designed to follow the stages of romance. The menu features the delectable creations of award-winning chefs from Cru Steakhouse and Man Ho, Marriott Hotel Manila's in-house restaurants, and from Impressions and Ginzadon, two of RWM's fine-dining establishments.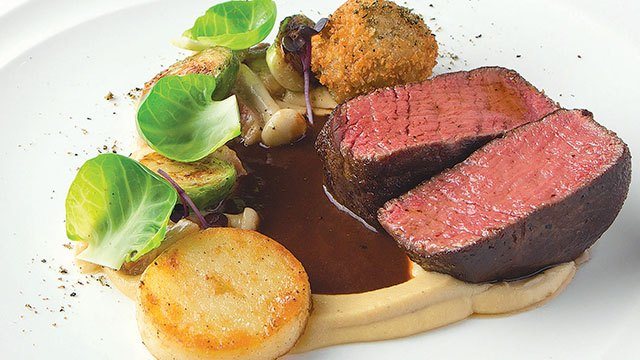 The Marriott team is led by Executive Chef Meik Brammer, who has won the Marriott Asia Pacific Continent Chef of the Year Award and the Marriott Culinary Excellence Global Award. The RWM menu has been crafted by none other than Chef Cyrille Soenen, a Maîtres Cuisinier de France (Master Chef of France). It is worth noting that Marriott's Cru Steakhouse has been included on Philippine Tatler's best restaurants list for eight years in a row, while Cantonese restaurant Man Ho made it to the list within a year of its opening.
The dinner starts off with an amuse-bouche trio that teases your palate and sets the tone for the rest of the courses. The Crispy Beef Tendon is a sophisticated take on the chicharrón, with the pickled aspic giving it a surprising pop of tartness and texture, and a dusting of brioche mustard powder providing it an umami finish. The tendon is accompanied by an Air Baguette with Horseradish Cream and Beetroot Beef Gravlax, and a Maki of Turnip and Sea Urchin Flan topped with avocado mousse and salmon roe.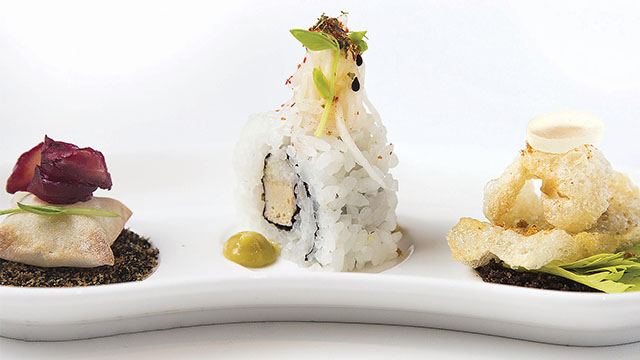 The flirtation continues with the appetizer: an impressive Terrine of Unagi and Foie Gras with Tuna Sashimi in honey-beetroot purée, miso vinaigrette, truffled honey, pickled kyuri (Japanese cucumber), and orange hibiscus foam. While each ingredient is a tasty morsel on its own, the different flavors are brought together by the the citrusy foam.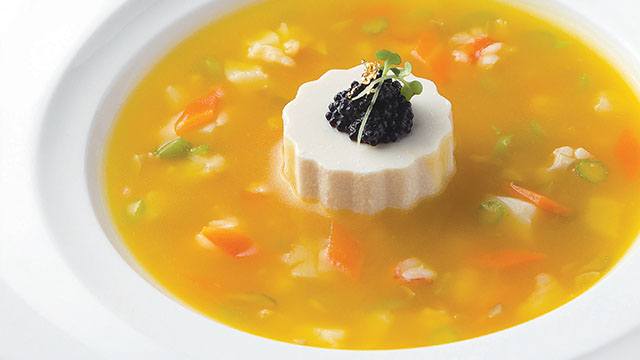 The Braised Seafood with Caviar Soup, meticulously crafted by Man Ho's culinary team, seduces you with its velvety warmth. Made with 24-karat edible gold leaf, it leaves no room for doubt about the level of luxury of this dinner.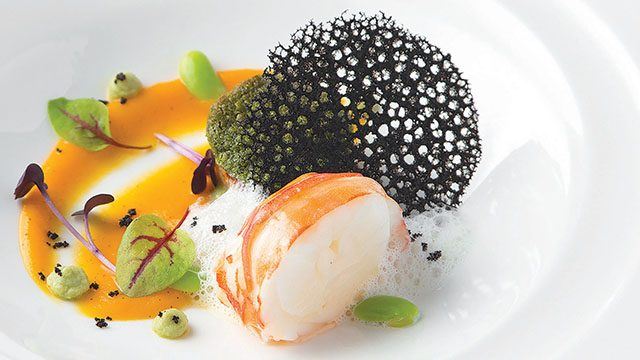 The main courses present some of the finest bounties of the earth and the sea. The seafood course, Pan-Seared Scallops and Lobster Medallion with a watercress disc, mashed spiced carrots, coconut-almond milk foam, squid-ink tuile, and edamame purée, is by Impressions, RWM's signature French restaurant. It is a perfect marriage of international delicacies and local flavors. Meanwhile, the meat course lets you experience one of Marriott Cru Steakhouse's finest items. The Slow-Cooked Angus Beef Tenderloin is served with a duck-confit croquette, creamed cabbage, potato confit, and caramelized pear jus.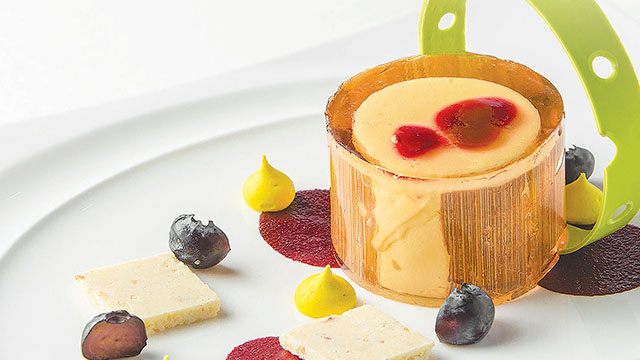 Sweetness is best enjoyed in twos, and the Marriott and RWM teams have come up with a delectable dessert duo that is the perfect ending to a romantic dinner.  The mignardises by Marriott's pastry chefs are fruit petits fours that are as satisfying to look at as they are to taste. The RWM dessert, crafted by award-winning Pastry Chef Mike Lopez, is a milk-chocolate praline mousse filled with raspberry ragout, and suspended in champagne jelly with a hazelnut crunch base and dehydrated raspberry. The near-symphonic harmony of flavors, textures, and sensations will leave you with the afterglow that can only come from a perfect evening.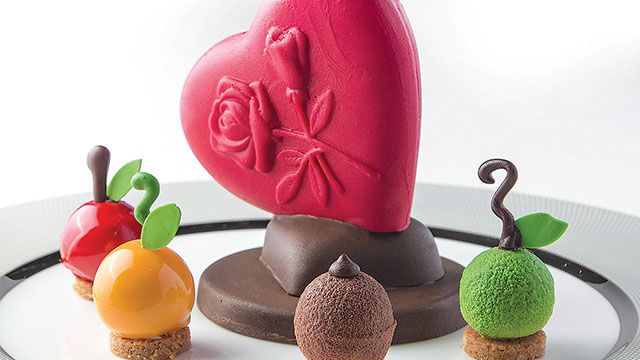 Resorts World Manila's Valentine's Day at Lumina Rose Garden is by reservation only and with limited seating. For bookings and inquiries, call (02) 908-8888.
This article is sponsored by Resorts World Manila.