CHECK IT OUT: 10 New yogurt + topping combos from The White Hat
New yogurt + topping combos for the fro-yo fans.
With numerous spots still opening up and peddling their own version of healthy frozen yogurt in Manila, it all really boils down to a matter of personal yogurt taste. If you like your cup of fro-yo tangy and sour, The White Hat is your best bet.
The White Hat recently launched new "hats"---ten new topping combinations for the consummate frozen yogurt fan. The Baker's Hat is a mix of cheesecake, blueberry or red cherry with almond clusters. The Choco-Loco Hat has brownies, dark choco drops, and Oreo cookies. The Cobbler's Hat combines peaches, crushed graham, and walnut streusel. The Camper's Hat has soft marshmallows, crushed graham, and drizzles of choco syrup. The Wizard's Hat is a colorful medley of sprinkles, fruit loops, and marshmallows. The health conscious can go for the Health Nut Hat with cranberry, granola, and mango or kiwi.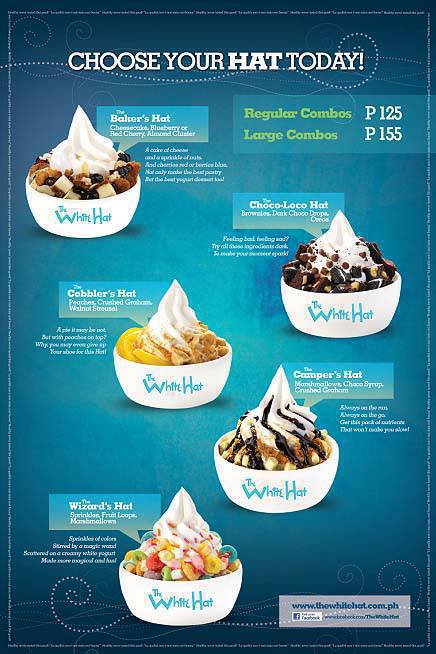 Other choices include the Cooky Hat, with cookie dough, walnuts, and white choco drops; the Monkey's Hat with its mix of bananas, brownies, and caramel sauce; the Pinoy Hat with local favorites chocnut, barquillos, and cashew nuts and the Lover's Hat with red cherries dark chocolate drops, and cashew nuts.

Regular-sized combos go for P125 while the large cup is at P155.



ADVERTISEMENT - CONTINUE READING BELOW
Load More Stories