5 Simple Rules When Ordering On-The-Go Meals
#1: Always watch your step.
(SPOT.ph) If you're the type of person who's always on the go, it's very likely that you don't have the time to sit down for a meal. However, being able to eat—and actually enjoying your food—while running around from one place to the next takes some real skill. Read up on these on-the-go eating commandments to master the art in no time at all.

Always watch your step.
Literally—you don't want to walk into anyone while carrying your food, or fall into an open manhole!

Choose your meal wisely.
When ordering takeout, put convenience in mind. When possible, hand-held food that doesn't require utensils is best. Imagine eating a soup dish and rice while on the go—what a hassle. 

Use both hands.
Having a certain level of ambidextry helps when eating takeout. One hand should be holding the food, while the other one brings the morsels up to your mouth. Sounds simple enough, but without practice, this can lead to spillage. Sayang! 

Always order just enough.
Takeout is supposed to be convenient, so remember not to order too much to the point where it becomes unweildy. And remember, you don't have to settle for junk food when ordering an on-the-go meal—options for relatively more complete meals are out there.

Pay attention to packaging.
Go for packaging that's functional and easy to use. The last thing you want is a whole lot of paper or cardboard getting in the way of your eating. And while you're at it, you might as well be carrying food in a container that's IG-worthy—no harm in looking good while you're eating on-the-go. 

Next time you order take out, try Tokyo Tokyo's To-Go Cups. With these To-Go Cups, you don't compromise on convenience, innovation, and of course high quality food with authentic flavors—something that is all too often sacrificed when eating on-the-go. Now you can enjoy your favorite Japanese food like Tempura, Chicken Karaage and Fried Gyoza without missing a beat. You can pair it with Nori Wasabi fries or Tempura Onion Rings, a variety of sauces, and their famous Red Iced Tea for a perfect snack on the go—all in a stylish package.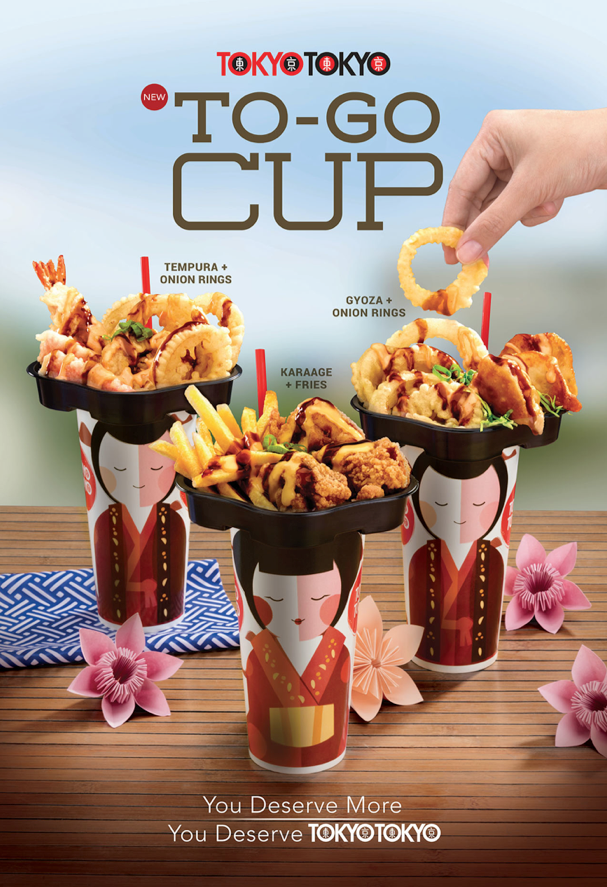 Aside from making snacking easy, Tokyo Tokyo's To-Go cups also look great, so your next foodstagram with them is sure to intrigue your followers on social media. Try one today and mix up your mains, sides, sauces, and drinks to match your mood! To learn more about the To-Go Cups, follow Tokyo Tokyo on Facebook.