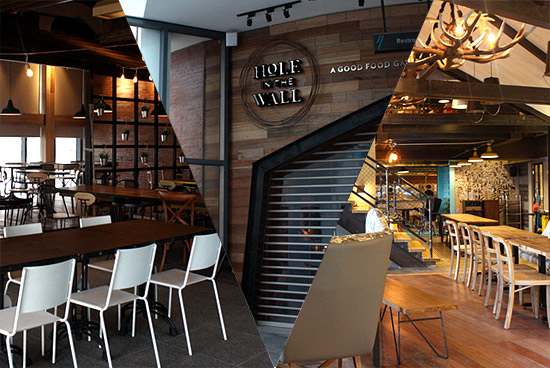 (SPOT.ph) Century City Mall's version of a "food court" is far from what you'd expect from an actual hole-in-the-wall. It's on the fourth floor, and while there's immediate access right across the escalator, there's much more grandeur in going through the weather-beaten, green-panelled, double-door screen entrance from the breezy al fresco deck.
Inside, it's a motley of rusticity (one section is styled almost like a living room complete with antler chandeliers), steampunk (look for the tables held up by a cool metal mechanism), and industrial (steel light shades share space with the ever popular cage lights), which complements the diversity of its member restaurants.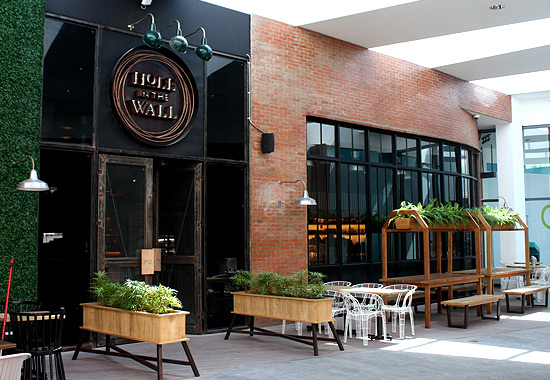 ADVERTISEMENT - CONTINUE READING BELOW
Entrance from the balcony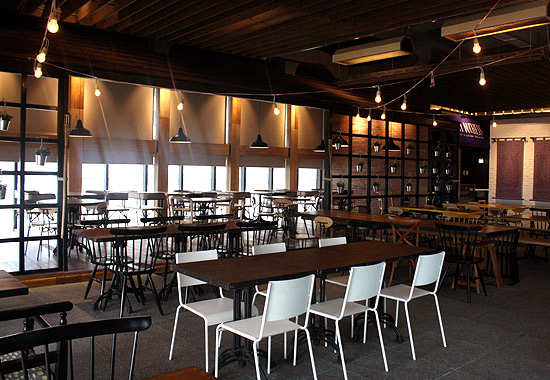 More seating farther in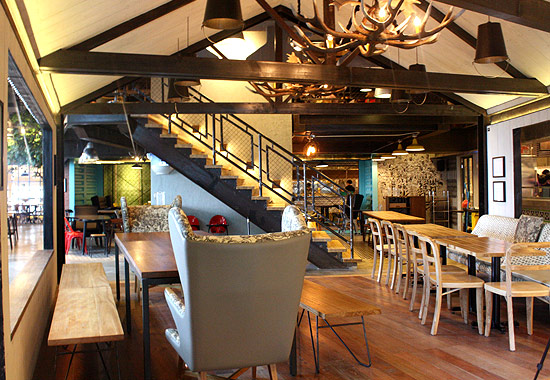 The cozy area
This upscale mall in the middle of Makati is offering a different kind of gastronomic experience-Hole in the Wall will definitely be the start of a new trend in communal dining. Not everything's open yet, and except for four eateries, most of them are currently available only from 5 p.m. onwards.
Nonetheless, here are the eateries that you should look forward to: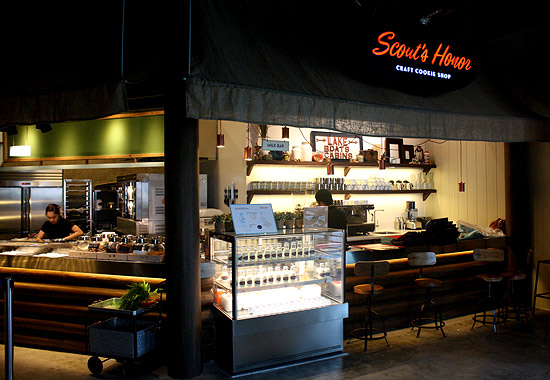 ADVERTISEMENT - CONTINUE READING BELOW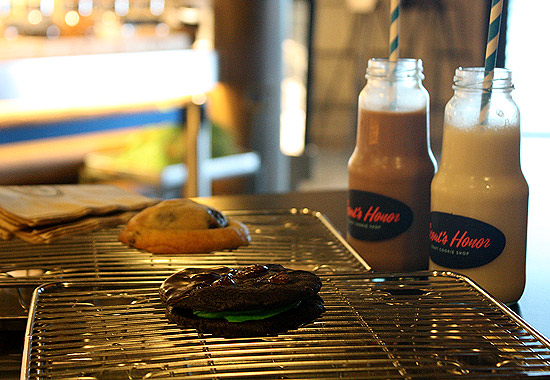 Chef Miko Aspiras' cookie emporium is one of the establishments already raring to go. This is where customers are allowed to come up with their own cookie masterpieces (P70) using different types of dough (classic, molasses and oats, vegan) and toppings-and this early in the game, the kitchen is already showing factory-like efficiency. If you're not in a creative mood, there's also a display case full of ready-made treats which are based on Girl Scout classics-Samoas (rechristened Samos Dreams), Thin Mints, and Lemonades (which have become Citrus Sunshine). A dream come true is the Cookie Inception, which is a fudgy chocolate chip cookie that swallowed a whole Oreo to create this doubly sinful treat that's best with a bottle of their flavored shaken milk. Get the Horlicks flavor.
ADVERTISEMENT - CONTINUE READING BELOW
Retail cookies range from P75 to P95. Shaken Milk is P110 a bottle.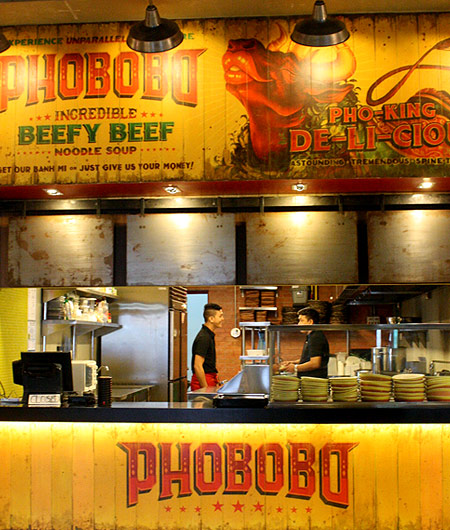 2. Phobobo
You'll never doubt Vietnamese food again after this comfortingly weathered nook. Phobobo, which boasts "incredible beefy beef noodle soup." On the menu are shareable items like Crispy Pork and Shrimp Spring Rolls (P140), Fresh Spring Rolls (P160), Palm Sugar Wings (P220), Spicy Papaya Salad (P120), as well as banh mi in flavors like Spicy Tamarind Ox Tail (P290), BBQ Pork (P250), and Vedge (P230).
ADVERTISEMENT - CONTINUE READING BELOW
The Pho Bo, which is beef pho, is the specialty for P360.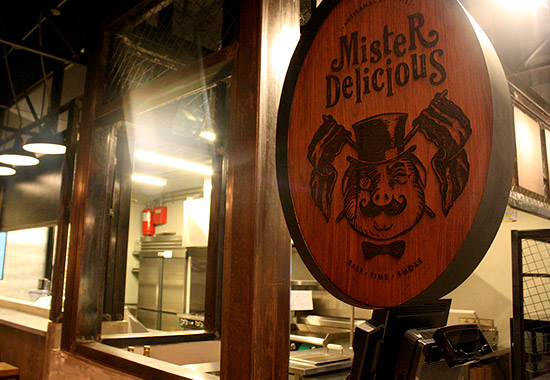 3. Mister Delicious
If you frequent weekend markets, then you're most likely aware of Mister Delicious' sundries-corned beef, pastrami, bacon. Here, you'll see just how these artisan-made goods should be treated. The menu is a well-curated but hearty selection of Hot Pastrami on Rye (P350), Classic Wagyu Corned Beef Reuben with homemade sauerkraut (P450), Wagyu Pastrami Reuben (P450), Curry Chicken Salad Sandwich (P240), and Gooey Grilled Cheese (P240).
ADVERTISEMENT - CONTINUE READING BELOW
Mister Delicious himself, Jeremy Slagle, has big plans in store for his eatery, including making his own mustard, peddling only Filipino craft beer, and creating an all-day breakfast.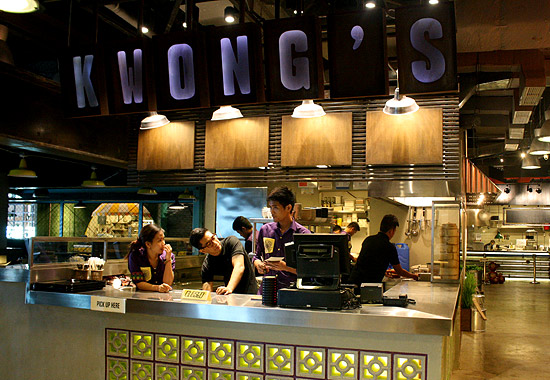 4. Kwong's
Kwong's serves Chinese fare like you've never seen it before. Chinese staples like pork asado come up in dishes like a Pork Cheek Asado Rice Bowl (P210) and Pork Cheek Asado Mami (P250), but then there are the really intriguing items like a Lazu Chili Crab with Mantao (P195), Salted Egg Chicken Wings (P200), and the peanut-infused Bacon Dan Dan Mian (P220). The clincher? A Banana Nutella Buchi (P120). If this is where this traditional cuisine is headed, then we're excited for the future.
ADVERTISEMENT - CONTINUE READING BELOW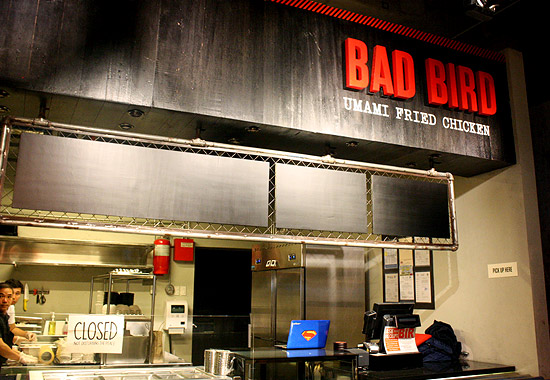 5. Bad Bird
Chicken plates with an Asian spin. Period. This is where you'll get value for your money, with three comprehensive two-piece chicken meals complete with sides. The Waffle Plate (P280) comes with a pair of sweet potato waffles and miso butter maple syrup; the corn and coleslaw (P290) flaunts corn on a stick with kewpie, cheese, bonito, and togarashi or kimchi coleslaw; and the Dirty Rice Plate (P300) puts together steamed or fried rice with bacon, chicken liver, tamago, bonito or kimchi. You can choose your spice level: safe, spicy, and chemical.
ADVERTISEMENT - CONTINUE READING BELOW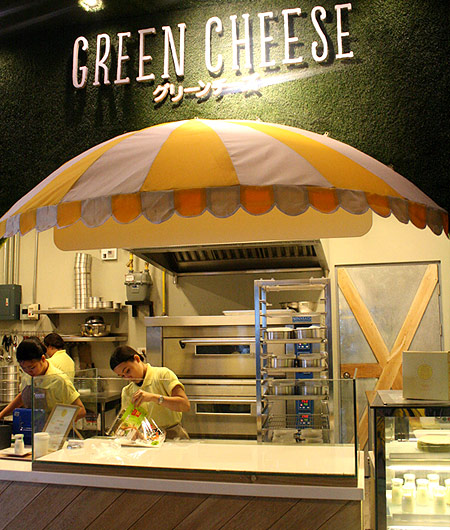 6. Green Cheese
The happiest cheesecake in the world is finally open for the rest of the world to try. These clouds of cake come in two flavors: Original (P350/box, P50/slice) and Matcha (P450/box, P60/slice). The flavor is mild but distinct, and that texture-plush velvet and melt-in-your mouth. It's so light that you won't realize you finished a box until your fork comes up empty. They also have custard pudding (P120), matcha latte (P120), and hot green tea (P50).
ADVERTISEMENT - CONTINUE READING BELOW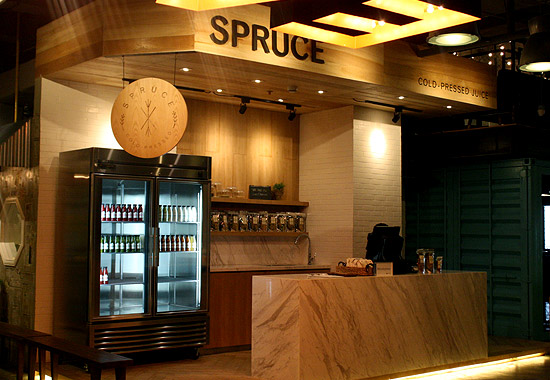 7. Spruce
There has to be at least one place that promotes overall wellness-and counters the effects of hearty food. Spruce juices need no introduction. Their cold-pressed juices and dairy-free milk are viable refreshments for a round at Hole in the Wall. Try The Fighter, which is a mix of grapefruit, orange, lemon, ginger, and cayenne powder; or the Almond Nut Dream, a nutty concoction of almonds, water, dates, and chia seeds. Bottles are P250/350 ml.
ADVERTISEMENT - CONTINUE READING BELOW
Spruce also has healthy snacks like salads, granola (P150), power bars (P135), and Take Root Kale Chips (P280).
Other places to look forward to: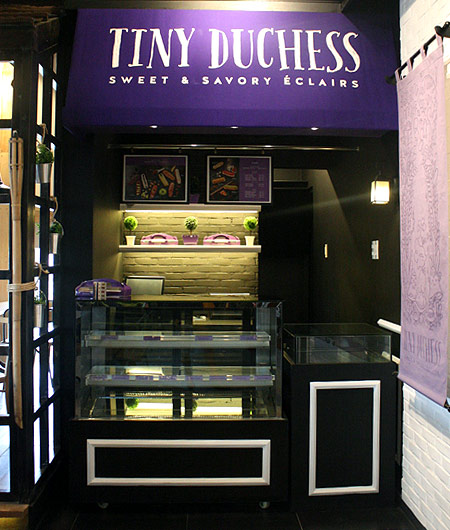 Tiny Duchess
Seek out this hidden stall squeezed between the seating area at the far end and Green Cheese. They're tweaking the latest pastry sensation-eclairs-and filling them with savory goodness.
ADVERTISEMENT - CONTINUE READING BELOW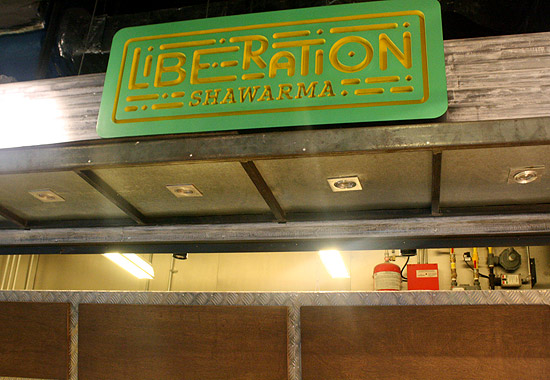 Liberation Shawarma
There's not much to go on judging only by the food truck-inspired booth, but it's owned by Chef JP Anglo of Sarsa fame, and based on that alone, you can expect big and bold flavors.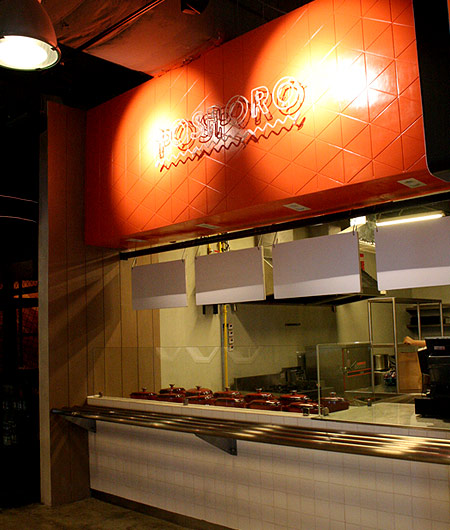 ADVERTISEMENT - CONTINUE READING BELOW
Posporo
It's classic, no-frills Filipino comfort food. They serve the kind of dishes you love at home-but better.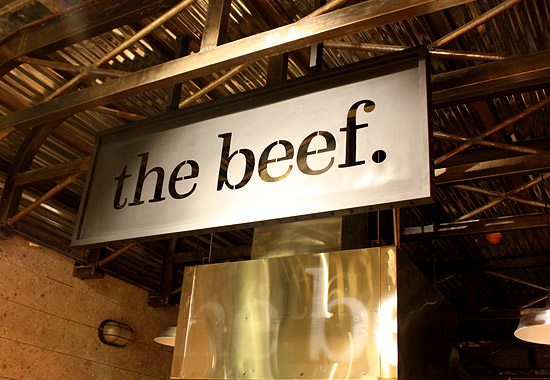 The Beef
Pure beef patties in between buns. Yes, The Beef is all about a good old-fashioned burger and homemade sides. Amid all these crazy sandwiches we've been seeing lately, this is ironically refreshing.
ADVERTISEMENT - CONTINUE READING BELOW
Also read:
Share this story with your friends!
---
Help us make Spot.ph better!
Take the short survey
More Videos You Can Watch
Load More Stories