New on the Menu: Skull and Bones' Hotdogs and Burgers
University comfort food has been redone and made better.
Skull and Bones
2/F UP Town Center, Quezon City
Contact: 0916-220-1668
Open daily from 11 a.m. to 10 p.m.
Also read: New Restaurant Alert: Skull and Bones at UP Town Center, Quezon City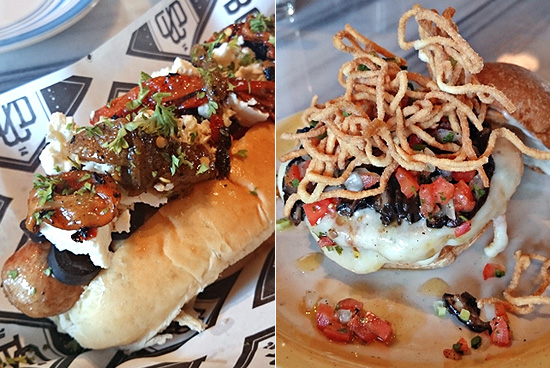 (SPOT.ph) The frat house-styled eatery in UP Town Center feels more like a frat house now. The food was always good (no one does comfort food like the group behind Borough, Nolita, et cetera), but last year it was the new kid on the block in a setting of restaurants with a defined course. Now, Skull and Bones has settled in. The proverbial college kid that's finally figured out what he is.
ADVERTISEMENT - CONTINUE READING BELOW
CONTINUE READING BELOW
Recommended Videos
Co-owner Patrick Santos says this much. He understood that they needed a much clearer identifier. "What do you go to Skull and Bones for?" he asks. He, Chef Cuit Kaufman, and the rest of their culinary team went back to the drawing board (the menu is an actual blackboard) to curate their brand of chef-converted dorm pantry staples and university comfort food. "Burgers and (hot)dogs," he confirms.
This result is an extended and revamped selection where burgers and hotdogs are dressed as pop culture icons, such as the Chuck Norris (P220), an all-beef hotdog with chipotle chicken and cheddar, and the Pineapple Express (P240), a so-called "munchies dog" with a chicken sausage, pineapple salsa, roasted corn, fried potatoes, parmesan cheese, cilantro, and calamansi.
It's all designed to contribute to that dream Van Wilder college experience. (Incidentally, there is also a hotdog sandwich named after Ryan Reynolds' campy college hero. The Van Wilder is a P250 party-in-your-mouth of a beef and pork frank, pulled pork, barbecue sauce, coleslaw, blue cheese, and spring onions.) The game room, which was still a plan during SPOT.ph's last visit, is now a fully operational space for beer pong and flip cup fun.
ADVERTISEMENT - CONTINUE READING BELOW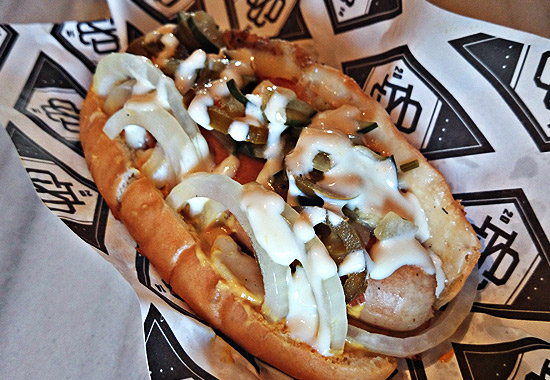 Pitbull (P300)
Kanye West plays loudly in the background. One of the college-age diners chose it using the customer-controlled sound system. But it's hard to focus on his music at two in the afternoon, with another rapper subconsciously invading our thoughts: Pitbull. Here, it's a spicy sandwich stuffed with a smooth and meaty beef-and-pork frank with scouring pops from fat jalapeño chunks. Skull and Bones doesn't make their hotdogs in-house, but they've set rigid specifications for their supplier. A surprisingly substantial amount of smoked ham underneath adds a nice salty gratification.
ADVERTISEMENT - CONTINUE READING BELOW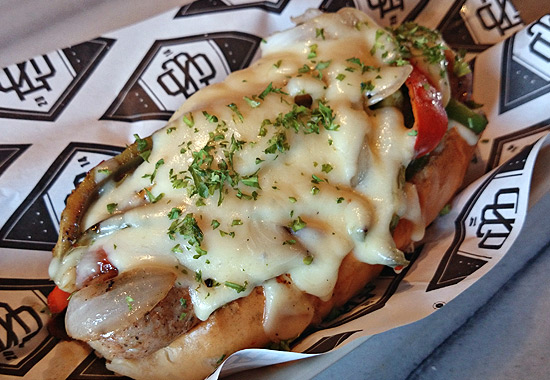 The Situation
The Situation (P240) is the healthiest choice in an array of not-too-calorie-conscious sandwiches. A chunky homemade sausage makes the most of this chili-sprinkled and cheese-blanketed dog, which is further bolstered by a generosity of peppers and parsley. Chef Cuit especially likes how the touch of EVOO mingles with the ingredients.
ADVERTISEMENT - CONTINUE READING BELOW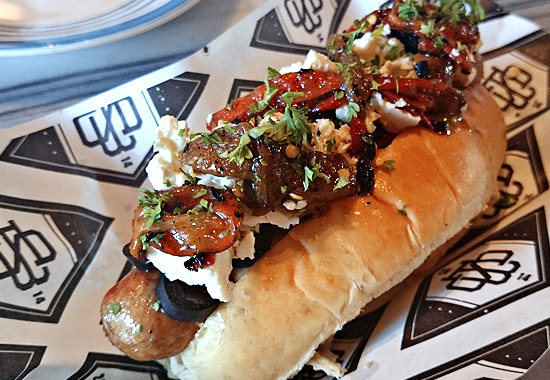 Alpha
The old menu used to feature an Alpha Phi, a vegetarian burger made with faux meat in an almost hilarious whole-wheat patty. It didn't make the cut, but there's a new Alpha (P270) in town. This time, it's an indulgence where that same beefy frankfurter finds an earthy match with olives, tomatoes, and bell peppers. There's a bit of pep from garlic aioli, but it's the rich pinches of feta that truly rounds out the flavors of each complex bite.
ADVERTISEMENT - CONTINUE READING BELOW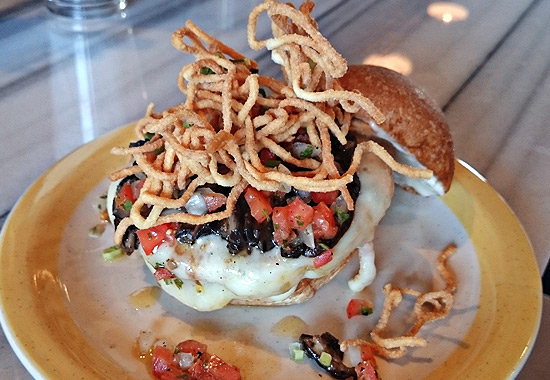 MacGruber-Ger (P320)
Chef Cuit (who, during this meeting, chooses to eat the salads on the menu) has proven his inkling for the best kind of too much, and those instincts show up in the MacGruber-Ger (try saying that 10 times straight after a cocktail). This hefty sandwich gives the infamous Skull Crusher (P550) a run for its money, not in terms of size but maybe in presentation and definitely in the congruous flavors. The all-beef patty with melted cheese and mushrooms seems innocent enough, but Skull and Bones layers it with a bale of fried noodles that does wonders in keeping this overload fresh and interesting up to the last bite. It's as playful as its SNL namesake, and there's also a strange pleasure in picking up the strings that stray away from the bun and relishing them as chips.
ADVERTISEMENT - CONTINUE READING BELOW
Continuing his tradition of turning grocery confections into better homemade versions, Chef Cuit has come up with his own version of Hostess' CupCakes (P90). This, coming from his stellar interpretation of Twinkies, is yet another success. The cupcake is soft and moist-more reminiscent of the textures of a cake instead of the denser cupcakes, with the chocolate pronounced and the sweetness from the cream filling not too overwhelming. It even has that signature white swirl over the velvety chocolate frosting.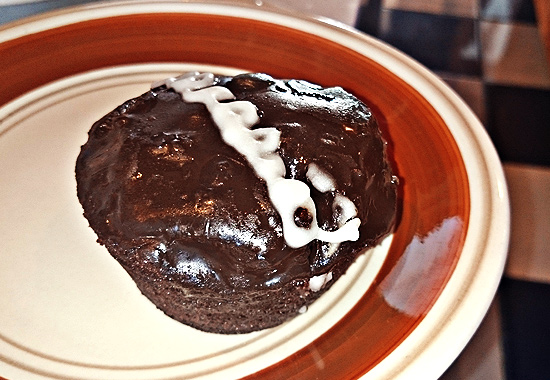 ADVERTISEMENT - CONTINUE READING BELOW
CupCake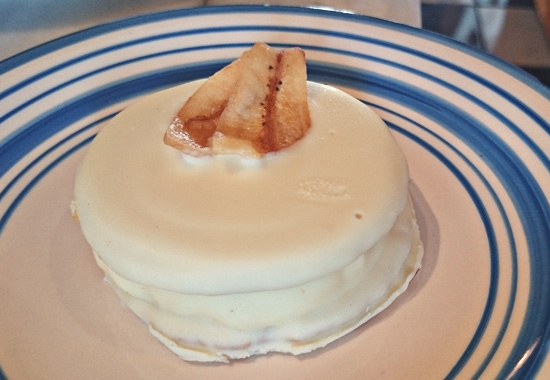 Banana Moon Pie
His Moon Pies (P80) are sweet little graham-cracker sammies completely covered in chocolate. The Banana flavor from the marshmallow cream in the middle hits you smack in the taste buds. If Skull and Bones was looking for clarity, then they've found it. Right in their flavors.
ADVERTISEMENT - CONTINUE READING BELOW
Also read: New Restaurant Alert: Skull and Bones at UP Town Center, Quezon City
Are you sure you want to delete this list?

Load More Stories