10 New Healthy Eating Places in Manila
You don't always have to ditch meat to eat healthy. We guide you to the right spots.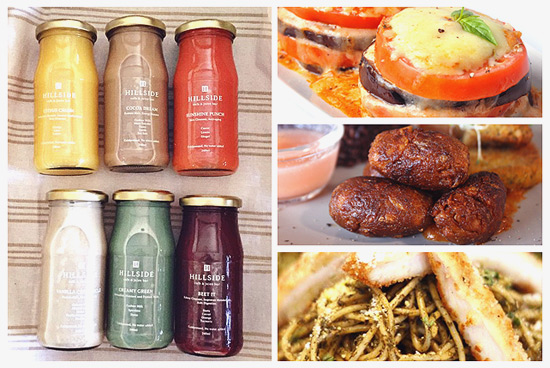 (SPOT.ph) You've survived Lent, but why stop there? Any time is always a good time to start a healthier lifestyle. A few years ago, eating healthy and eating out was a laughable combination. Back then, most restaurants offered only a handful of "light" or vegetarian options, and it usually meant some wilted salad or a glorified side dish. Don't even get us started on how difficult it used to be for vegans.
Those were tough times, but going green nowadays isn't such a lofty goal anymore—thanks to a slew of new joints peddling a healthier lifestyle. We're pointing you to places with great salad bowls, healthy meals, and detoxifying juices.
Editor's Note: Not all these restaurants are vegetarian because eating meat isn't always unhealthy. This list is not ranked.
Also read:
SPOT.ph's Guide to Healthy Food Spots + Delivery Services
The SPOT.ph Guide to Healthy Eating Options in Manila
SPOT.ph Directory: Juicing in Manila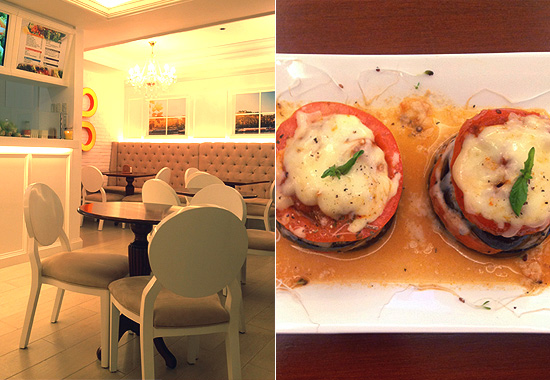 Detoxify Bar
Detoxify Bar is all about re-introducing potential customers to a healthier body with Detox Blends that promise to boost energy levels and help get rid of harmful toxins. From cleansing juices to orange-flavored drinks that will give you your fill of protein and folate, Detoxify Bar is bound to have a juice that suits your wellness goals and flavor preferences.
Must-try meatless option: If you're game to try more than just the juices (their space is relaxing and cozy, too!), they have Meatless and Pastaless Lasagna (P275)—a tower of fresh tomatoes and eggplants doused in familiar flavors of a rich lasagna sauce.
Detoxify Bar has branches at 5/F Shangri-La Plaza, Mandaluyong City; Eastwood Techno Plaza 2, Eastwood City, Libis, Quezon City; and Tuscany Private Estates, McKinley Hill, Taguig City.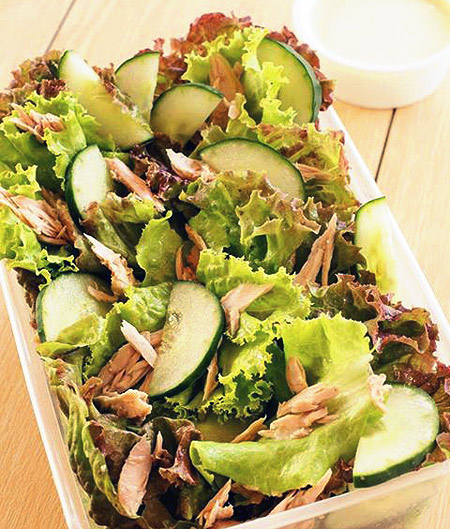 Go! Salads
With an organic farm at their disposal, the folks of Go! Salads have made clean living a more accessible and affordable option. Organically grown produce goes inside every salad pack which are served in reusable microwaveable containers. Green Smoothies also offer a lighter on-the-go refreshment while healthy sandwiches fulfill heavier meal requirements.
Must-try meatless option: The Fisherman's Salad (P100) owes its bold flavors to the tangy wasabi mayo mixed in with tuna and cucumbers. Want something on the sweet side? The Peachy Traveler (P100) has peaches and raisins, tossed in a light lemon basil vinaigrette.
Go! Salads has branches at F.B. Dela Rosa Street corner Katipunan Avenue, Quezon City; Technoplaza 2 Eastwood City, Libis, Quezon City; and Strata 2000, Emerald Avenue, Ortigas, Pasig City. Read more about it here.
ADVERTISEMENT - CONTINUE READING BELOW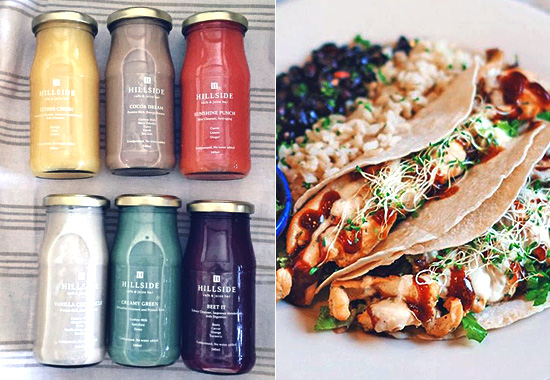 Hillside Café and Juice Bar
Hillside Café is all about natural ingredients which are locally and organically sourced, vegetarian options, a guilt-free dessert selection, and cold-pressed juices. Hillside makes their own pizza crusts, too.
Their cold-pressed juices (P150) are made from veggie-and-fruit combos. Choose one depending on your mood and wellness inclination, but don't expect them to be syrupy sweet like your usual fruit-flavored, sugar-filled juices.
Must-try meatless option: The Greek Mac and Cheese (P275) has comfort food written all over it. It's made super flavorful with spinach, feta, pine nuts, and milk. For a light snack, their Avocado Toast (P195) satisfies with its creamy-spicy avocado spread sprinkled with sea salt and pepper on sourdough bread.
Hillside Café  and Juice Bar is at Cedar Hills Garden Center, 57 Mother Ignacia Street, Quezon City.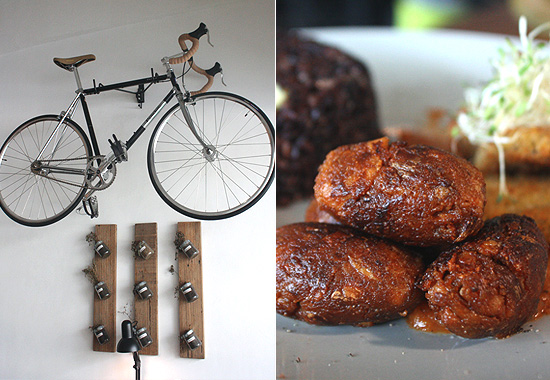 Runner's Kitchen
The interiors of Runner's Kitchen don't really hint at a healthy menu until you read the chalkboard list of their organic eats. It's not vegetarian (they have chicken on the menu), but the dishes are designed to power up your day according to your lifestyle. Runner? They've got a meal for that. Yoga practitioner? They have something for that too. The airy white space will make you want to linger but it's the tasty (and health-oriented) plates that will keep you satisfied.
Must-try meatless option: The Yogi's Breakfast (P300) is a plate you'd want to have more than once. The vegan longganisa paired with black rice and squash nuggets won't have you thinking about meat, with the salty sausages and sweet squash nuggets meshing quite perfectly.
Runner's Kitchen is at 74 Creekside Square, Tomas Morato, Quezon City. Read more about it here.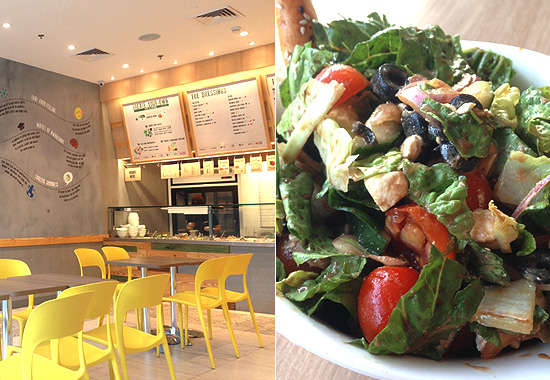 Salad Stop
The number of options in this salad outlet can get overwhelming, but they have a list of Signature Salads that makes it easier for the Salad Stop newbie. The menu lists the ingredients and the calorie count, making the ordering process a toss up between flavor persuasion and calorie count.
Must-try meatless option: The Greek Salad (P260) is a reliable bowl of tangy and fresh flavors while the Omega 3 Baby! (P350/salad) boasts more textures and flavors from the smoked salmon, beetroot, and broccoli.
Salad Stop is at G/F Central Square Mall, Bonifacio Global City. Read more about it here.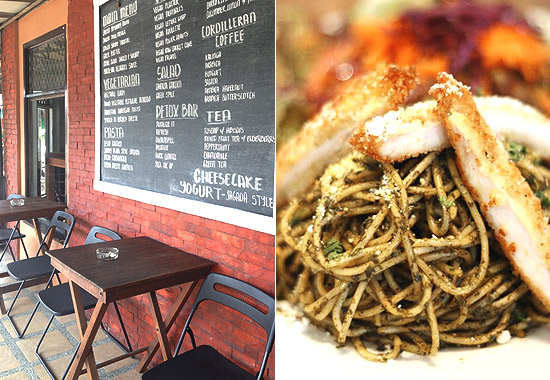 Satinka Naturals Bistro & Café
If you find yourself in the San Antonio Village area (that's in Makati, FYI), Satinka is the neighborhood go-to for all things clean, MSG- and GMO-free. It's more of a lifestyle store than a simple restaurant. Aside from the healthy dishes on the menu, a detox bar, a selection of organic coffee beans, and wellness products being sold in the ground-floor apothecary complete the whole organic-and-healthy experience.
ADVERTISEMENT - CONTINUE READING BELOW
Must-try meatless option: Go for the Mountain Aubergine Pasta (P195), a plateful of crisp and pan-fried eggplant and zucchini, plus ripe and fresh tomatoes on pasta. The Vegan Platter (P385) is a full meal in itself: you get vegan meatballs and raw zucchini on pasta, as well as an organic salad and a drink.
Satinka Naturals Bistro & Café is at 1137 Kamagong Street corner Chino Roces Avenue, Makati City. Read more about it here.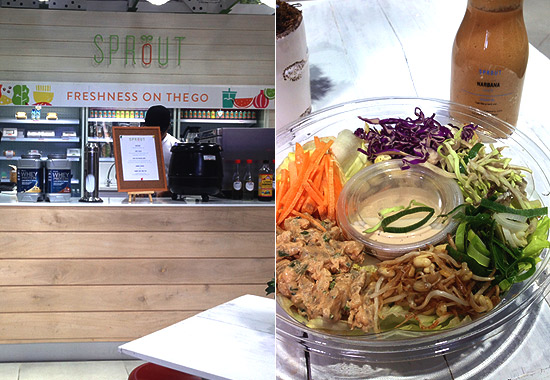 Sprout
The bright space between Valero and Rufino Streets in Makati may seem like a big take-out joint, but a few tables and a counter allow for a leisurely session with your greens. Marvel at the freshly prepared salad packs, Sprout juices, wraps, and bottled energy shots at this self-service restaurant or check out the touch-screen menu by the counter (it lists product ingredients and macronutrient content).
Must-try meatless option: Standard salad fare like a Greek Salad is available and the server will also point you to the current crowd favorite, Kale & Roasted Vegetables. But if you want more texture and a counter to the fresh greens, the Spicy Tuna Salad (P236) is a good choice: Edamame is thrown into a mix of lettuce, red and green cabbage, carrots, sprouts, and spicy tuna poke.
Sprout is at G/F Signa Designer Residences, Valero Street corner Rufino Street, Salcedo Village, Makati City.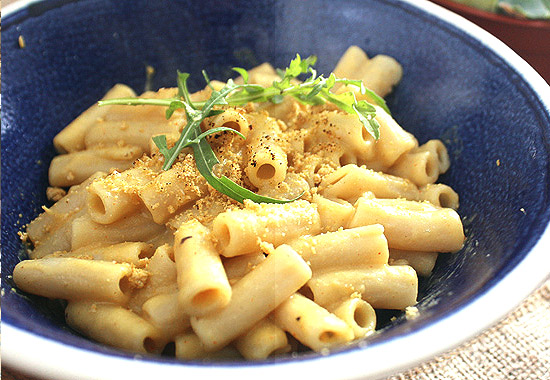 SUSI
Bright, warm, and cozy interiors serve as a silent backdrop to the wonderful flavors in SUSI's vegan dishes: fresh yet familiar, exotic yet still approachable. The menu is cheese-, butter-, gluten-free and, of course, completely vegan. Owned by Bianca Mabanta, SUSI is a great introduction to a meatless lifestyle. You won't feel deprived here at all.
Must-try meatless option: If you're looking for familiar flavors, the Mac & Geez (P295) is a comforting gateway to vegan fare. The non-dairy carrot-based sauce can pass off as the cheese we've all grown accustomed to. Don't skip the dessert menu! Chocolate is allowed and their take on the chocolate cake has the deep, dark cacao flavors you love.
SUSI is at Bellagio II, Forbes Town Center, Burgos Circle, Bonifacio Global City. Read more about it here.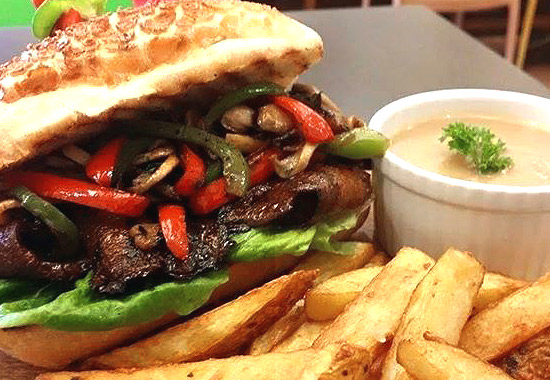 The Vegetarian Kitchen
This cozy unassuming spot along Mother Ignacia Avenue is devoid of bells and whistles. You come here not for the ambience but the food—the no-meat menu lists pasta options, sandwiches, and mains for the vegetarian eater.
Must-try meatless option: The Korean Spareribs (P220) feature tasty and tender mock meat and is served with cold malunggay salad on the side, while the Crispy Spinach and Cream Cheese Dumplings (P160) maximizes the potential of this popular leafy green.
ADVERTISEMENT - CONTINUE READING BELOW
The Vegetarian Kitchen is at 62 Mother Ignacia Street, Quezon City.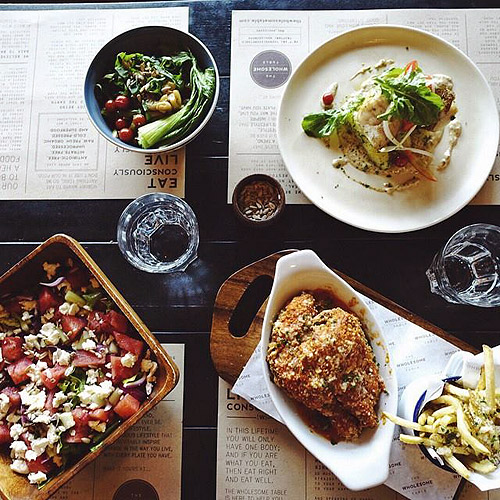 The Wholesome Table
The Instagram-perfect interiors of The Wholesome Table are inspiring (distressed wood and potted plants make the place feel earthy and cozy), but don't forget about the menu. It's six pages of carefully curated dishes made with real food and "no toxins." Bianca Araneta-Elizalde's restaurant is a labor of love and a look into how she and her family eat. There's meat (even porchetta) in there because the model-turned-restaurateur isn't stressing on vegetarianism. Her focus is cleaner ingredients, cleaner cooking, and cleaner dining.
Must-try meatless option: The Orzo Salad (P450) gives you a myriad of flavors from the mint, capers, grapes, arugula, tomatoes, dried cranberries, and feta cheese. Make sure to try the PowerBowls, too. They're veggie meals that lack in neither flavor nor punch.
The Wholesome Table is at 2/F 30th Street corner 7th Avenue, Bonifacio High Street Central, Bonifacio Global City. Read more about it here.
Also read:
SPOT.ph's Guide to Healthy Food Spots + Delivery Services
The SPOT.ph Guide to Healthy Eating Options in Manila
SPOT.ph Directory: Juicing in Manila
Photos by Trixie Zabal-Mendoza and from the Facebook pages of Hillside Café  Bar, Go! Salads, and The Vegetarian Kitchen.
Load More Stories