6 Apps That are Perfect for Foodies
Check out Marty the Smarty's recommendations!

(SPOT.ph) Have you ever been hit with an intense and random craving for certain types of food in the middle of the night, even though you're very very sure you can't possibly be preggers? How about getting hangry even when you have a menu right in front of you because you just. Can't. Decide? Or maybe you've become bored with your typical dinner fare and want to change it up, but have no idea where to feed your foodie soul?

Good thing Marty the Smarty's got your back! He's your top guy for all things internet-related, and he knows just how to deal with all your food frustrations. While he can't cook for you (well, not yet!), he sure can recommend some killer apps to help you cope with your cravings. He even threw in his foodstagram app picks so you can document your meal! Check out his suggestions:

1. Looloo



If you're the adventurous type, then eating at the same places gets boring fast. There's a whole world of fantastic food out there just waiting for you to explore, and Looloo is the perfect app to use when you want to find hole-in-wall restaurants and out-of-the-way diners that serve the best dishes. You'll also be able to read honest feedback from previous customers, so you know exactly which restos you should visit ASAP (as well as the ones you should avoid!).

Marty the Smarty says: What's nice about Looloo also is that it's able to spot your current location & recommend restaurants located near you. To make sure you get this, location services has to be open on your phone. Don't worry, this doesn't eat up any additional data, but your phone must be connected to the internet for you to get the recommendations.

This app is available for both iOS and Android users.

2. Zomato



If you like looking up restaurants online before trying them out, you've probably stumbled upon Zomato once or twice already. It's a great place to read restaurant reviews and get some visuals, making it a catch-all for all your foodie needs. Well, no need to let a good thing go! Get the app and make finding restaurants, ordering food, and booking your table online oodles easier.

Marty the Smarty says: Zomato is an all-in-one app, wherein you can search for restaurants even outside the country. On average, browsing a restaurant's page can consume about 30-80 KB of data depending on the number of photos/menus you browse, meaning you can check out thousands of restaurant pages with just 1GB of data. Pretty handy, huh?

This app is available for both iOS and Android users.

3. Booky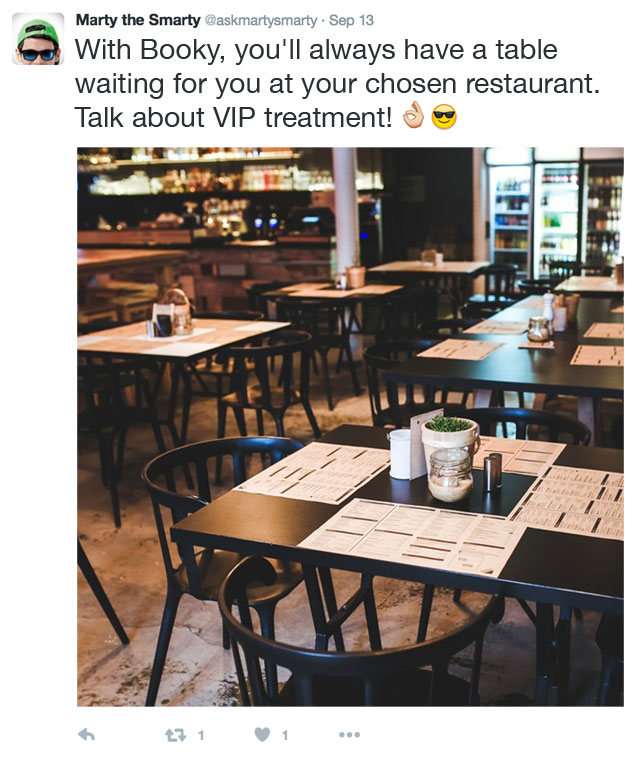 Have you ever visited a restaurant you've been fantasizing about all week, only to feel completely devastated upon seeing the mile-long line of people ahead of you waiting for a table? Good thing there's Booky to make your reservations beforehand: you'll never have to walk away from your first resto choice again!

Marty the Smarty says: One of Booky's special features is that it's able to access menus offline once you've loaded them previously! That means you can preserve your precious data when you use the app by researching on what to order before you make your reservation.

This app is available for both iOS and Android users.

4. Zap



If airlines have frequent flyer miles and shopping malls have loyalty bonus points for their dedicated customers, then it's only fair to get rewards while dining out too, right? Well, Zap does just that! You can earn points by simply dining at select restaurants, and you can later use your hard-earned points as cash at Zap's partner establishments. Isn't that a great reason to eat out?

Marty the Smarty says: Make sure to get your Zap rewards by going online to see the latest merchants added to their list! Good thing the app itself doesn't seem to consume that much data—only about 10KB when you refresh the page, for example.

This app is available for both iOS and Android users.

5. VSCO Cam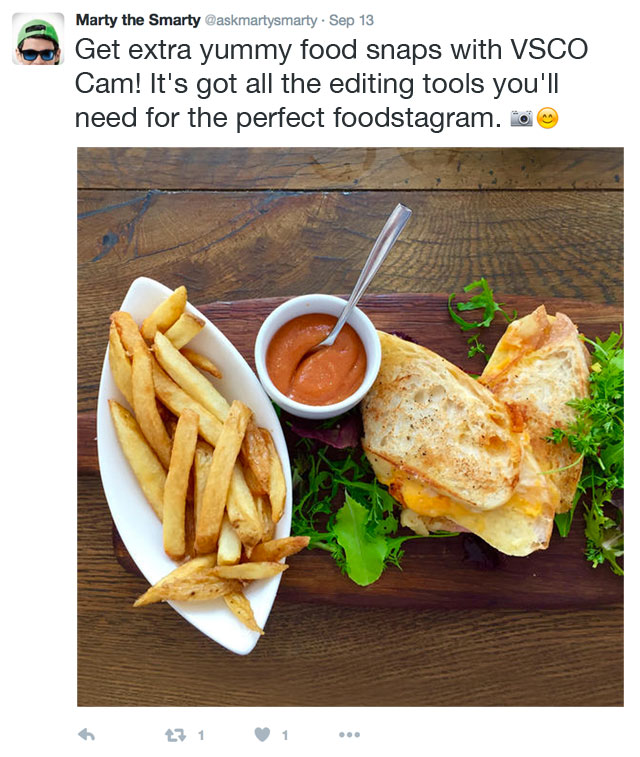 This app has several preset filters, making it many an Instagrammer's best friend. You can also tweak your picture using the app's many editing features to make it as Instagrammable as possible. Need inspiration? Head over to VSCO's Journal, which showcases the best photos—including stellar food shots—that utilised the app.

Marty the Smarty says: When you load a picture on VSCO, it's added to your phone memory. That means the same photo can be consuming twice the space on your phone. Here's how you can stop that from happening: once you've edited the photo, export it to your phone's native camera roll or gallery and then delete the photo from your VSCO gallery. This ensures that your photo is only saved once instead of multiple times.

This app is available for both iOS and Android users.

6. Snapseed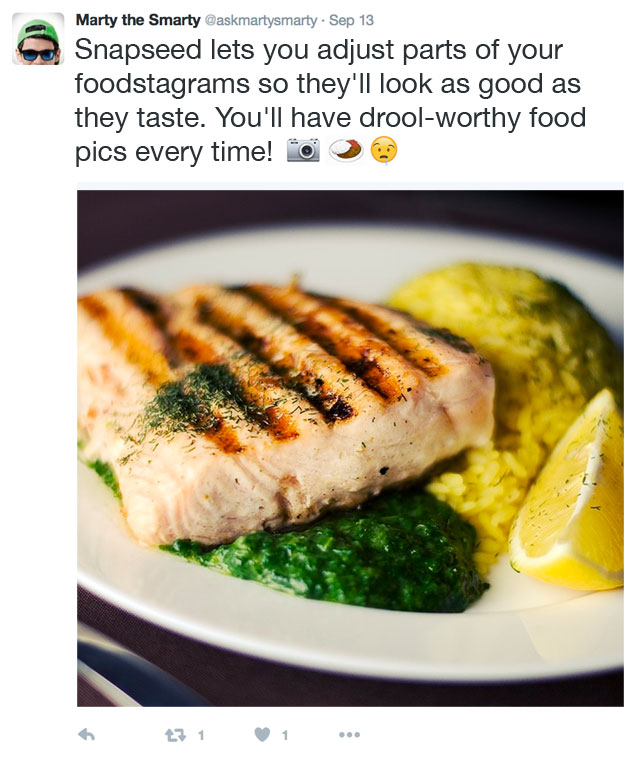 Snapseed is one of the top photo-editing apps available, offering a variety of special effects and enhancements for your foodstagramming use. It's especially great if you want to better emphasize certain aspects of your food shot, as its selective adjust tool allows you to edit just the parts of your photos that need fixing.

Marty the Smarty says: The VSCO dilemma also applies to Snapseed. Save your phone memory by exporting your Snapseed-ed photo (or by putting it up on the cloud) and deleting it from the app so you won't save it twice!

This app is available for both iOS and Android users.

Ain't that a useful list? Your stomach will definitely thank you, and so will all your buddies who will be inevitably tagging along on your food trips. After all, the way to anyone's heart is through their stomach, and if sharing food won't forge a long-lasting relationship with you pals, what will?

Next time you need some tech advice, don't hesitate to ask your new go-to data dude, Marty the Smarty! Follow him on Twitter at @askmartysmarty, throw him some questions, and he'll dish up some internet wisdom that'll make your food-loving digital lifestyle so much more fun and entertaining. Get to know him better by watching the video below:
This article was created by Summit Storylabs in partnership with Smart.