CHECK IT OUT: El Cangrejo at 34 Sergeant Esguerra Street, Quezon City
Unlimited steak and crab, and more
El Cangrejo
34 Sergeant Esguerra Street, Quezon City
Contact: 351-0700
Open daily from 11 a.m. to 12 a.m.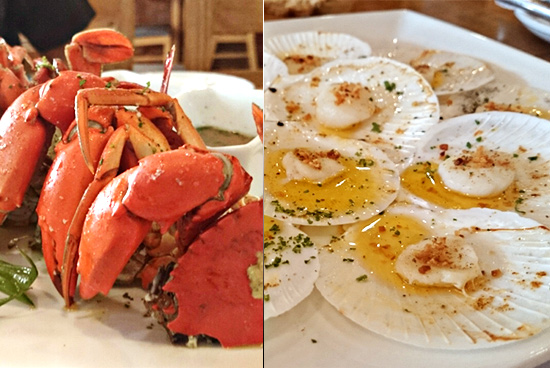 (SPOT.ph) The Spanish name may be difficult to remember, but there are things in this lodge-style restaurant that will stick. Unlimited. Crab. Unlimited Steak. Unlimited. Wine. Unlimited. Oysters. El Cangrejo (that's Spanish for "the crab")—you'll never forget that name again.
ADVERTISEMENT - CONTINUE READING BELOW
CONTINUE READING BELOW
Recommended Videos
Perhaps these are the reasons that will have you wandering the South Triangle area, sniffing for the kitchen busy churning out pot after pot of seafood. The unlimited surf 'n' turf (P795), a combination of crab and hanger steak, is available on Tuesdays and Thursdays, from 6 p.m. to 10 p.m. while bottomless wine and oysters make rounds on Mondays, Wednesdays, and Fridays. But El Cangrejo isn't (merely) about capitalizing on man's innate magnetism to a good sale. Here, value is more important than value for money, and flavor is still supreme.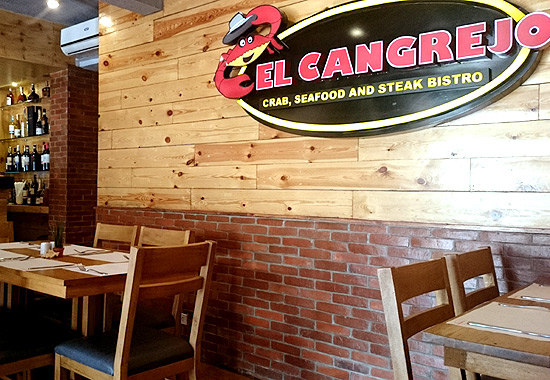 ADVERTISEMENT - CONTINUE READING BELOW
The interiors definitely convey that surf 'n' turf vibe.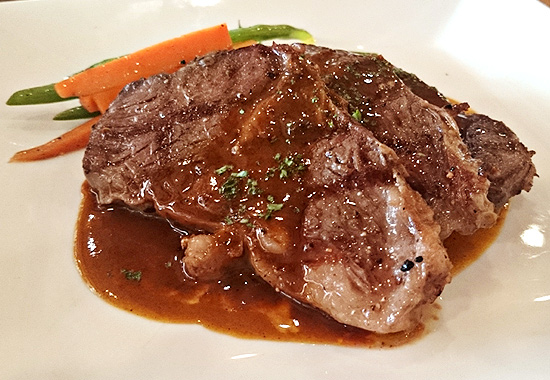 The Hanging Tender is only available with the unlimited option.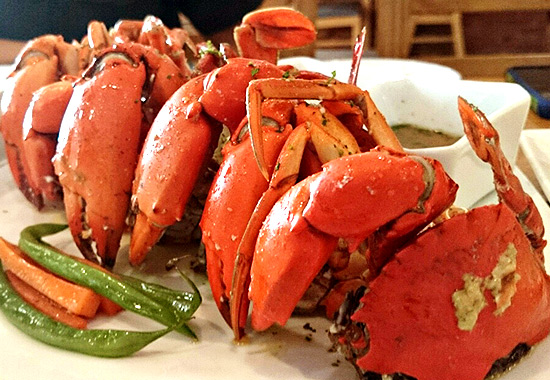 ADVERTISEMENT - CONTINUE READING BELOW
Crabs served with butter and vinegar
The crabs are big, juicy things, and emphasis is placed on uniformity and standard. "When you order 500 grams here, you get around three crabs but they will definitely be meaty," assures co-owner Mikael Degilla. He prefers his seafood undoctored, with only a simple but refined steam on his mud crabs and a touch of butter sauce to perk up the natural flavors.
Mikael has a very practical perspective when it comes to his customers. He knows he can't please everybody, but those he can, he pleases hard. El Cangrejo is a very people-pleasing space, if you think about it. Steaks and seafood (shellfish in particular)? It is a winning formula, even without the generosity of serving them unlimited.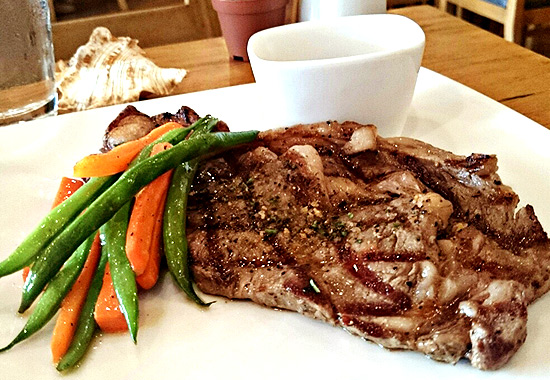 ADVERTISEMENT - CONTINUE READING BELOW
Ribeye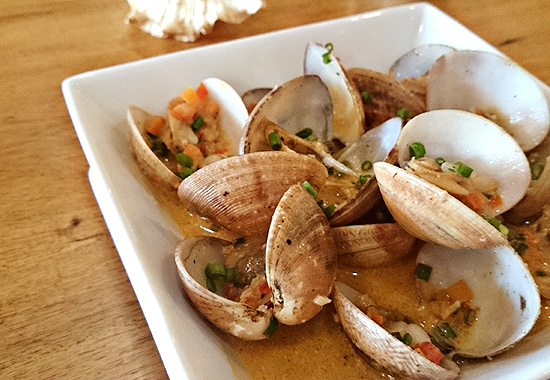 Clam Steamers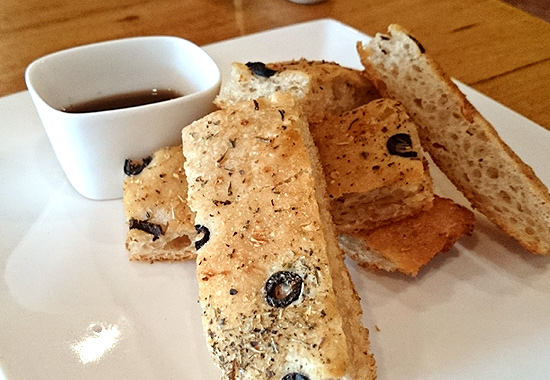 ADVERTISEMENT - CONTINUE READING BELOW
Home Baked Bread
The commitment to quality exceeds the obvious draws. Even the dishes that come in more definite portions inspire, and none more than the Clams (P160). They're a larger-than-usual set and quite content stewing in their own juices. "No salt added," says Mikael. The brine in the delectable sauce that successfully integrates itself into every meaty mollusk comes from the clams themselves, but the chef refuses to divulge any more details. If you want to stretch this dish for what it's worth—as you should—get the Home Baked Bread (P75). These sticks of olive-speckled sourdough are great for dipping into that delicious sampling taste of the sea. Apologies to the chef for ignoring the sauce it comes with. If a crab croquette (P245) accidentally dives into that same salty soup…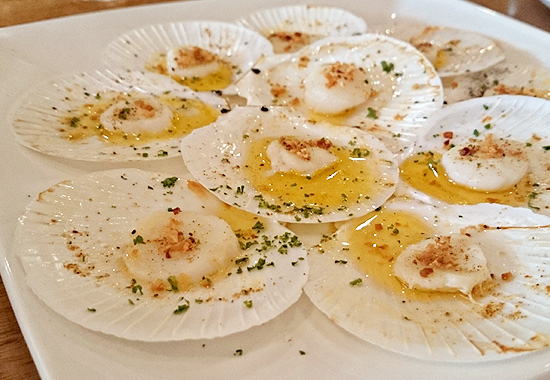 ADVERTISEMENT - CONTINUE READING BELOW
Baked Scallops
The Baked Scallops (P345) get the same modest butter treatment as the crabs. The soft, delicate pearls are served shell-on, and you can have them by the plate if you're not careful. You can have most of the seafood here by bulk if you're not careful, actually. We can understand why a person would prefer unlimited.
The desserts are in the unenviable position of trying to steal attention from a steak with hours-long demi glace and lobsters that offer bang for your buck (nope, not unlimited though), but it does enough to intrigue. One of them is described quite simply as a "Special Cake" (P190), which turns out to be a delicately sweet chocolate cheesecake sitting on a cracker crust and topped with blueberries. It's definitely a revelation and good enough to live up to that rather lofty description. The apples in the apple pie a la mode (P160) are shredded and kept skin-on which offers a surprising change in texture. The pat of cinnamon comes through just right, and the rustic slice doesn't scrimp on that perfectly treated fruit.
ADVERTISEMENT - CONTINUE READING BELOW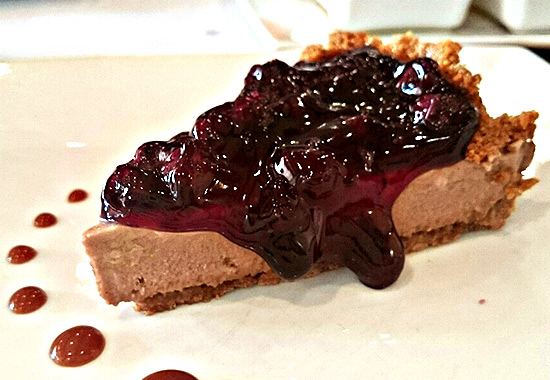 Special Cake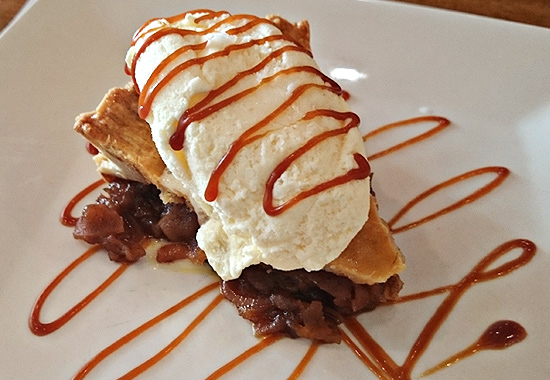 ADVERTISEMENT - CONTINUE READING BELOW
Apple Pie
Mikael downplays the desserts. "It's not our specialty," he reminds us. But there's no need to play coy. We'll have the unlimited steak and crab for dinner, but these desserts, we can spend long afternoons with.
Are you sure you want to delete this list?

Load More Stories