Now Open: Dean & DeLuca at Rockwell Edades, Makati
New York's upscale grocery has finally landed in Manila
Dean & DeLuca
Rockwell Edades, Makati City
Open daily from 8 a.m. to 8 p.m.*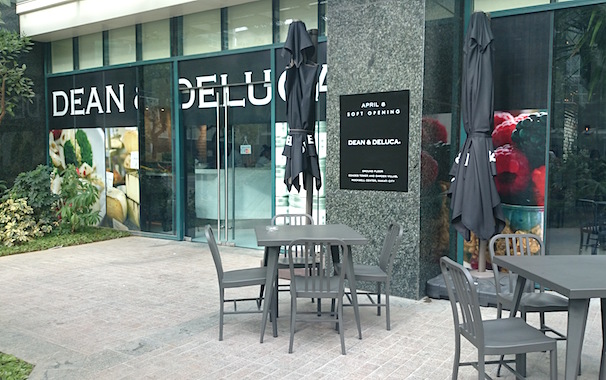 (SPOT.ph) Everything was still yesterday, April 9. It was a holiday, after all, a day to unwind and catch up on some R&R. But there was no rest for Dean & DeLuca, which was only on its second day of (soft) operations. After letting us wait with bated...taste buds for several months, the New York-originated upscale grocery chain has finally opened in Rockwell Edades.
ADVERTISEMENT - CONTINUE READING BELOW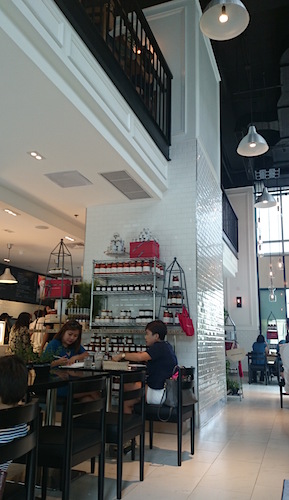 Black and white, very New York
It looks closed from the mall's Mango exit, but walk towards the center of the complex and you'll see the big sign announcing its opening. The white and black, high-ceilinged space smells like bread and baking. A wood-fire oven is positioned right after the door, and it's a fiery tease of gorgeous pizzas and a counter that displays everything fresh from the nearby kitchen. 
ADVERTISEMENT - CONTINUE READING BELOW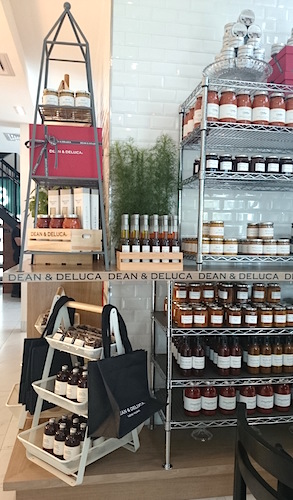 Dean & DeLuca-style shopping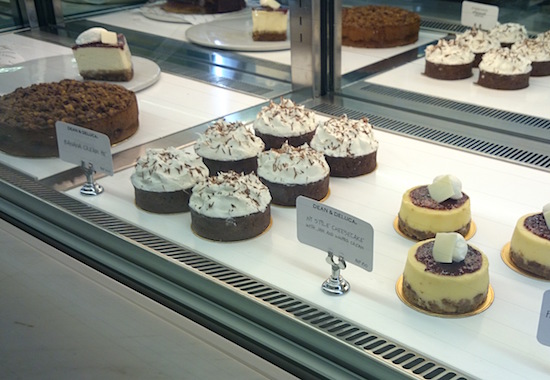 ADVERTISEMENT - CONTINUE READING BELOW
Tarts and cakes on display
Dean & DeLuca's merchandise (condiments, chocolates, oils, canvas bags), all bearing that iconic Copperplate Gothic typeface, are showcased across the register, but it's the cake and pastry gallery—Carrot Muffins (P130), Banana Muffins (P120), Pineapple Cheesecake (P180)—that will win your affection.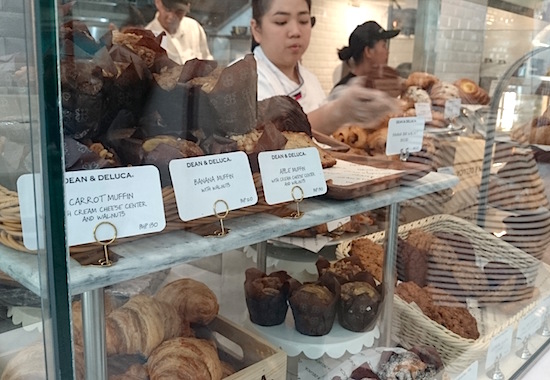 Quick meal?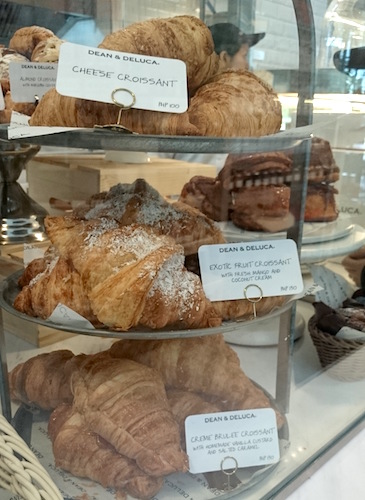 ADVERTISEMENT - CONTINUE READING BELOW
Fancy croissants
There's one curious croissant that labels itself as Exotic Fruit with Mangoes and Coconut Cream (P130), but the Almond (P120), common as it sounds, is satisfaction in a flaky chocolate-filled, almond-crusted shell. The Cream Cheese Danish (P110) is buttery and rich in the best sense.
As expected, Dean & DeLuca follows in the New York tradition of cheesecakes (P180): heavy flavor, light texture. The crumbly cracker crust, tart jam, and hints of sour cream balances that thick note of smooth-as-velvet cheese. There's also a cool crown of whipped cream for good measure.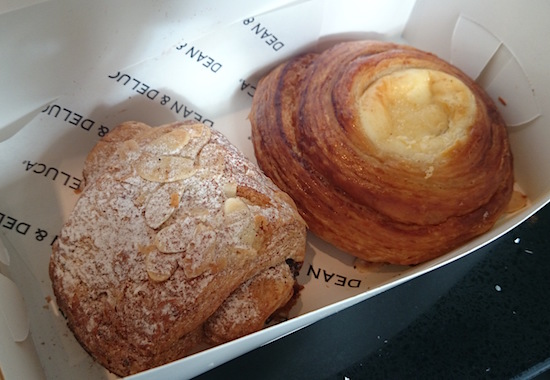 ADVERTISEMENT - CONTINUE READING BELOW
Cream Cheese Danish and Almond Croissant in a takeout box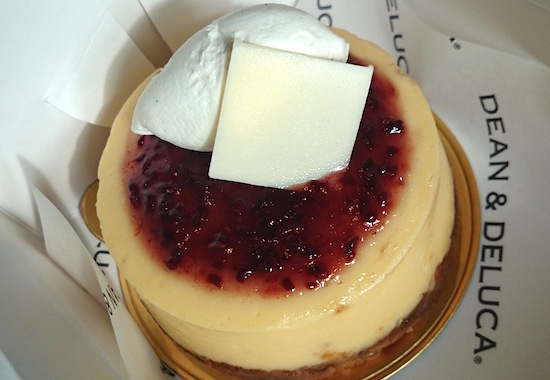 New York Cheesecake
Dean & DeLuca doesn't have a final menu. We were told by a server that it's still in the process of additions, deletions, and revision, which is a minor matter. Their initial working set of pizzas, sandwiches, salads, and pasta—not to mention the pastries—is enough to excite us for what's to come.
ADVERTISEMENT - CONTINUE READING BELOW
The pizzas are particularly rousing—though the salads also pull their weight in flavor. (Note, there's impressive symphony in the concise arrangement of salad greens, cherry tomatoes, mushrooms, and goat cheese crumble, P490.) The bright, puffy discs of sourdough set the stage for six flavors (seven, if you count the two kinds of margherita).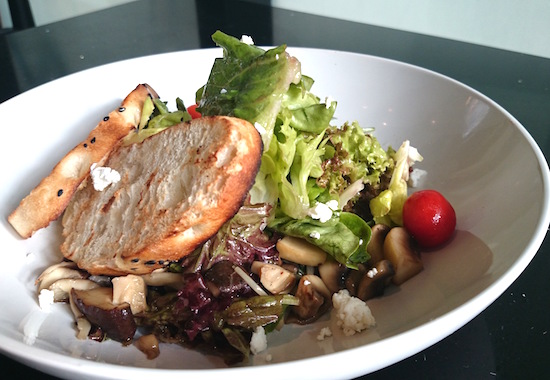 ADVERTISEMENT - CONTINUE READING BELOW
Sauteed mushrooms, pesto toast, goat cheese, salad greens in a raspberry vinaigrette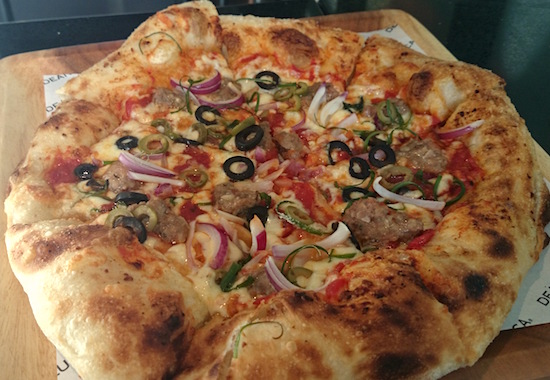 Homemade sausage, olives, and red onion pizza
It's the housemade sausage (P520) that catches attention. Appealing in a way a meat-heavy pizza could be yet not as intimidating as the barbecued and braised US shortrib and bechamel combination (P770), this pizza is delightfully gooey: the strings of cheese resisting to be teared from the rest of the rich yellow blanket and the chewy, thin crust nearly buckling under the weight of the toppings. Crushed tomatoes offer bursts of brightness, the chunks of skinless sausage feature balanced salt and spice, and the olives, of course, are there to make everything even better.
ADVERTISEMENT - CONTINUE READING BELOW
Right now, as the staff works out the forgivable kinks, Dean & DeLuca offers a combination of counter, sit-down, and grab-and-go service. The servers are apologetic over the lack of menu and, despite the fast-paced and continuous flow of customers, are quick to refill glasses, offer napkins and extra forks, and clear empty wares without reminder (we're talking about you, Frank and Ranjit). It's not a bad way to start.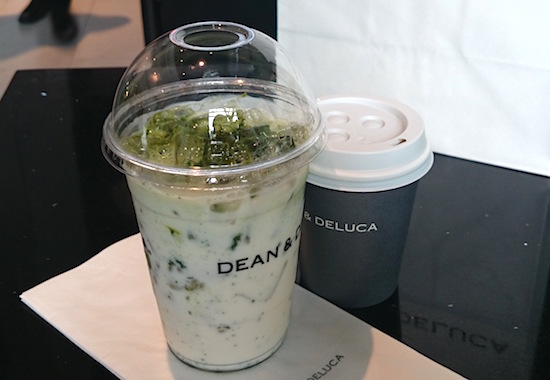 ADVERTISEMENT - CONTINUE READING BELOW
Matcha Green Tea Latte and hot Americano
The refreshing iced matcha green tea latte (P200), a happy, milky cooler with earthy green powder, was actually a good enough first impression.
*Soft opening operating hours only
Load More Stories