The 10 Best Things We Ate in May
Noteworthy dishes in this food-filled month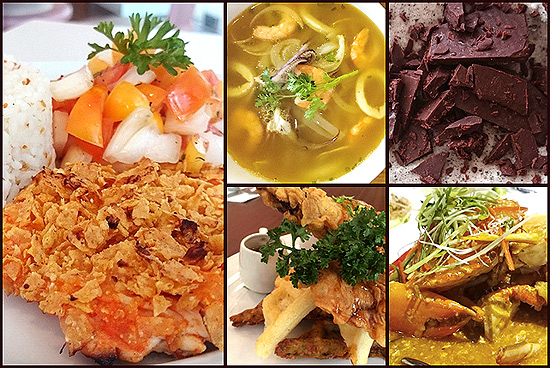 (SPOT.ph) If you didn't already know, here at SPOT.ph, we love food. You need it to live, but we find that there are some dishes that go well past the virtue of necessity. While others content themselves with a deep fryer and the usual salt and pepper, there are some who make—or at least try to make—an art out of it, with delicious displays and even yummier flavors. We believe those that go above and beyond their duty deserve necessary recognition. So here are our top picks among the dishes we ate throughout May.
ADVERTISEMENT - CONTINUE READING BELOW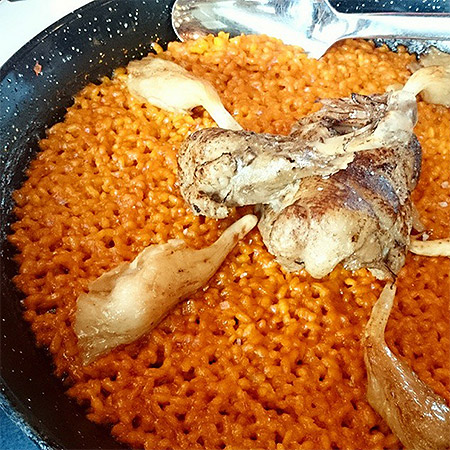 ArroZeria's Paella Pato Y Setas
Chef Chele Gonzalez has proven himself to be a maestro when it comes to filling a paella pan, and after months of eating at his restaurant, we've decided that our favorite is this duck-and-mushroom combination. This shallow pan, which automatically fills two servings of that striking orange-yellow rice, rewards customers with whole chanterelle mushrooms and a large piece of duck breast, but the bigger excitement is when you take your first piping-hot bite. The rich and earthy flavors of those two elements infuse themselves so well in every salty spoonful.
ADVERTISEMENT - CONTINUE READING BELOW
ArroZeria is at 4/F Century City Mall, Makati City. Read more about ArroZeria.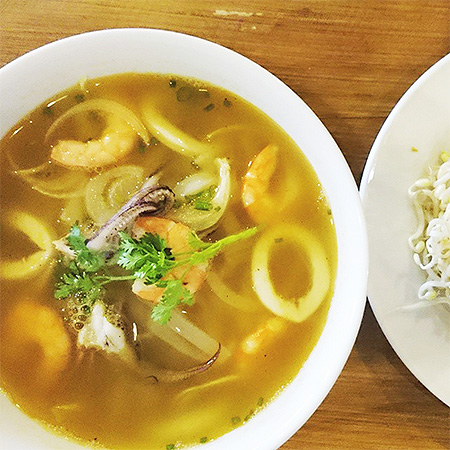 Ba Noi's Seafood Pho
We can't believe we're saying this, but when it comes to pho, seafood actually takes a backseat to the beef and maybe even the chicken. We've been slurping the pho bo for years, but this seafood soup, boosted by rings of squid and pieces of shrimp, is light yet fulfilling. When a craving for a hot bowl of noodles hits, this one is a bright solution that will actually complement the heat of summer.
ADVERTISEMENT - CONTINUE READING BELOW
Ba Noi's has branches at East Capitol Drive, Kapitolyo, Pasig City; Capitol Commons, Pasig City; UP Town Center, Quezon City; and Tropical Palms, Perea Street, Makati City. Read more about Ba Noi's.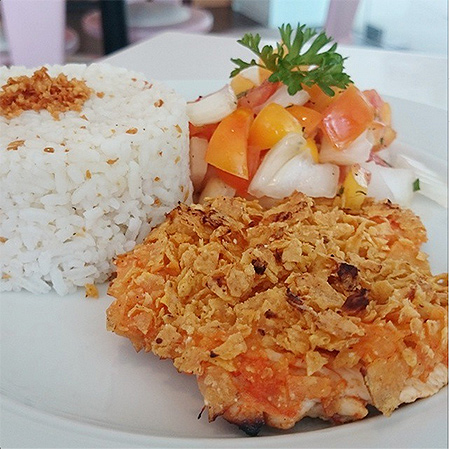 The Bunny Baker Cafe's Tortilla-Encrusted Chicken
It was a toss up between The Bunny Baker's other chicken dish, fried buttermilk tenders with a side of hush puppies, but we decided to go with the more unconventional. These chicken fillets are dipped in sriracha then padded in crumbs of tortilla for a coat that offers a louder crunch than fried flour. The heat is just a whisper, distinct, but just enough to complement. We love how it tastes with that garlic rice!
ADVERTISEMENT - CONTINUE READING BELOW
The Bunny Baker Cafe is at Hemady Square, 301 Dona Hemady Street corner E. Rodriguez Avenue, Quezon City. Read more about The Bunny Baker Cafe's new menu.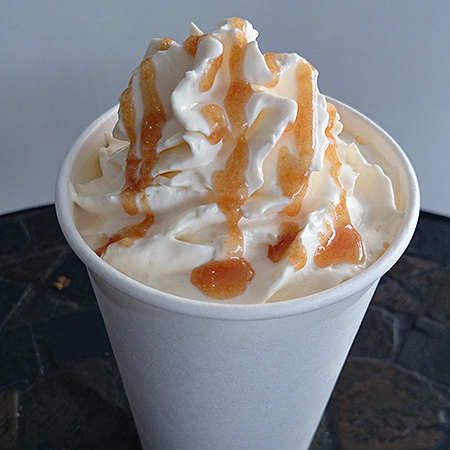 Sebastian's Salted Caramel Milkshake
There's no need to worry about the elements (read: the sun) when you have a Sebastian's milkshake in hand. Our flavor of choice: the bestselling Salted Caramel, which has proven to give consistent satisfaction even amid the newer additions on the menu. Caramel could be easily overwhelming, cloying even, but not this one. The profile is distinct but light enough that you'll be sipping and slurping up to the last drop. Then, there's that touch of salt. It offers a grown-up edge to a childhood favorite.
ADVERTISEMENT - CONTINUE READING BELOW
Sebastian's Ice Cream has branches at Regis Center, Katipunan Avenue, Quezon City; SM Mall of Asia, Pasay City; and The Podium, Mandaluyong City. Read more about Sebastian's Ice Cream's milkshakes.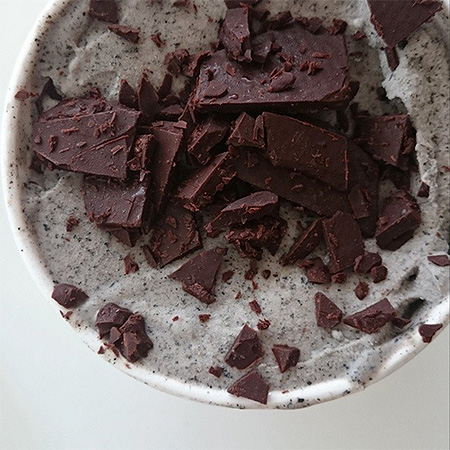 Manila Creamery's Black Sesame Gelato with Pop Rocks
Jason Go and Paolo Reyes have many stellar flavors, but we're impressed with how they've recreated the trendy black sesame. The texture of their gelato is impeccable, thick and solid yet velvet and creamy. The black sesame flaunts that characteristic nutty flavor, but it's the benediction of dark chocolate pieces on top that make it extra special. They're dark chocolate pop rocks! The popping is a little tame, but we don't mind. It's really that subtle chocolate that gives this a touch of sophistication.
ADVERTISEMENT - CONTINUE READING BELOW
For orders, contact Manila Creamery at manilacreamery@gmail.com. Read more about Manila Creamery.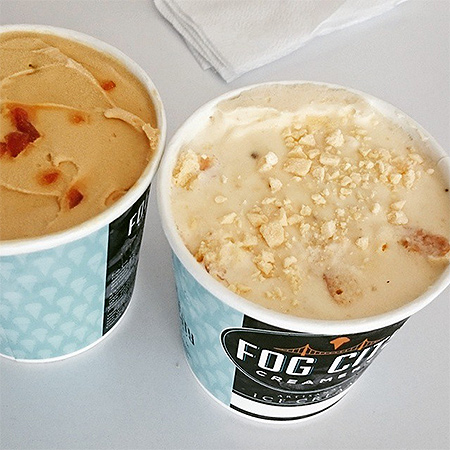 Fog City's Ensaymada Ice Cream
You might be able to tell that we're going ice, ice, crazy here. They're the best things to eat under this heat. This Ensaymada Ice Cream is so impressive in so many ways. There's that creamy, solid texture that's hardy in this climate. The flavor of the favored buttery bread is pronounced, sure, but that's not what makes it so darn good. We love the chunks of cheese embedded all throughout the pint (P300). Isn't that what we love about ensaymada in the first place? That's the Salted Caramel on the left, by the way, another awesome rendition.
ADVERTISEMENT - CONTINUE READING BELOW
For orders, visit Fog City's website.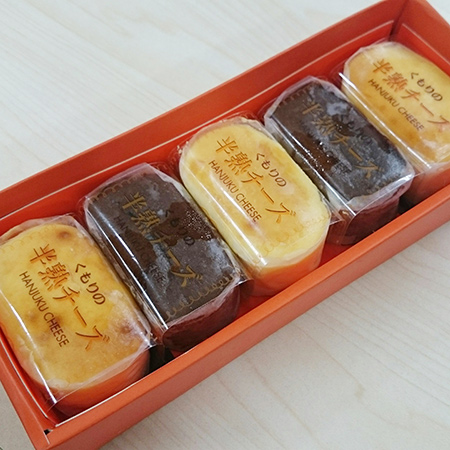 Kumori's Signature Hanjaku Cheese
We have a thing for Japanese bakes, which Kumori only validates further. Of their many buns and breads, this cheesecake, this glorious cloud of a cake, is the one that takes us to heaven with every bite. The slices are individually packaged, which might facilitate sharing (a very, very difficult task, indeed), and each one is pure velvet. It's compact and decadent, but still so easy on the palate. How do the Japanese do it?
ADVERTISEMENT - CONTINUE READING BELOW
Kumori has branches at Landmark and SM, Makati City. Read more about Kumori.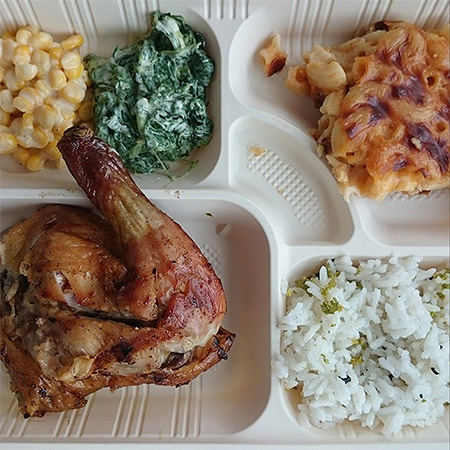 Gostoso's Grilled Chicken
Here's a true story: Someone from SPOT.ph was able to eat half a Gostoso chicken in less than 10 minutes. This Portuguese joint is that effective. Grilling it over a flame layers in this delicious smoky flavor underneath that gorgeously golden, briny skin, but the kitchen is careful not to over-season. The simple reason? It sets up the chicken for the spicy sauces. From mild to crazy, mix and match, a little bit of fire is all you need to perk up this already perky chicken.
ADVERTISEMENT - CONTINUE READING BELOW
Gostoso Piri-Piri Chicken has branches at 51B East Capitol Drive, Kapitolyo, Pasig City; and UP Town Center, Quezon City.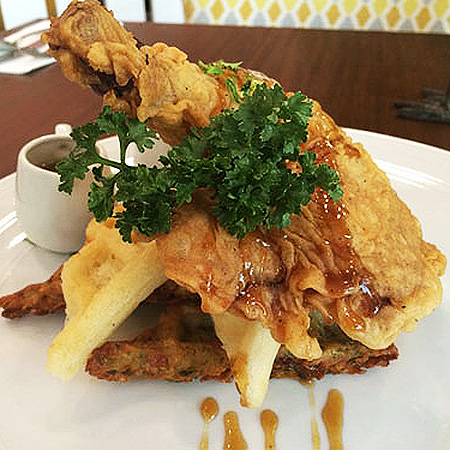 Fried Chicken and Breakfast Waffles from Early Bird Breakfast Club
Cheers to beautiful mornings! Early Bird's presenting us a classic combination with a twist. The fried chicken is crispy perfection, bold and flavorful, but it's the waffle that takes a more creative turn. It's savory, potatoes merging with the pancake batter, giving new life to an oldie. The trick to really tying all those flavors together? Douse everything in gravy. Don't be shy, ask for more from the kitchen!
ADVERTISEMENT - CONTINUE READING BELOW
Early Bird Breakfast Club has branches at The Fort Strip, Bonifacio Global City; Eastwood Mall, Quezon City; and Century City Mall, Makati City. Read more about Early Bird's new menu.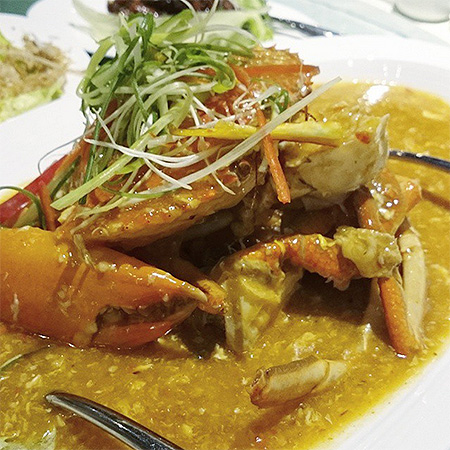 Ming Kee's Singaporean Chili Crab
Three elements make up this delicious spectacle: a pool of pepper-heavy sauce, that gorgeous crab measured by weight (heck, get the biggest one), and pillows of hot mantou. They're all outstanding individually, but together, it's big blasts of fiery flavor. The crab is so fresh that you can taste that wonderful tinge of buttery sweetness; the sauce an intense punch that catches at your throat; and the buns wrapped in crispy wonton skin and deep-fried for a novel crunch. You can eat the crab in five seconds, but we love how you can stretch the dish further by dipping the bread into the sauce. Yum!
ADVERTISEMENT - CONTINUE READING BELOW
Ming Kee is at 7852 Makati Avenue, Makati City. Read more about Ming Kee.
Recommended Videos
Load More Stories