New Restaurant Alert: Crying Tiger at Guanzon Street, Makati
Thai food, street-style, the way it's supposed to be
Crying Tiger
Guanzon Street (behind Fersal Hotel along Makati Avenue), Makati City
Open daily from 6 p.m. to 11 p.m.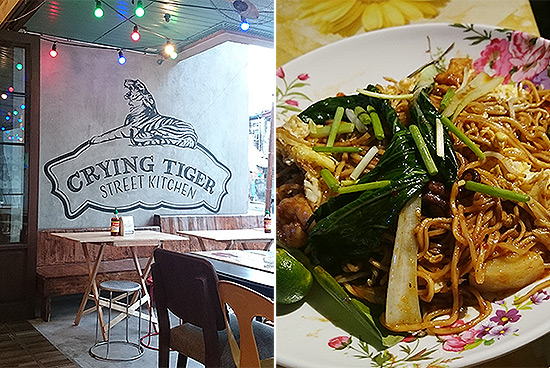 (SPOT.ph) This street kitchen is one-half street and one-half restaurant. Deep on Guazon, where no-parking is part of the charm and it feels more like an alley than anything else, Crying Tiger is very much like those yummy hideaways in Thailand that tourists love seeking out. An off-the-guidebook mini adventure, if you will.
ADVERTISEMENT - CONTINUE READING BELOW
It's that kind of secret for now, but it won't be too long before foodies and their friends' cousins' uncles will be able to sniff out the latest from the group behind El Chupacabra. Now, a few days since it launched and 10 minutes after the proverbial doors opened, people are already trickling in.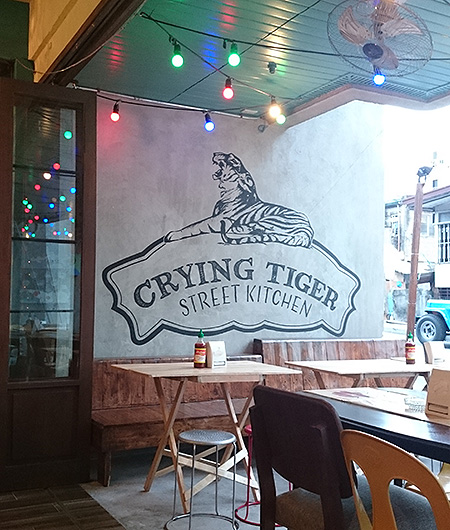 CONTINUE READING BELOW
Recommended Videos
ADVERTISEMENT - CONTINUE READING BELOW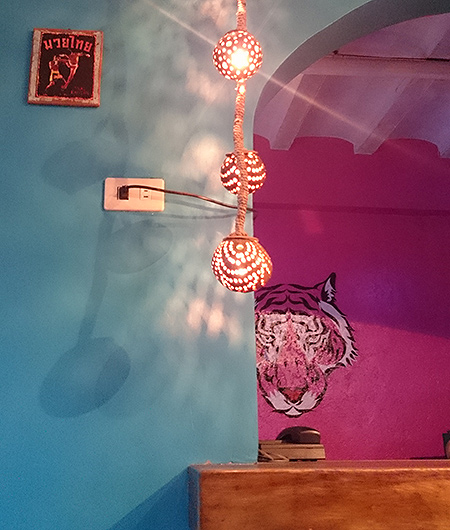 Festive colors
We sit in the most inconspicuous area of the restaurant: a cleverly concealed spot that divides the al fresco arrangement of foldaway tables and plastic chairs from the vinyl flowered tablecloths, festive glass lanterns, pink and turquoise walls that make up the indoors. Crying Tiger looks every bit the hash house. That is, back when holes-in-the-wall looked like a hodgepodge of stuff you just pulled out from your home to make a restaurant. But the elements narrate the effort it took to create that effect: mismatched plastic plates with flowers surrounding the perimeter, a television running Thai karaoke videos, a calendar on the wall.
ADVERTISEMENT - CONTINUE READING BELOW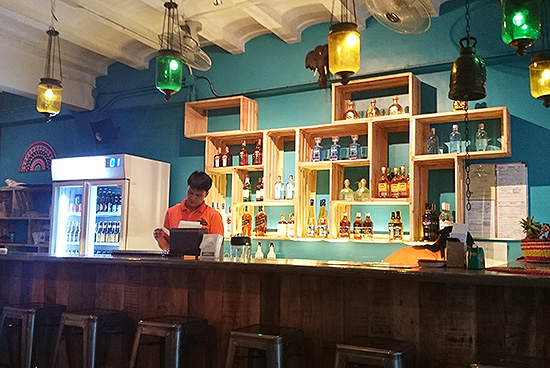 Of course, a bar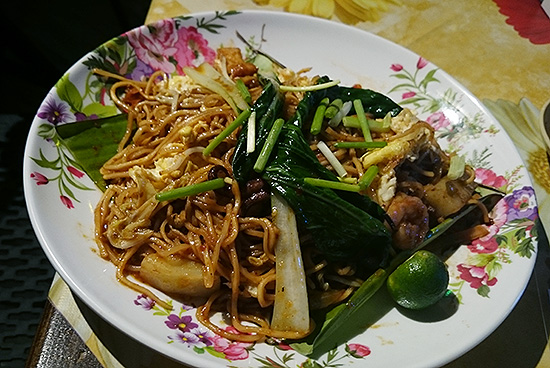 ADVERTISEMENT - CONTINUE READING BELOW
Mee Goreng
Currently, only seven dishes are on the menu, but if you find that lacking, the powerful flavor of the Mee Goreng (P199) makes up for the dearth. Every ingredient is represented in large, distinguishable chunks: tofu, potatoes, squid, bok choy tangled in saucy yellow strings. There's a haphazardness to the way the noodles have been tossed together, but it's warm, fuss-free, and—perhaps the most important criterion—covered in flavor from the spicy sauce. The heat builds up with every noisy slurp, and while the sweating and sniffling isn't the most comfortable feeling in this setting, the servers are quick to come by with iced water (disappointingly not in an upcycled old peanut-butter jar).
Quicker cooking techniques are the trick here. The wings—Malaysian (P199), not Thai, but there's also Thai Fried Chicken (P69 to P499) available—are thickly brushed with a mildly spicy, mildly fragrant sauce with a sweet sign-off. It's grilled, smoke and char adding a little more flavor. Not that a little extra oomph is a problem. Every table is equipped with a bottle of sriracha.
ADVERTISEMENT - CONTINUE READING BELOW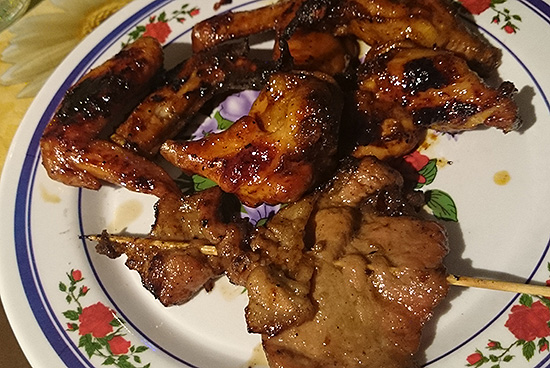 Pork Barbecue and Malaysian Wings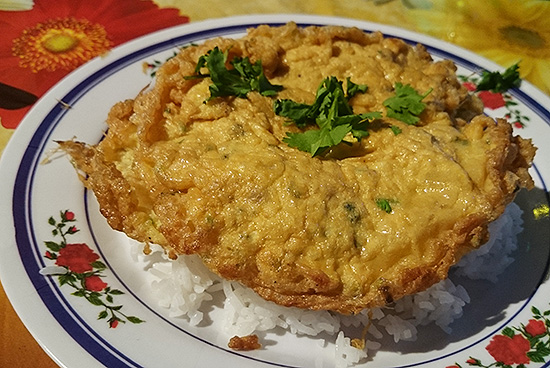 ADVERTISEMENT - CONTINUE READING BELOW
Thai Pork Omelette
The wings share the same plate with our single order of Thai Pork BBQ (P25/stick) or moo ping. The discs of pork are lovingly treated, tender but with bite, and enough seasoning that it still welcomes a good shake of sriracha-triggered heat. If you're the type to only enjoy a meal with rice, the Thai Pork Omelette (P95) is a generous dome of white rice covered in a crispy wok-fried egg peppered with bits of pork. Take any excuse to dab on a little more hot sauce.
An hour later, the vibe at Crying Tiger shifts from subdued to lively: the sound of silverware clanking and chatter from the closely laid-out tables muddling together. Imported wine or local craft beer seems appropriate to usher in the evening. The dishes are quickly thrown into plates and plunked on the vinyl surface. They're not Instagrammable, except only for the hashtags #newfind and #hiddengem. The style is good ol' fashioned fun and the food is the kind you wouldn't want to have any other way.
ADVERTISEMENT - CONTINUE READING BELOW
Share this story with your friends!
---
Help us make Spot.ph better!
Take the short survey
Load More Stories