10 Food Booths You Should Have For Your Next Party
Having a variety of stalls at your party is the new buffet line.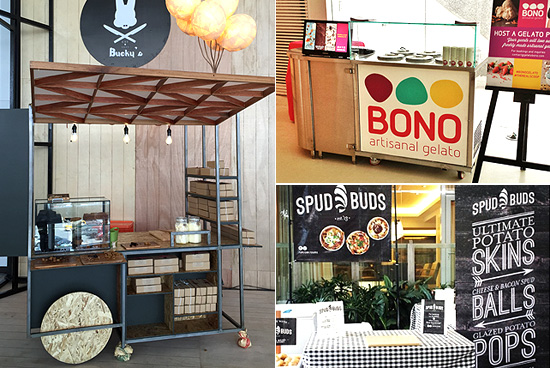 (SPOT.ph) Too lazy to cook? Too cool for take-out? Make your party memorable by having food stalls instead. Not only is it hassle-free for you, the host, it's also a much more interactive and entertaining way of serving food for your guests. Whether it's a wedding or just a big celebration at home, you'll find your catering needs (or at least part of it) answered with these fun and delicious booths.
We scouted the metro and looked for the ones that'll really breathe life to your feast. Don't worry: From prices to contact information to inclusions, we have you covered.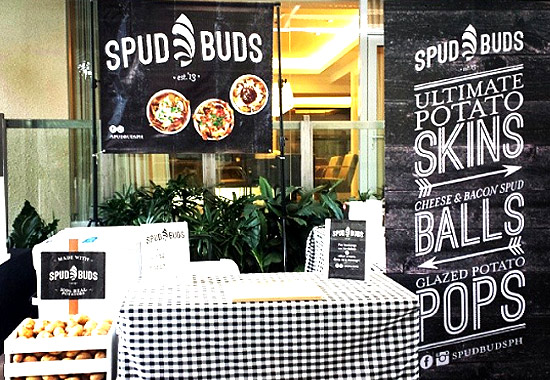 Spud Buds
There's no party like a potato party! Give your spud love a more sophisticated look with Spud Buds' chic and fun setup. It'll be a total carb fest full of their addictive shoestrings (fries doused in either Strong Cheese and Onion, Buffalo Bleu, Zesty Ranch, Sweet Thai, Chipotle), Spud Balls (our personal favorite croquettes with dips like Honey Wasabi, Spicy Cajun, Garlic Aioli), and Ultimate Skins (they're like chips, but more intense, and in flavors like Bacon and Cheese, Texas Chili, Mexican, BBQ Chicken).
ADVERTISEMENT - CONTINUE READING BELOW
What's in stall: P6,000 for 80 orders of Flavored Shoestrings; P7,000 for 50 orders of Ultimate Potato Skins; P11,000 for 50 orders of Flavored Shoestrings and 50 orders of Ultimate Potato Skins; P8,000 for 150 orders of Spud Balls (two pieces/serving) and 50 orders of Flavored Shoestrings.
Plus: It comes with a party-table setup and trained staff to help with service.
Contact Spud Buds at 0922-824-9352; leonard@spudbudsph.com.

CONTINUE READING BELOW
Recommended Videos
Hachibi Takoyaki
Hachibi is a Salcedo Market staple, and it's developed a pretty good name for itself selling freshly griddled balls packed with bits of veg and chunks of octopus. Every serving comes with a festive flourish of sauce, green onions, Japanese mayonnaise, and dried bonito flakes (katsuobushi).
What's in stall: P8,000 for 100 orders (an order is three pieces of takoyaki); you also get an extra 10 orders for free.
Plus: P1,500 for every extra 30 orders
ADVERTISEMENT - CONTINUE READING BELOW
Contact Hachibi Takoyaki at 0918-957-9915; hachibitakoyaki@gmail.com.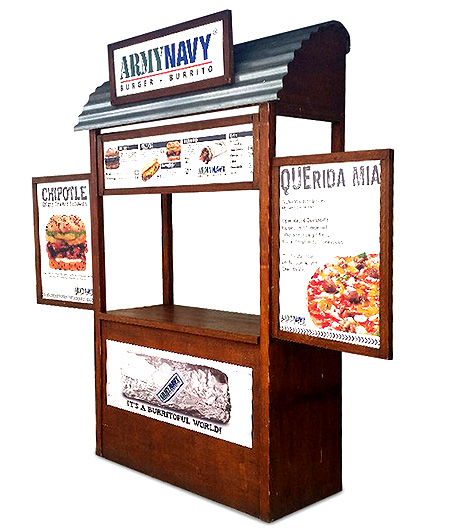 Army Navy
If you're throwing a bash that's a little more casual, you might want to skip the caterer and just let your guests go crazy with Army Navy's brand of comfort food. This company has recently launched with B.O.B or Bulk Order Burgers + Burritos, making it easier for people to have Army Navy goodness at their party.
What's in stall: Minimum order worth P21,000 consumable. Choose a menu from Classic, Double, or Bully Boy Burgers (P175 to P265); Chicken, Steak, Carnitas, or Breakfast Burritos (P175 to P195); Chipotle Chicken Sandwich (P195); Libertea P65 to P75); soda (P50).
Plus: Booth setup costs an extra P5,000, and it comes with staff to help distribute the grub.
Contact Army Navy at 333-3100 local 228.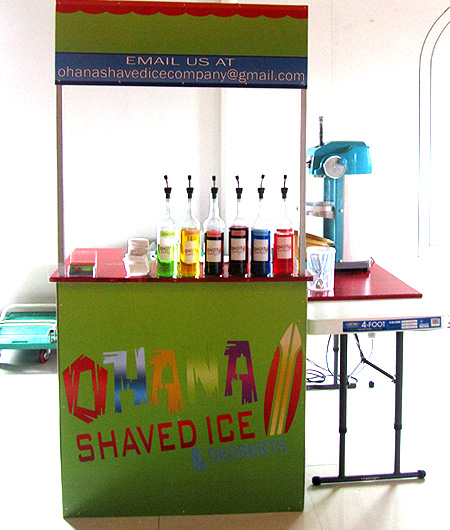 ADVERTISEMENT - CONTINUE READING BELOW
Ohana Shaved Ice
You'll have the coolest party in town when you have this icy spread at your gathering. Ohana Shaved Ice, which delights kids and kids-at-heart with their version of snow cones, uses only premium Arce Dairy ice cream as base and potent flavored syrups from the U.S. Flaunting the colorful appeal of kakigori, Ohana allows up to four-flavor combinations to make a rainbow-hued treat.
What's in stall: P5,000 for 100 cups, P7,000 for 150 cups, and P8,000 for 200 cups. Cups are 16 ounces.
Contact Ohana Shaved Ice at 0917-833-9943, 0922-864-9737.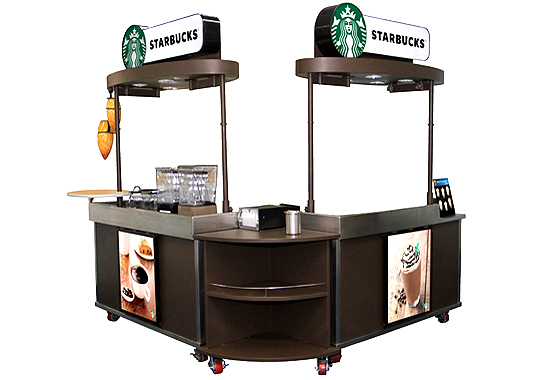 Starbucks
This will surely liven the mood at any celebration. Party in style with a Frappuccino booth set up right at your backyard (or wherever your event is). Starbucks will even cater to your guests' tastes by offering six flavors: Coffee, Mocha, Caramel, Caramel Cream, Chocolate Cream, and Vanilla Cream. The booth will be operational for six hours.
ADVERTISEMENT - CONTINUE READING BELOW
What's in stall: P15,000 for either 100 Tall Frappuccinos or 80 Tall Frappuccinos and 2.5 gallons brewed coffee (40 short cups)
Plus: If you want upsizing to be available at your Frappuccino booth, just add P1,000 per upgrade. Grande would be P16,000 and Venti would be P17,000.
Fill up the form at your nearest Starbucks outlet.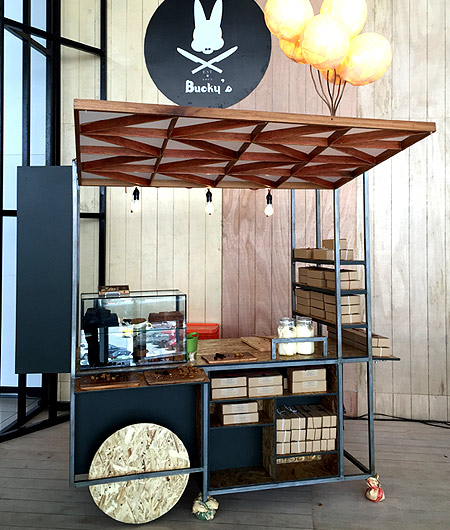 Bucky's Not A Brownie
We want to throw a party just so we can have this gorgeous setup. Bucky's Shack will fill in the sweetness every fun affair needs. This cart answers the question: What happens when you make Bucky's a sandwich? With the Buckxwiches, owner Miguel Vargas allows eaters to mix and match their signature non-brownies (maximum three from Original, Blonde, Yana Banana [SPOT.ph recommended!], Big Poppa, and Super) with a filling (maximum two from Cream Cheese, Vanilla Cream, Peanut Butter, Salted Caramel Cream Cheese) of their choice.
ADVERTISEMENT - CONTINUE READING BELOW
What's in stall: P12,000 will get you four hours and 63 slices.
Plus: Every extra hour is P1,500. The Shack comes with one personnel and eating paraphernelia.
Fill out an order form and contact Bucky's Not A Brownie at miguel@buckysnotabrownie.com.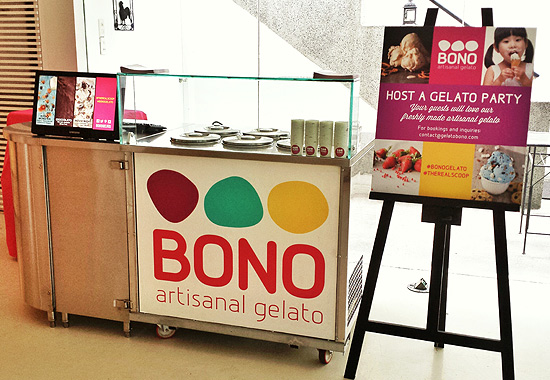 BONO Gelato
Gelato will always be runaway hit at any party, but when BONO Gelato busts out the liquid nitrogen, you can save on the magician because you know this will be an exciting show. You can choose from BONO's many flavors like the award-winning Mango Ube Symphony, Pistachio, Butterbeer, Funfetti, Cereal and Milk, Movie Night, Milo Dinosaur, and more. If you want a little more grown-up flavor, they have a low-sugar selection.
What's in stall: For the churned on-site with liquid nitrogen booth, it's P25,000 for 100 scoops and P35,000 for 200 scoops (maximum of three flavors). Regular scooping stations fetch P14,000 for 100 scoops (maximum of six flavors).
ADVERTISEMENT - CONTINUE READING BELOW
Plus: BONO's booth lasts four hours, with an additional P1,500 per excess hour. It comes with a small staff (one or two) and gelato napkins, cups, and utensils.
Contact BONO Gelato at contact@gelatobono.com.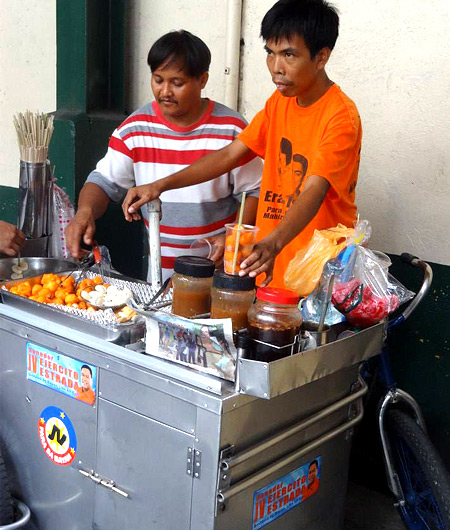 Mang Alex's Fishballs
Mang Alex is a staple vendor outside the St. Jude campus in Manila. He's gained such a cult following that people have gotten him for parties and other events. He runs his business with his family.
What's in stall: It's a simple fishball setup. P4,000 gets you 20 kilos of fishball, squid, and kikiam. They don't have set hours, but for sure your guests will have a blast making tusok-tusok.
Contact Mang Alex at 0918-445-9449.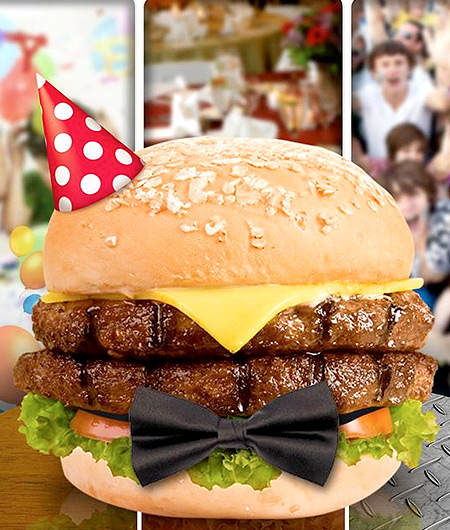 ADVERTISEMENT - CONTINUE READING BELOW
Brothers Burger
Prefer something a little meatier at your party? Kiss caterers good-bye with Brothers Burger's selection of sliders (or Baby Brothers Burgers) and adult-sized Pounder, Angus, and Lamb Burgers. This burger joint will invade your party in style with a full cart setup and uniformed servers. Remember: They require 4,000W for their bun toaster!
What's in stall: Baby Brothers Burgers cost P85 each; Pounder, Angus or Lamb Burgers cost P310 each. Sides range from P85 (fries, onion rings) to P185 (fish and chips). A minimum consumable of P15,000 is required.
Plus: Brothers Burger also charge 20% catering fee and 10% service fee. The stall is available for four hours, with an extra P1,500 per excess hour.
Contact Brothers Burger (look for Neren Mangabat) at 812-1514, 815-0736, or 891-1784; neren_mangabat@brothersburger.com.ph.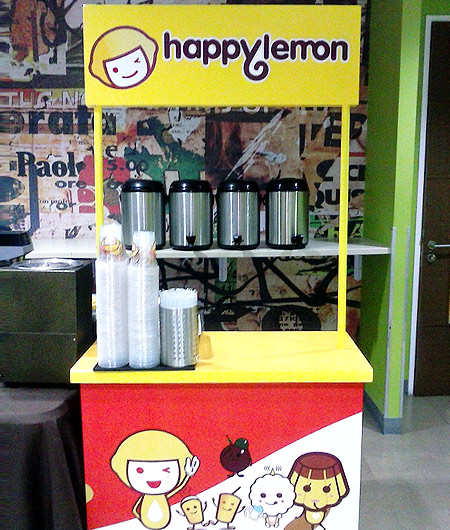 Happy Lemon
Hosting an afternoon pool party? Chill out with your favorite milk tea. Happy Lemon allows their party stalls a maximum of three flavors to give your bash a bit of variety. They also have two booth sizes for you to choose from as well as a bulk delivery service for smaller gatherings.
ADVERTISEMENT - CONTINUE READING BELOW
What's in stall: P15,000 for 150 regular drinks; P19,000 for 200; P23,000 for 250; P27,000 for 300
Plus: Delivery service without the cart is P5,000 for 50 drinks and P10,000 for 100 drinks.
Contact Happy Lemon at 234-5714; marketing@happylemon.ph.
Photos courtesy of the companies/owners (Happy Lemon, Spud Buds, Ohana, BONO, Bucky's, Starbucks, Army Navy, Habichi) and Facebook (Brothers Burger and Mang Alex).
Share this story with your friends!
---
Help us make Spot.ph better!
Take the short survey
Load More Stories