(SPOT.ph) Sinigang is the ultimate comfort food, endearing itself to many Pinoys with its signature sour taste. And there are many different kinds of sinigang: Its tartness is traditionally sampaloc-based, but this can be substituted with other fruits such as kamias, green mango, guava, calamansi, and even watermelon. It has a medley of native vegetables not limited to onions, eggplants, sitaw, kangkong, radish, green finger chili, and okra—but the scene-stealer is the meat (or seafood) included in the aromatic soup. 
This signature Filipino dish has evolved over time, departing from old-school home-cooking practices without compromising its classic flavors. While nothing can ever replace the sinigang you've grown up eating, here are our top 10 sinigang interpretations—some may have deviated from tradition—but all of them definitely hit close to home.
All SPOT.ph Top 10 lists are researched, paid for, tested, and selected by the writers and editors. They are discreetly conducted without any notice made to the restaurants or their owners.
ADVERTISEMENT - CONTINUE READING BELOW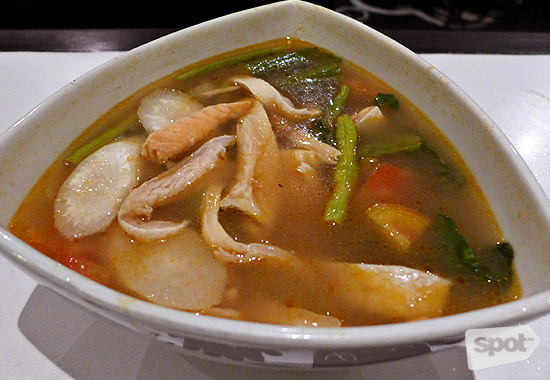 10. Sinigang na Salmon sa Miso (P330) from Romulo Café
While this is not entirely unorthodox in terms of ingredients and presentation, the palate still looks for something familiar. One of Romulo Café's must-try sinigang dishes is a steaming bowl of salmon belly simmered in a broth sufficiently soured by sampaloc. The fermented soybean paste adds an element of umami to its flavor, heightened by the peppery taste of mustard greens.
Click here for a list of branches.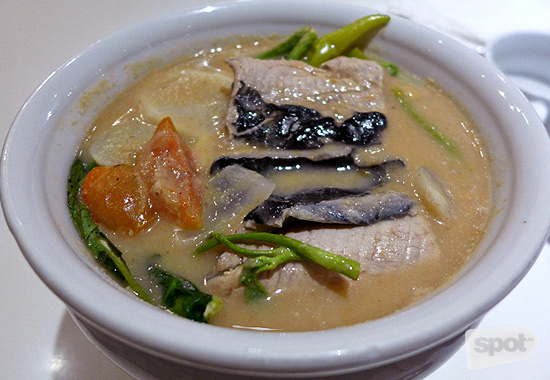 9. Sinigang nga Bangus ti Bayabas (P390) from Victorino's
It takes a lot to get used to the pungent smell of ripe guavas without your nose wrinkling—you'll know the dish is about to be served with its sweet, musky aroma. But once you get past the urge to gasp for breath, indulgence starts to kick in. The pureed guavas give the soup a creamy texture, and its sharp taste blends well with the fatty bangus belly. A dash of patis (with crushed siling labuyo, if you prefer) helps to mask this flavor if you find it too overwhelming. 
ADVERTISEMENT - CONTINUE READING BELOW
Victorino's is at 114 Scout Rallos Street corner 11th Jamboree Street, Sacred Heart, Quezon City (922-8558).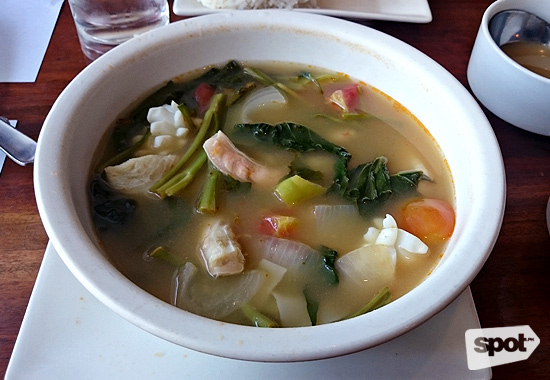 8. Sinigang Laman Dagat (P341) from Wooden Spoon
It takes inspiration from the big, bold flavors of Thailand's version of sinigang: the tom yum. The broth of this Sandy Daza creation has the distinct tang of fragrant herbs, but the heat from the green finger chilies is mildly downplayed. Added into the mix are various kinds of seafood such as salmon, shrimp, and squid. You'll also be pleased with the generous amount of kangkong in this utterly delicious hot and sour soup (you know what we mean).   
ADVERTISEMENT - CONTINUE READING BELOW
Click here for a list of branches. Read more about Wooden Spoon.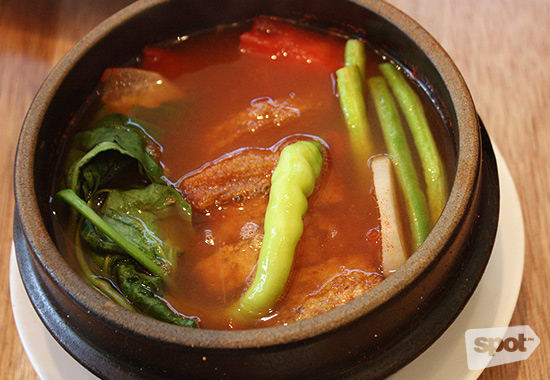 7. Sinigang na Crispy Bagnet sa Watermelon (P395) from Simplè Lang
The sweet, fruity taste of watermelon in a sour soup? Sounds weird. But Simplè Lang has found the balance between these two contrasting flavors—it gets better with the addition of bagnet. The succulent pork belly melts in your mouth and contributes a subtle salty taste. Just don't let it soak in the soup too long so the deep-fried skin won't completely lose the crisp! The components in this dish could be truly weird for the unaccustomed—but in this case, weird is good.
ADVERTISEMENT - CONTINUE READING BELOW
Simplè Lang is at Ayala Triangle Gardens, Ayala Avenue corner Makati Avenue, Bel-Air, Makati City (621-6162). Read more about Simplè Lang.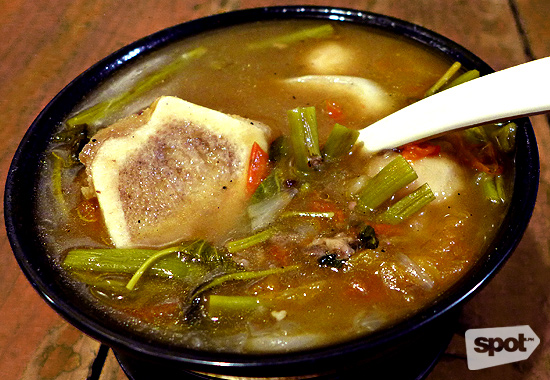 6. asimBULL (P285) from Bullchef
From the vegetable ingredients to the use of sampaloc as souring agent, everything seems to be traditional in this dish—until you see the bulalo, its intact marrow glistening with so much promise. The beef shank is cooked until tender; its thick, tangy soup made even richer with melted fat. Don't be shy—Bullchef has an option that lets you order this bowl with two cups of rice. Every serving is no doubt a food coma in the making, high blood pressure aside. 
ADVERTISEMENT - CONTINUE READING BELOW
Bullchef is at 4 East Capitol Drive Kapitolyo, Pasig City (0916-338-3898).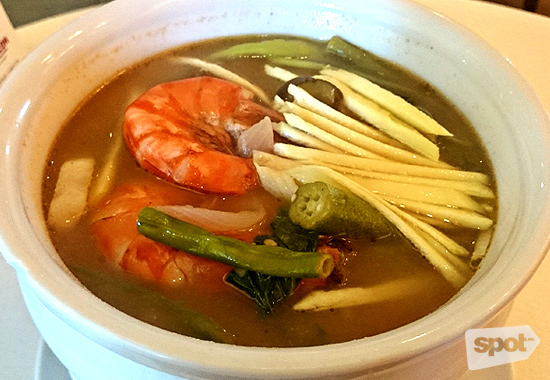 5. Sinigang na Hipon with Mangga (P430) from Corazon
The shrimps are simmered in the tasty sour soup with their heads and shells intact to retain much of its flavor. Eating these is a lot easier because it's deveined! Corazon's creative spin on this classic dish does not scrimp on the sourness—every spoonful reveals the sampaloc's acidity, coupled with the green mango's tart, lemon-like taste. It's definitely a perfect partner for the blandness of rice with its double dose of sourness. For the sour tooth, this is heaven in a bowl. 
ADVERTISEMENT - CONTINUE READING BELOW
Corazon is at 4/F East Wing, Shangri-La Plaza East Wing, Mandaluyong City (687-1955). Read more about Corazon.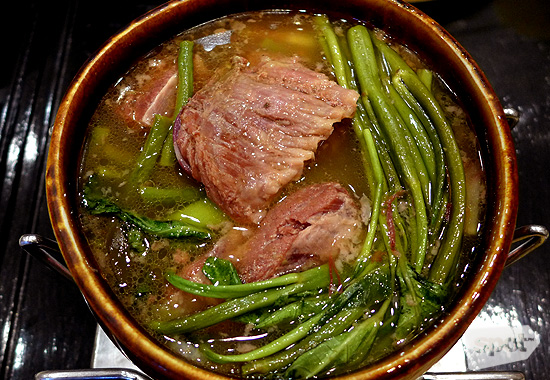 4. Sinigang na Corned Beef (P595) from Sentro 1771
Sentro 1771 modifies the recipe by introducing corned beef short ribs and boneless shanks instead of the typical meat variation used in sinigang. These are cooked in a sampaloc broth, where the wonderful salty flavor from the brisket mixes with the sharp taste of the soup base. What's great is that your personal preference will determine the taste of the broth. An exciting take on the Filipino favorite, this rendition doesn't disappoint.        
ADVERTISEMENT - CONTINUE READING BELOW
Click here for a list of branches.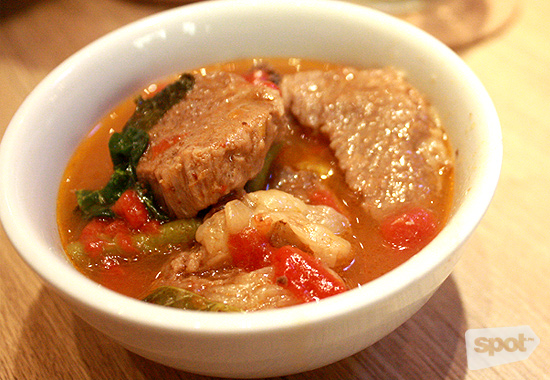 3. Sinigang na Short Rib and Watermelon (P215/Small, P390/Medium, P720/Large) from Manam
This chain of modern Pinoy restaurants is a total champ when it comes to making this tangy soup. A testament to that skill? Just for last April's Madrid Fusion, they created a sinigang special that replaced the usual okra, gabi, labanos, kangkong, sitaw, and eggplant with crispy chicharon-crusted pork ribs and actual chicharon. That dish may be unavailable now, but their signature Sinigang na Short Rib and Watermelon is no slouch in this department. Their version is a bit heavier than most—the soup slightly tacky from the patience it took to really bring out that sweetish tart flavor. Whichever size you get is guaranteed jam-packed with enough short ribs, beans, and greens to go around. If anything, the watermelon just makes it even more refreshing.  
ADVERTISEMENT - CONTINUE READING BELOW
Click here for a list of branches. Manam's write-up was updated due to the unavailability of the Crispy Pork Ribs Sinigang.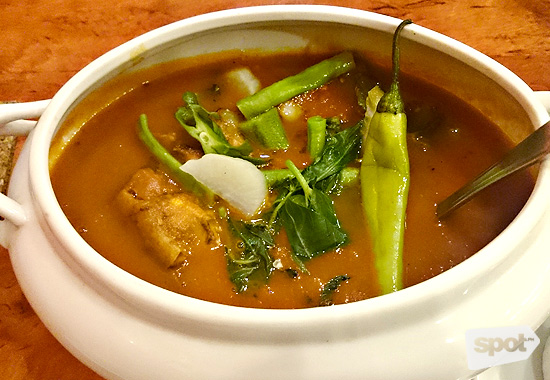 2. Kurobuta Sinigang (P475) from Mamou
Who goes to Mamou for sinigang? Most people love this restaurant for their steak, but their take on this Filipino favorite will not disappoint. In this dish, the Japanese black pig (kurobuta) is stewed in sampaloc broth made thick by the gabi's starch. The tomatoes give the soup the rich, red color—you'll never think that it really is sinigang until you taste the tanginess. The guilt is balanced with sufficient servings of vegetables, and a choice between brown and white rice (we know you'll get the latter). Definitely a hit, this only proves a visit to Mamou is not limited to satisfying your steak fix. 
ADVERTISEMENT - CONTINUE READING BELOW
Click here for a list of branches. Read more about Mamou.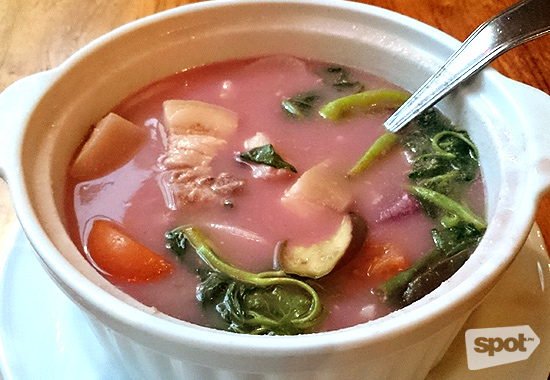 1. Sinigang sa Ube (P495) from Abè
Brace yourself: This mouthwatering twist on the Filipino favorite showcases a purple sinigang. The purple yam not only gives the broth its vibrant color, but also the thickness typically expected from gabi. This dish is all about balance—the pork belly is cooked just right with its fat intact, and we imagine that the vegetables are only thrown in when the meat is almost done. It is not too sour, not too salty. Despite initial reservations about a sinigang spiked with yams, one thing is for sure: there will be no regrets about ordering extra rice.     
ADVERTISEMENT - CONTINUE READING BELOW
Click here for a list of Abè branches.
Share this story with your friends!
---
Help us make Spot.ph better!
Take the short survey
More Videos You Can Watch
Load More Stories