CHECK IT OUT: Manna Bakery & Cafe at SM BF, Paranaque
Old-fashioned comfort food is like manna from heaven.
Manna Bakery & Cafe
SM BF, Dr. A. Santos Avenue, Parañaque City
Contact: 808-6504, 852-7351
Open daily from 10 a.m. to 9 p.m.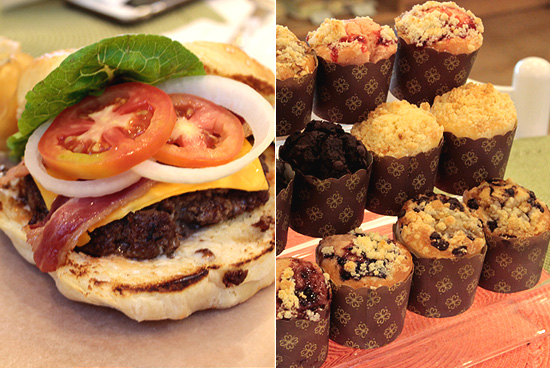 (SPOT.ph) Bread is quite literally the bread and butter of Manna Bakery & Café, the little slice of home goodness in the most unexpected location—a mall. Here, fresh bakes are highlighted in the form of sandwiches, burgers, toasts, but on their own, without fancies, they're still pretty darn good.
ADVERTISEMENT - CONTINUE READING BELOW
CONTINUE READING BELOW
Recommended Videos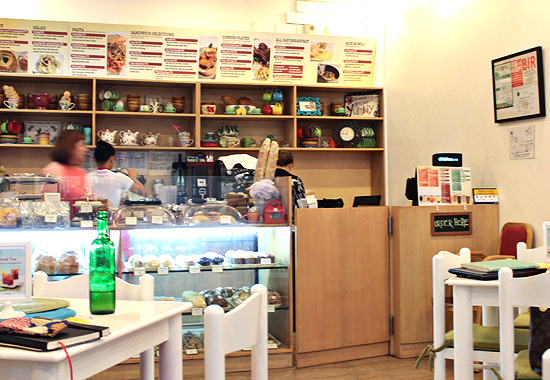 SM BF branch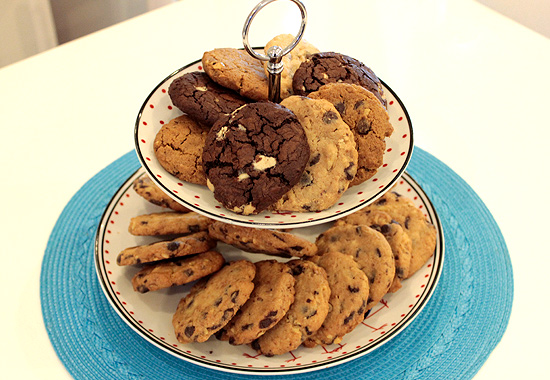 ADVERTISEMENT - CONTINUE READING BELOW
These cookies, as well as other baked treats, are placed outside for people to order.
Wheat bread makes an edgy statement against the lightness of the Chicken Salad Sandwich (P185), that coat of mayonnaise just enough for a zip of flavor and the large slices of cucumbers dabbing on some crunchy freshness. In the Ultimate Deluxe Burger (P250), a soft brioche roll sets the stage for a chunky beef patty. It's a classic formula—cheese sauce, tomatoes, bacon, obviously—but there's a bonus in the slivers of raw onions that give each bite that, well, bite. Manna skips the fillers and the juicy patty tends to crumble into a delicious mess. Another bonus, in our humble opinion.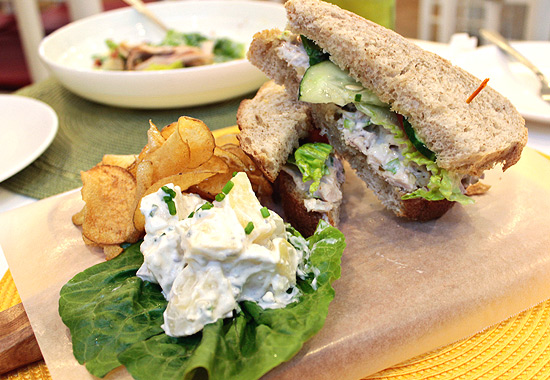 ADVERTISEMENT - CONTINUE READING BELOW
Chicken Salad Sandwich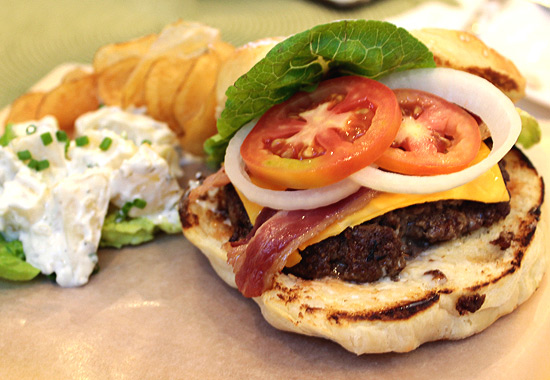 Ultimate Deluxe Burger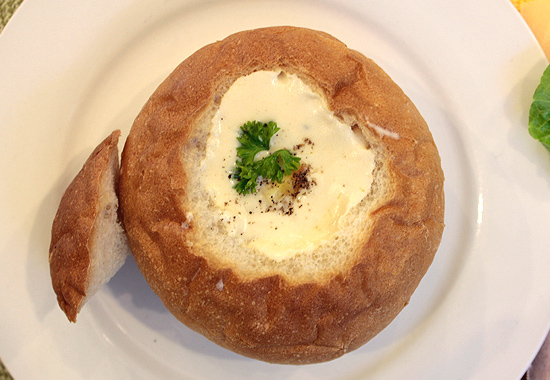 ADVERTISEMENT - CONTINUE READING BELOW
Clam Chowder
Bread bowls are a standard here, serving as edible vessels for the creamiest, seafood-driven Clam Chowder (P150) and a light and sweetish Pumpkin Soup (P110). The sourdough flaunts a perfectly crusty gold shell that covers a soft spongy, hollowed-out interior. Finish your soup quickly because the best part is tearing apart that flavor-soaked bread.
Manna used to be on Aguirre Avenue, a baked-filled heaven, where muffins filled the stage. They had 33 varieties: from the ubiquitous chocolate and chocolate chip to more intriguing concoctions like Thai Tea and Rosemary. Now, in their lone shop in SM BF, the collection isn't as vast anymore, but quality supersedes quantity. Manna bares down to the essentials—their brand of honest-to-goodness food: The dishes are substantial but not over-the-top, pretty but not overly styled. We'd hate to say your mom's place, but it is. By that we mean, you get the same level of comfort as a dish affectionately made at home.
ADVERTISEMENT - CONTINUE READING BELOW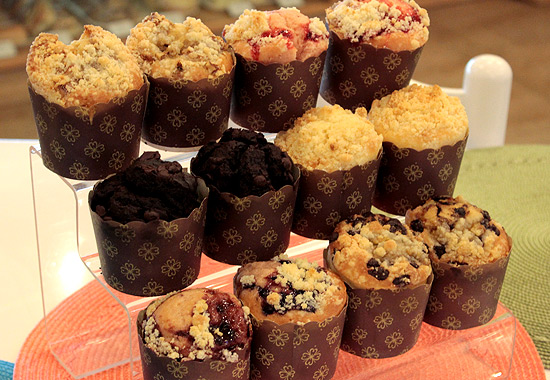 The muffins that made Manna famous in the South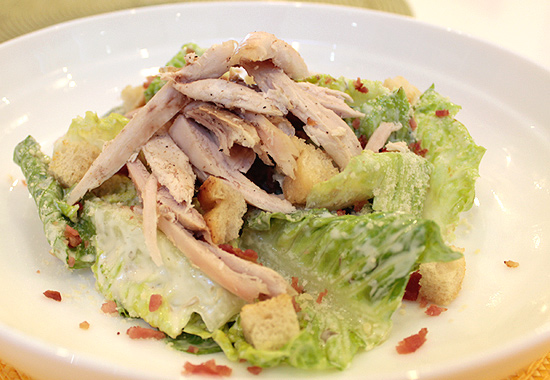 ADVERTISEMENT - CONTINUE READING BELOW
Caesar Salad
There are extra details that you can tell are just loving little embellishments to make your smile a few millimeters wider. The super-thin, incredibly crispy chips on the side, the little sprinkles of bacon on the salad. The Caesar Salad (P230), for example, uses roast chicken instead the usual steamed—a seemingly small step that goes a long way.
Then, there's their version of a Monte Cristo (P185). A Monte Cristo, in the traditional sense, is a more chic interpretation of ham and cheese, with the bread receiving some French toast treatment. It, in turn, makes it a variation of the Croque Monsieur. But Manna rewards theirs with a fried egg on top, Croque Madame-style. Okay, our connection is a little hokey, but the magic is in the egg, an added blessing that streaks through the salty ham and stringy mozzarella. We can't wait for the day Manna comes out with their homemade ham.
ADVERTISEMENT - CONTINUE READING BELOW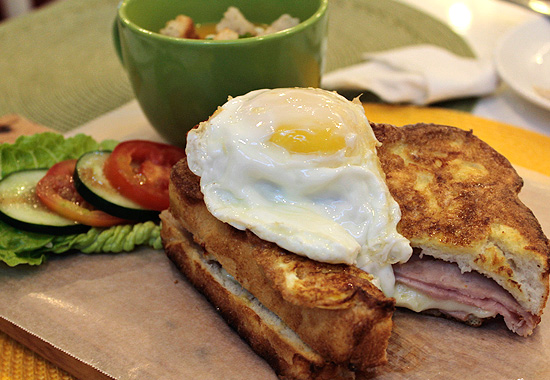 Monte Cristo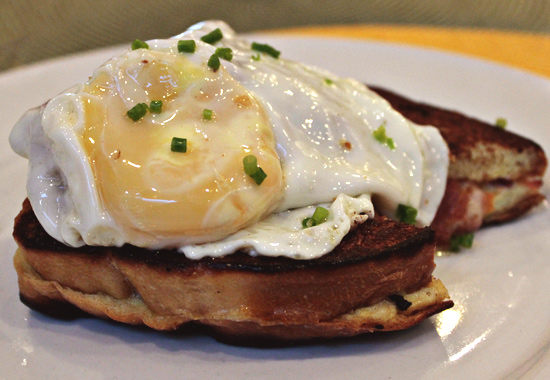 ADVERTISEMENT - CONTINUE READING BELOW
Savory French Toast (P185)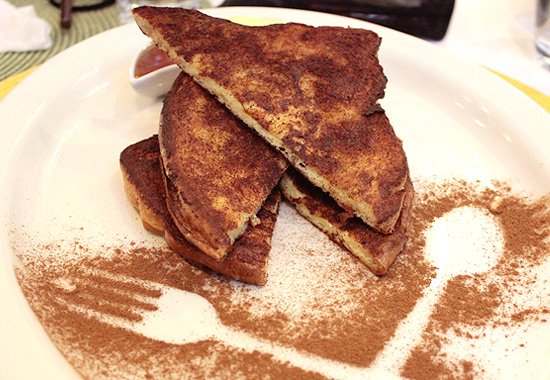 Sweet French Toast
Manna touts two kinds of French toast, which Chef JP Ozamis is particularly flawless at. Both are so heavily sprinkled with cinnamon that a spiced, brown crust develops over the egg-stained bread. It's not too much though that the sweetness pervades the saltier flavor of the savory filling—a brainchild of co-owner Rosemarie Rafael. Stuffed inside the super fluffy pockets of toast are onion and tomato jam, more cheese, and bacon. The plain French Toast (P115) is thinner-than-usual, keeping the focus on the bread instead of drowning it with milk. A few swipes of syrup and butter are all you need to make this your favorite breakfast fare.
ADVERTISEMENT - CONTINUE READING BELOW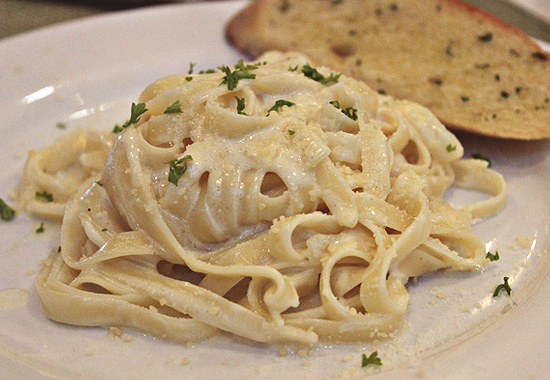 Alfredo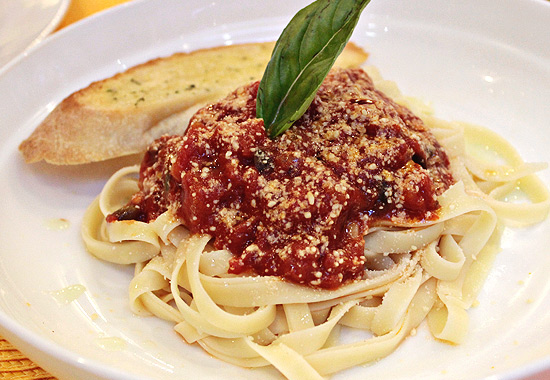 ADVERTISEMENT - CONTINUE READING BELOW
Bolognaise
But Manna's café offerings go beyond what they can do with breads. The pastas are pretty satisfying, in portion sizes that are just right to tide you by. Crowd-pleasers make their mark here: The Alfredo (P175) is impressively subtle (in a good way), the sauce coating the firm linguini with just enough creaminess, while the Bolognaise (P175) is a foolproof classic.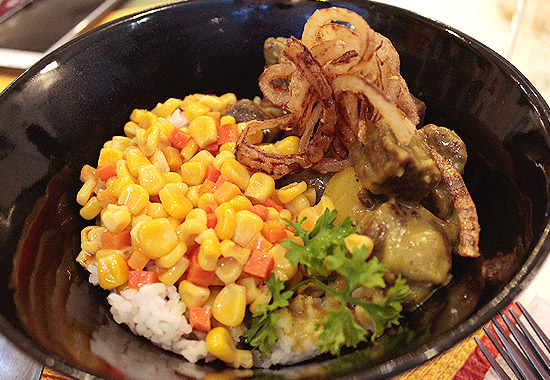 ADVERTISEMENT - CONTINUE READING BELOW
Beef Curry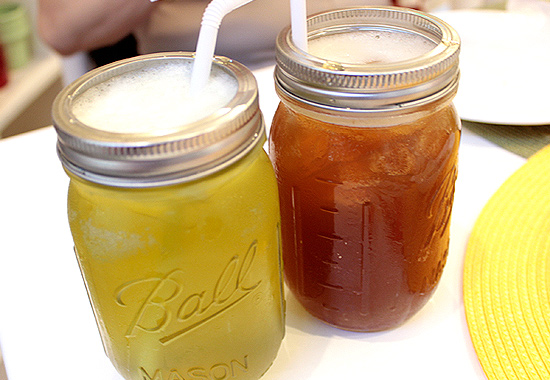 Super yummy iced teas, especially the Green Tea Lychee
Those who find satisfaction in rice, however, will wolf down the Beef Curry (P175) without much effort. This cozy rice bowl is a spiced reward with squares of tender beef, soft potatoes and carrots doused in Japanese-style yellow curry. If Manna weren't so focused on breads, they could totally find an alternative with these bowls of comfort.
ADVERTISEMENT - CONTINUE READING BELOW
Load More Stories