Mystery Solved: What's inside the Army Navy trailer?
Top Gear Philippines gives us a closer look.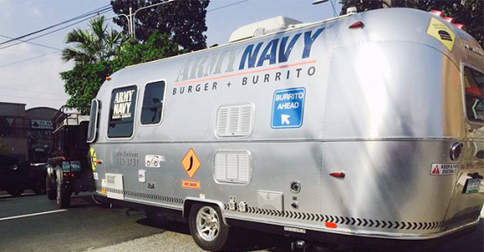 (SPOT.ph) Ever since we spotted this Army Navy trailer that's been making its rounds in the city a few months ago, it never left our minds. We had burning questions like how the really cool trailer looked on the inside and what it's for specifically. We had high hopes and dreams that it was a mobile kitchen serving burgers, burritos, and fries for people stuck in traffic to make the waiting game a little less frustrating. And now, we finally have answers.
ADVERTISEMENT - CONTINUE READING BELOW
CONTINUE READING BELOW
Recommended Videos
Top Gear Philippines had an exclusive tour with the folks at Army Navy to put the rumors to rest and found out that the trailer is for "travel" purposes. Originally, the plan was to turn it into a food cart. But today, it works as the company's mobile billboard during its marketing events, and as a support vehicle for the Army Navy triathlon team. Cramped beautifully inside is the basic stuff you'd find in just about anyone's home (but sadly, no sign of burger grills). It's basically a small house on wheels towed by a Land Rover. We're still hopeful about it taking the food cart route but nevertheless, it still looks like a sweet ride. Watch the video below for more deets:
Load More Stories