Costa Coffee
Eastwood Citywalk 1, Libis, Quezon City
Open daily from 7 a.m. to 10 p.m.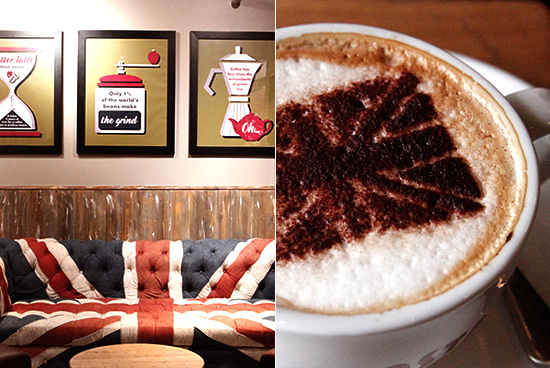 Also read: What to Expect at Costa Coffee in Manila
(SPOT.ph) When we met Costa Coffee Philippines general manager Corinne Milagan last April, she was bursting with enthusiasm over plans for the local franchise of Britain's top coffee chain. "It has to smell like freshly baked pastries—and coffee," she told us then. Showing us blueprints of the store, she revealed that Manila's Costa Coffee would adopt the brand's new "Metro" look, a hip and airy style with bright colors plus references to the United Kingdom to really drive home that British vibe.
It's June now, and in a little less than a week, Costa Coffee's first Philippine outlet will open: in Eastwood, the former Serye, on June 29. SPOT.ph got to have a quick sneak peek, and what we saw is our next coffee habit.
ADVERTISEMENT - CONTINUE READING BELOW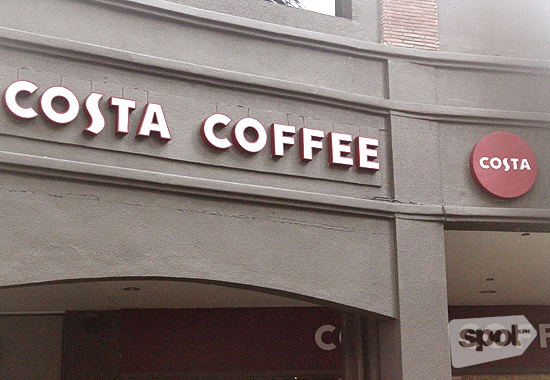 Find this sign.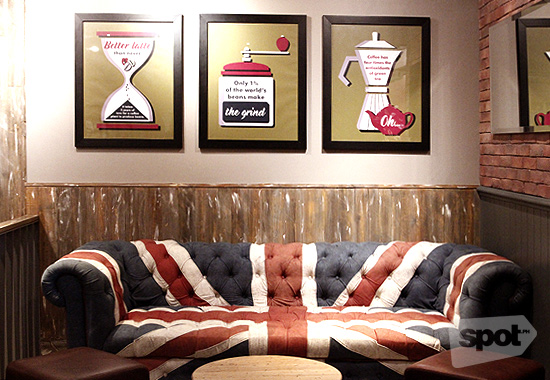 The Union Jack decor is specific to the Philippines.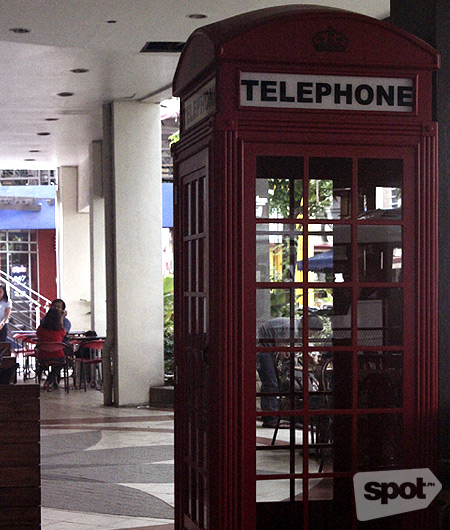 CONTINUE READING BELOW
Recommended Videos
Stop when you see the phone booth.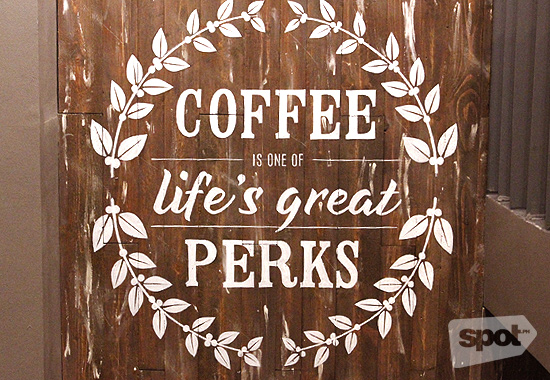 What about decaf?
Costa smells like pastries baking and coffee—exactly how Corinne described it would be. In fact, the two-storey cafe we're looking at now is nearly identical to the rendering she showed us months earlier. Sunlight streaming through the floor-to-ceiling windows highlight the olive, crimson, and mustard chairs and blonde wood tables. The red phone booth, which will ultimately be a regular fixture at all outlets of Costa Philippines, is by the entrance, while the Union Jack finds itself on cushions and couches (dibs on the one near the stairway!). As if the caffeine isn't enough of a lure, the walls are filled with reminders like, "Coffee is one of life's great perks" and "You can't rush great coffee" to motivate you to take a swig of their signature Mocha Italia blend.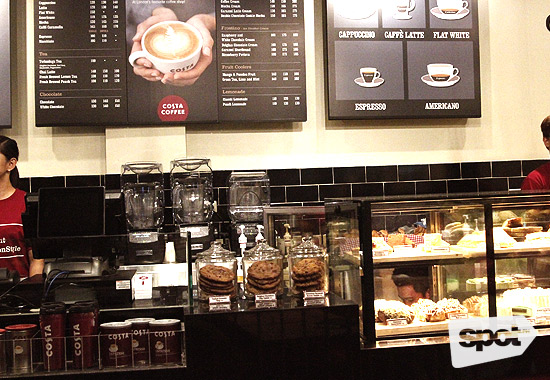 ADVERTISEMENT - CONTINUE READING BELOW
How to choose?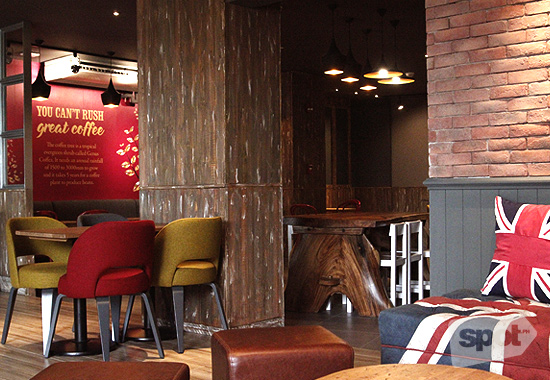 A glimpse of that gorgeous wooden table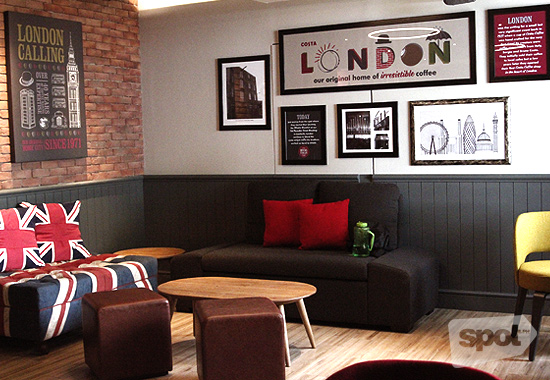 For friends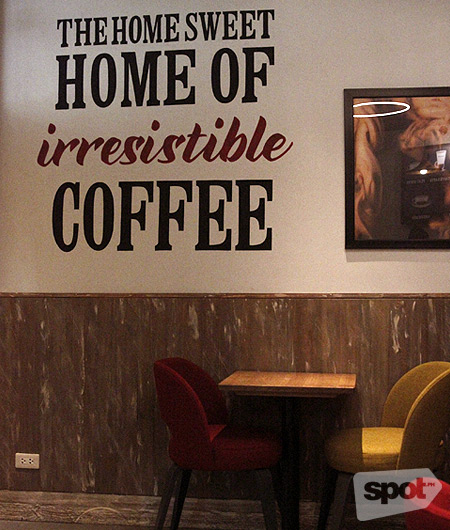 ADVERTISEMENT - CONTINUE READING BELOW
For dates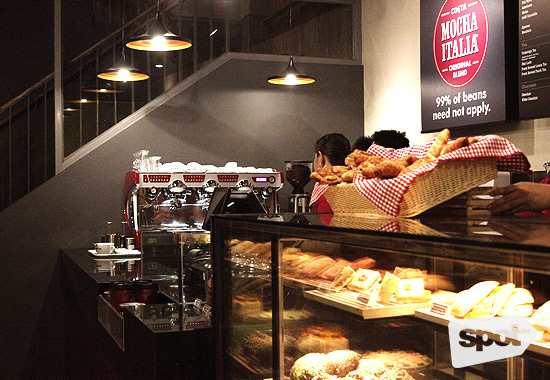 Let us just grab that basket of twists.
Corinne points at the heavy table in the middle of the second floor—a group destination, no doubt. Smooth, polished, and absolutely gorgeous in its imperfections, the table is upcycled wood from the Sierra Madre. The bricks, she further shares, are made from lahar from the 1991 Mount Pinatubo eruption.
Costa Coffee does this well: integrating Filipino flair in their classic "London style." Flour Jar Manila puts up shortbread cakes (P85/each) in flavors like Calamansicles, Strawberry Shortcake, and Chocolate Tiffin (the latter mimics the profile of a Malteasers ball) that make a perfect complement to their coffee. Pastry chefs from Crowne Plaza and Manila Catering, meanwhile, find the cross between the two cultures with heavenly desserts like an Ube Custard Cake (P150) flourished with macapuno and an emerging (we're calling it!) bestseller the Mango Sago Mousse Cake (P150). The Carrot Cake (P150), however, is strictly British: a double-deck, cinnamon-heavy treat that sets your carrot-cake cravings on an entirely new level.
ADVERTISEMENT - CONTINUE READING BELOW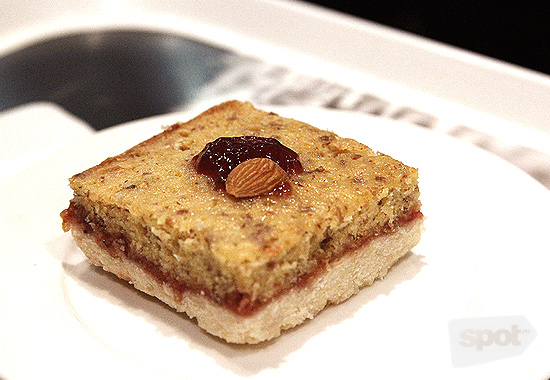 Strawberry Shortcake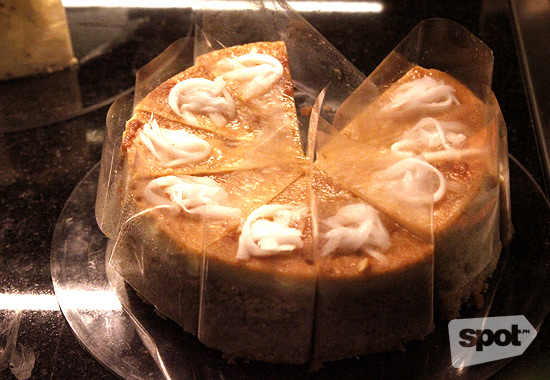 Ube Custard Cake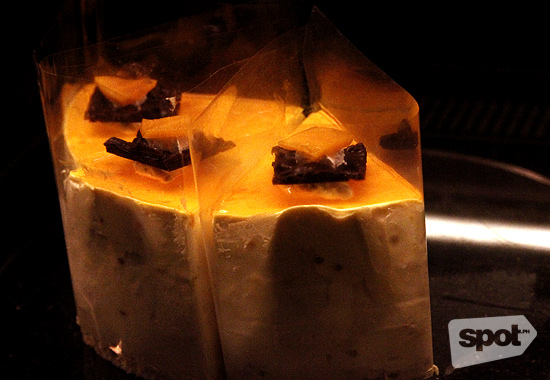 ADVERTISEMENT - CONTINUE READING BELOW
Mango Sago Mousse Cake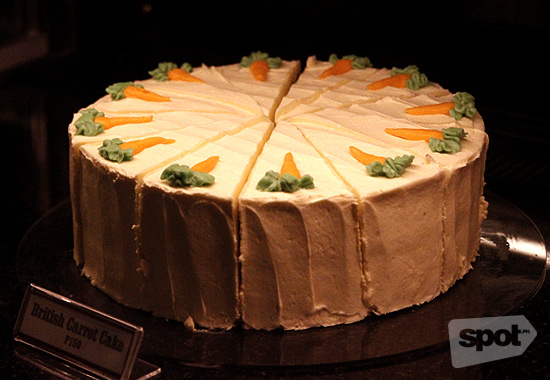 British Carrot Cake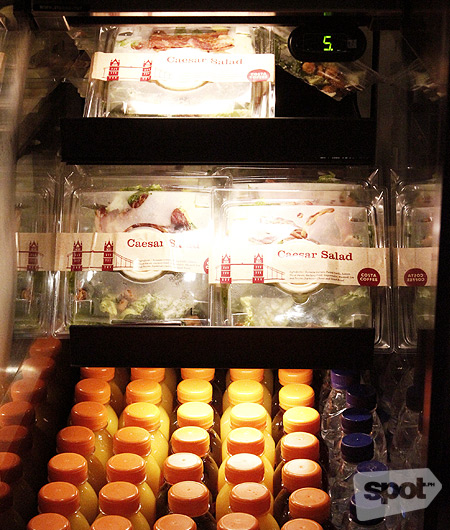 Salads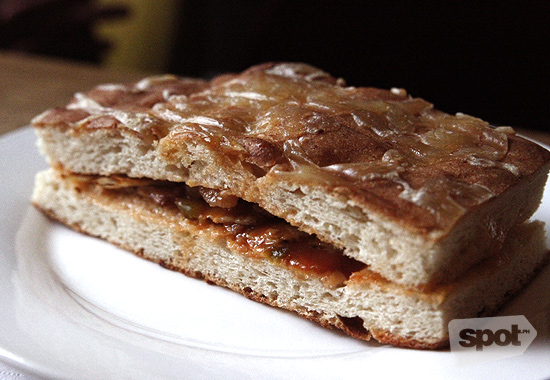 ADVERTISEMENT - CONTINUE READING BELOW
BBQ Pork Loin in Ham and Cheese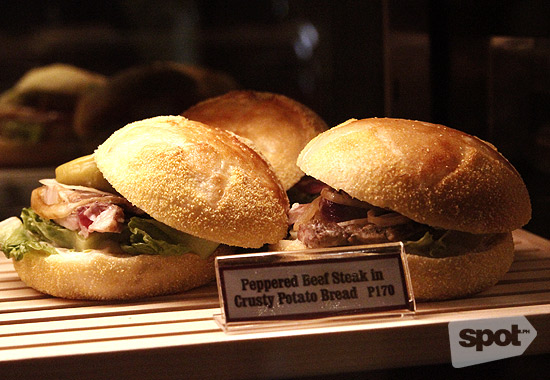 Potato Bread and Beef!
Corinne places as much emphasis on the food as she does on the coffee, and unlike in the U.K. where the coffee shop is more grab-and-go, Manila has a well-rounded menu for those who enjoy their brew with a bite. Salads are available, but the sandwiches are the ultimate must-tries. She recommends the BBQ Pork Loin in Ham and Cheese Panini (P170). It takes a couple of minutes to prepare, but those extra steps assure quality that we're willing to be patient for. The simplicity of the cheese-laden panini does nothing to prepare us for the impact of one bite. If the bread is a measure of a good sandwich, then Costa Coffee succeeds with their airy and light offering. The pork is lean and lightly seasoned, with the extra oomph coming from the tangle of caramelized onions.
ADVERTISEMENT - CONTINUE READING BELOW
Like all the other branches in the world, Costa Coffee Philippines sources its bread from French company Bridor. The dough is 70% baked when it arrives in the country, with the final 30% prepped in-store. You can thank that bit of treatment for the mouthwatering aroma. For a lighter and easier snack, Costa also has "twists" (P95) available. They're pilipit-like viennoiserie in not-too-sweet Raspberry, Caramel, and Chocolate served so fresh that each papery layer delicately crackles into little flakes, which you will pick up and relish. Put several on a basket and we can be on our way, a cup of coffee in hand.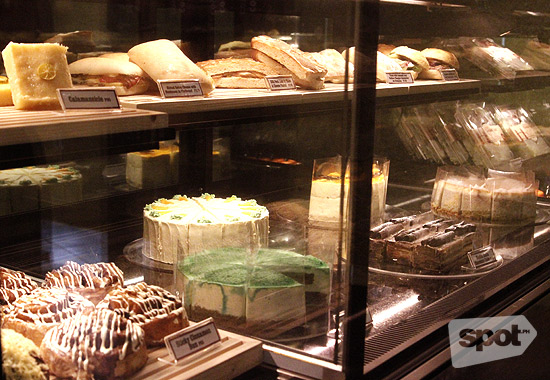 This display is only a fraction of Costa's offerings.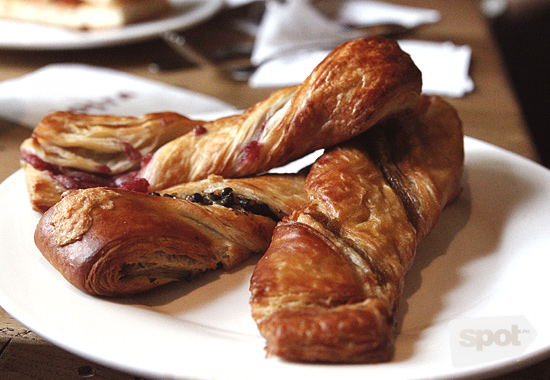 ADVERTISEMENT - CONTINUE READING BELOW
Twists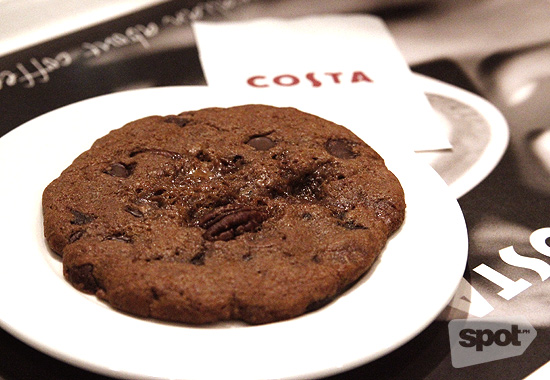 Belgian Chocolate Chip Cookie (P70)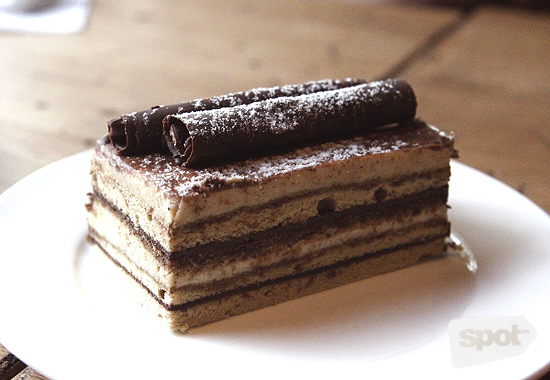 Mocha Italia Chocolate Cake (P150)
Helping set up the Philippine opening is Costa U.K.'s Mark Schofield, whose month-long stay in the country has quickly converted him to the joys of sisig and chicharon. He's been with the company for 10 years and he gamely tells us about Costa's special Mocha Italia blend, the base for all their coffee concoctions, which has also been adapted into a beloved coconut-spiked cake (P150). Costa was founded in 1971 by wholesale coffee-bean suppliers Bruno and Sergio Costa and up to now, all their beans—a careful blend of Arabica and Robusta—are roasted in the original location on Old Paradise Street, London.
ADVERTISEMENT - CONTINUE READING BELOW
"We savor the flavors. We don't burn or overdo it," says Mark. The beans are roasted in low temperature and slow—he approximates 18 to 20 minutes—to develop that nice hit of coffee with a natural sweetish note. We get what he means. There's no need to add sugar to their coffee.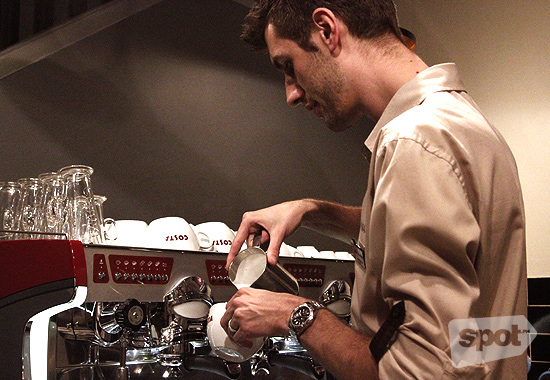 Mark Schofield showing us how to make a Flat White.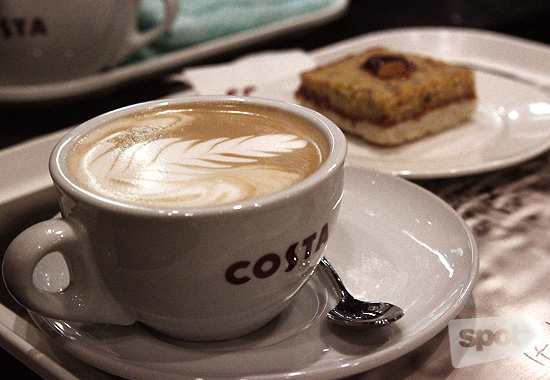 ADVERTISEMENT - CONTINUE READING BELOW
Final Flat White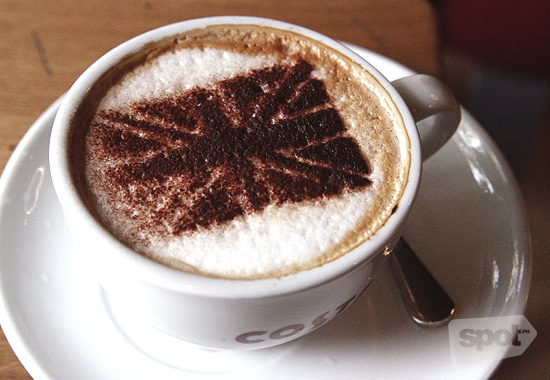 Cappuccino with the Union Jack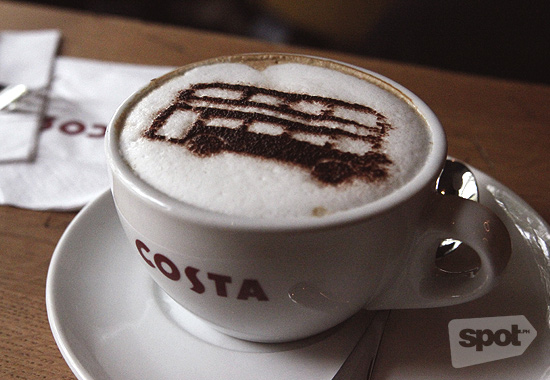 Cappuccino with a double decker bus
The Flat White (P150/Primo) is their specialty, and Mark warns that their version doesn't shy away from the caffeine. They're careful not to overpower the Mocha Italia with milk, a certain pride that comes with confidence in their blend. You can see it even in the Cappuccino (P120/Primo, P130/Medio, P130/Massimo). Where others try to hide behind bubbles and coffee art, there's still substance underneath all that foam.
ADVERTISEMENT - CONTINUE READING BELOW
If you can't resist the pull of sugar, the Caffe Caramella (P145/Primo, P160/Medio, P170/Massimo) is the answer to your sweet coffee craving. The caramel helps articulate that rounded, honeyed note in the coffee.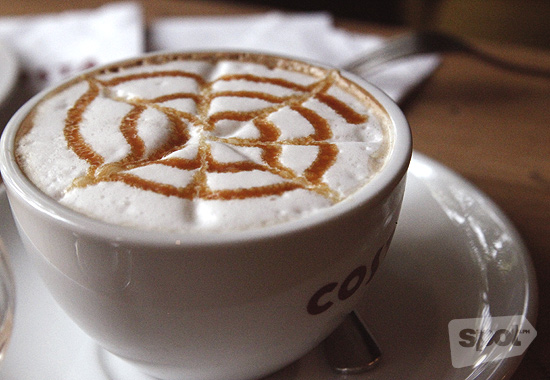 Caffe Caramella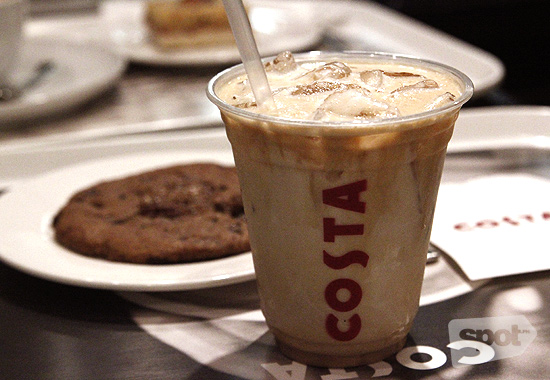 Latte. You can get your brews either hot or iced.
ADVERTISEMENT - CONTINUE READING BELOW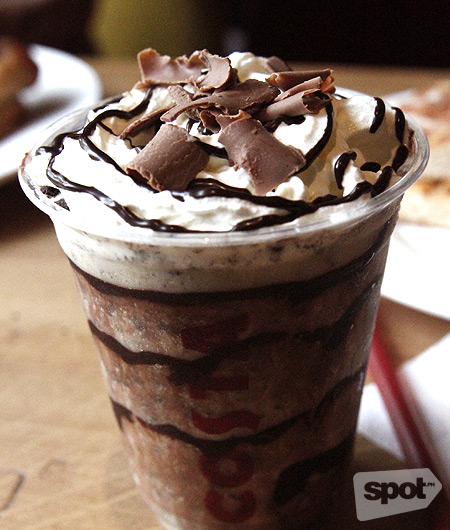 Caramel Shortbread Frostino
Corinne has a great grasp of what Filipinos look for in their coffee shops, one of which is something cool and sweet. The U.K.-based company answered with a brand-new Frostino, an ice-blended shake formulated especially for the sweet-oriented Pinoy palate. This dessert-drink will launch first in the Philippines, then worldwide (except in Britain, according to Mark) on July 1. It comes in two categories: with and without coffee. Mark likes the Strawberry Pavlova (P160/Primo, P175/Medio, P185/Massimo), but there's a special benediction that comes with the Caramel Shortbread (P160/Primo, P175 Medio, P185/Massimo). Those bits of homemade shortbread tickle your taste buds; it's toothsome but not cloying. And because you deserve more, the baristas also toss in a few curls of Belgian chocolate.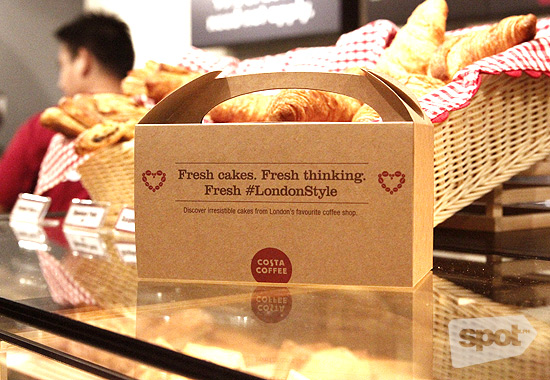 ADVERTISEMENT - CONTINUE READING BELOW
Bring Costa home in style.
The Caramel Shortbread is sans caffeine, but that just proves their commitment to everything they offer. Trust us, you'll think of every reason to come back. If you manage to leave in the first place.
Also read: What to Expect at Costa Coffee in Manila
Share this story with your friends!
---
Help us make Spot.ph better!
Take the short survey
Load More Stories