Yakitori dreams come true at Tori Tori Kushiyaki Snackbar
This secret place on Wilson boasts authentic Japanese street food
Tori Tori Kushiyaki Snackbar
197 Wilson Street, San Juan City
Contact: 370-7017
Open daily from 11 a.m. to 12 a.m.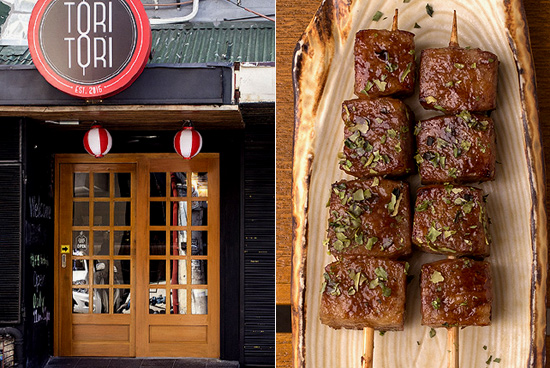 (SPOT.ph) It's no secret that a trip down Wilson Street would yield a goldmine of food finds. It's crammed left and right with decades-old Chinese restos mingling with fast-food joints, casual dining stops, and neighborhood specialties that have already claimed their bite of the area's loyalty. Yet the best part is that there are still more surprises.
ADVERTISEMENT - CONTINUE READING BELOW
The best places are hidden from plain sight and require a road less taken. In this case, it's a drive farther down to a corner. Head straight but keep constant sideway glances to spot the blink-and-you'll-miss-it sign for Tori Tori Kushiyaki Snackbar. Or you could just study the tiny space packed with people. Tori Tori is a crowd draw, and it's usually overflowing with customers, especially on weeknights and weekends. The humble snack bar is patterned after yakitoryas in Japan—traditionally small eateries known for their cordial atmosphere where people convene for the likes of yakitori grills and bottles of beer.
CONTINUE READING BELOW
Recommended Videos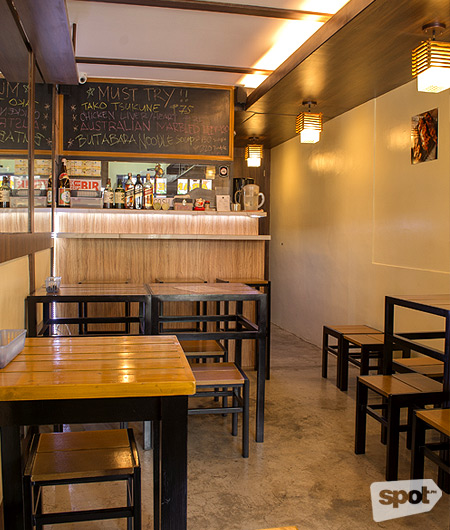 ADVERTISEMENT - CONTINUE READING BELOW
Every item is a must-try.
Here, diners can find that same laidback yakitorya vibe. Owner Derrick Co is a firm believer of authenticity and he refuses to compromise. With Tori Tori, the Japan you see is the Japan you get. No frills and no version 2.0s. What they serve fresh off the grill are skewers stripped to its bare essentials—premium meats grilled with smoky precision. Derrick has a knack for maintaining quality, which he applies from curating to the right processing of meat. Taking good care of the basics has served the eatery well with the outcome of fine and tender, flavorful meats. This, of course, is in addition to their succulent homemade sauce glazed over each Kushiyaki stick and oozing out of each bite.
ADVERTISEMENT - CONTINUE READING BELOW
Kani Salad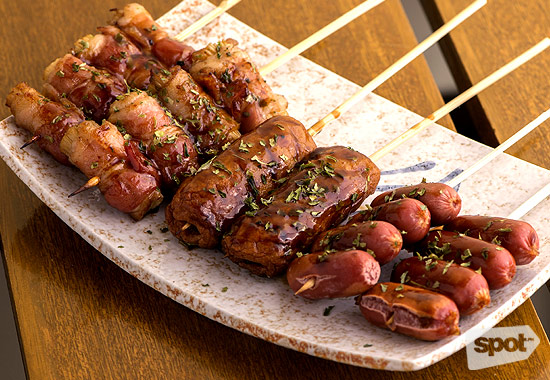 Bacon Enoki (P55), Sausage(P45), and their Ika Maki (P45) which is fish cake stuffed with squid instead of the cured .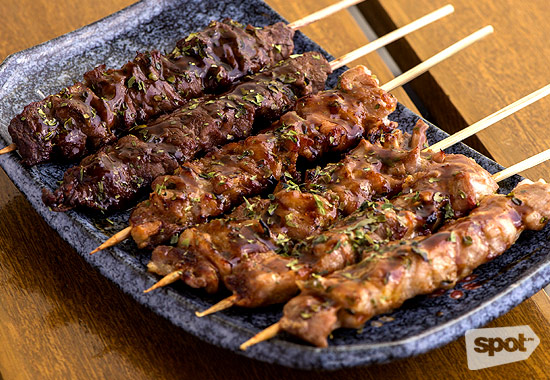 ADVERTISEMENT - CONTINUE READING BELOW
Angus Tenders (P75), Butabara (P40), and Boneless Chicken Thigh (P40)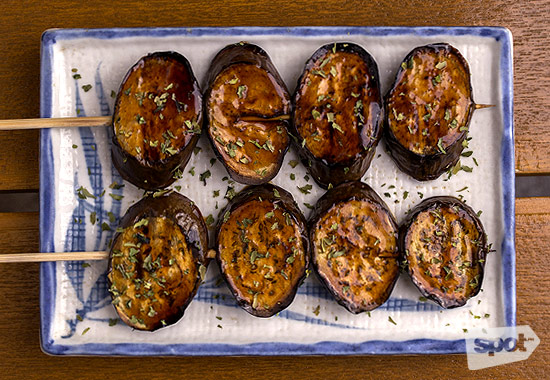 Or you could opt for a healthier alternative with an Eggplant Kushiyaki stick (P35)
A prime example would be their Japanese Wagyu (P125). The cubed beef on a stick is as luscious as it looks. It won't take long for the juicy fat to melt into savory succulence. You'll want to order another one in mere seconds and experience that superb burst of flavor again. Meanwhile, Shishamo (P50) awaits the more adventurous palate. The Japanese delicacy is like the long-lost sister of our tuyo, only this time the saline kick is milder and its caviar is intact, taking up more space than its actual meat. Their creations are best paired with our local beers or choice Japanese whisky. And you're in luck because they have that on hand, too.
ADVERTISEMENT - CONTINUE READING BELOW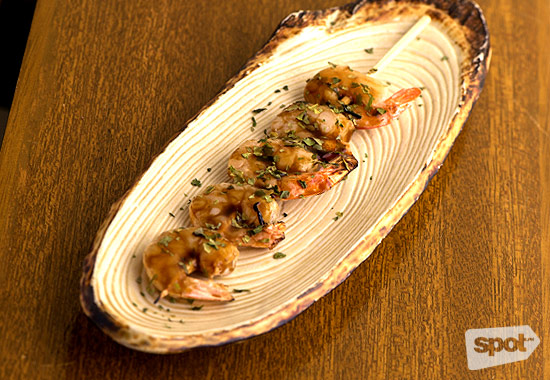 Shrimps on a stick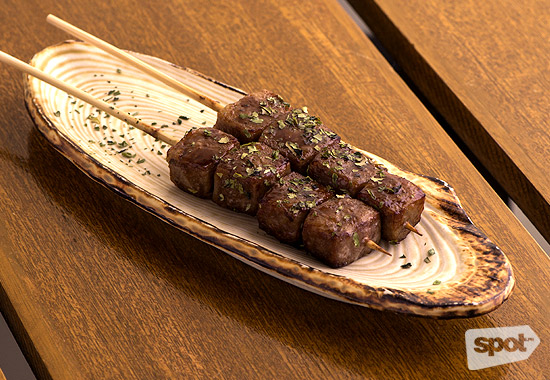 ADVERTISEMENT - CONTINUE READING BELOW
Their addictve Japanese Wagyu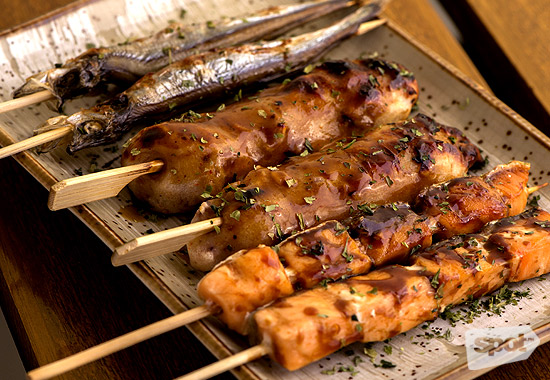 The Shishamo is grilled whole and served with its roe in one piece. Also try their Tako Tsukune (P75) and Salmon (P75)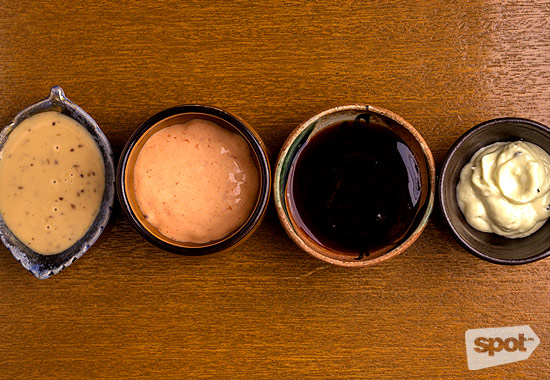 ADVERTISEMENT - CONTINUE READING BELOW
Why not choose a sauce to go with your yakitori?
Apparently, noodles still have a place in a yakitori grill with a wide selection of skewered meat. The Butabura Noodle Soup has a special herbal chicken broth that exudes so much of the flavorful ramen we know and love despite its plain exterior. It really is a breather from the thick Asian fusion broths most establishments love to churn out.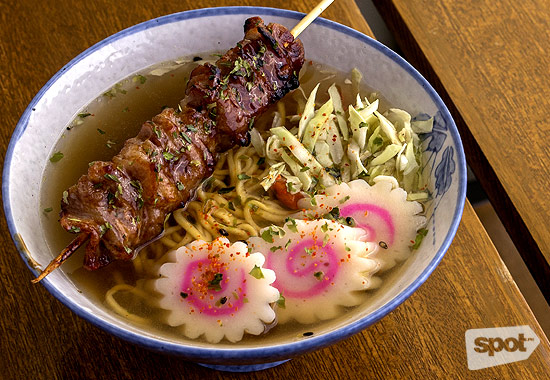 ADVERTISEMENT - CONTINUE READING BELOW
The Butabura Noodle Soup can be ordered single (P150) or double (P220)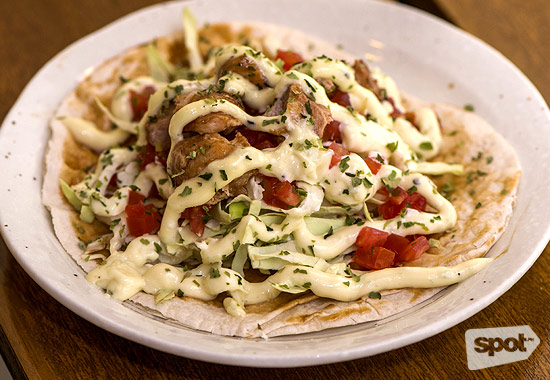 The shawarma-like Wrap it Up. Have your pick from Kushiyaki sticks like Chicken (P85), Butabara (P85), Angus Tenders (P120), Japanese Wagyu (P175), and Salmon (P115) along with your choice of sauce.
You know you're in good hands when a restaurant's philosophy is one of Gordon Ramsay's. Case in point, Derrick lives by these words: "I have to serve good, honest, simple, and delicious food." And so far, on all four counts, it succeeds.
ADVERTISEMENT - CONTINUE READING BELOW
Photos by Hans Fausto
Share this story with your friends!
---
Help us make Spot.ph better!
Take the short survey
Load More Stories