(SPOT.ph) For those who will argue that grilled cheese is simply about taking bread, slathering it with butter, and filling it with cheese—well, you couldn't be any more correct. This drives home our point: the concept is so simple that it could easily be made by anyone with access to a kitchen, so what makes this great, comforting sandwich stand out so much that we'd want to order it over and over again?
Like a best friend you can rely on throughout the seasons, grilled cheese is a sandwich that hits the spot perfectly no matter what the weather or occasion. Whether paired with the all-time classic tomato soup or whipped up with some sinful reinvention, we at SPOT.ph once again made the rounds to gather the classics and the newbies to a gooey showdown. Ten of them proved to be love at first bite (cheesy, huh?).
ADVERTISEMENT - CONTINUE READING BELOW
All SPOT.ph Top 10 lists are researched, paid for, tested, and selected by the writers and editors. They are discreetly conducted without any notice made to the restaurants or their owners.
Also read: Top 10 Grilled Cheese Sandwiches in Metro Manila (2014 Edition)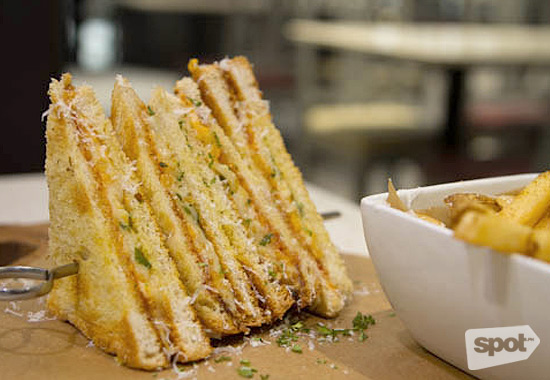 10. Kettle's Grilled Four Cheese (P369)
ADVERTISEMENT - CONTINUE READING BELOW
Recommended Videos
The next time you're about to ask for their buttermilk fried chicken or crispy pork and potato strips, try considering this rather overlooked menu offering. Kettle gives you a generous helping of slices of English loaf layered with Gruyere, Fontina, cheddar and Parmesan cheeses all perfectly tied together by sweet tomato jam and basil crunch—an easy harmony that should kick up your Kettle habits.
Kettle has branches at Shangri-La Plaza, Mandaluyong City; SM Aura Premier, Bonifacio Global City; and Eastwood Mall, Queozn City. Read more about Kettle.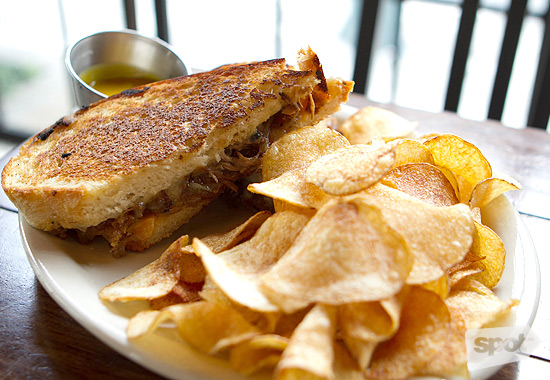 ADVERTISEMENT - CONTINUE READING BELOW
9. The Bowery's Short Rib Grilled Cheese (P420)
This monstrous creation is daunting, but you'll forget your fears after that first bite into the sourdough base. The huge sandwich boasts a smoky, melt-in-your-mouth braised beef that is toned down by a blanket of oozing cheddar and Monterey Jack. Hints of caramelized onion and that honey mustard dip balance out the flavors, giving you that grilled cheese option that definitely packs a punch!
The Bowery is at F151 Forbeswood Heights, Rizal Drive corner Burgos Circle, Bonifacio Global City (0936-929-6073). Read more about The Bowery.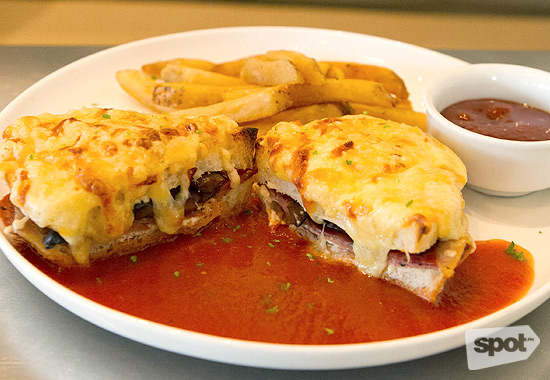 ADVERTISEMENT - CONTINUE READING BELOW
8. Café Sansó's Francesinha (P350)
If the next few lines won't convince you to drive down to Little Baguio to get yourself a Francesinha, we don't know what will. Imagine all your Spanish favorites rolled into one: jamon Serrano slices, chipolata sausage, sautéed mushrooms, and chive cream cheese enveloped in freshly baked rye bread. It doesn't stop there—the entire sandwich is covered in melted mozzarella and Asiago cheese, all while swimming in a pool of spiced beer tomato sauce. A work of art? Definitely. Sansó would be proud.
Café Sansó is at V. Cruz Street, San Juan City (0922-894-6144). Read more about Café Sansó.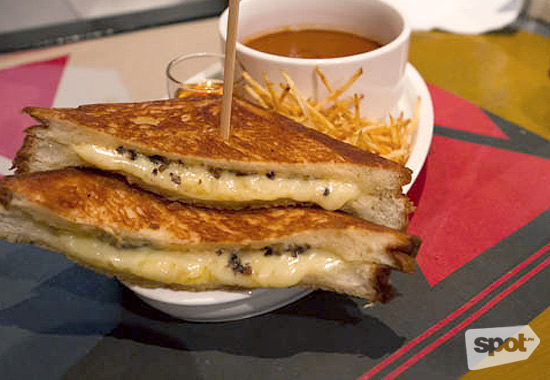 ADVERTISEMENT - CONTINUE READING BELOW
7. Tipple & Slaw's Truffle Grilled Cheese Sandwich (P350)
If their cocktails won't wash away the blues, we're pretty sure their Truffle Grilled Cheese Sandwich will. Making a comeback from last year's roundup is a hard-to-forget contender that works like a charm Every. Single. Time. Think: appenzeller, mozzarella, raclette, and cheddar cheeses under pillowy soft bread buttered to perfection, infused with truffle and drizzled with honey. To top it off, a better-than-grandma's roasted tomato soup is used as a dip.
Tipple & Slaw is at The Forum, 7th Avenue corner Federacion Drive, Bonifacio Global City (500-0882). Read more about Tipple & Slaw.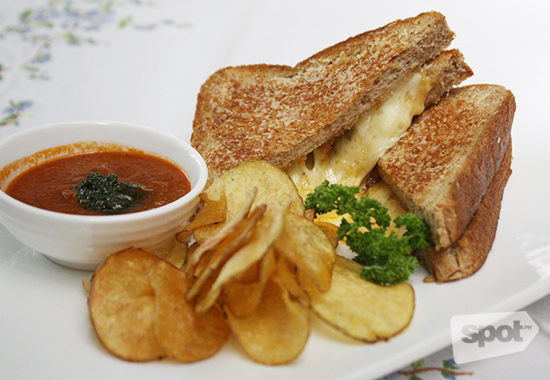 ADVERTISEMENT - CONTINUE READING BELOW
6. Nikko's Baking Studio's Ultimate Grilled Cheese (P290)
Tucked beneath the lush greenery (or what little is there left) of Urdaneta is this quaint little baking studio in the heart of Makati. Part-school and part-restaurant, their honest-to-goodness grilled cheese shouldn't be missed. Bold and full of impact, this six-cheese creation is nothing but cutesy as their interiors may suggest. If you're someone looking for a classic grilled cheese sandwich without anything but the basics, then this is the one for you. It's an imposing combination of Gouda, mozzarella, Gorgonzola, cheddar, Parmesan, and quezo de bola.
Nikko's Baking Studio is at 59 Paseo de Roxas Avenue, Urdaneta Village, Makati City (887-1711). Read more about Nikko's Baking Studio.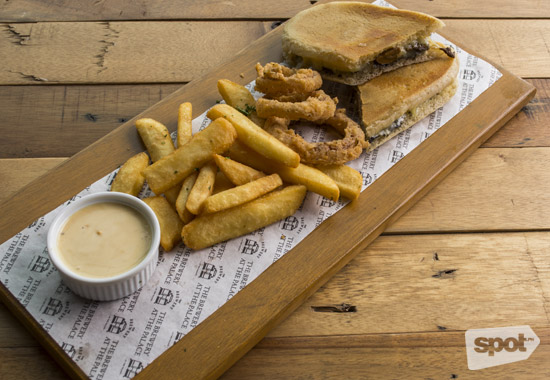 ADVERTISEMENT - CONTINUE READING BELOW
5. The Brewery at The Palace's Truffled Mushroom Grilled Cheese Sandwich (P440)
Before you dance the night away at the Pool Club, consider loading up on this sinful treat. Crunchy, perfectly toasted ciabatta filled with mushroom ragout, truffle paste, and Gruyere. You'll be oohing and aahing with every bite. Heck, this has us spinning on a high! On second thought, scratch what we said—because really, we need no party to gobble this beast up. This sandwich is the party and we're definitely digging its beat. You won't regret it.
The Brewery is at 10th Avenue and 38th Street, Uptown Bonifacio, Bonifacio Global City (0917-638-3339). Read more about The Brewery.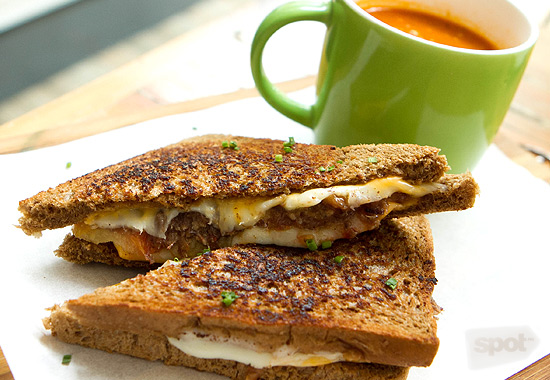 ADVERTISEMENT - CONTINUE READING BELOW
4. Main Street's Bacon Jam Grilled Cheese (P250)
Had we known that Canadians whipped up a pretty badass grilled cheese sandwich, we would have moved to Montreal or Vancouver years ago! Main Street's take on the grilled cheese is just melted mozzarella and sharp cheddar on rye, laced with homemade bacon jam, and served with roasted tomato soup. It's unadulterated goodness delivered straight to your hungry bellies. Best paired with their craft beers and mouthwatering poutine creations, it's pub grub in its element.
Main Street is at The Tuscany Estates, McKinley Hill, Taguig City (935-5539). Read more about Main Street.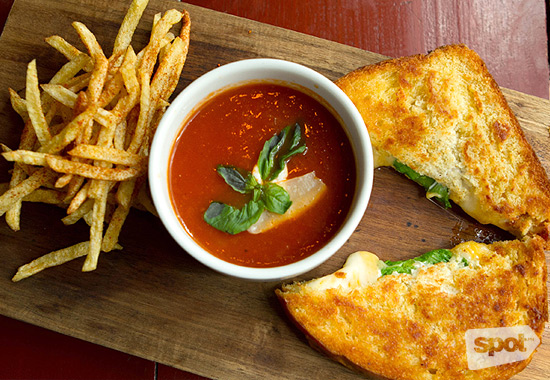 ADVERTISEMENT - CONTINUE READING BELOW
3. Big Bad Wolf's Grilled Cheese (P340)
Two cheeses, sharp cheddar and mozzarella, truffled honey, mustard loaf, roasted tomato soup—Big Bad Wolf should host an exhibit dedicated to this baby. Big Bad Wolf's grilled cheese sandwich is another simple classic we keep coming back to. Their version stands out with their delicate mustard loaf which complements the sharp cheddar, mozzarella, and truffled honey pairing. To shake things up, a bit of basil was added to the filling, giving it a delightful surprise in every bite.
Big Bad Wolf is at F128 Forbes Town Center, Bonifacio Global City (822-5833).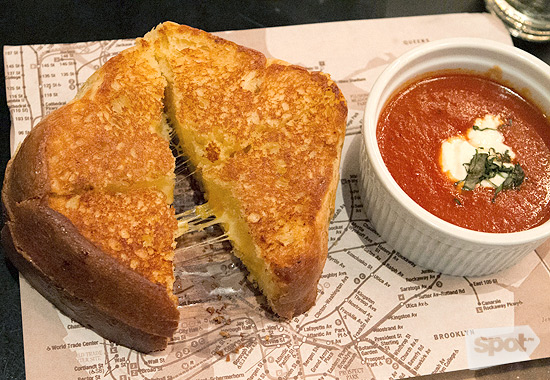 ADVERTISEMENT - CONTINUE READING BELOW
2. Borough's Grilled Cheese and Tomato Soup (P280)
Borough's cult following may stage uproar over this one-notch down decision, but to keep things clear, the scorecards were even. Laying down that overused Blahnik for a new pair of Louboutins, for example, isn't forgetting your favorite, right? It simply is making space for the new. Deep inside our hearts we'll always have that warm welcome of homemade brioche bread (and without a doubt the best there is in Manila) in a layer of the most heavenly cheeses ready to take the plunge in their classic roasted tomato soup—heaven of earth would be an understatement. Borough's grilled cheese is something we will always come back to, like the first love we all have that will never, ever die.
Borough is at G/F The Podium, Mandaluyong City (570-8906). Read more about Borough.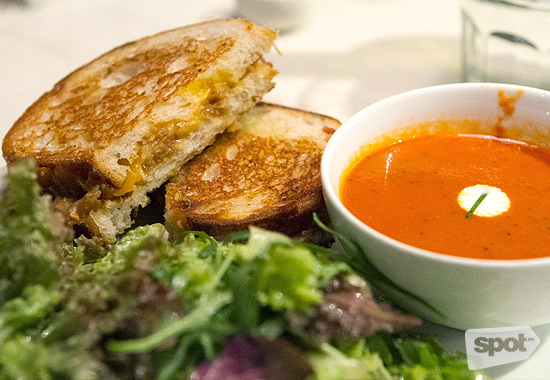 ADVERTISEMENT - CONTINUE READING BELOW
1. Wildflour's Grilled Cheese (P395)
Wildflour offers a fresh take on the grilled cheese game, literally. There is something so pleasant about knowing that your sandwich was just made, right in front of you. The tangy, aged gruyere and caramelized onions work seamlessly together to create this heavenly lunch treat you'll dream of in the days to come. It also comes with a mixed greens and arugula salad drizzled with a sweet-salty vinaigrette and hearty tomato soup—how fresh can they get, right? Their batard base is one for the books—crusty, crisp but mellow in the right places and an attraction all on its own, you might think the "cheese" part is just a bonus. Wildflour played their cards right by hitting the jackpot with their strength, and it sure as hell paid off as we hail their grilled cheese as 2015's supreme.
Wildflour has branches at The Podium, Mandaluyong City; Rada Street, Legazpi Village, Makati City; 4th Avenue corner 26th Street, Bonifacio Global City; and 125 Leviste Street, Salcedo Village, Makati City. Read more about Wildflour.
ADVERTISEMENT - CONTINUE READING BELOW
Also read: Top 10 Grilled Cheese Sandwiches in Metro Manila (2014 Edition)
Photos by Mario T. Dagdag, Hans Fausto (The Brewery), and Sasha Lim Uy (Nikko's Baking Studio)
Share this story with your friends!
---
Help us make Spot.ph better!
Take the short survey
Load More Stories