New Restaurant Alert: 5 Loaves & 2 Fish at Don Antonio Drive, Quezon City
Family favorites are the lifeblood of this neighborhood cafe.
5 Loaves & 2 Fish
G/F The Rock Lifestyle Hub, Holy Spirit Drive, Don Antonio Heights Subdivision, Quezon City
Contact: 0920-917-0167
Open from 10 a.m. to 10 p.m. (Monday to Friday) and 10 a.m. to 11 p.m. (Saturday to Sunday)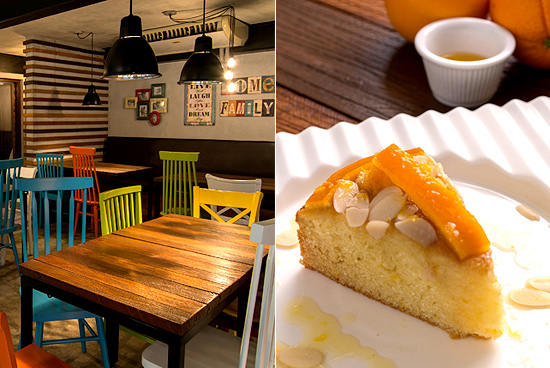 (SPOT.ph) 5 Loaves & 2 Fish is not only husband-and-wife tandem Dinah and Anthony Miro's first full-fledged venture into the restaurant scene, but is also regarded by the couple as a fitting display of God's plans for their family. The two recall that prior to the restaurant's launch this year, they had to battle several obstacles along the way, some of which had left them wondering if their own plans were ultimately aligned with the direction God wanted them to take.
It was only in July when they received the go signal to proceed with the business venture and, in a timely fashion, decided to operate under a handle that references to a bible verse on God's faithfulness, generosity, and love. The restaurant is anchored on this theme. As such, the Miros have created an environment where parties of different scales can get together for celebrations over good food in a setting that calls for sharing and creating memories with those you hold dear.
ADVERTISEMENT - CONTINUE READING BELOW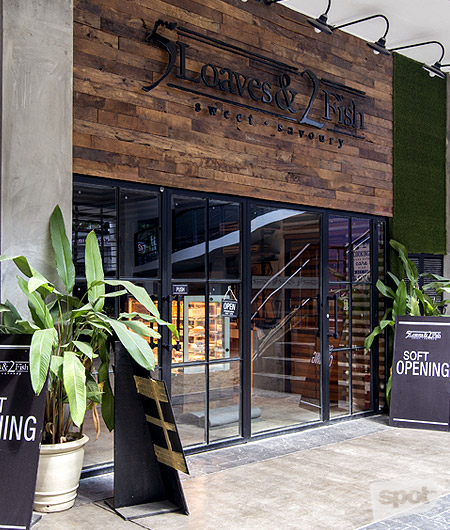 CONTINUE READING BELOW
Recommended Videos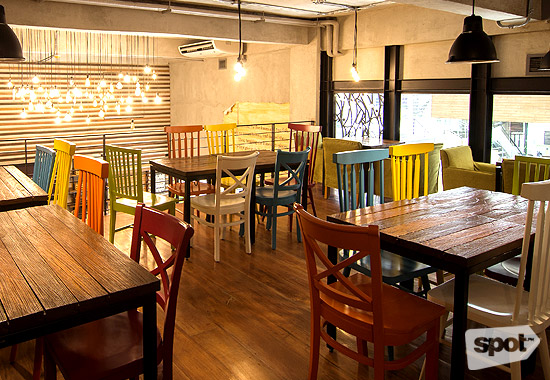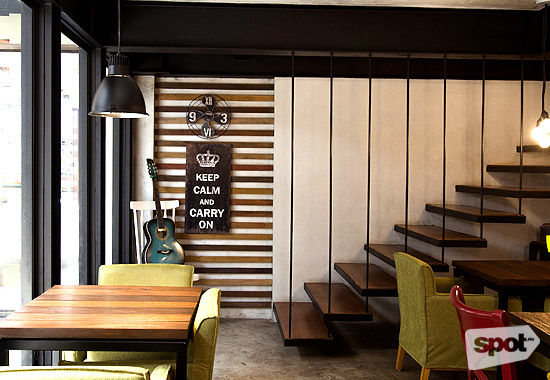 ADVERTISEMENT - CONTINUE READING BELOW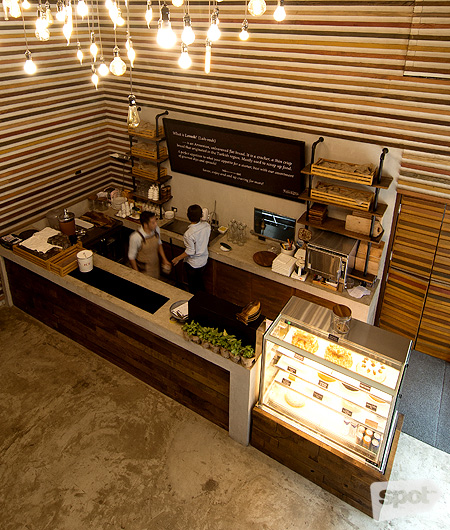 Cozy interiors pair well with the kind of cuisine they serve.
The menu is a diverse line-up of Dinah's own culinary masterpieces, each one greatly influenced by her time in the kitchen growing up. "I was my mom's assistant," Dinah shares. "I always used to observe and assist her [as she worked around the kitchen]." Now, the family's personal recipes are available for the consumption of all, and the couple personally ensures the quality of dishes served to guests. Dinah plays chef and Anthony, critic.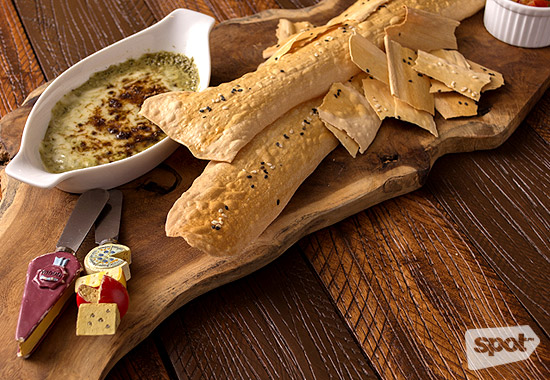 ADVERTISEMENT - CONTINUE READING BELOW
Lavosh
To get you started, they recommend their claim to fame: the Crispy Veggie Lavosh Platter (P195), served with a generous helping of chicken liver pate or pesto brûlée. To enjoy each bite of lavosh—thin unleavened flatbreads hailing from Armenia—break off a piece, slather a scoop of pate or brûlée, and top it off with tomato coriander salsa.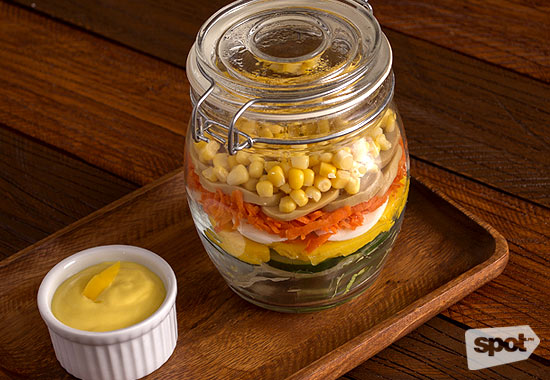 7 Layer Salad
The 7 Layer Salad (P499/family, P210/single), a subtle but significant link to the divine number, is also a favorite among guests. It's a jumble of greens, mushrooms, corn, and slices of egg, flavored by a special vinaigrette dressing unique to 5 Loaves & 2 Fish.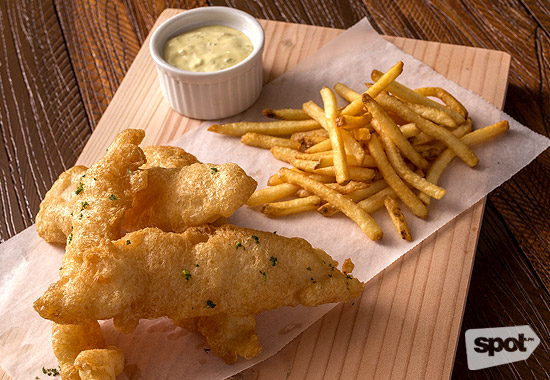 ADVERTISEMENT - CONTINUE READING BELOW
Beer Batter Fish & Chips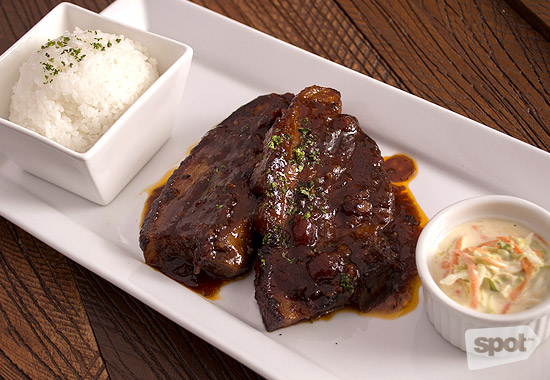 BBQ Spareribs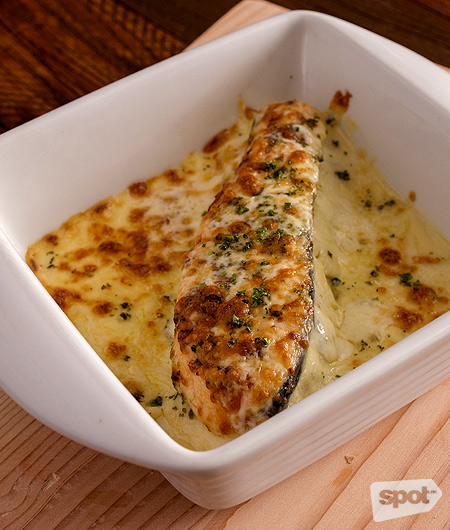 Salmon with Four Cheese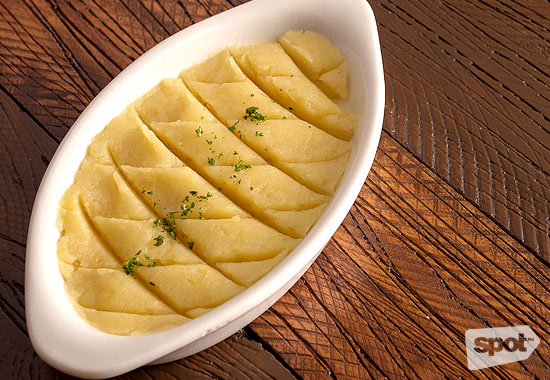 ADVERTISEMENT - CONTINUE READING BELOW
More potatoes
Those with a sweet tooth can find an immediate go-to dish in their BBQ Spareribs (P245). Two huge oven-baked slabs of pork await the hungry, coated in a rich barbecue sauce that lends to each bite's sweet-tangy aftertaste. These are served with warm, sticky rice and sweet coleslaw. The Beer Batter Fish & Chips (P220), meanwhile, is also a popular choice. For best results, season the fish with malt vinegar before dipping each piece into tartar sauce, then complement every mouthful with seasoned fries. Another seafood alternative is the Salmon with Four Cheese (P350), a sizeable chunk of baked salmon coated in melted cheese and placed atop a bed of creamy mashed potatoes.
If you are a fan of pasta, 5 Loaves & 2 Fish has impressive variants that each offer distinct but familiar flavors. The couple's personal favorites are the Dulong (P199) and Seafood Vongole (P235) pasta—light, cream-based dishes that marry flavors from the sea. Other choices on the menu include the Spaghetti with Chicken Parmesan (P225), Black Squid Pasta with Aioli (P260), and Lasagna (P230).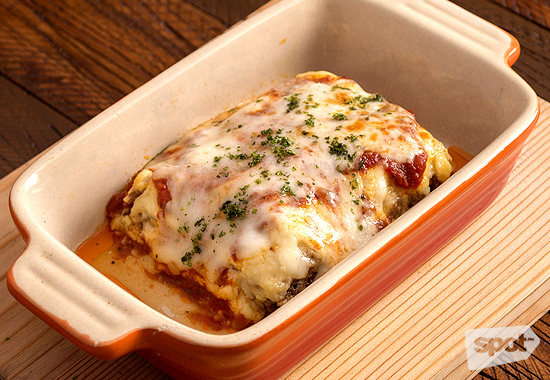 ADVERTISEMENT - CONTINUE READING BELOW
Lasagna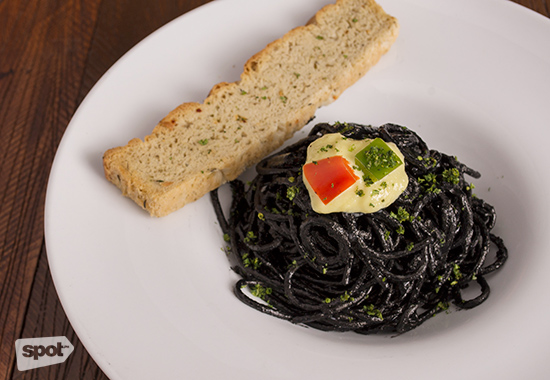 Black Squid Ink Pasta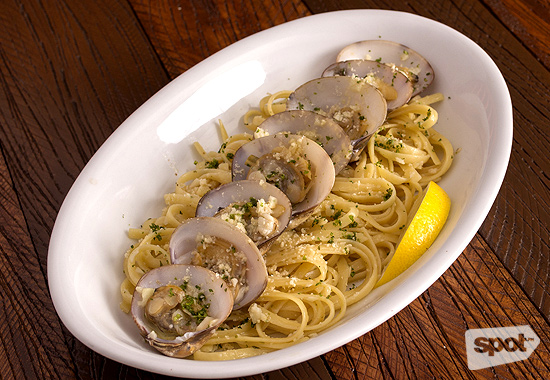 Seafood Vongole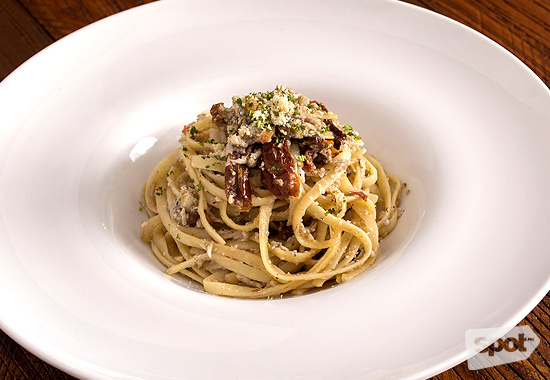 ADVERTISEMENT - CONTINUE READING BELOW
Dulong
End your journey by sampling any one of Dinah's specialty cakes that cater to a range of tastes. Fans of sweets with a tarty kick are likely to enjoy her citrusy creations that include the Lemoncito de Manille (P125), Orange Almond (P125), and Pink Guava Cheesecake (150). Those into more decadent types can sink their teeth into the Violet Crumble (P140), Dulce de Leche-Salted Caramel (P140), or Mokacaffee Java Malt Cake (P135). They also have an answer to the current crepe-cake craze: the Hazelnut-Cocoa Banana Crepe Cake (P125), that features 27 layers of sweet crepe fastened by hazelnut spread and topped with dark chocolate shavings.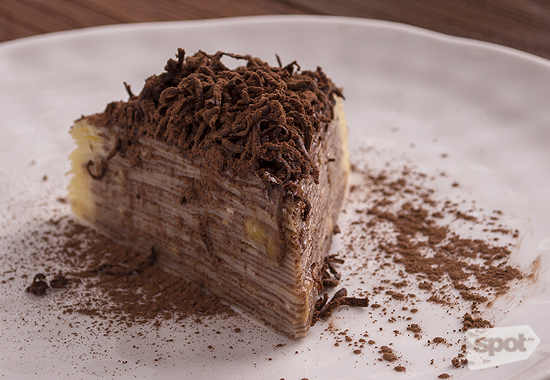 Hazelnut-Cocoa Banana Crepe Cake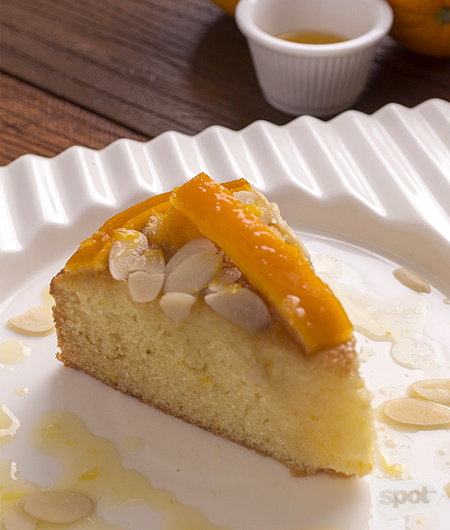 ADVERTISEMENT - CONTINUE READING BELOW
Orange Almond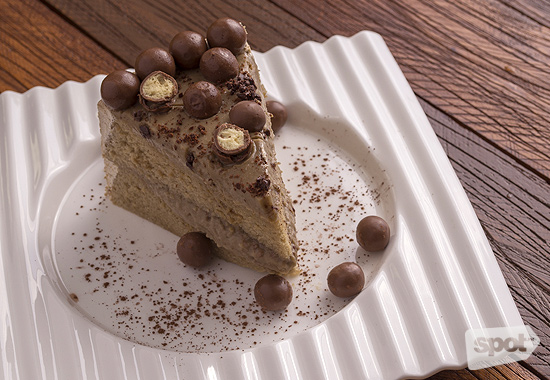 Mokacaffee Java Malt Cake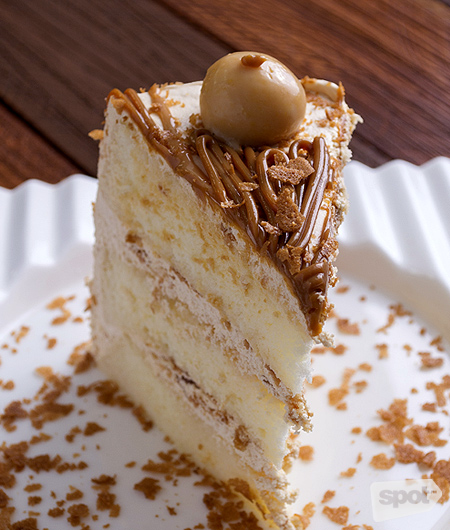 Dulce de Leche-Salted Caramel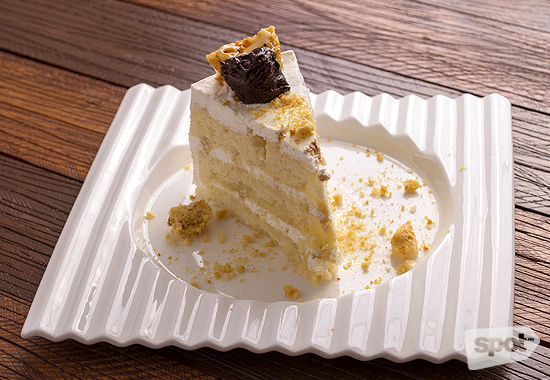 ADVERTISEMENT - CONTINUE READING BELOW
Violet Crumble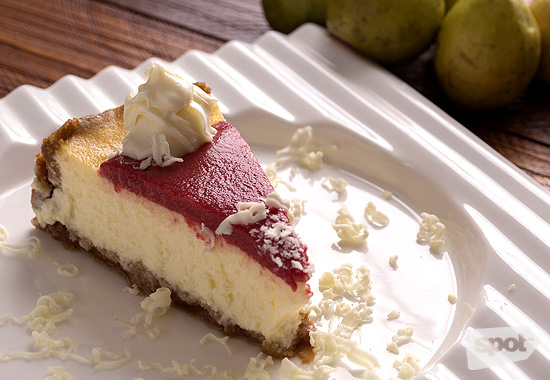 Pink Guava Cheesecake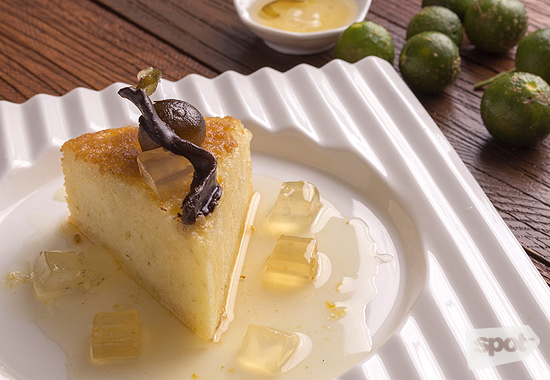 Lemoncito de Manilla

Another find in their selection of light snacks are the Pancakes (P139), a product of Dinah's top secret sweet batter, which she serves with some cream cheese and caramel sauce. Anthony says, "The best part about it is that [the pancakes] can be eaten alone. You don't need syrup or toppings. Malasa na." Dinah adds, "[The pancakes] are best when the spreads are applied generously." We also recommend that you pair the pancakes with their Houseblend Iced Tea (P75) for a fun explosion of flavor.
ADVERTISEMENT - CONTINUE READING BELOW
Watch for more baked creations in the coming months as Dinah whips out her versions of the sansrival, tiramisu, banoffee pie, and brownie cheesecake.
As for the path 5 Loaves & 2 Fish is destined to take, Anthony says, "God really has plans for us through this [restaurant]. We are just so amazed at what we have accomplished and are looking to do in the coming months."
Photos by Hans Fausto
Share this story with your friends!
---
Help us make Spot.ph better!
Take the short survey
Load More Stories