This skating-themed dive is where you can have steak for less than P150
Skate-themed Rambo's Steak and Destroy will make you want to eat steak every day.
Rambo's Steak and Destroy
1 J.P. Laurel Street, Area 2 University of the Philippines Diliman Campus, Quezon City
Contact no. 0917-934-6222
Open from 12 p.m. to 9 p.m. (Sunday to Friday)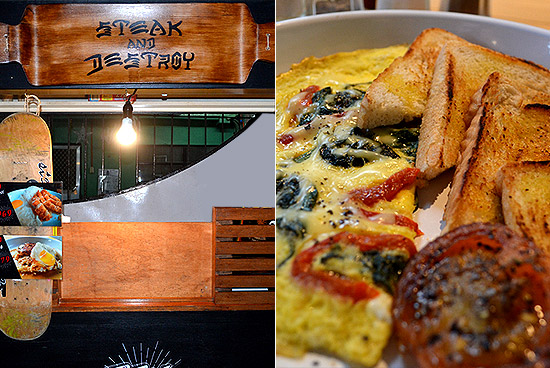 (SPOT.ph) Area 2 or J.P. Laurel Street in the University of the Philippines Diliman is fast becoming the official food hub of the campus. The street is known for its range of yummy, bite-sized snacks and delicious meals at student-friendly prices. One of its new additions is Rambo's Steak and Destroy, located right across Longga Republic.
Like its neighbors, Rambo's has a simple set-up. It's a food cart that gives you the feeling of a backyard barbecue, except everything is in front of a garage. Each of the three available tables is stacked with bottles of every steak-friendly condiment—pepper, salt, hot sauce, and liquid seasoning. Meals are served in big, plain, white plates which the "kitchen" makes sure to fill up with generous servings of sides and mushroom gravy.
ADVERTISEMENT - CONTINUE READING BELOW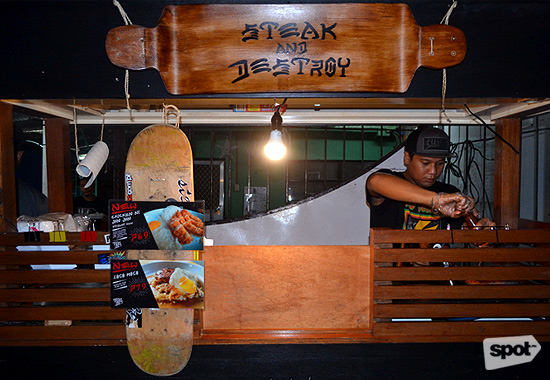 CONTINUE READING BELOW
Recommended Videos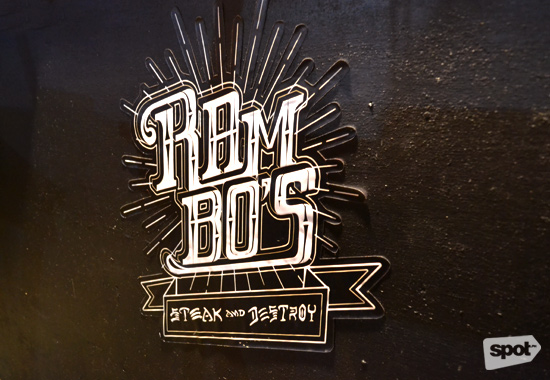 Find the skateboards
The steak house is owned by Pox and Tong, skateboard enthusiasts who have brought their passion into the design of their garage resto. "Skate and Destroy" is a skateboarding term which means to skate in a particular spot until you dominate. They played around with the words until they reached "Steak" and "Destroy." Apart from the skateboard-adorned cart, several items on the menu are also named after famous skaters.
ADVERTISEMENT - CONTINUE READING BELOW
Their bestseller, Steakey Peralta (P149), is named after Stacy Peralta, a professional skateboarder and surfer. Steakey Peralta is a pan-grilled T-Bone steak. It's cooked a default medium-rare and abundantly seasoned with Spanish paprika and thyme. The serving is so big that it takes up half of the plate. It comes with an egg, plus sautéed garlic kangkong with mushroom. If you have a particular preference, you can tell them how you want your steaks to be done and if you want your egg scrambled or sunny-side up. Of course, you also get your own cup filled with gravy. For those who treat their sauce as sabaw, a cup of extra gravy costs P10.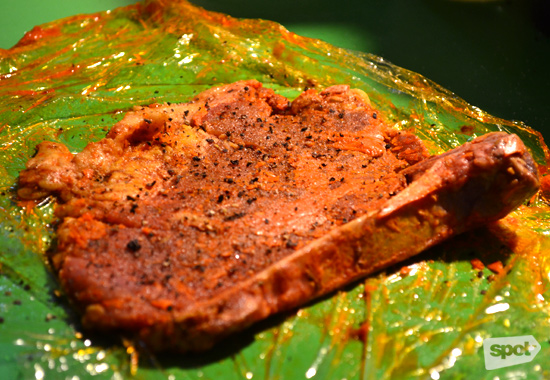 Step 1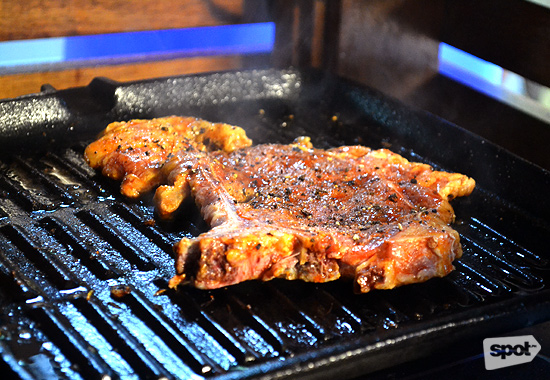 ADVERTISEMENT - CONTINUE READING BELOW
Step 2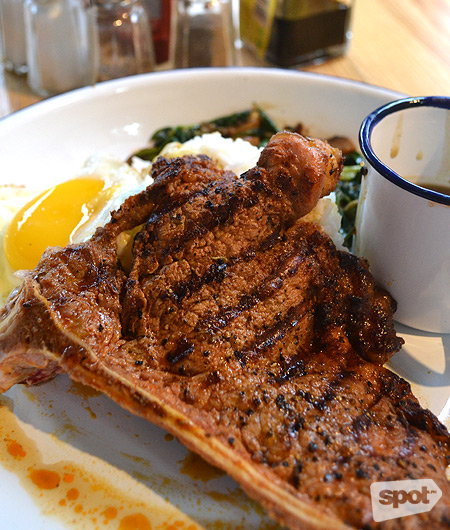 The Finale
Project Omelette, formerly the Peggy Oki Omelette, is a make-your-own omelet meal. Fun fact: Peggy Oki, a vegetarian, contacted Pox and Tong personally to change the name of the dish. For Project Omelette, you can opt for a 2 Egg Omelette (P59) or a 3 Egg Omelette (P69), both of which are served with a roasted tomato and a choice of either toasted bread or steamed rice. Choose two complimentary ingredients from the following—bacon, ham, mushroom, tomato, cheese, bell pepper, jalapeño, onion, and kangkong. Each extra ingredient costs P10.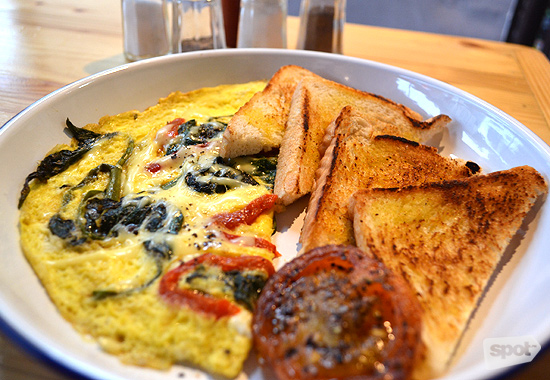 ADVERTISEMENT - CONTINUE READING BELOW
Project Omelette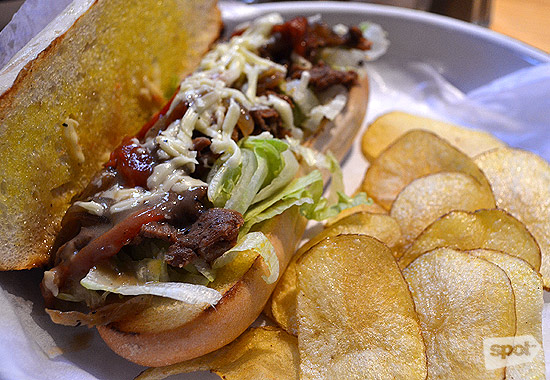 J-Boy Steak
Rambo's Steak and Destroy also serves steak sandwiches. The J-Boy Steak (P109) is named after Jay Adams, an original member of pro skateboarding group Z-Boys. Thinly sliced pan-grilled steak, lettuce, grilled capsicum, caramelized onions, with mushroom gravy and cheese, are held together by a crunchy and toasted baguette. It is served with either kamote or potato chips, depending on the season. The baguette is big enough to hold the all ingredients together for a tidy meal.
When Pox and his teammates were coming up with the menu for their new eatery, their goal was to offer something different from neighboring stalls in Area 2. They put their bet on steaks, but creating a quality steak meal didn't come cheap. Already pricey for Area 2 standards, they came up with budget meals like the Loco Moco (P79) and Chicken ni Jun-Jun (P69).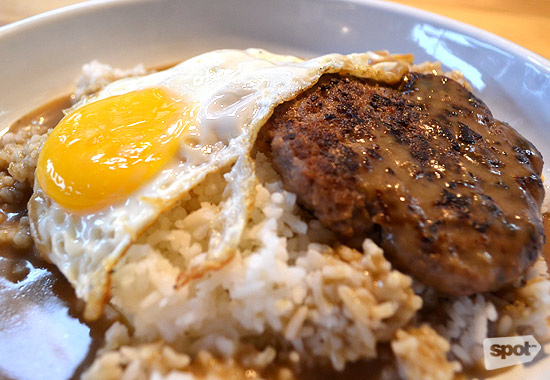 ADVERTISEMENT - CONTINUE READING BELOW
Loco Moco
Loco Moco is a Hawaiian dish, a burger steak cooked with a sunny-side up egg and rice. This comfort food, swimming in mushroom gravy spiked with pepper, became a bestseller among students.
The Chicken ni Jun-Jun, a dish of deep-fried chicken with garlic mayo dressing, is served with egg, rice, and gravy. Jun-Jun isn't an international pro skater. Rather, he's the store's dishwasher, who expressed interest in continuing his studies. To help him out, Pox and Tong created this dish and the proceeds will go to his college fund.
Other notable meals include Birdman Chicken (P119), named after Tony Hawk, which is a pan-grilled chicken breast served with egg, garlic kangkong and mushroom, rice and gravy, and Chicken Hosoi (P99) a crispy chicken tender baguette named after Christian Hosoi.
Rambo's Steak and Destroy may not look like much at first glance but if you want to appease a steak craving for half the price, skate through the area. You'll find what you're looking for.
Photos by Nicko de Guzman
Share this story with your friends!
---
Help us make Spot.ph better!
Take the short survey
Load More Stories