10 Sisig Reinventions to Refresh This Classic Bar Chow
Sisig taco? Sisig pizza? We found 10 different ways you can eat this Pinoy favorite.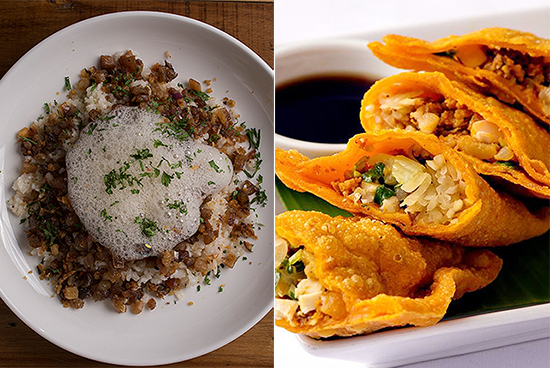 (SPOT.ph) Messing around with this classic could almost be described as blasphemous, but the brave ones dare to change things up and the most skilled of those courageous folk actually succeed. There is no way to top the effect of enjoying a chopped-up pig's head on a sizzling plate and bottle of ice-cold beer, but we love how inventive it pushes people to make that attempt.
When you're feeling bored with the usual sisig, here are 10 new ways to enjoy it.
Also read:
10 Best Sisig in the City (2010 Edition)
Top 10 Sisig (2013 Edition)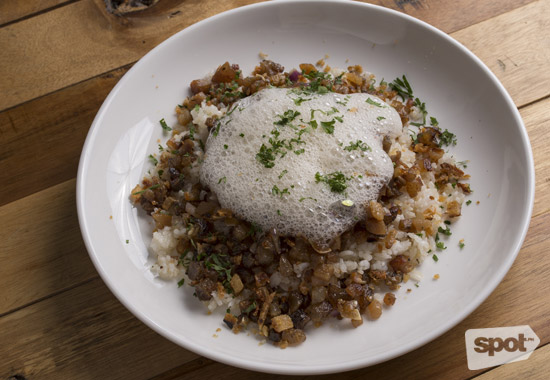 Modern Sisilog (P380) from The Brewery
Your karinderya sisig rice might be feeling a bit insecure right now. The Brewery definitely knows how to put makeup on this pig and turn it into incredibly pretty...pig. A pig's head is roasted and braised to develop texture and flavor. The skin, on the other hand, is broiled crispy. Chopped up and mixed all together, and you already have something great. But wait, there's more. Chef Carlo Miguel dresses this version to the nines with a tangy calamansi foam (yay for no seeds!), a 62-degree egg, and garlic rice.
ADVERTISEMENT - CONTINUE READING BELOW
The Brewery is at The Palace, 9th Avenue corner 36th Street, Bonifacio Global City. Read more about The Brewery.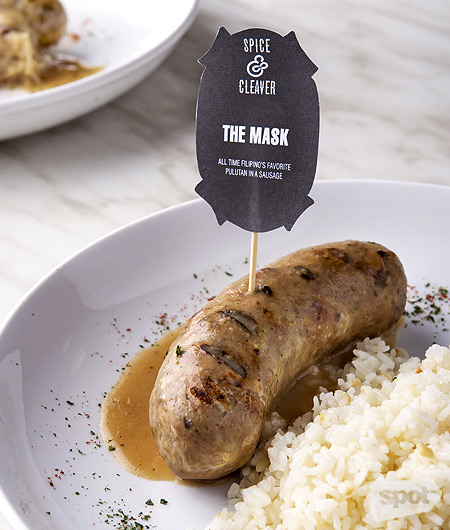 CONTINUE READING BELOW
Recommended Videos
Spice & Cleaver's The Mask (P280/one piece, P480/two piece)
Some would argue that sausages and hotdogs have muddled flavors, but not this carefully crafted link. It tastes so much like sisig, you're going to want to enjoy it with rice, which is thankfully how it's served. There's a subtle heat in there, too. The only thing we're missing is the gooey fried egg.
Spice & Cleaver is at G/F Estancia Mall, Capitol Commons, Pasig City. Read more about Spice & Cleaver.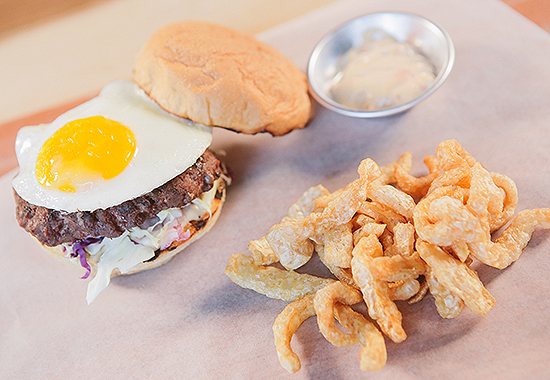 ADVERTISEMENT - CONTINUE READING BELOW
Sisig Burger (P450) from Moonshine P.U.B. x Public Urban Bar
Take your standard beef burger, but fill it with the gustatory promises of sisig. That is how Moonshine sees it. This burger is embellished with a chunky sisig sauce and a runny egg inside a fluffy pan de sal bun. It's full of spice and sinful as is, but you know something's missing. Don't worry. The chicharon is on the side.
Moonshine P.U.B. x Public Urban Bar is at Sapphire Bloc, Sapphire Road, Ortigas, Pasig City. Read more about Moonshine.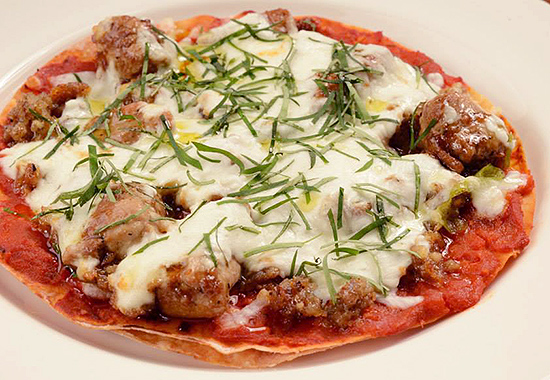 100 Revolving Restaurant's Pinoy Pizza (P395)
This rotating restaurant isn't the first or only eatery to put this pulutan on a crust, but it's different when Chef Jessie Sincioco is the one who does it. The Pinoy Pizza assembles together many local favorites, including adobo, longganisa, and a luscious sheet of kesong puti.
100 Revolving Restaurant is at 33/F MDC 100 Building, C5 corner Eastwood Drive, Quezon City. Read more about 100 Revolving Restaurant.
ADVERTISEMENT - CONTINUE READING BELOW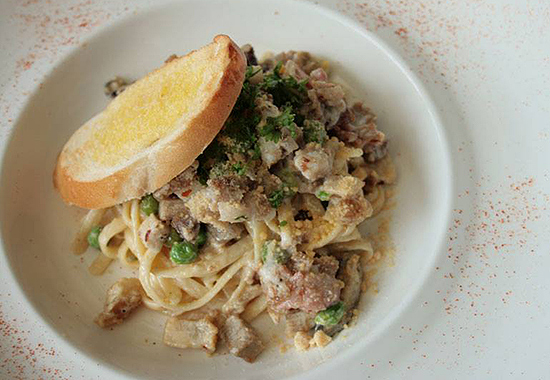 Sisig Carbonara (P215) from Pino
This Filipino (plus a bit more) restaurant has sisig tacos, too, but we're changing things up with their sisig carbonara. It's a logical revision. Well, both of them come with a runny egg, anyway. Sisig joins bacon in adding that hearty touch to the classic mix of onions and cream sauce in al dente linguini.
Pino is at 39 Malingap Street, Teachers Village, Quezon City. Read more about Pino.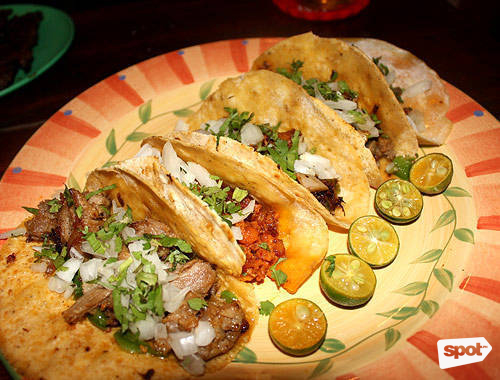 ADVERTISEMENT - CONTINUE READING BELOW
The sisig taco is the frontmost.
San Francisco All-Lean Sisig (P98) from El Chupacabra
This Mexican beaut is much, much healthier than the classic. It's a hit for those who crave the taste, but not the potential heart attack. Instead of the juicy decadence of the face, El Chupacabra opts for leaner cuts of pork. It puts up a bit more bite in terms of texture, but doesn't lack anything, really. Slather on the garlic sauce!
El Chupacabra is at 5782 Felipe Corner Polaris Street, Poblacion, Makati City. Read more about El Chupacabra.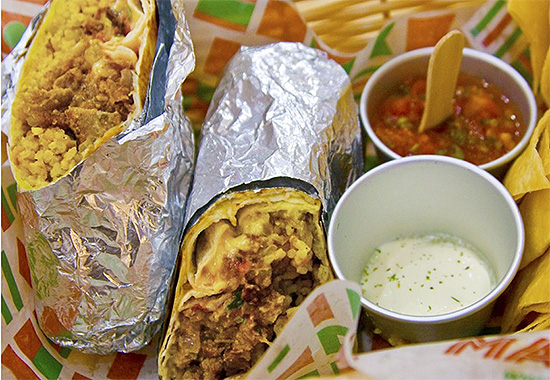 Sisig Burrito (P370) from Madeca
This Fil-Mex joint was all the rage when it opened in 2012. The bulwark, of course, was the fusionized sisig burrito: a huge delicious thing filled with sisig made from mostly pig's nape. It's boiled then fried because a crispy texture is just so dang important. For a softer contrast, there's a heavy layer of rice flavored with turmeric plus a bonus cheese sauce.
ADVERTISEMENT - CONTINUE READING BELOW
Madeca is at 5/F The Podium, ADB Avenue, Mandaluyong City. Read more about Madeca.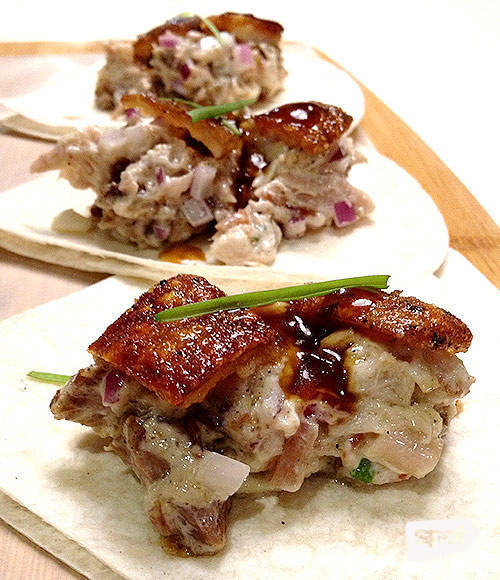 Belly Good Sisig Tacos (P280) from Tipsy Pig
In the grand tradition of Mexican food-inspired sisig comes another contender, this time from Tipsy Pig. Tipsy Pig uses that chewy-crunchy pulutan favorite and puts it on top of tortillas. The clincher is the sheets of crispy pork skin on top that adds texture, while a sweet sauce ties all the flavors together.
Tipsy Pig has branches at Capitol Commons, Meralco Avenue, Pasig City; and Burgos Park, Bonifacio Global City. Read more about Tipsy Pig.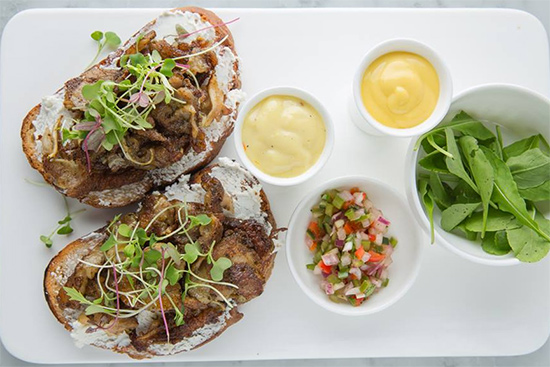 ADVERTISEMENT - CONTINUE READING BELOW
FAT's Pork's Ear En Croute (P370)
Trust Chef Mikel Zaguirre to prep this Pinoy pulutan with French techniques. This beautiful version comes as a pair of canapes (or maybe open-faced sandwiches) over crispy rye bread. Crunchy grilled pig's ear is chopped up and reinforced with herbed oil, mango mayonnaise, saffron aioli, and pico de gallo. Put them together to have a really intense sisig sammie!
FAT is at Forbes Town Center, Burgos Circle, 29th Street corner Rizal Drive, Bonifacio Global City. Read more about FAT.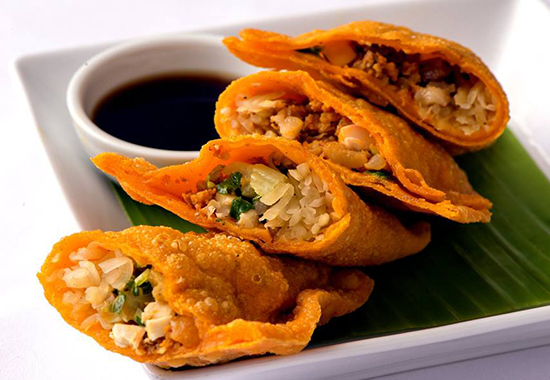 Sisig Empanada (P150) from Simple Lang
These golden pockets are double trouble. As if Ilocos-style empanada weren't bad enough (and by bad, we mean really, really good), try stuffing it with pig's face instead. The papayas work really well to tone down that rich profile, but the salted egg cancels it out to create something truly decadent. For a truly authentic Ilocos experience, Simple Lang serves theirs with sukang Iloko.
ADVERTISEMENT - CONTINUE READING BELOW
Simple Lang is at Ayala Triangle Gardens, Makati City. Read more about Simple Lang.
Honorable Mention: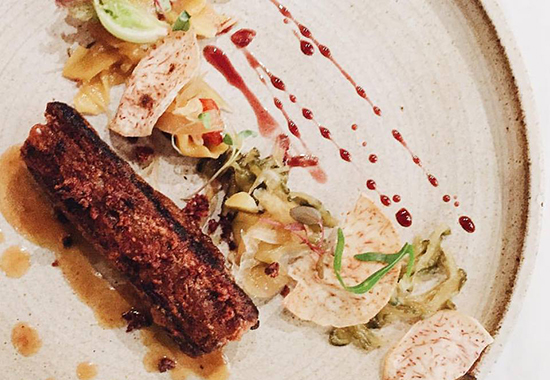 Crispy Pork Face from The Black Pig
Chefs Carlos Garcia and Tricia MacDonald have risen up to the challenge of fancifying this down-to-earth dish. The Black Pig's version uses a chunk of the pig's face and plates it so beautifully that we can barely recognize it from the original. It comes with root chips, but the kitchen won't judge if you ask for rice.
By the way, the life span of this dish depends on how well customers receive it so...receive it, will you?
The Black Pig is at Commercenter, Commerce Avenue, Alabang, Muntinlupa City. Read more about The Black Pig.
Photos from the official Facebook pages of The Black Pig, Madeca, FAT, and 100 Revolving Restaurant; and courtesy of Niel Ong (Moonshine), Mela Sison (Simple Lang), and PJ Lanot (Pino).
ADVERTISEMENT - CONTINUE READING BELOW
Share this story with your friends!
---
Help us make Spot.ph better!
Take the short survey
Load More Stories