Taco Vengo
16 United Street, Kapitolyo, Pasig City
Contact: 0917-558-1658
Open from 11 a.m. to 2 p.m. and 6 p.m. to 11 p.m. (Monday to Friday); and 6 p.m. to 12 a.m. (Saturday to Sunday)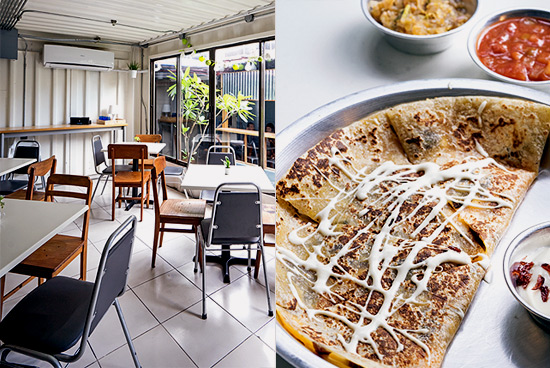 (SPOT.ph) If you're expecting purely authentic Mexican food at Taco Vengo, then you'll be sorely disappointed. That just isn't what they're trying to do. But before you start making snarky side comments about how taboo fusion is, sit down and have a bite. There's more to this spot than meets the eye.
ADVERTISEMENT - CONTINUE READING BELOW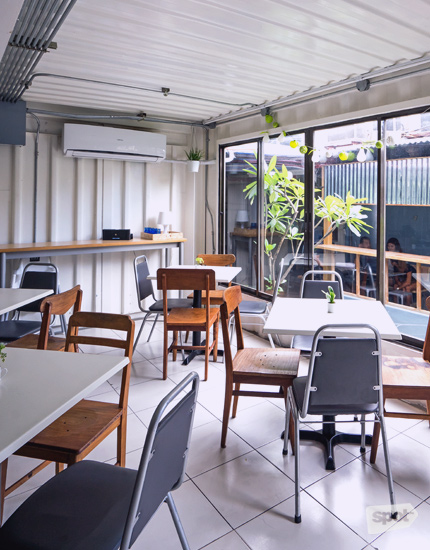 Very simple seating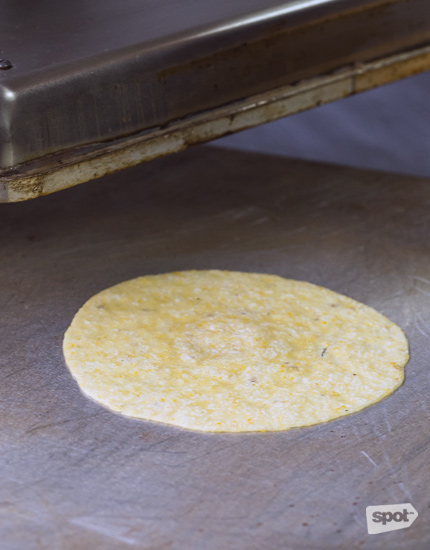 Making that special tortilla
A container-van-turned-restaurant, this tiny taqueria allows natural light to spill through the floor-to-ceiling windows, illuminating the hot sauce-and beer-lined counter, the glaring neon menu on the wall, and the white tables with stark hipster plant centerpieces. It's definitely giving off a Southern California vibe.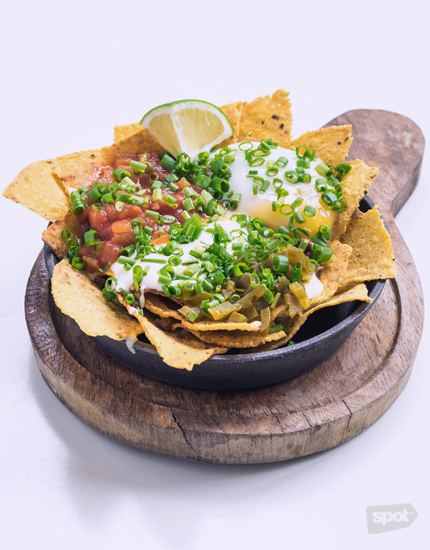 ADVERTISEMENT - CONTINUE READING BELOW
Nachos por Machos
The food is a pleasant surprise. Start out with the Nachos por Machos (P160). A hefty serving of nachos topped with chorizo, caramelized onions, sour cream, cheese, and a perfectly jiggly sous-vide egg. This dish alone is enough to automatically make you whip out that smartphone for an Instagram-worthy shot.
The tacos are worth talking about, too. The tortilla, for one, is super special. Taco Vengo has their own blend of corn and flour and their tortilla ranges from 4.5 to 5 inches, each one never being completely identical. Taco Vengo's chef Mickee Mendoza is incredibly hands-on, making sure that each dish comes out the way it should. "I wouldn't advise ordering these tacos to-go or having them delivered," says Mickee. "They're best eaten as soon as possible. Fresh and hot. The whole point of a taqueria is to eat your tacos right then and there, whether you're sitting at a table or standing by the door."
ADVERTISEMENT - CONTINUE READING BELOW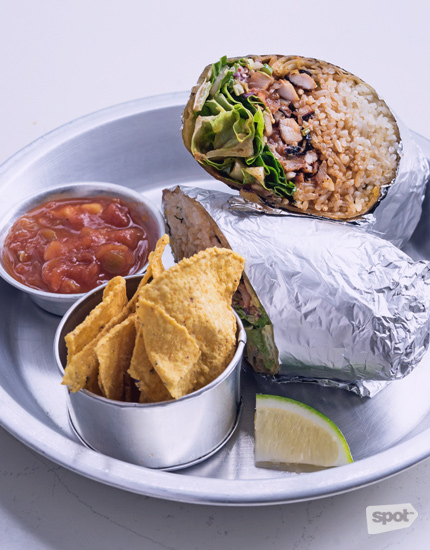 Chicken Burrito
We couldn't agree more. There's something about the way the juices of succulent pork cheek confit run through your fingers as you take a bite of the Pork Taco (P95/one, P180/two). Then, there's the light, flaky crunch of the tempura-battered shrimp in the Shrimp Taco (P110/one; P210/two). The tender honey soy-glazed chicken in the underrated Chicken Taco (P95/one, P180/two) might not be everyone's standout, but it definitely caters to the Filipino palate. The flavorful medley of orange and chipotle peppers, meanwhile, unexpectedly works in the Steak Taco (P110/one, P210/two).
ADVERTISEMENT - CONTINUE READING BELOW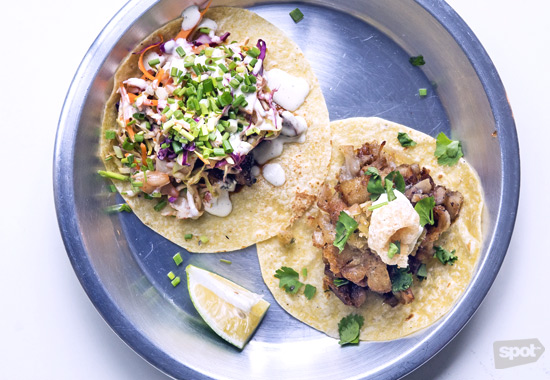 Chicken and Pork Taco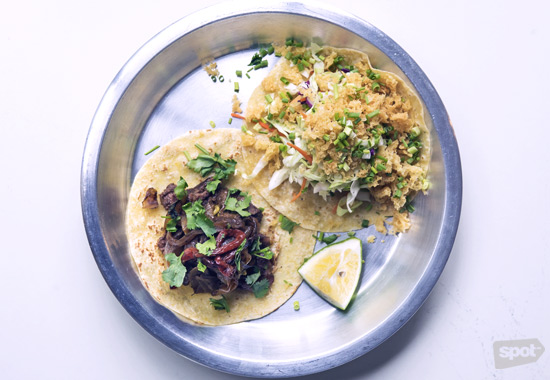 ADVERTISEMENT - CONTINUE READING BELOW
Steak and Shrimp Tacos
Turn any of these tacos into a massive burrito (try it with the cilantro rice!) and you'll get dinner plus enough leftovers for tomorrow's lunch.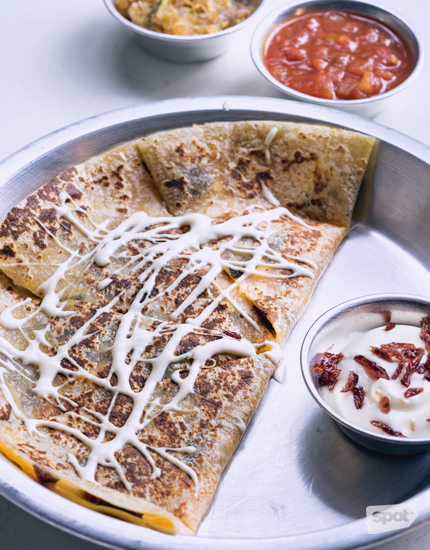 Cranberry Quesadilla
Owners Ted Manotoc and Abee Sy claim that at Taco Vengo, the spirit of the food is Mexican but the final product is something they really make their own. The Cranberry Quesadilla is proof of Taco Vengo's individuality. A dish that sounds like it could be a dud turns out to be a solid homerun! Inside these crisp, cheesy quesadilla triangles are dried cranberries that add a sweet-sour tanginess.
ADVERTISEMENT - CONTINUE READING BELOW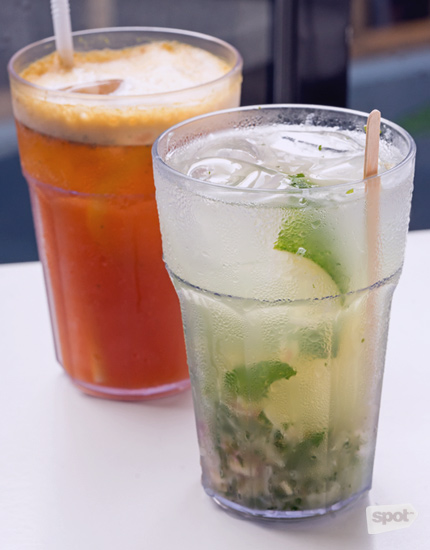 Iced Tea and Mojito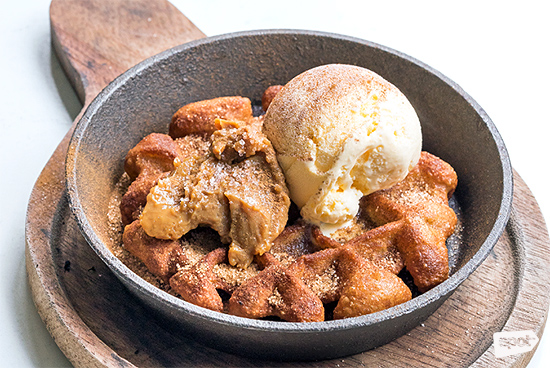 ADVERTISEMENT - CONTINUE READING BELOW
Chwaffle
A trip to Taco Vengo should always include the Chwaffle a la Mode (P130). This churro-waffle hybrid is their only dessert, and with something this good, there really doesn't need to be anything else. A light-as-air churro-waffle is topped with premium vanilla ice cream, sprinkled with ground cinnamon, and lavished with dulce de leche. It's the dessert you never knew you needed, the dessert that rounds out an already spectacular meal.
Our advice? At Taco Vengo, you really don't have to think too much—just eat, drink, enjoy. It's as simple as that.
Photos by Toto Labrador
Share this story with your friends!
---
Help us make Spot.ph better!
Take the short survey
More Videos You Can Watch
Load More Stories