This is breakfast you won't see anywhere else
The Pig Pen by The Black Pig redefines your concept of breakfast...and the meals after.
The Pig Pen by The Black Pig
2/F Commercenter Building, East Asia Drive, Filinvest Corporate City, Muntinlupa City
Contact: 0917-845-0744
Open from 5 p.m. to 12 a.m. (Monday) and 8 a.m. to 12 a.m. (Tuesday to Sunday)
Also read: New Restaurant Alert: The Black Pig at Filinvest, Muntinlupa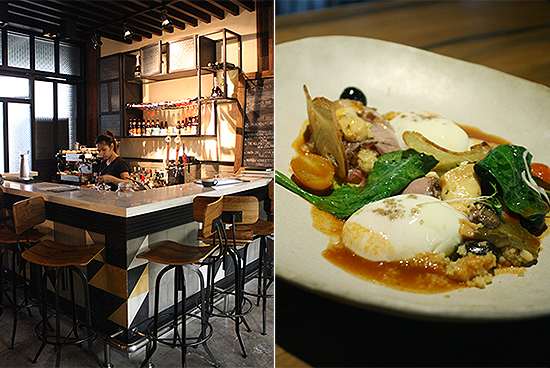 (SPOT.ph) Chef Carlos Garcia Rodriguez watches as we take in the plate in front of us and do the requisite work (and Instagram) photo shoot. He leans in and pulls out the pink beet rings crowning a gorgeous log of pork shoulder. "Let's take this out. Everyone is doing this already," says the Spanish chef.
Innovation has always been The Black Pig's M.O., and from their rather secluded base at Commercenter, Alabang, it's a style that suits them well. "We're not affected by trends," says co-owner Berna Garriz.
Those who've been captivated by their brand of cuisine know how difficult it is to commit to a favorite. One day the poached egg with crunchy Parmesan soldiers was readily available, the next day it was off the menu, removed unceremoniously like those offensive beets. Those same people who've been captivated by their brand of cuisine, however, know that you commit not to a dish, but to the chefs (Carlos and kitchen partner Tricia MacDonald), trusting that they'll always open up your palate to new ideas.
ADVERTISEMENT - CONTINUE READING BELOW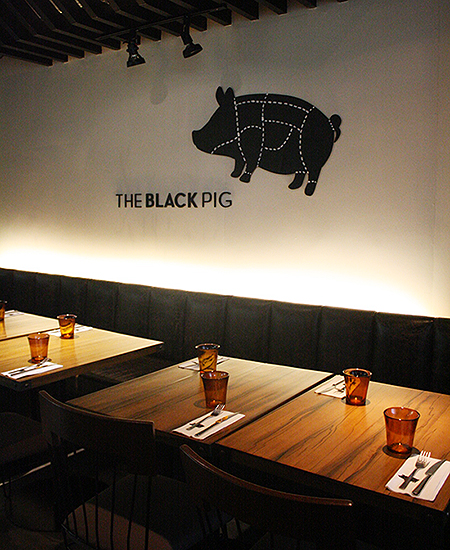 CONTINUE READING BELOW
Recommended Videos
It's still under The Black Pig.
The Pig Pen follows this exact practice. It's a sectioned off area of The Black Pig, a breakfast den from 8 a.m. to 4 p.m. and a bar from 4 p.m. to 11 p.m. "It started with the space," says Berna. "We were thinking of a name to describe this [area]." The Pig Pen was a porky fit, and breakfast-to-bar—a bid for your entire day—became its mode of service.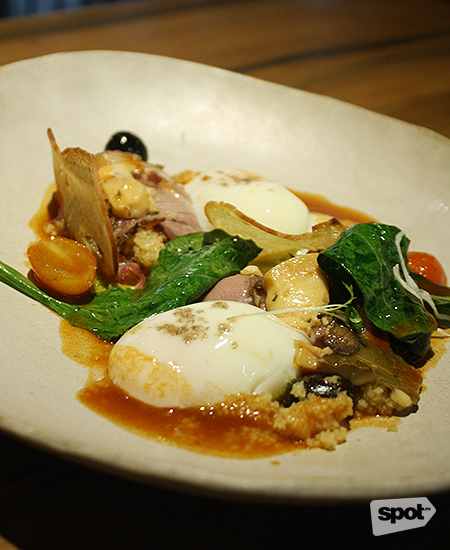 ADVERTISEMENT - CONTINUE READING BELOW
The still-being-finalized 62-degree eggs
The Pig Pen is, like any respectable breakfast place, egg-heavy—some over rice, some with bread, but it's not quite the tapsilog you're imagining. Frankly, breakfast by The Pig Pen is unlike anything you've seen. Chef Carlos tells us about layering flavors: a pair of 62-degree eggs, for example, rests atop bulgur (a very find kind of grain), some greens, thin slices of pork shoulder, chunks of Manchego, and a few olives. A deeper reward lies in the crispy clear sheets all over the dish that turns out to be the thinly sliced fat from jamon. "It looks like there's a lot of things going on, but you will be able to taste this comforting flavor," he explains.
Chef Carlos suggests breaking the eggs—which we did so with little encouragement—and just tossing everything together. With some choice ingredients, he's able to orchestrate a compelling symphony where every note, from the whiff of bay leaf to the saltiness of cheese, is equally important.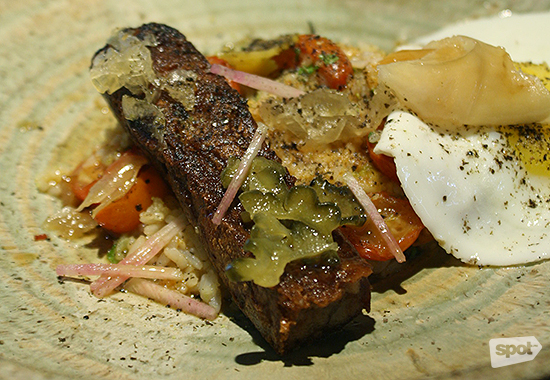 ADVERTISEMENT - CONTINUE READING BELOW
Fried Egg with Crispy Pork Trotter
The next dish, a fried egg with crispy pork trotter (P280), looks at us expectantly, the lack of beets not taking anything away from its stature. The soft, supple rice underneath has been painted with a maple and mustard sauce, both vivid but a combination that somehow ends up still being very subtle. At the bottom is a sprinkle of ham to touch on some umami flavor while pickled ampalaya—"You blanch them like five times to take out the bitterness," say Chef Carlos—contributes a much-required lift. This is a palate opener, a complex formula but one that's easily comprehensible.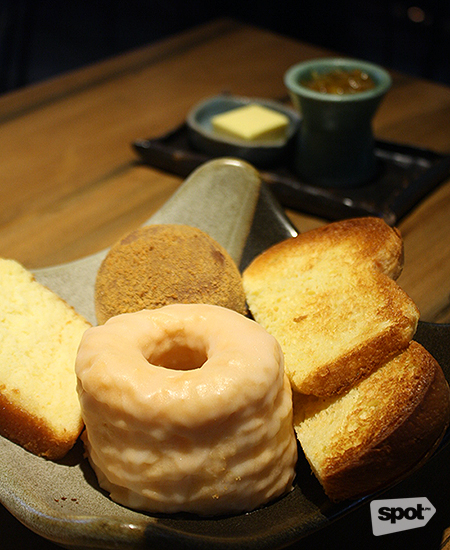 They call it a "Pastry Basket," actually
Even the bread basket (P250) ends up exciting: a subtly lemony cake with the tickle of grated coconut; Chef Carlos' crusty version of a pan de sal; a brioche wonderfully delicate; and rosquillas, a flaky donut in a similar vein with the Cronut. A cup of their special Ethiopia-Guatemala-Nicaragua coffee blend is in order.
ADVERTISEMENT - CONTINUE READING BELOW
When the clock strikes four, The Pig Pen morphs into its second identity: a bar with food as relevant as their drinks. Chef Carlos comes up with his own version of tacos, replacing flour or corn tortillas with paper-thin circles of naan bread. The Cheeseburger (P150) is unmistakably a cheeseburger, but with a zingy salsa verde and a zigzag of fermented chili paste that calls to mind gochujang.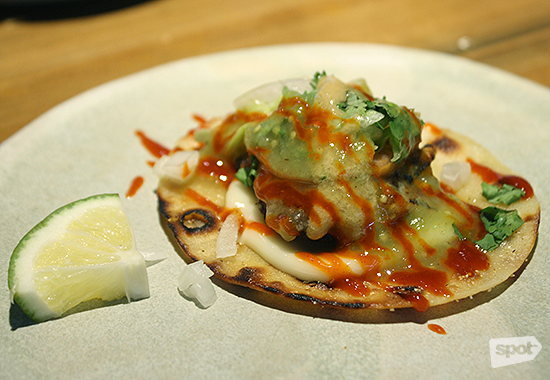 Hamburger Taco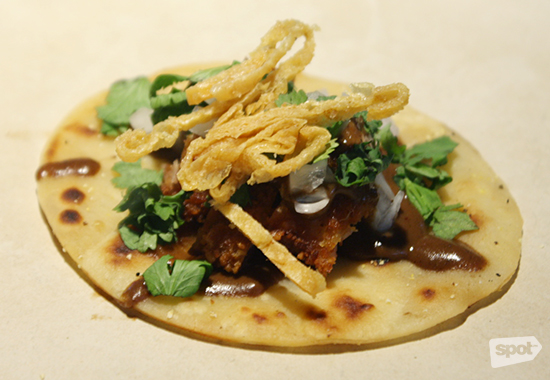 ADVERTISEMENT - CONTINUE READING BELOW
Fried Chicken Taco
The Fried Chicken Taco (P100), which is reinforced by a striking molé, showcases the level of fine-tuning at The Black Pig. For this palm-sized bar chow, Chef Carlos makes sure that the fried chicken remains crispy (with a wonderful whisper of heat and a few ribbons of crispier chicken skin), the chocolate-tinted sauce relevant, and everything working together in fine order. A one-piece meal the size of a coaster, these tacos leave you satisfied yet still wanting more. That's usually the effect of the chefs' quick sprints of flavor.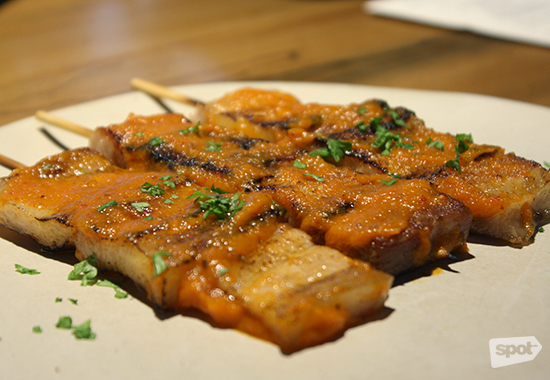 Pork Belly and Kimchi
Chef Carlos points at the skewers of Pork Belly and Kimchi (P120). Underneath that coat of spicy bright orange are tell-tale thick weaves of fat in between the tender meat. This is the kind of fat you appreciate though, because they disappear so quickly inside your mouth, like the feeling of a fun night that ends too fast. The pork belly is marinated for 24 hours to achieve that meticulous tenderness.
ADVERTISEMENT - CONTINUE READING BELOW
Nowadays, it's extremely difficult to find just the right character for a restaurant. Comfort food is a vague concept. Japanese? But what kind? It's not easy to find the right word for what The Black Pig, and consequently The Pig Pen, is doing. It's a restaurant that puts your taste buds to work, challenging them to experience new realms of flavor. In the end, it's just one amazing out-of-the-box experience—that has to be tasted to truly comprehend.
Share this story with your friends!
---
Help us make Spot.ph better!
Take the short survey
Load More Stories