New Restaurant Alert: Genki Sushi at Bonifacio Stopover, Bonifacio Global City
Sushi on a conveyor belt will test your will power.
Genki Sushi
2/L Bonifacio Stopover Pavillion, Rizal Drive corner 31st Street, Bonifacio Global City
Contact: 624-2867, 0917-315-5671
Open from 11 a.m. to 10 p.m. (Sunday to Thursday) and 11 a.m. to 11 p.m. (Friday to Saturday)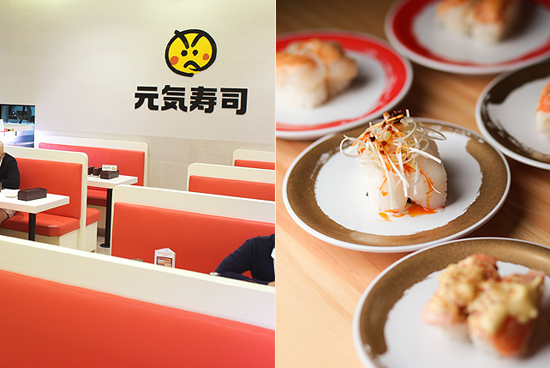 (SPOT.ph) Travelers, especially those who frequent the big cities of Southeast and North Asia, will probably be familiar with Genki Sushi, the Japanese conveyor sushi chain that offers delicious dishes with a side of novelty cuteness.
"Genki Sushi is a Japanese franchise that's known in Asia—Hong Kong, Bangkok, Singapore, and now in the Philippines. We have a couple also in the States," says Karen Tanchanco Caballero, general manager of Mother Spice Food Corporation, which is the sole operator of Genki Sushi in the Philippines. "It's a fun concept of the Koshoku expressway lane system. It has an iPad ordering system. There's fun and control for all diners across all age groups."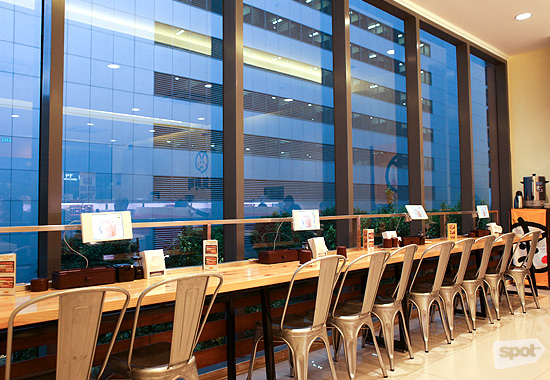 ADVERTISEMENT - CONTINUE READING BELOW
Streamlined Japanese aesthetic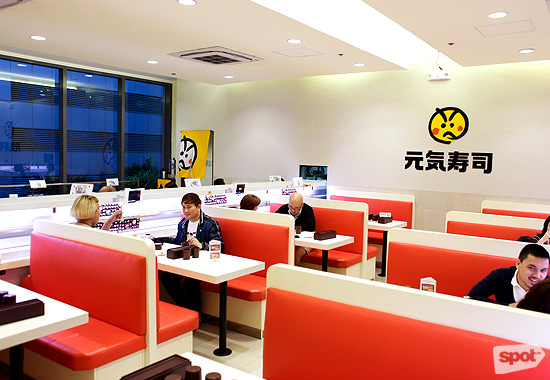 CONTINUE READING BELOW
Recommended Videos
The iPad menu comes with the running bill so you won't go overboard.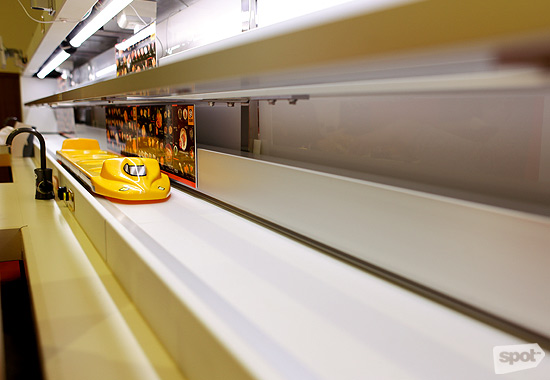 Sushi express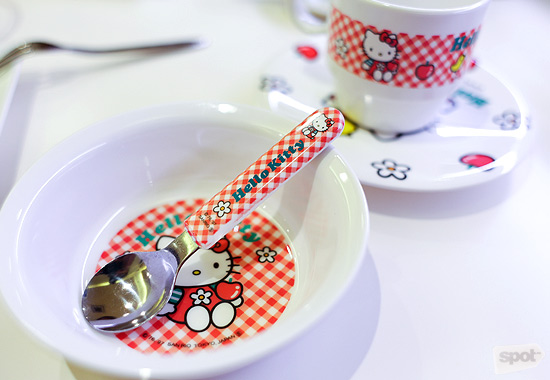 ADVERTISEMENT - CONTINUE READING BELOW
Kiddie plates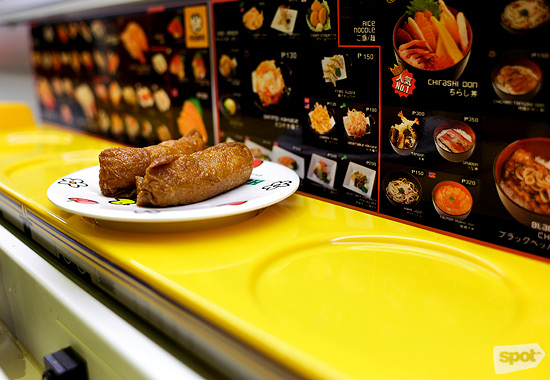 Out comes the order
Unlike other conveyor belt sushi chains where customers pick from an array of dishes that appear slowly in front of them, moved along via, well, conveyor belt, Genki Sushi works on an automated system where customers place their order via iPad; the dishes are made fresh and delivered via a Shinkansen-like magnetic tack.
The trays the sushi arrive in are inspired by Japanese iconography that range from the Shinkansen, a Japanese bullet train, to a racecar to Astro Boy speeding towards you with your orders on his back. Some dishes are served on Hello Kitty Plates, and customers can request Hello Kitty dinnerware—child-sized plates, bowls, spoons, forks, and mugs—for an even cuter Japanese experience. The restaurant uses an automated Radio Frequency Identification (RFID) technology to keep track of every plate, so that everyone gets a fresh order every time.
Customers can also make their own green tea. Each table is equipped with a tap of free-flowing hot water and a little container of matcha powder, so that they can have as much tea as they want, when they want it.
ADVERTISEMENT - CONTINUE READING BELOW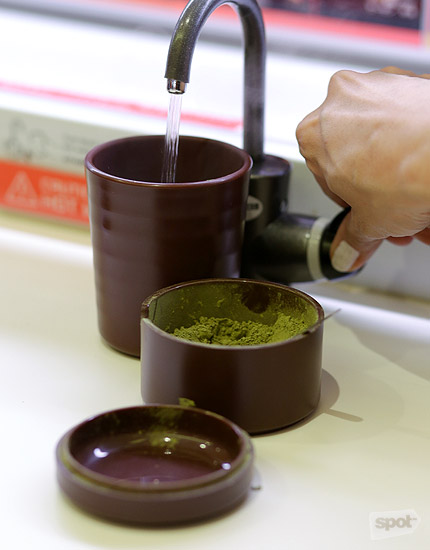 Matcha on tap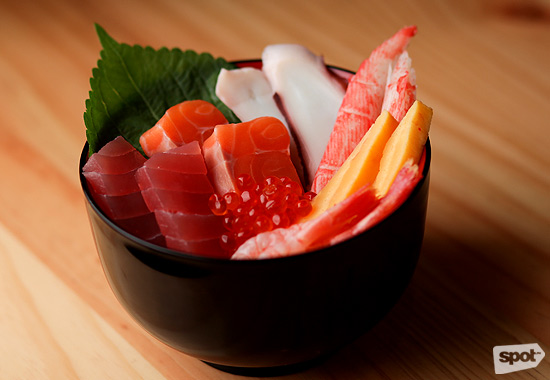 Chirashi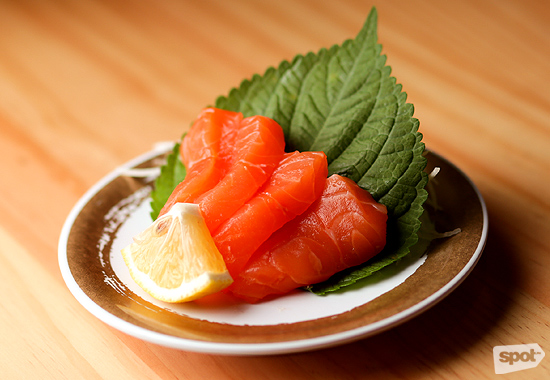 ADVERTISEMENT - CONTINUE READING BELOW
Salmon Sashimi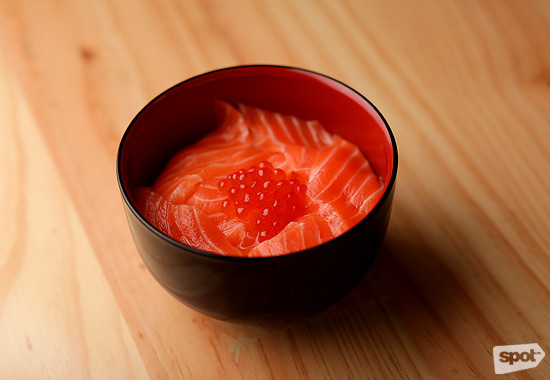 Seared Salmon with Pollock Roe
The menu is extensive, divided by category and subcategory. Sushi, for example, is split into an entire catalogue—nigiri (egg or seafood on top of rice), gunkan (egg or seafood on top of rice wrapped with seaweed), makimono (different kinds of maki), and so on. There's also sashimi, washoku (kind of, but not quite Japanese home cooking), drinks, and dessert. Much of the menu is made up Japanese restaurant staples that don't need explanation, but with a menu this broad, there are some dishes that deserve to be highlighted: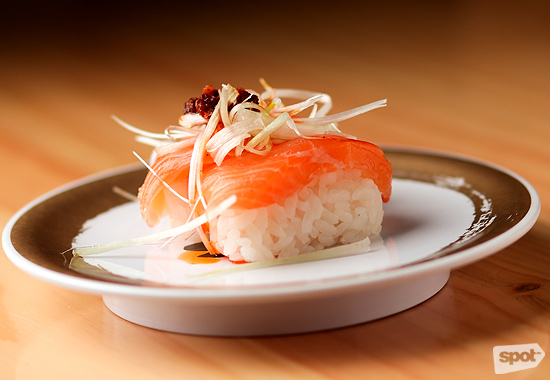 ADVERTISEMENT - CONTINUE READING BELOW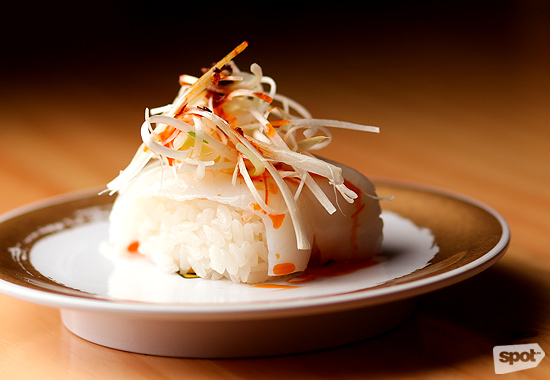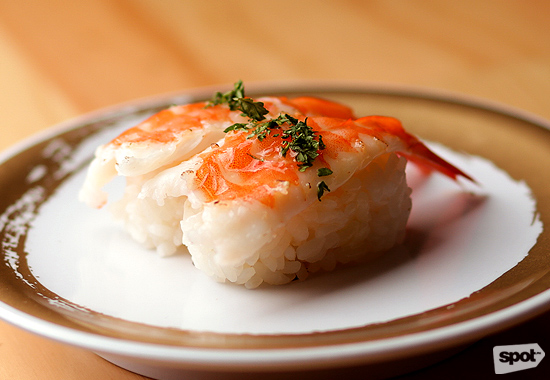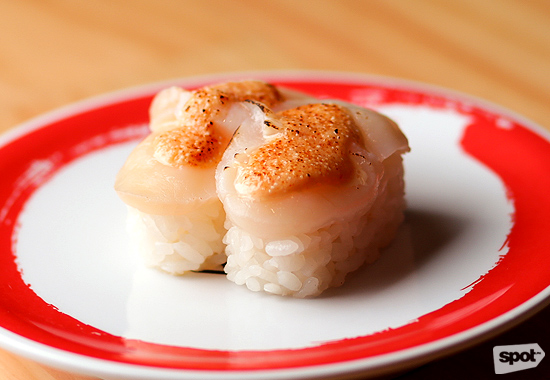 ADVERTISEMENT - CONTINUE READING BELOW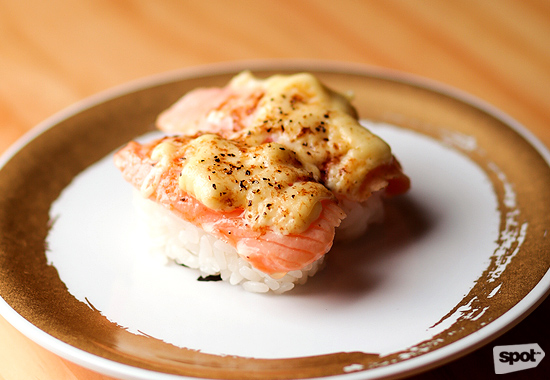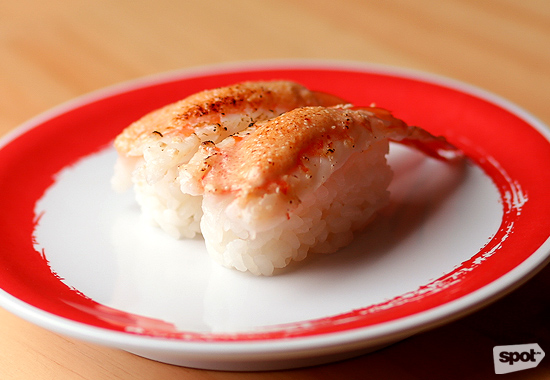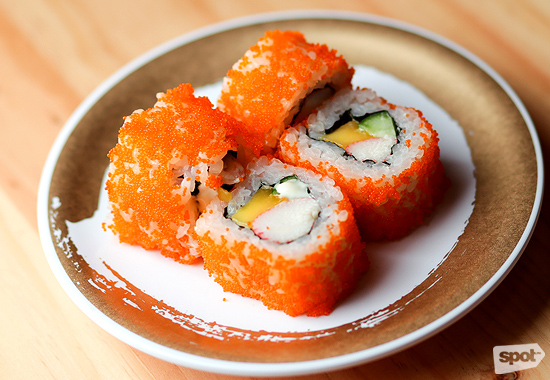 ADVERTISEMENT - CONTINUE READING BELOW
The assortment of sushi, maki, and more
Under zen sai washoku, there is the steamed egg custard (P120) and the chuka wakame (P130). The steamed egg is delightful; light and airy, the egg feeling and almost tasting like cream on the tongue. It is flavored with, among other things, shiitake and kani, umami-rich from the steaming, embedded in the custard like jewels in rock. Well, soft jewels in soft rock. 
Customers will be spoiled for choice of nigiri sushi. Three of the best include the seared salmon with pollock roe (P200)—the rice and salmon lightly grilled so that they impart a smoky flavor, with the roe adding a delicious touch of saltiness to the whole affair. The surf clam (P150) is chewy from freshness, a textural, briny delight. The shrimp garlic butter (P120) is, to put it indelicately, to die for. Almost literally. It's so delicious that one can imagine ordering it as part of a last meal. It looks like nothing, really: two pieces of pale shrimp atop sushi rice, the whole thing doused in melted garlic butter. This rather sad appearance hides a rich meld of flavors, the allium-flavored fat pumping up the flavor of the shrimp so that it enters another dimension of taste altogether, dancing all the way. This is not an exaggeration. It is that good.
The dessert list is short, consisting of green tea ice cream (P80), strawberry ice cream (P80), chocolate mousse (P140), Matcha Double Fromage (P140), rare Japanese cheesecake (P140), and tiramisu (P140). The green tea ice cream is flavorful but not too sweet, a steal at P80 for two big scoops. The strawberry ice cream is sweeter, contains chunks of strawberry, and is the favorite of the restaurant's Japanese partners. The chocolate mousse is light in texture but dense in flavor, while the Matcha Double Fromage offers two layers of differently textured and flavored cheesecake. The first layer is a light green-tea flavor that sits atop a denser, heavier, slightly tart but more flavorful plain cheesecake base. Genki Sushi is currently working with Chef Miko Aspiras to develop sushi-themed desserts to beef up the restaurant's dessert line.
ADVERTISEMENT - CONTINUE READING BELOW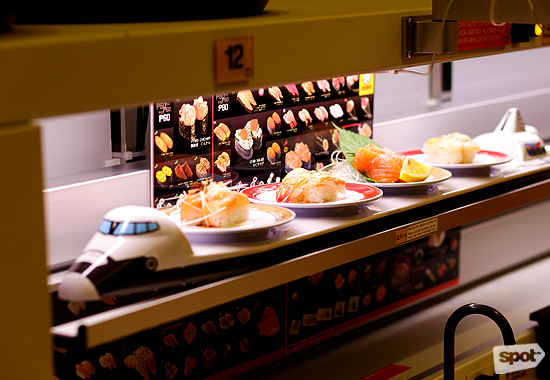 Sushi train
The iPad at the table also shows the running bill, so customers can keep track of what they've eaten and how much they're spending, as well as a bill-out button to make payment easier.
"Filipinos love Japanese food. It's not something too foreign or too exotic for us," Karen says. "We offer quality Japanese food that isn't so expensive, so anytime you have a craving for an authentic Japanese experience, they can simply drop by and have fun."
Beyond the novelty, Genki Sushi offers delicious, quality Japanese food at reasonable prices. The fact that customers get to play with and control the dining process is a nice plus.
Photos by Majoy Siason
Share this story with your friends!
---
Help us make Spot.ph better!
Take the short survey
Load More Stories