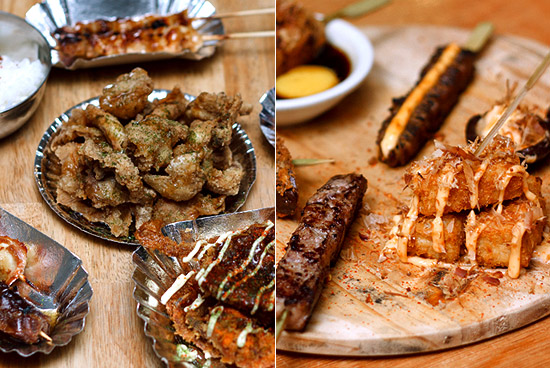 (SPOT.ph) There is something special about eating things on sticks. It might be the convenience (not having to use utensils), the thrill of just gnawing or biting off some skewered goodness. It might also be the infinite possibilities—be it Wagyu beef, fatty pork, chicken skin, quail eggs, hotdogs and marshmallows, or even vegetables. Marinated, simply grilled with salt and pepper, or drenched in special sauce—put it on a stick, and we'll probably eat it. 
For this feature, we looked into some of our newest and oldest favorite haunts for things like Japanese yakitori, Pinoy barbecue, (off the street) street food, and ever-reliable kebabs. From hole-in-the-wall joints along busy streets, to your neighborhood grill, here are some places we suggest you hit up the next time you need your food-on-a-stick fix.
All SPOT.ph Top 10 lists are researched, paid for, tested, and selected by the writers and editors. They are discreetly conducted without any notice made to the restaurants or their owners.
ADVERTISEMENT - CONTINUE READING BELOW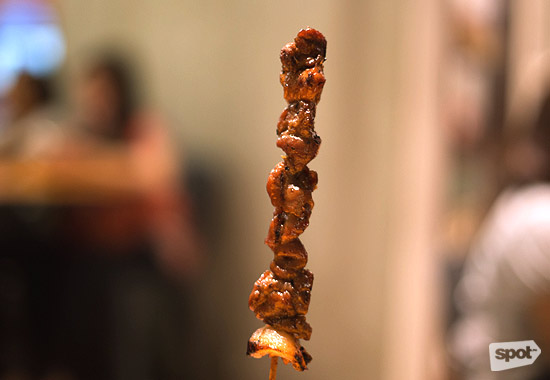 10. Three Sisters
Three Sisters is an institution that dates as far back as the 1940s. It is the sort of place you might have heard about from your parents in the "Doon kami nagde-date dati" sort of context. While times, locations, and generations of owners change, one thing remains the same—they still have undoubtedly some of the best barbecue in town.
ADVERTISEMENT - CONTINUE READING BELOW
Recommended Videos
Dripping in sweet, tocino-like marinade, their barbecue's (P44/stick) hefty cuts of pork are tender and juicy, with little fat, and are grilled in a way that's easy enough to pull off the stick with your teeth. It's so flavorful that you don't need to dunk it in vinegar for that extra kick! We suggest pairing this with another Three Sisters favorite—their pancit!—for a classic Filipino meal or merienda that's sure to satisfy.
Three Sisters is at 136 West Capitol Drive, Kapitolyo, Pasig City. Read more about Three Sisters.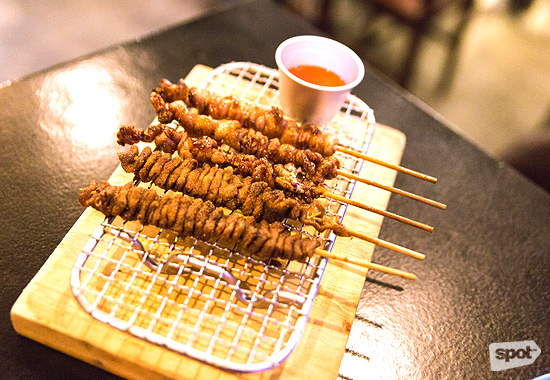 ADVERTISEMENT - CONTINUE READING BELOW
9. Skinita Street Foodz
One of the latest tambayans on the Kapitolyo strip is Skinita Street Foodz, established by a barkada with a love for all things served on a stick a.k.a. things you usually find for sale at the nearest kanto. With a little extra care to keep things clean but retain the flavor of these street favorites, Skinita gives you a unique (off the street) street food experience.
From isaw to kwek-kwek to all the seafood balls you want, you can have all these with "sauce ni manong," your classic orange-y suka found at street food stalls with vinegar mixed with delicious things of unknown origin (LOL). We recommend their chicken skin—grilled to crispy perfection, it will make you wonder why most places serve this fried when it is so much better when grilled on fire. The squid balls are also worth your consideration: Sans that greasy deep fried taste, you can actually taste some real squid in them.
ADVERTISEMENT - CONTINUE READING BELOW
With cool '70s- or '80s-inspired interiors, options to play board games or beer pong with your barkada, and food that will remind you of things you grew up eating, Skinita is the place to be when you want to reminisce about the good old days while making some fresh new memories.
Skinita is at D-Strip Building, 20 United Street, West Capitol, Kapitolyo, Pasig City.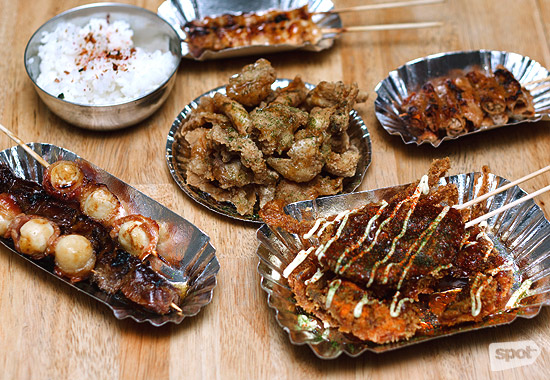 ADVERTISEMENT - CONTINUE READING BELOW
8. Tambai 
"Yeah, we're sure you'll want all of it!" the server at Tambai told us as we stood by their counter, pondering which of their bestsellers to order. With the air dense with the smell of grilled goodness and the promise of pairing these with some ice-cold local and foreign beers, we took them up on this challenge and realized a few bites in that they were absolutely right.
The U.S. Pork (P40/stick) is tender, lean, and juicy skewered gold, reminiscent of the Korean bacon sam gyup sal, with similar marinade and flavor. The U.S. Beef Finger (P185/laki-tori stick) has a generous trimming of fat that when grilled becomes charred and caramelizes into something special. Other great things definitely worth coming back for are the beef isaw (P35/stick), which is a cleaner, more flavorful version of your standard street intestines, stuffed with a paste similar to liver spread that negates the need for sauce.
ADVERTISEMENT - CONTINUE READING BELOW
The one tough part about dining at Tambai (save for searching for it in the busy Poblacion area, but we think that's part of the fun) is that once you start trying sticks, it's definitely hard to stop! Head on over here on days you want some unique yakitori with friends in a cool hole-in-the-wall environment.
Tambai is at 5779 Felipe Street, Poblacion, Makati City. Read more about Tambai.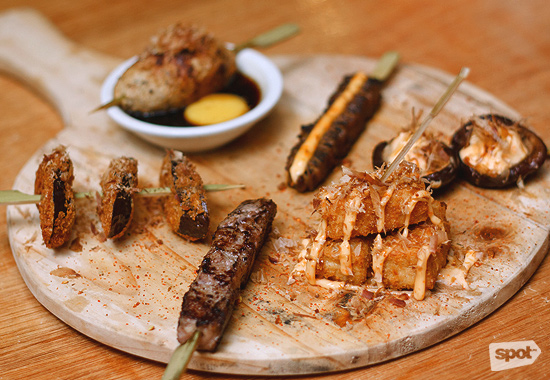 ADVERTISEMENT - CONTINUE READING BELOW
7. Kantori Yakitori
Kantori believes in the concept of "fun dining," and fun is really how their meals are. With great Filipino-Japanese inspired yakitori that you'll probably never see anywhere else—they're the clear winners when it comes to most creative food-on-a-stick concoctions! Trust us, the most fun comes from choosing to have everything.
Among the stars on the menu is the Shiro (P48/stick), clean chicken isaw that's boiled, blanched, then grilled to crispiness, then topped with kewpie and tobiko. The latter elements add a whole new dimension to your traditional isaw, giving it a contrasting flavor and texture of creaminess. The Japanese Saikoro Beef (P148/stick) is another stellar yakimono option; the beef flown straight in from Japan to be made into the tender, melt-in-your-mouth goodness on a stick. Finally the Shitake (P48/stick) with kewpie, tobiko, and garlic confit is an inspired vegetable choice that is an experience in itself when you notice the extra oomph the confit brings to the juiciness of the mushrooms.
ADVERTISEMENT - CONTINUE READING BELOW
Tip: Pair a whole smorgasbord of their yakitori with some great drinks—begin the meal with the unique bacon—maple sake, have a mango beer mojito or calamansi beergarita with your meal, or end it with a whisky tasting flight.
Kantori is at 51 Unit D, Aguirre Avenue, BF Homes, Parañaque City. Read more about Kantori.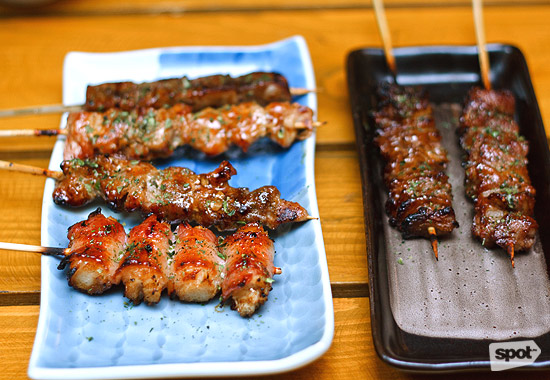 ADVERTISEMENT - CONTINUE READING BELOW
6. Tori Tori Kyushiyaki 
We walk into cozy Tori Tori on a cold and rainy afternoon and enter a light, smoky atmosphere that's a warm respite to the raging winds outside. The friendly staff quickly attends to customers with smiles and cups of tea—the service a prelude to the wonderful dining experience you're soon to have.
Things you shouldn't miss include the Japanese Wagyu (P125/stick), another buttery, melt-in-your-mouth wonder, that's seasoned great and grilled to the right tender point. A new and unique yakitori is the Angus Belly (P120/stick), a little fatty, but equally rich beef option. The boneless chicken thigh (P40/stick) is also another excellently seasoned choice, tender, juicy, and flavorful. Less typical but in no way lesser sticks you should definitely try are the Bacon Quail Egg (P55/stick) and for a healthier contrast, the Cherry Tomato (P35/stick).
Tip: Order your yakitori in batches so you can have them hot and fresh off the grill! Washed down with a cold beer or a cup of hot tea, these sticks make for a great meal!
ADVERTISEMENT - CONTINUE READING BELOW
Tori Tori Kyushiyaki is at 197 Wilson Street, Santa Lucia, San Juan. Read more about Tori Tori.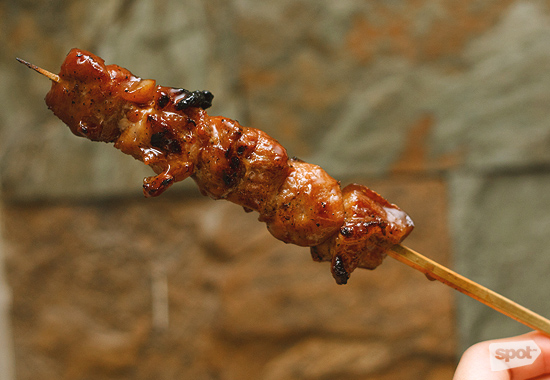 5. Countryside Barbecue  
Those who live in the Katipunan area will remember Countryside as that little place on the edge of a cliff that's seemingly mausok 24/7. If you were driving with your windows down, you'd inhale the smell of sweet, smoky, roasting barbecue. Chances are at some point you couldn't resist and had to come down for some! 
ADVERTISEMENT - CONTINUE READING BELOW
Countryside has been around for decades mostly because of their amazing barbecue. Even when the shack on the hill was shut down and they were forced to relocate to an area with more restaurants, the big place they put up remains to be a stop for regulars. 
Their pork barbecue (P32/stick) is juicy, dripping in marinade, and grilled with a chunk of fat at one end. This makes your barbecue extra flavorful, and when toasted right, you have a crispy bit to look forward to ripping off the stick. It's definitely something they've mastered through the years.
Countryside is at 228 Katipunan Avenue, Quezon City.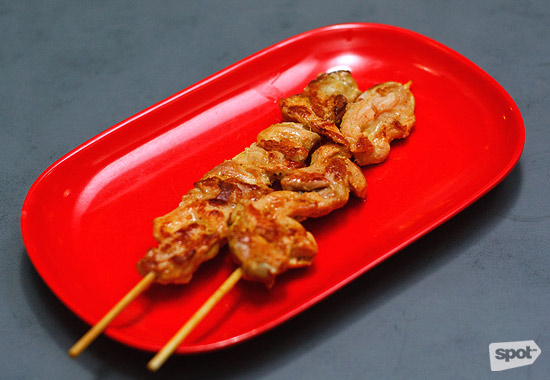 ADVERTISEMENT - CONTINUE READING BELOW
4. Uncle Moe's 
Uncle Moe's is a neighborhood go-to for many of the residents and students who live near their branches. Craving cheap, tender, tasty kebabs with warm buttered rice? Head on to Uncle Moe's!
Although better known for their special cheese sauce drenched shawarma or their creamy Moussaka melt, the kebabs at Uncle Moe's are still some of the best in the Metro. The Chicken Kebab (P140/with pita bread, P155/with buttered rice) is incredibly soft and marinated nicely, the Beef Kebab (P140/with pita bread, P155/with buttered rice) tender and flavorful. If you're in the mood for both, you can opt for the kebab platter—two sticks of each with salsa (P173)! Pair these with their below-zero beer and take all your kebab-loving friends for a good night with some great grub.
Uncle Moe's has branches at City Golf Plaza, Julia Vargas Avenue, Ugong, Pasig City; 16 United Street, Kapitolyo, Pasig City; 49 Malinap Street, Teachers Village, Quezon City; F7 Building, Scout Rallos Street corner Tomas Morato Avenue, Laging Handa, Quezon City; and 98 Aguirre Avenue, BF Homes, Parañaque City.
ADVERTISEMENT - CONTINUE READING BELOW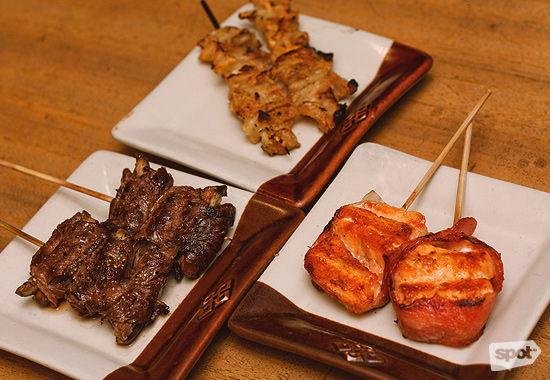 3. Nanbantei of Tokyo 
Boasting branches in Tokyo, Singapore, Shanghai, and Hong Kong, Nanbantei of Tokyo is undoubtedly a master when it comes to making yakitori that fits the Asian palate. 
When asked which their bestsellers are, our server was quick to point out three favorites, the Shiitake Maki (P260/two sticks), Kawa (P75/two sticks), and Namajake Sumi Yaki (P300/two sticks). 
ADVERTISEMENT - CONTINUE READING BELOW
The Shiitake Maki is tender yakiniku beef wrapped around shiitake mushrooms, a great combination of earthy, grilled, and juicy all at once. The Kawa or chicken skin is a crunchy delight. Be sure to ask them to have it grilled to crispy! Finally, the Namajake Sumi Yaki or grilled salmon wrapped in bacon was something else: Grilling the bacon on the salmon allows the fat to drip on and flavor the fish even more, making it a salty-savory love child of two things you've always adored. 
Tip: Have their awesome yakitori with Yaki Onigiri or grilled rice balls (P85), a great side dish that comes to you toasted with the smell of roast nori wafting in the air the minute it lands on your table. 
Nanbantei has branches at Greenbelt 3, Makati City; Bonifacio High Street Central, 7th Avenue, Bonifacio Global City; and opening soon at Alabang Town Center, Muntinlupa City. Read more about Nanbantei.
ADVERTISEMENT - CONTINUE READING BELOW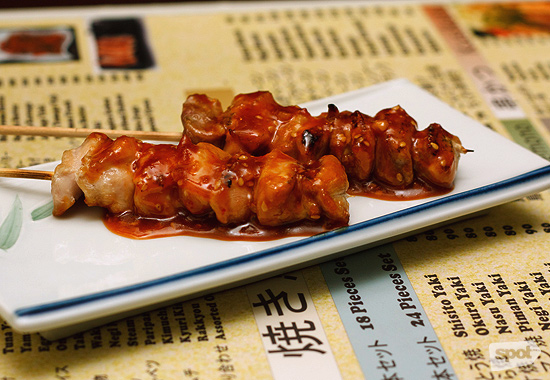 2. Oishinbo 
In the heart of Little Tokyo is a little-known haven for yakitori lovers called Oishinbo. The interiors are reminiscent of little family-owned restaurants in Japan, with a smaller area for sushi and a large grill where you can watch a yakitori master blow smoky fumes of yummy skewered goodness into the rest of the restaurant. 
ADVERTISEMENT - CONTINUE READING BELOW
What you can't miss at Oishinbo is the Miso Chicken Yakitori (P70/stick), arguably one of the best chicken dishes in Manila. The tender, skewered chicken breast cubes are slathered in a delectable sweet-savory miso glaze that you'll love so much you'll want to dip everything edible on your table in it just to make it simot. 
Oishinbo is at Little Tokyo Complex, 2277 Chino Roces Avenue, Legazpi Village, Makati City.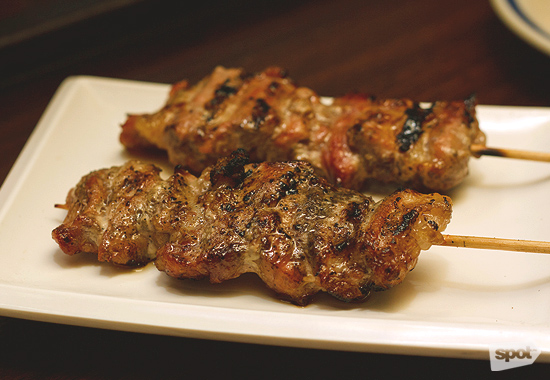 ADVERTISEMENT - CONTINUE READING BELOW
1. Izakaya Kikufuji 
Say Izakaya Kikufuji to any of Manila's hardcore Japanese food fans and they'll probably get this glazed look in their eyes and excitedly mention the two-word cult favorite: Gyu Kushi. It slays everything else.
This absolutely tender, melt-in-your-mouth Wagyu is grilled and seasoned simply, with ground pepper providing a subtle kick to the fatty beef. At P125 a stick it's definitely a higher end choice of your meat-on-a-stick favorites, but trust us, it's always absolutely worth it. 
For pork lovers we recommend the Butabara (P45/stick), which is like a cleaner, leaner, but heftier version of your Pinoy barbecue. Served lightly salted and grilled to perfection-a feat, considering how easy it is to overcook pork and turn it from juicy to dry and rock-like. It's no wonder this remains to be another crowd favorite—among many of course—at Izakaya Kikufuji. 
Izakaya Kikufuji is at Little Tokyo Complex, 2277 Chino Roces Avenue, Legazpi Village, Makati City.
ADVERTISEMENT - CONTINUE READING BELOW
Photos by Pia Guballa and Jio Igual
Share this story with your friends!
---
Help us make Spot.ph better!
Take the short survey
Load More Stories