PRESS by Fully Booked
3/F Power Plant Mall, Rockwell, Makati City
Contact: 804-3591
Open daily from 10 a.m. to 10 p.m.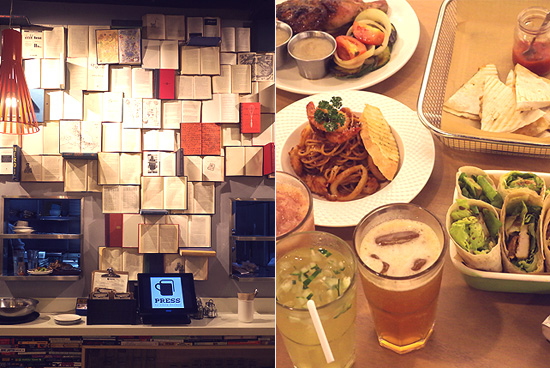 (SPOT.ph) PRESS has always seemed ironic. Situated right inside select Fully Booked branches, it's supposed to—or we assumed, at least—inspire you to you read, but amid the glorious new-book smell of the bookstore come the dog-eared pages of the few magazines on PRESS's shelves.
Someone else may have noticed because the PRESS in Full Booked Rockwell has renovated and rebranded, with more offers and exciting new interiors that will delight any bibliophile. Books are now incorporated into their design—a collage by the counter, a Jenga-like stack of pocket books near the entrance, cut-out art installations propped against a wall—and they're even available for reading!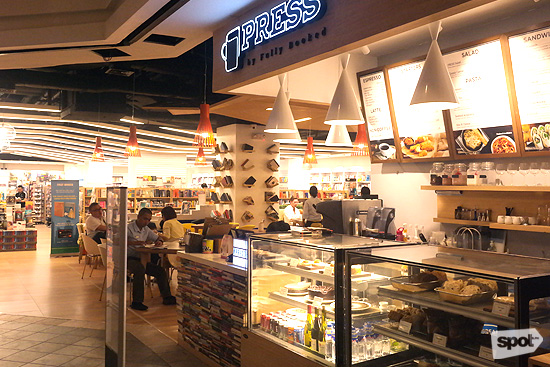 ADVERTISEMENT - CONTINUE READING BELOW
The new look goes for a more open plan.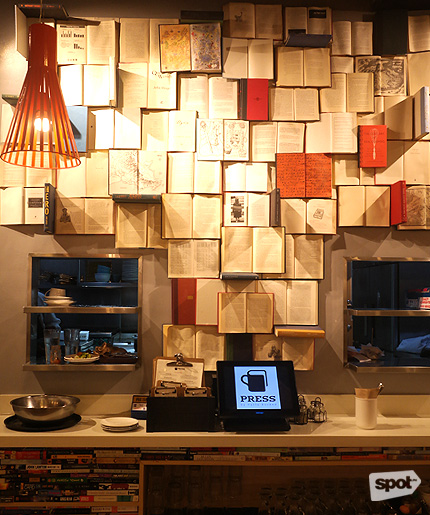 Wall decor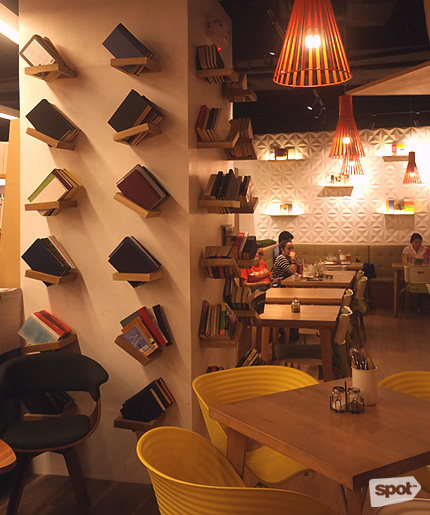 The books on the pillar are available for reading.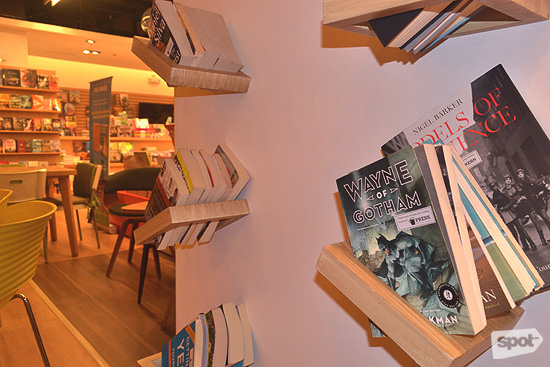 Broad selection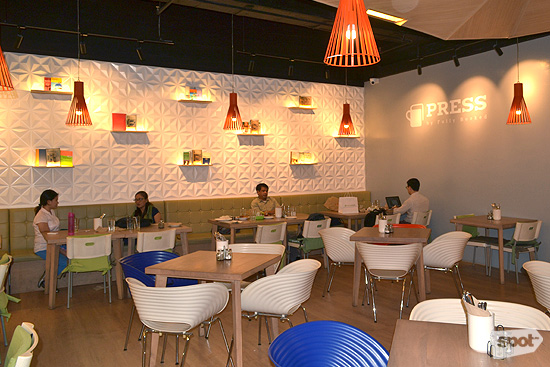 Board games are also available.
There's a pillar inside the cafe dedicated to books. The shelves feature trendy, diagonal slots and fit about a hundred titles, specially curated by the Fully Booked team. There's a good range in terms of theme. Titles include Tracy Hickman's Wayne of Gotham, Jonas Jonasson's The Girl Who Saved the King of Sweden, Nigel Barker's Models of Intelligence, Steve Harvey's Act Like a Success, Think Like a Success, Liz Wiseman's Multipliers, and more.
Once you're done reading, there's a library card on the inside cover that asks you to jot down a one-word review, as well as your Twitter handle for future social media posting.
Board games like Monopoly, Monopoly Deal, Connect 4, and Tic Tac Toe are also available for use while in the cafe.
The book influences trickle down to the menu. The Jabberwocky (P320) sandwich is quite the eye-catcher: Referencing the Red Queen's Jabberwock chimera in Alice in Wonderland, this beast of a burger comes with a thick, juicy beef patty; melted cheddar cheese; crispy bacon; deep-fried breaded dill pickles; and caramelized onions in a sesame bun. Jalapeno is served on the side for that extra kick.
ADVERTISEMENT - CONTINUE READING BELOW
The Merlin (P220) is another burger that leaves you spellbound. It boasts a hypnotizing quarter-pound all-beef patty with mustard, cheddar cheese, onion rings, and tomatoes.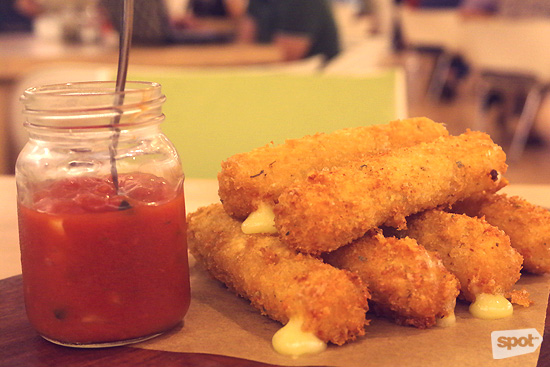 Mozzarella Wands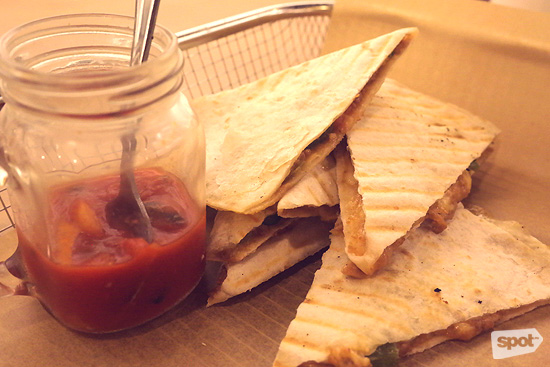 Pressadilla
PRESS patrons would be happy to know that the old bestsellers are still very much available. The Pressadilla (P195 to P350) is still the reimagined quesadilla featuring a secret recipe of spicy ground meat, mozzarella, cheddar and fresh tomato salsa, sandwiched in a grilled soft flour tortilla. Another snack favorite are the Mozzarella Wands (P235), with crunchy deep-fried bread coating on the outside, and herbs, salsa, and oozing mozzarella on the inside.
If you want something convenient for reading, go for chips. PRESS's new and improved Booklover's Dip (P220) is suited for those who can't put their book down. The crisp tortilla chips served with a rich and creamy dip is the perfect reading companion. Enjoy it with either the Press Punch (P99), Grape Shake (P99), or Press Iced Tea (P99).
A new item from the breakfast line are the Peanut Butter and Cacao Pancakes (P190). If you want to pack up some energy as you ride, pasta lovers can enjoy options like Mushroom Pasta (P250), Spinach and Mushroom Cannelloni (P280), and Seafood Arrabiatta (P250). The latter is a extremely flavorful, with spicy tomato sauce and heaps of shrimp, fish fillet, clams, and squid.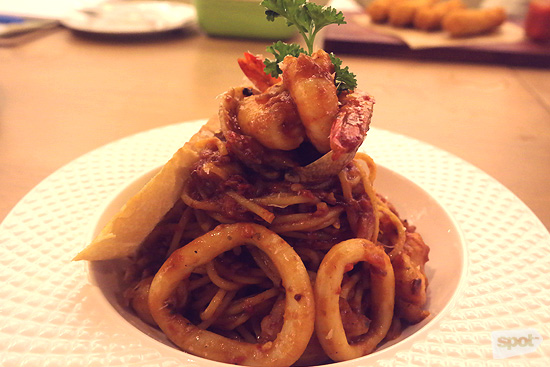 ADVERTISEMENT - CONTINUE READING BELOW
Seafood Arrabiatta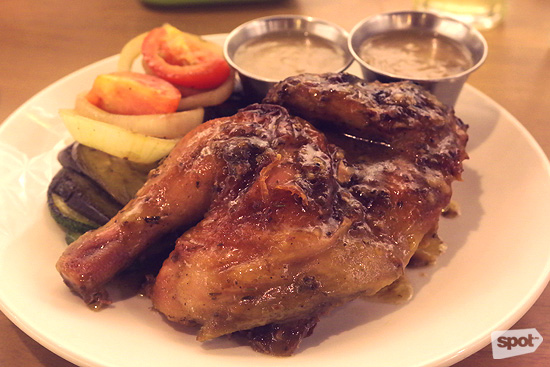 Herb Roast Chicken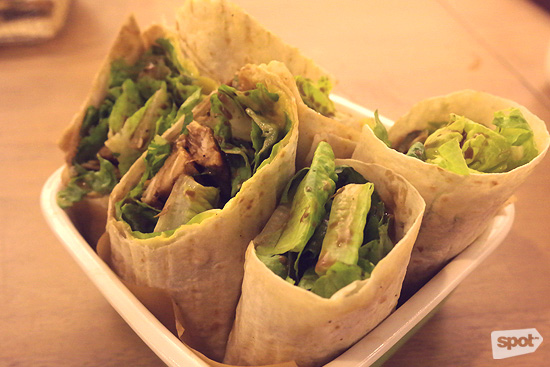 Chicken Roulade
For the health-conscious, there's Chicken Roulade (P275), a tasty wrap of grilled chicken and chopped cucumber in a soft tortilla, drizzled with a special balsamic and honey mustard sauce. If you're looking for something more substantial, there is the Herb Roast Chicken (P290 to P450), slow-roasted with a special blend of herbs and spices, served with grilled vegetables and gravy. Finish it off with French Apple Tart (P150) and Sticky Pudding (P80).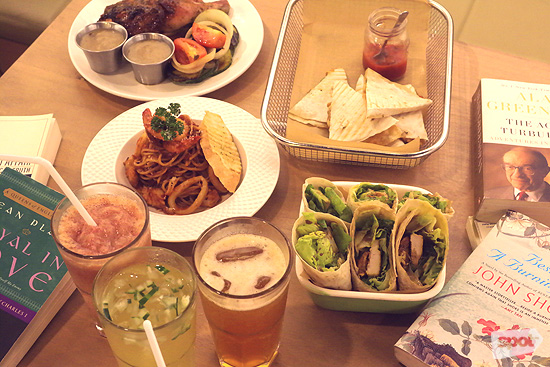 Make sure not to leave stains on the pages!
And because a love for books starts young, PRESS also has kiddie meals (P190) full of sliders, potato chips, and Lego jelly, or a combo of chicken tenders, spaghetti, and Lego jelly.
Click here for a list of other PRESS branches.
Photos by Juan Sinag Cano
Also read:
10 Cafes in Manila That are Perfect for Book Lovers
10 More Cafes in Manila That are Perfect for Book Lovers
Share this story with your friends!
---
Help us make Spot.ph better!
Take the short survey
More Videos You Can Watch
Load More Stories