Top 10 Steaks Under P500 (2016 Edition)
Steak will always be special, but that doesn't mean you have to go bankrupt.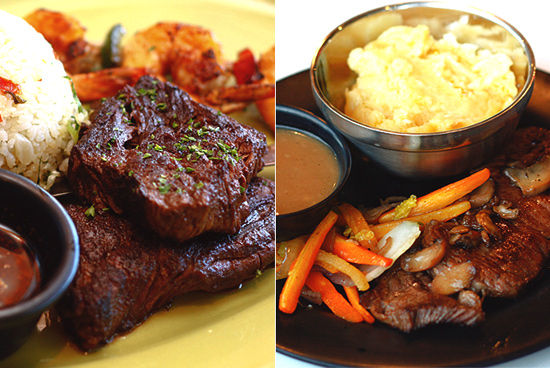 (SPOT.ph) For many, steaks are luxury comfort food, something you have on celebratory or festive occasions, or rare moments when one feels extra ravenous and only a hunk of protein will satisfy a craving.
Gone are the days when you had to wait for a milestone for your slab of happy beef (maybe because you had to save up for it). Taste can always find a compromise with affordability. We're showing you 10 places to get steaks for under P500. Some old and consistent favorites linger, but there are a number of new places our stomachs have sworn allegiance to—all of which serve beefy, juicy, flavorful steak your tummies and wallets would love.
All SPOT.ph Top 10 lists are researched, paid for, tested, and selected by the writers and editors. They are discreetly conducted without any notice made to the restaurants or their owners.
Also read:
Top 10 Steaks in Manila (2011 Edition)
Top 10 Steaks in Manila (2015 Edition)
Top 10 Steaks Under P500 (2014 Edition)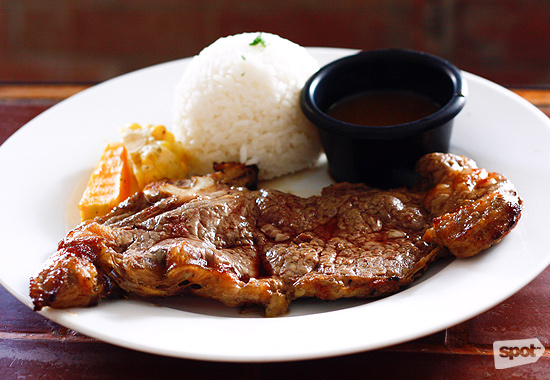 ADVERTISEMENT - CONTINUE READING BELOW
10. Brickfire's Cowgirl Annie (P164/220 grams, P244/350 grams)
Be it post-rigorous athletic activity or post-exam, exhausted and hungry students of the Loyola area know that when a good, cheap steak meal is what you need, you head to Brickfire. This steakhouse on the corner of Esteban Abada is always full of students looking for their quick steak fix.
The Cowgirl Annie comes in three variants: original, wasabi, and honey mustard. The original is a peppery classic that really lets you appreciate the taste of the Batangas beef. Sometimes, if you're lucky, you'll get a creamy bit of marrow or some crispy steak fat around the sides, which generally makes up for the occasional gristle.
CONTINUE READING BELOW
Recommended Videos
Brickfire has branches at Xavier Residences Building, Rosa Alvero Street corner Esteban Abada Street, Loyola Heights, Quezon City; and UG/F, The Annex, SM City North EDSA, Quezon City. Read more about Brickfire.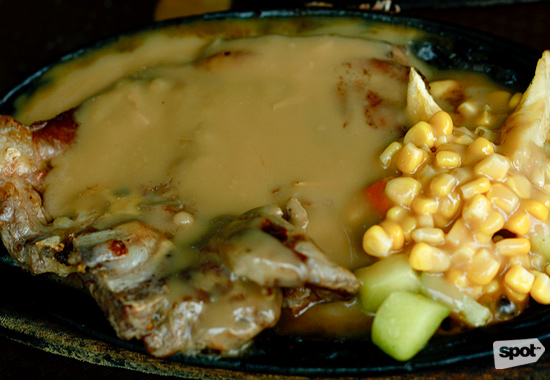 ADVERTISEMENT - CONTINUE READING BELOW
9. House of Minis' Regular Steak (P270)
One of the longest standing steak institutions in Manila, House of Minis remains one of the most reliable places in Manila to get a reasonably priced steak. A regular meal comes with a huge slab of beef, rice, soup, and your standard steak vegetable sides—corn, carrots, and potatoes—it's so filling that your wallet will thank you.
One of the upsides of having steak on a sizzling plate is that you're able to enjoy the fresh-off-the grill smell for longer. House of Minis serves theirs completely slathered with their classic gravy, which crisps up around the fat. The fat can be a challenge to cut through, but the actual steak is tender, juicy, and seasoned with what seems like salt, pepper, and Worcestershire sauce. This steak will leave you nostalgic, your tummy happy.
House of Minis has branches at Food Choices, Glorietta 4, Makati City; Sunshine Square, Liberty Center, 312 Shaw Boulevard, Pleasant Hills, Mandaluyong City; and Shoppesville, Greenhills, San Juan City.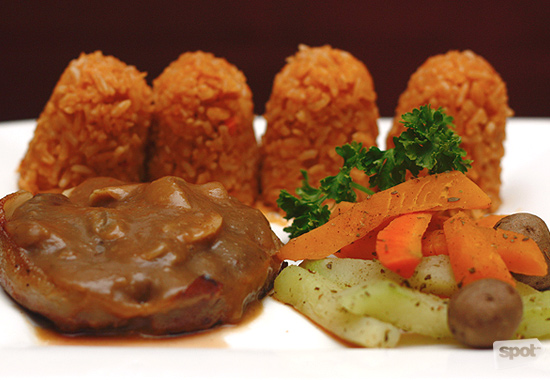 ADVERTISEMENT - CONTINUE READING BELOW
8. Almon Marina's Fillet Mignon (P325)
The comforting neighborhood deli has been around since 1990, having grown from a little store selling seafood and deli meats to the comfort café and deli we know it to be today.
Their Fillet Mignon is a dense little steak wrapped in bacon, served with their signature flavorful rice pilaf and really good herb roasted vegetables. The U.S. steak is seared really nicely—crusty on the outside and pink and tender in the middle. The strip of bacon that envelops the steak gives it the salty, fatty flavor that makes each bite more savory.
Click here for a list of Almon Marina branches.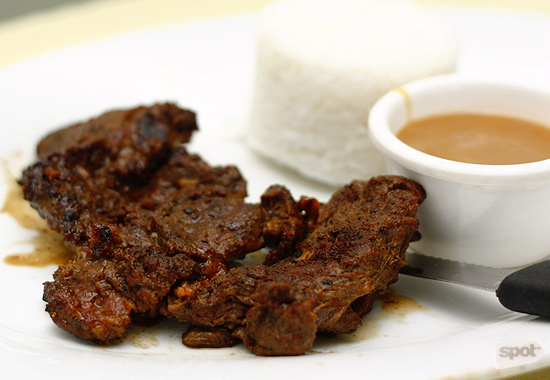 7. Everything at Steak's Rib Eye (P235)
For those who frequent the San Juan-Little Baguio area, one of the best neighborhood haunts for steak is at the Petron gas station on the intersection of V. Cruz and P. Guevarra. In terms of value for money, the stakes are high at Everything at Steak.
ADVERTISEMENT - CONTINUE READING BELOW
Tender, flavorfully marinated, and cut in a generous slab, the steaks come in either the classic Everything at Steak marinade or a New Orleans Rub, which is a spicy Cajun dry mix with herbs and peppercorns. The latter gives you a grilled smoky flavor, which has a surprising kick you don't expect from your standard steak. With a good list of sides and sauces (original mushroom, barbecue, country style, or peppercorn) to pick from, you get a full, bang-for-your buck meal!
Everything at Steak has branches at Petron, P. Guevarra Street, Little Baguio, San Juan City; Continental Court, 47 Annapolis Street, Greenhills, San Juan City; and 939 Banawe Street, Manresa, Quezon City.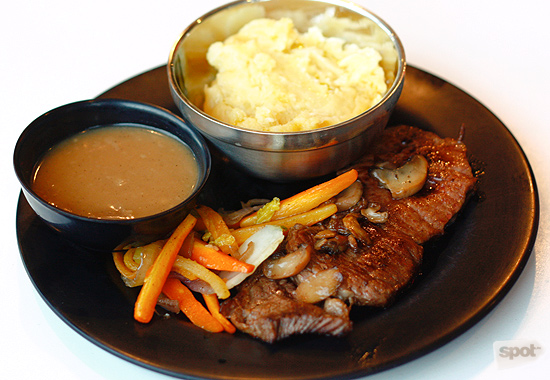 6. Empire Steak's Solo Steak (P250)
Empire's bestseller is the Solo Steak, which you can tell has been marinated for a long time in a good mix of Worcestershire sauce and pepper. It has that lipsmacking salty taste. They tend to make their steaks a little on the well-done side so make sure to verbally ask for a medium rare.
ADVERTISEMENT - CONTINUE READING BELOW
Pro tip: Upgrade the rice to their truffled mashed potatoes and get their special Empire Steak Gravy on the side. The mashed potatoes, drizzled with truffle oil that you smell the minute it hits the table—have a nice and crisp top with a creamy buttery consistency you'll grow to love more with each bite.
Empire Steaks is at 4 Masinsinan Street corner Maginhawa Street, Teachers Village, Quezon City.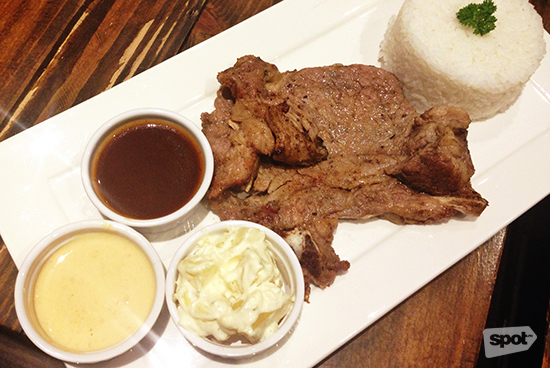 5. Salt's T-Bone Steak (P190)
This steak is big and wide, not thick but definitely not thin either. The seasoning is quite simple (just salt!), but enough to bring out the meaty flavors of the beef. Try asking for a rare because it'll come out medium anyway. Except for some chunks around the perimeter, this steak doesn't have a lot of fat, with natural juiciness. With two sauces and two sides, the serving is big enough for two people. The gravy is made of drippings so you'll want it if you need a more aggressive flavor.
ADVERTISEMENT - CONTINUE READING BELOW
Salt is at 5887 Fermina Street corner Enriquez Street, Makati City. Read more about Salt.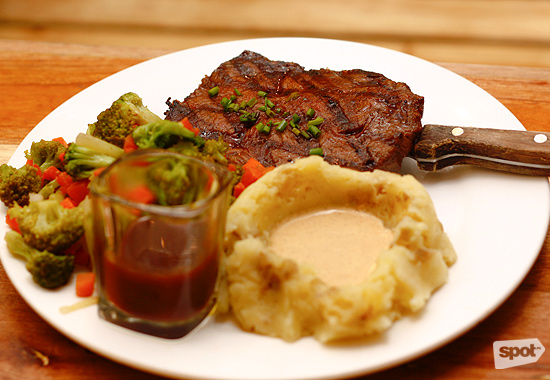 4. Signature Steak from Mad Mark's (P315)
The steak is USDA, seasoned and grilled to perfection. One of the best parts about the Mad Mark's steaks is how customizable they are. You can choose from a variety of sauces—they have four kinds, but the Bootstrap and Johnny Double Black are our favorites. The steaks also come with a choice of two sides. Whether you want to go the healthy route and have some broccoli, carbo load with their yummy garden grains, or have savory, saucy, mashed potatoes, there is an ideal, personal steak meal for everyone at Mad Mark's.
Mad Mark's has branches at Glorietta 5, Makati City; 23 East Capitol Drive, Kapitolyo, Pasig City; Central Square, 5th Avenue corner 30th Street, Bonifacio High Street, Bonifacio Global City; and UP Town Center, Katipunan Avenue, Quezon City. Read more about Mad Mark's.
ADVERTISEMENT - CONTINUE READING BELOW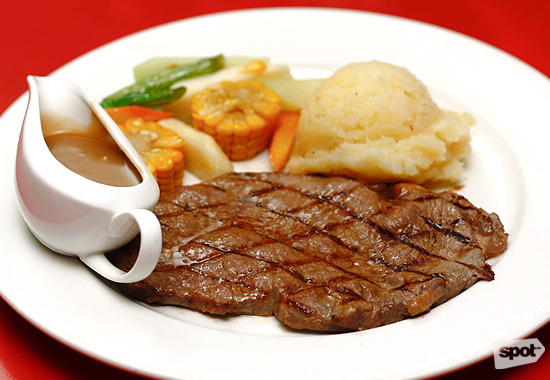 3. Hungry Local Beef from Tender Bob's (P348/five ounces)
They have two categories for you to choose from—Domestic Premium where steaks are priced under P1,000, and the pricier USDA range.
The mushroom gravy it comes with is peppery and really flavorful. The vegetables on the side are unexciting, but that may be so your focus is kept on the great steak before you. It is very well-seasoned, grilled to a lovely doneness—cooked slightly rare to allow you to really appreciate the quality of the beef. It's almost melt-in-your-mouth, but with a good bite to it.
Tender Bob's has branches at Greenbelt 2, Makati City; and Shangri-La Plaza, Ortigas Center, Mandaluyong City.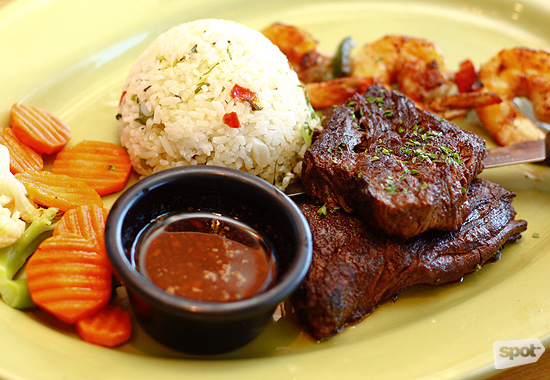 ADVERTISEMENT - CONTINUE READING BELOW
2. Casa Verde's The Dax (P348) and Surf & Turf (P348)
Cebu's beloved Casa Verde came to Manila almost two years ago, slowly spreading the love for their savory ribs across the archipelago. What most people don't know is that the steaks here are just as great a deal.
The Dax, for example, is a USDA rib-eye fillet steak topped with rich, creamy, brown sauce laden with onions and mushrooms. Served with some tavern shrimps on the side, tartar sauce and garden grains, it's one very satisfying meal definitely worth more than its price tag. For those looking for something a little more traditional, the Surf & Turf is a charbroiled rib-eye fillet drizzled with balsamic glaze, served with succulent shrimps. The latter really lets you appreciate the taste of the hefty cut of beef with its toasted edges and juiciness. The portions are so large you could probably share—if you'd want to!
Casa Verde has branches at UP Town Center, Katipunan Avenue, Quezon City; and SM Megamall, Mandaluyong City.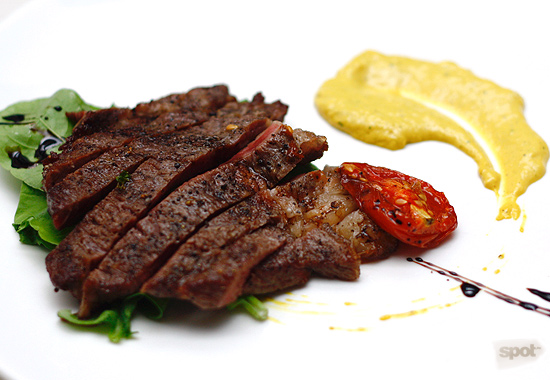 ADVERTISEMENT - CONTINUE READING BELOW
1. Open Kitchen's Seared Rib-eye Starter (P498)*
Open Kitchen by 48 Concepts is one of the best hidden gems in the Kapitolyo area. With its cozy ambience, friendly staff, and incredibly well thought-out menu, a meal here always feels both fancy and familiar all at once. Among the many great dishes on the menu, one of the brightest stars is their rib eye.
Served medium rare, the rib-eye starter is a generous cut of quality beef (order a side and it could honestly be a meal) seasoned simply with salt and pepper, and seared to an incredibly tender state. This little steak is closest in quality and taste to the steaks you get at more high-end restaurants or hotels. Served with a heap of balsamic glazed arugula, cherry tomatoes, and a wedge of good Parmesan—with the cutest little grater—this is a new and special steak experience that allows you to try excellent steak in a new way, without breaking the bank.
Open Kitchen by 48 Concepts is at 71B East Capitol Drive, Kapitolyo, Pasig City.
*Open Kitchen has closed.
Photos by Pia Babao Guballa and Yvette Tan (Salt)
Share this story with your friends!
---
Help us make Spot.ph better!
Take the short survey
Load More Stories