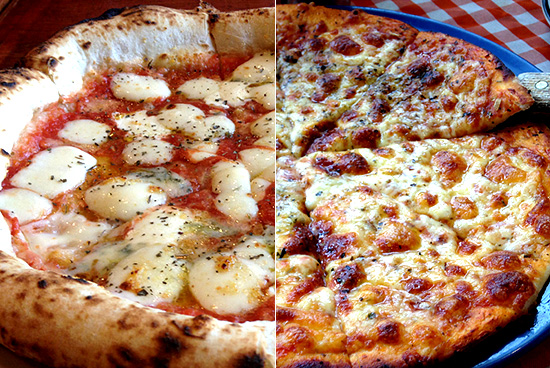 (SPOT.ph) The last time we took on the admittedly daunting task of handpicking the best cheese pizza in Manila was in 2012. A lot has changed since then, thanks to the growing and dynamic culinary landscape across the Metro. Though our appetites may often veer towards pies bombarded with toppings, we will always take comfort in a humble cheese pizza. After all, there's nothing like watching gooey cheese ooze over the crust's edges as you lift a slice.
That being said, simplicity doesn't necessarily translate to plain. And with more and more restaurants offering their own spin on a classic, we managed to narrow down our favorites based on the following criteria: the right cheese-to-crust ratio, a perfectly crafted dough (soft and chewy, yet sturdy enough to hold its components together), and balance and complexity of flavors (no one ingredient overpowering the other).
From the simple one-cheese to the daring four-cheese, here are the 10 pizzas that will wow your taste buds and sate your cheesy cravings.
All SPOT.ph Top 10 lists are researched, paid for, tested, and selected by the writers and editors. They are discreetly conducted without any notice made to the restaurants or their owners.
Also read:
Top 10 Cheese Pizzas
Top 10 Margherita Pizzas in Manila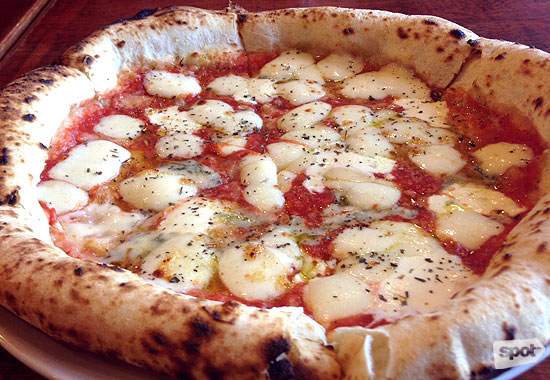 ADVERTISEMENT - CONTINUE READING BELOW
10. Four Cheese (P350) from Gino's Brick Oven Pizza
Gino's pizza is a looker: Their signature wood-fired oven chars the edges of the hefty crust with thick chunks of milky-white cheese atop a bed of tomato sauce. They use a combination of mozzarella, ricotta, and Parmesan, with blue cheese adding a pungent kick. Like all Gino's pizzas, its chewy crust doesn't stay firm for too long so it's best eaten fresh out of the kitchen. The tomato sauce is tangy, but tends to lean towards too-acidic territory. 
Click here for a list of Gino's Brick Oven Pizza branches.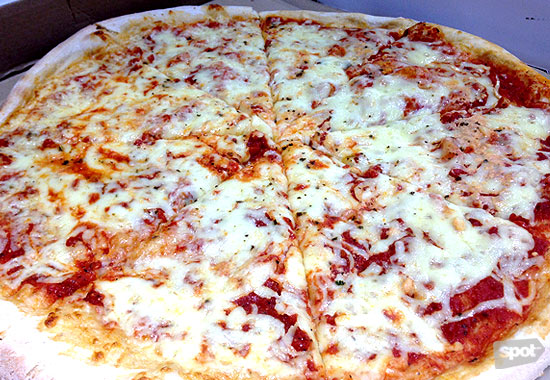 9. Sbarro's Cheese (P49/slice, P289/whole)
The bestseller at Sbarro is the White Pizza, but their Cheese is just as satisfying. This no-frills pie doesn't need a lot of fanfare to make a statement—just a generous layer of whole-milk mozzarella that saves you from the dreaded umay factor. The value-for-money price is an added bonus!
ADVERTISEMENT - CONTINUE READING BELOW
Recommended Videos
Click here for a list of Sbarro Philippines branches.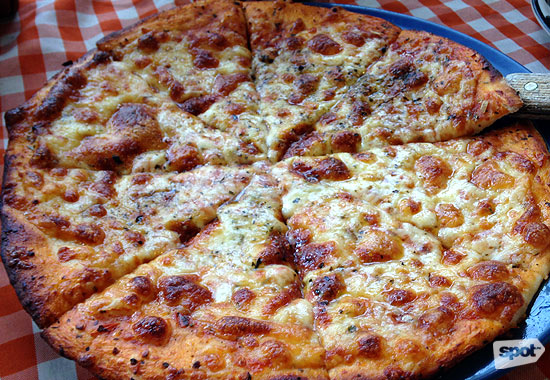 8. Friuli Trattoria's Tre Formaggi (P190)
Friuli is a reliable Maginhawa spot for a reason. Don't let its price (or presentation) deter you from digging in—the flavors of the best-selling three-cheese pizza speak for themselves. A chewy, whole-wheat crust is home to two layers of mozzarella and cheddar, with the added complexity of blue cheese that isn't too pungent to the point of overpowering the pizza. 
Friuli Trattoria is at 79-A Maginhawa Street, Teachers Village, Quezon City (434-1416).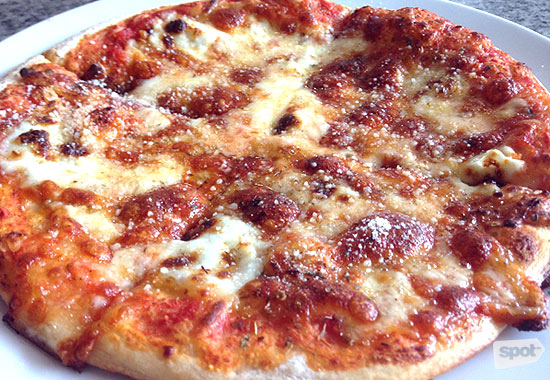 ADVERTISEMENT - CONTINUE READING BELOW
7. Joey Pepperoni Pizzeria's Quattro Formaggi (P225/eight-inch, P420/12-inch)
People often flock to this joint for the pepperoni pizza, but the cheese pizza—a winning combination of mozzarella, fontina, Parmesan, and ricotta—is a well-balanced number that doesn't need meaty toppings to be memorable. Its tasty crust is thick and chewy without being too doughy; it serves as a sturdy base to the rich layers of cheese.
Click here for a list of Joey Pepperoni Pizzeria branches.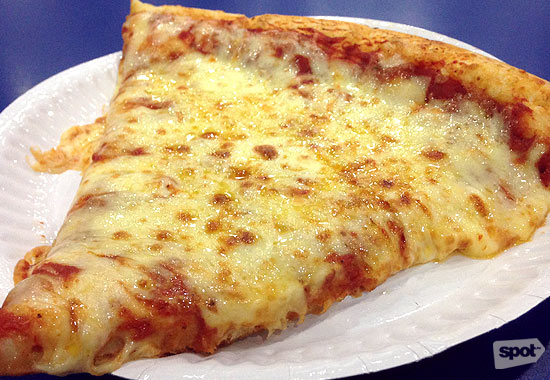 6. S&R New York Style Pizza's Cheese (P99/slice, P569/whole)
It's a good thing that S&R finally decided to open several sit-down restaurants across Manila because non-members wouldn't want to miss out on their sizable pizzas. They have their ratios down pat, whether it's cheese that is generously piled atop a mild yet perfectly tangy tomato sauce, or a chewy base with just the right amount of smoky char. Your appetite will appreciate its affordable price, just in case you want more...and you likely will.
ADVERTISEMENT - CONTINUE READING BELOW
S&R New York Style Pizza has branches at G/F 150 Emperador Building, Newport Boulevard, Newport City, Pasay City; UG/F Puregold Mall, Aurora Boulevard, Cubao, Quezon City; G/F Ayala Fairview Terraces, Maligaya Road corner Quirino Highway, Fairview, Quezon City; G/F LeGrand Tower 2, Eastwood City, Libis, Quezon City;and 2/F UP Town Center, Katipunan Avenue, Quezon City.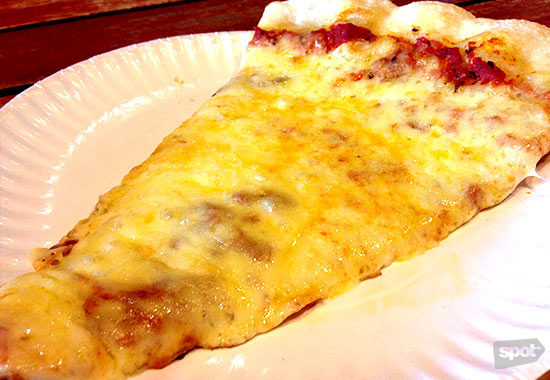 5. Nolita's Regular Cheese (P120/slice)
Nolita's pizza will take you straight to New York's sidewalks: a hefty number (a slice from a 20-inch pie) casually served on a paper plate, with glistening cheese atop a bed of mildly tangy tomato sauce and oozing over the pie's crisp yet pliable edges. It's clear that cheese is the star here—something your taste buds will thank Nolita for.
Nolita is at 7th Avenue corner 29th Street South, Bonifacio High Street, Bonifacio Global City.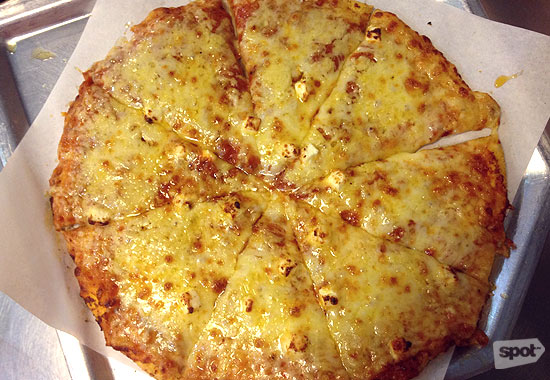 ADVERTISEMENT - CONTINUE READING BELOW
4. Yellow Cab's #4 Cheese (P330/regular, P545/large, P795/New Yorker)
Yellow Cab's pizza is a solid party staple that needs no introduction, and yet here we are, waxing poetic over their #4 Cheese. The chewy dough is browned in the right places, giving way to a harmonious medley of mozzarella, cheddar, romano, and crumbles of feta—the latter adding a creamy yet sharp complexity to its flavors. Bite into a slice and you get that stretchy texture that pizza commercials always highlight...without the fear of umay, thankfully.
Click here for a list of Yellow Cab branches.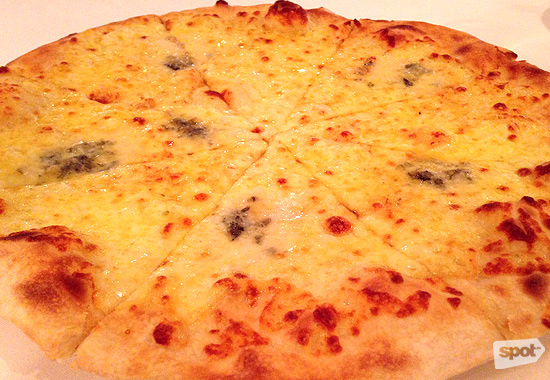 3. Caruso Ristorante's Quattro Formaggi (P780)
Don't let Caruso's stiff, bistro ambience deter you from happily digging in. These folks definitely know how to whip up a pizza of perfect proportions, from the even dough that maintains its chewy texture to the heavenly balanced foursome of mozzarella, ricotta, Parmesan, and mounds of gorgonzola. (The latter gives the pizza a much-needed kick without overpowering the rest of the ingredients.) You'd need to shell out quite a bit to enjoy this cheesy number, but these balanced flavors won't require further convincing.
ADVERTISEMENT - CONTINUE READING BELOW
Caruso is at 210 Nicanor Garcia Street (formerly Reposo Street) Bel-Air Village, Makati City.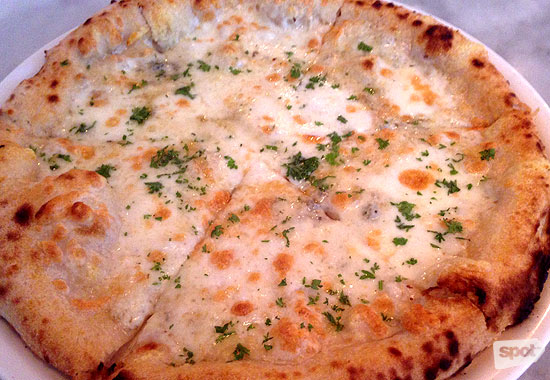 2. Motorino Pizza's Quattro Formaggi (P675)
A lot of people like to leave out the crust when eating pizza, but you'll appreciate Motorino's gorgeously baked dough. Break apart the golden-brown crust to reveal a moist, pillowy soft core that sets the stage for the star of the show. Motorino skips the tried-and-tested cheese pizza combinations and instead, goes for pecorino, gorgonzola, provolone, and fior di latte. We marvel at how each component is delightfully distinct: from the visually satisfying fior di latte that stretches at every bite to the subtle nuttiness from the pecorino and the sharp hint of gorgonzola. Motorino's pie comes in just four slices, but their pizza leaves you more than satisfied.
Motorino Pizza is at L/2 Greenbelt 3, Ayala Center, Makati City. Read more about Motorino Pizza.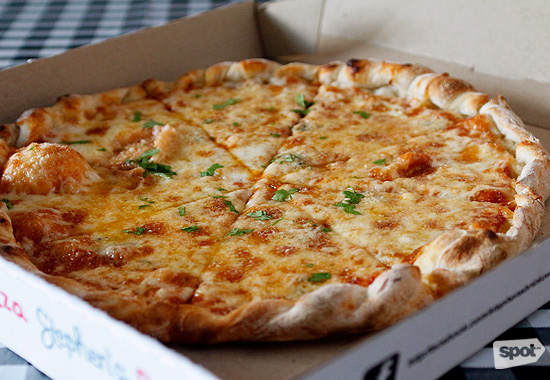 ADVERTISEMENT - CONTINUE READING BELOW
1. Four Cheese (P320) from Stephen's Brick-Oven Pizza
You'd need to keep your eyes peeled for Stephen's Pizza along bustling P. Gueverra Street, but trust us when we say this is pizza worth the legwork. The joint is so tiny that you can easily watch your pizza lovingly and painstakingly made from scratch, kneaded dough and all. It's a fascinating show that prepares you for the main event: a fragrant 12-inch pizza with bubbling cheese bursting at the edges and still steaming from its time in the oven. The pizza is a gloriously gooey marriage of mozzarella, fontina, Parmesan, and blue cheese. You'll taste the distinct flavors bouncing off each other, from the buttery and nutty fontina to the subtly pungent complexity of the blue cheese. The crust's texture is soft and chewy, yet light enough that you'll soon find yourself devouring every slice without realizing it. It's just that good. Sensational, even.
Stephen's Brick-Oven Pizza is at 89 P. Gueverra Street, Barangay Sta. Lucia, San Juan City. Read more about Stephen's Brick-Oven Pizza.
Also read:
Top 10 Cheese Pizzas
Top 10 Margherita Pizzas in Manila
Share this story with your friends!
---
Help us make Spot.ph better!
Take the short survey
Load More Stories