10 Best Things We Ate in December
Noteworthy dishes in this food-filled month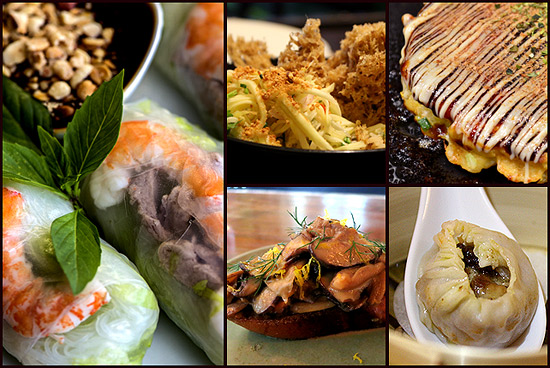 (SPOT.ph) If you didn't already know, here at SPOT.ph, we love food. You need it to live, but we find that there are some dishes that go well past the virtue of necessity. While others content themselves with a deep fryer and the usual salt and pepper, there are some who make—or at least try to make—an art out of it, with delicious displays and even yummier flavors. We believe those that go above and beyond their duty deserve necessary recognition. So here are our top picks among the dishes we ate throughout December.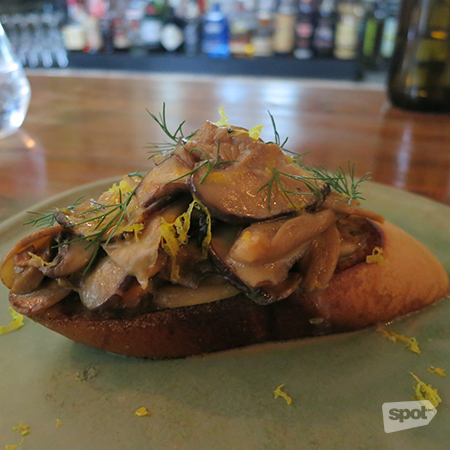 The Girl + The Bull's Mushroom Toast
Amid the wonderful fried chicken and the sinfully satisfying Faux Twix, this yummy toast knows how to grab your attention. The large baguette stage is delightfully crisp. Gab Bustos balances the rich earthiness of mushrooms with a bright twist of ponzu and sour cream. The toast is pretty large, but we're guessing we can eat several in one sitting.
ADVERTISEMENT - CONTINUE READING BELOW
The Girl + The Bull is currently operating during lunch service at 12/10, 7635 Guijo Street, Makati City. Read more about The Girl + The Bull.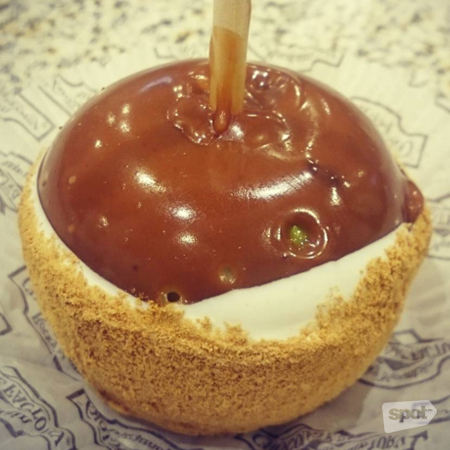 CONTINUE READING BELOW
Recommended Videos
Rocky Mountain Chocolate Factory's Cheesecake Apple
Some wise, anonymous human once said that an apple a day keeps the doctor away. We will definitely eat an entire apple tree's worth if the fruit came from Rocky Mountain. This chocolate factory is good with their chocolates, but what they do with Granny Smiths will help every person keep illness at bay. The simple Cheesecake Apple, which is a large, tart apple dipped in chocolate, white confection (cream, butter, sugar), and crushed graham crackers, doesn't come with cheese, but you won't need it in this case. The caramel is perfectly made, smooth, even, and sticky. It's sweet, but not too much, and it's a great contrast against the sour fruit. Rocky Mountain has many more complicated apple confections, but we love how the few ingredients in this one can leave such a mark on us.
ADVERTISEMENT - CONTINUE READING BELOW
Rocky Mountain Chocolate Factory is at UP Town Center, Quezon City. Read more about Rocky Mountain Chocolate Factory.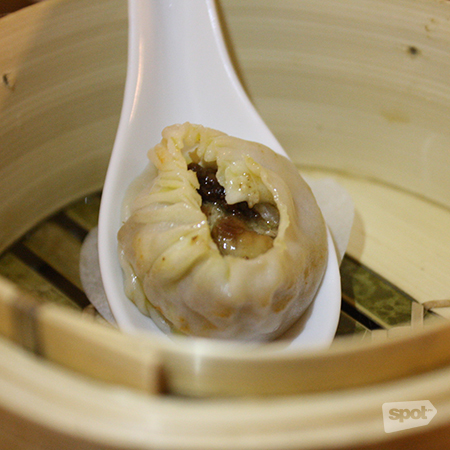 Din Tai Fung's Foie Gras Xiao Long Bao
These babies won't be available till next year, but we can't wait for everyone to try them. The pork xiao long bao each comes with five grams of foie gras to create an unbelievably buttery yet rich mouthful. This isn't an everyday treat like, say, the bestselling pork, but you surely deserve this bite-sized indulgence every now and then.
Din Tai Fung is at G/F SM Mega Fashion Hall, Mandaluyong City. Read more about Din Tai Fung.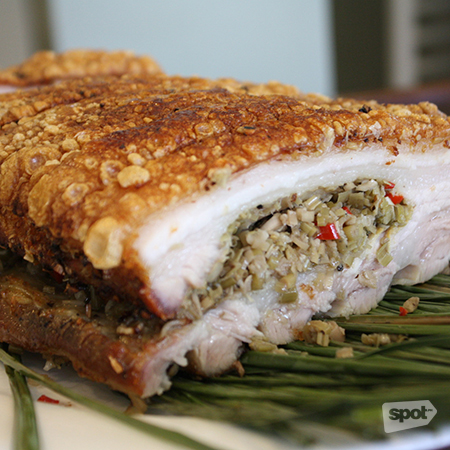 ADVERTISEMENT - CONTINUE READING BELOW
Test Kitchen Caffe's Liempochon
You know how they say it's more about the journey than the destination? This is not true in the case of Test Kitchen Caffe. After miles and miles of road, you'll find relief in their amazing cross-cooked pork dish. The zesty smell from the lemongrass stuffing hypnotizes you. Chefs Gigi Parco and Vincent Completo take a liempo and cook it like Cebu lechon, a compromise that really heightens the flavor of the pork. Thanks to the good ratio of fat right under the crispy, bubbly skin, the meat is impressively juicy.
Test Kitchen Caffe is at Tropical Avenue, Las Piñas City. Read more about Test Kitchen Caffe.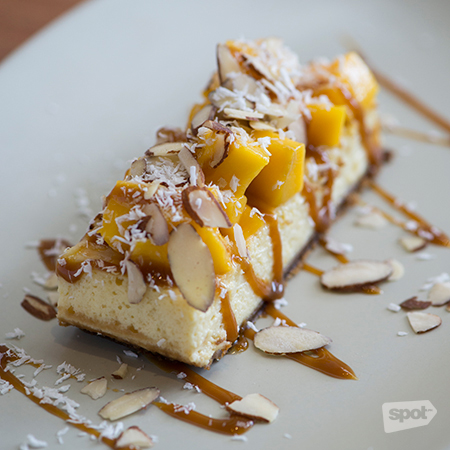 Sobremesa's Salted Caramel Banana Cheesecake
Sobremesa is relatively new, but this cheesecake sure knows how to make first impressions last. It starts off incredibly sweet, but once the salt in the caramel hits, you'll get a great balance of flavors. The glazed bananas on top are just the perfect finish.
ADVERTISEMENT - CONTINUE READING BELOW
Sobremesa is at the Sapphire Bloc, Sapphire Road, Ortigas Center, Pasig City. Read more about Sobremesa.
Nav's Crispy Catfish Salad Rice
Nav's new MO is to make Thai food portable and easier to consume—for those who are either too lazy to eat or too busy to sit down. The pad thai rolls (think Vietnamese goi cuon) are an easy favorite, but we're also partial to the catfish-crowned rice. Your favorite crispy salad is used to top rice, providing a nice, crunchy texture with every spoonful. Strips of green mangoes work the contrast in this heavenly bowl. It's good enough on its own, but you have to try it with the fried chicken.
Nav has branches at 16 United Street, Kapitolyo, Pasig City; and SM Mega Food Hall, Mandaluyong City. Read more about Nav's new menu.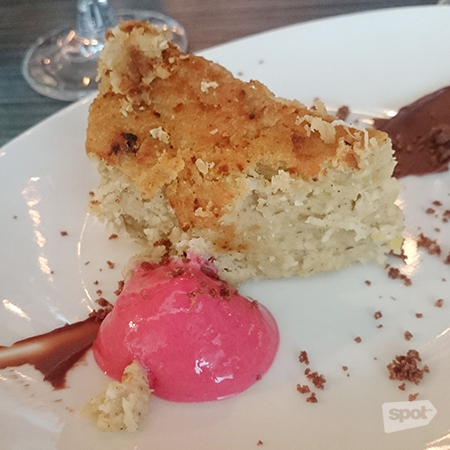 ADVERTISEMENT - CONTINUE READING BELOW
Cross Cultures' Nazi-Viazi Kitamu
African cuisine is a carb lovers' dream, and this dessert is no exception. We can't quite put a finger on it. It's a spongy and airy rice cake (cake as in like dessert and not rice cake as in...biko), sweet, with a grainy texture from coconut. Imagine a bibingka, but with a wonderfully light pudding-esque vibe. It comes with a pink cream, which paints on an intense brightness to the delicious dessert. Someone said that African cuisine was going to be big next year, and we hope we'll see more of this.
Read more about Cross Cultures x Rachaleve Kamau.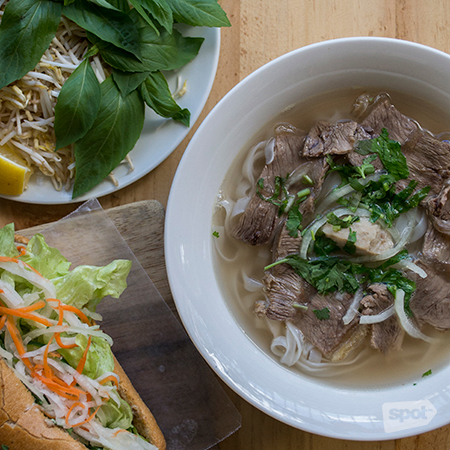 Ca Phe Saigon's Pho Bo Ko
This rainy Christmas demands reinforcements, and what could offer better comfort that a piping-hot bowl of pho? The lightness of this noodle soup hides the tremendous effort it took to develop such subtle but hard-hitting flavors. Beef bones are simmered in the broth for about six or seven hours, and the rich profile is brightened with herbs like basil and bean sprouts. To truly round out the flavors of this Vietnamese staple, make sure to squeeze in the lemon. That extra tartness is all you need to really lift this dish.
ADVERTISEMENT - CONTINUE READING BELOW
Ca Phe Saigon is at 14 Red Cedar Street, Marikina City. Read more about Ca Phe Saigon.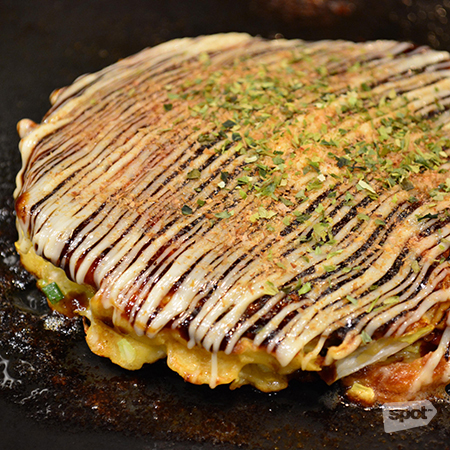 Dohtonbori's Mixed Okonomiyaki
Step out of Manila and into Osaka at Dohtonbori, a quaint restaurant that prepares Japanese-style omelets on the fly. Tossing ingredients into scrambled eggs sounds simple, but the chef at Dohtonbori turns it into something of a performance and an art form—every ingredient is precise and cooking is demonstrated at a table right in front of you. The Mixed Okonomiyaki is your be-all type: an over-the-top but just right creation chock-full of seafood, meat, and veggies glazed with a sticky, salty-sweet sauce.
Dohtonbori is at 8 Missouri Street, Greenhills, San Juan City. Read more about Dohtonbori.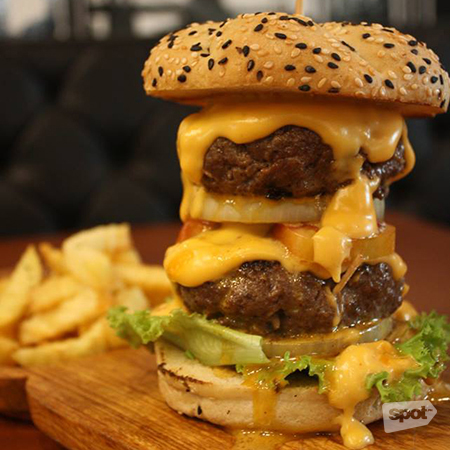 ADVERTISEMENT - CONTINUE READING BELOW
Miguel and Maria's Double Ultimate Burger
Where else can you see a burger of this magnitude for only P280? Only in Marikina. Only at Miguel and Maria, the meeting ground for comfort, hefty portions, and reasonable prices. This is your classic cheeseburger doubled in height! Ironically, you have to enjoy this burger salad-style.
Miguel and Maria is at 89 Lilac Street, Marikina City. Read more about Miguel and Maria.
---
Help us make Spot.ph better!
Take the short survey
Load More Stories