New Restaurant Alert: Test Kitchen Caffe at Tropical Avenue, Las Pinas
Looking for it is an adventure and the reward is a great meal.
Test Kitchen Caffe
B6L7 Tropical Avenue, BF Homes, Las Piñas City
Contact: 0915-558-6334
Open daily from 10 a.m. to 10 p.m.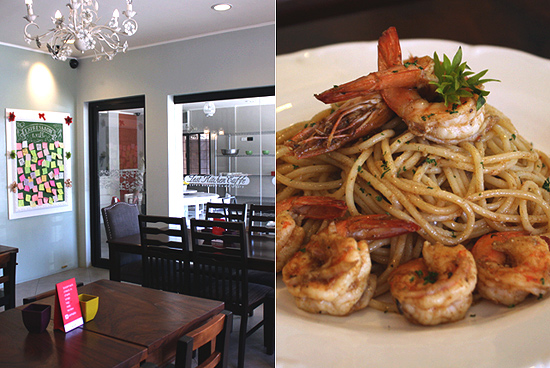 (SPOT.ph) This is a story of two friends. One was a 20-something fresh grad who had just finished a nursing degree; the other was a corporate veteran from a big international company. Both had been playing the please-your-parents, do-the-safe-thing role until they decided that they wanted to chase after "the dream."
Vincent Completo and Gigi Parco met in culinary school. Upon graduation, they asked each other what their plans were. "I told her that I wanted to open a restaurant," recalls Chef Vincent. She did, too. Test Kitchen Caffe opened on Aguirre Avenue in 2014.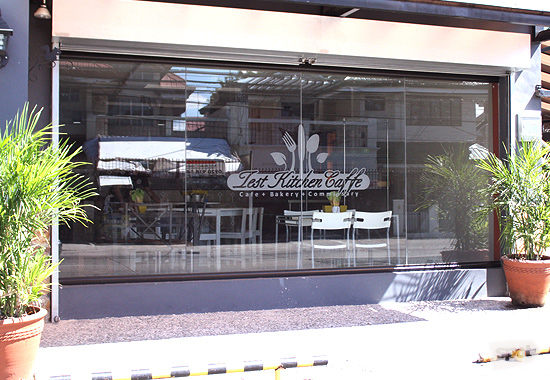 ADVERTISEMENT - CONTINUE READING BELOW
Keep your eyes peeled for this,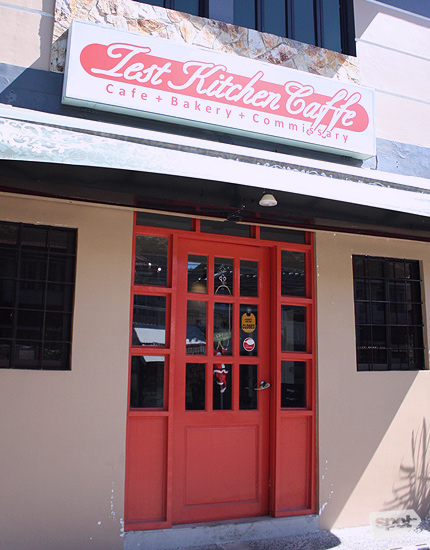 CONTINUE READING BELOW
Recommended Videos
Almost everything is made from scratch and with premium ingredients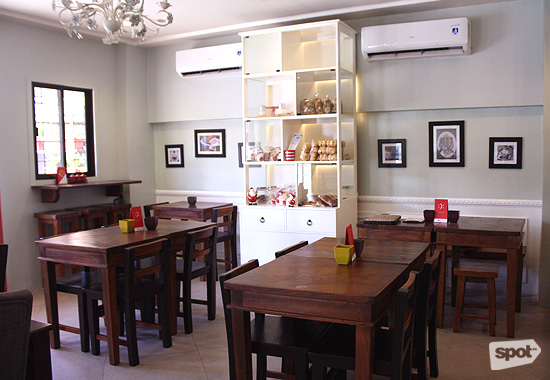 You can see photos of the bestsellers on the walls.
"We weren't exactly on Aguirre," explains Vincent. Instead of a plum spot on the South's busiest eat street, the 23-year-old chef tells us that their restaurant had been on one of those side alleys. They soon uprooted themselves and opened the Las Piñas location in August 2015.
ADVERTISEMENT - CONTINUE READING BELOW
"It's still the same look," says Vincent. The Las Piñas store is slightly bigger, with the commissary on one side and the main eating venue on another. It's so deep in the South that finding it feels like discovering a culinary diamond-in-the rough. With their ever-accommodating staff and rather cozy, unassuming setup, Test Kitchen Caffe certainly works the neighborhood joint feel.
The food is comfort, but quite unlike those we've seen recently in so many other eateries—supposed comfort food but so bent out of proportion that they've become strangers. Test Kitchen Caffe is comfortable and confident in serving familiar dishes in a straightforward manner. "We're not here to please ourselves," says Vincent. "We want our food to please everybody."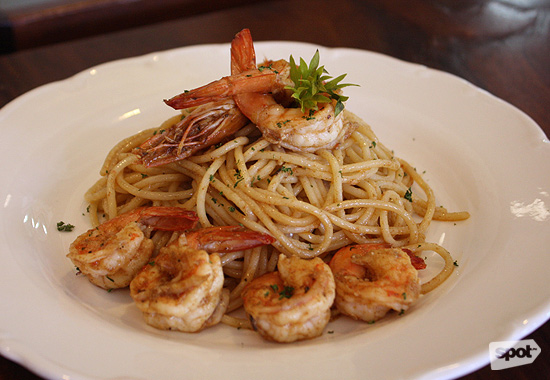 Chili Shrimp Gambas Pasta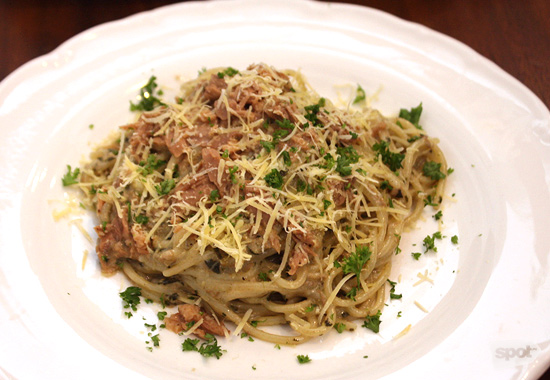 ADVERTISEMENT - CONTINUE READING BELOW
Creamy Tuna Malunggay Pesto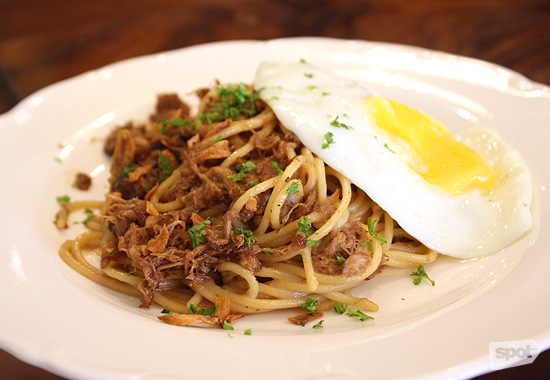 Adobo Pasta
Honest-to-goodness flavors show up in items like the tuna pesto (P180), which is generous with the spicy tuna flakes and forceful with the herby malunggay cream, and the Chili Shrimp Gambas Pasta (P180), whose smoky heat tickles the palate. We love that there are several actual prawns on the plate, and not just for decoration.
In the Adobo Pasta (P180), big, spot-on flavors weave through the tangle of spaghetti, solidifying that tangy-savory profile in every forkful. It's easy to understand what Test Kitchen Caffe tries to do: classics, amplified, perfected, and on point.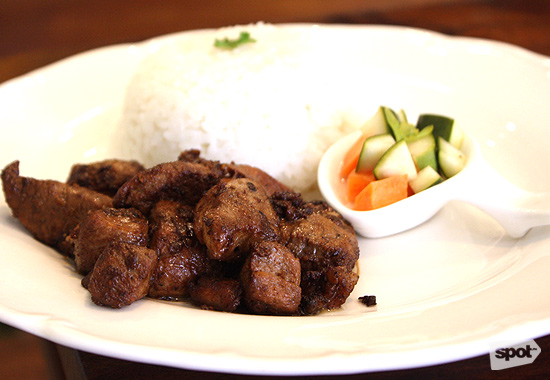 ADVERTISEMENT - CONTINUE READING BELOW
Pork Salpicao (P195)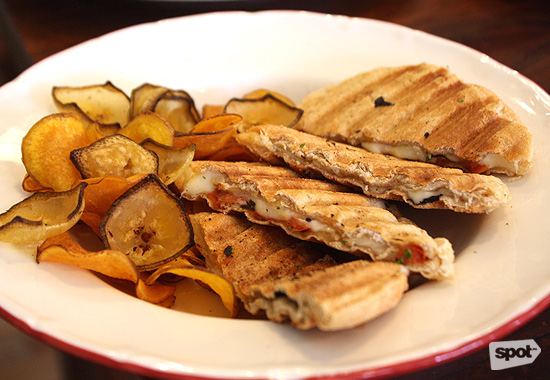 The Meggynini (P120), which is a margherita sandwich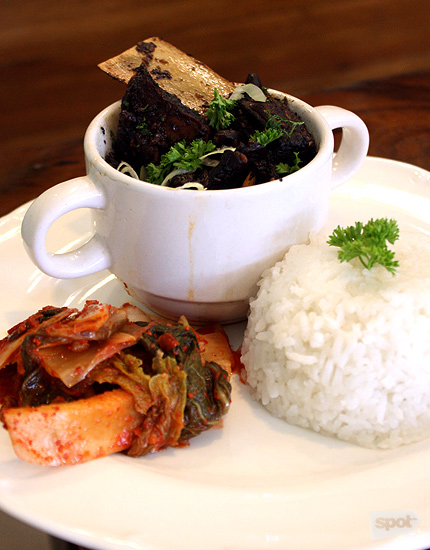 Beef Kalbi
The menu is more focused than conservative, every item so intensely seasoned that it's a must to enjoy it with rice. Chef Vince brings out these Korean-style beef short ribs (P375) that are braised to effortless tenderness. They're salty and robust, and though it's quite satisfying on its own with a spoonful of white rice, the side of kimchi takes it to a different level. They sun-dry their kimchi for 15 days. Its sharp tanginess rounds out the hearty flavor of the beef.
ADVERTISEMENT - CONTINUE READING BELOW
Test Kitchen Caffe takes you back to just fun, easy dining. It's one of those restaurants that makes you regret that eating nowadays is preceded with a requisite few minutes of styling and dozens of Instagram snaps. This cellular photoshoot is near impossible once the famous Liempochon (P225) arrives.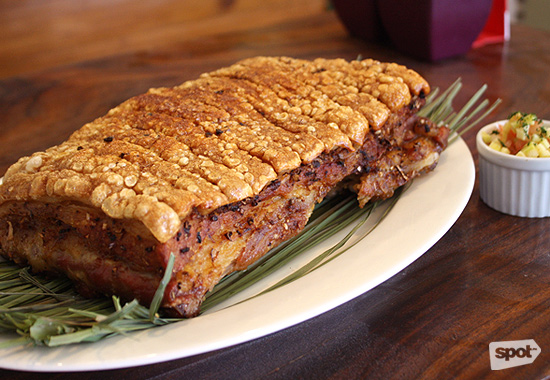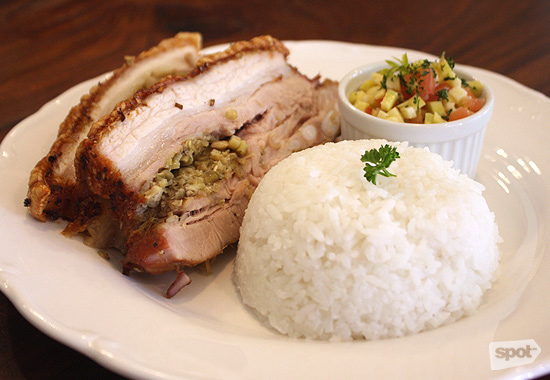 ADVERTISEMENT - CONTINUE READING BELOW
Liempochon
Chef Vince brings out a rack first. It's large, glistening pork belly—a golden masterpiece sitting on a bed of lemongrass. The aroma is rich and zesty, the kind that makes you weak in the knees. Once he slices it, the fragrance from the tanglad stuffing excitedly floats out and settles in the air like a magic spell that has us hypnotized. Suffice to say, all Instagram photos, well…suck.
Chef Gigi is from Cebu so she came up with a way to merge two Filipino favorites into one smash hit. The tanglad delicately integrates itself into the meat as it roasts slowly in the oven, giving off this luxurious, bright taste. Our favorite part is the top half, where you get beautiful layers of sinew, fat, flesh, and skin. Each crispy, succulent bite is like a party in your mouth.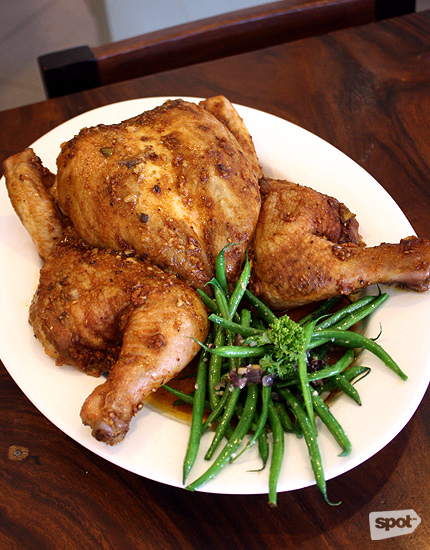 Peri Peri Chicken
More earnest flavors are evident in Test Kitchen Caffe's other main showcase, the Peri Peri Chicken (P195). Chef Vincent confesses that he doesn't use the actual bird's-eye chilies from Africa, but he manages to create a pretty dynamite version of those spices. The chicken is so juicy that adding a sauce seems insulting (it doesn't come with any, anyway).
ADVERTISEMENT - CONTINUE READING BELOW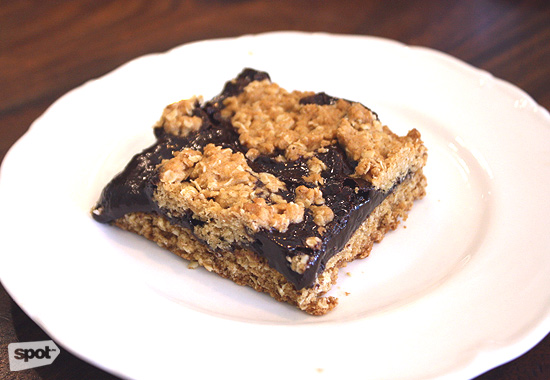 Belgian Chocolate Revel Bar (P80)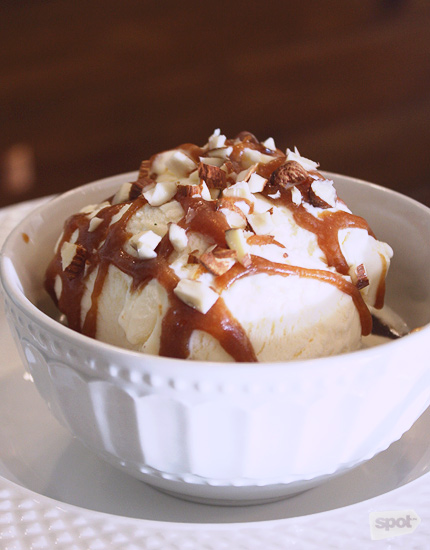 Salted Caramel Brownie Cup (P150)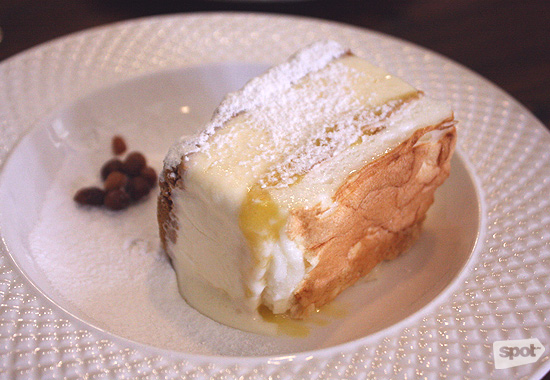 ADVERTISEMENT - CONTINUE READING BELOW
Frozen Brazo de Mercedes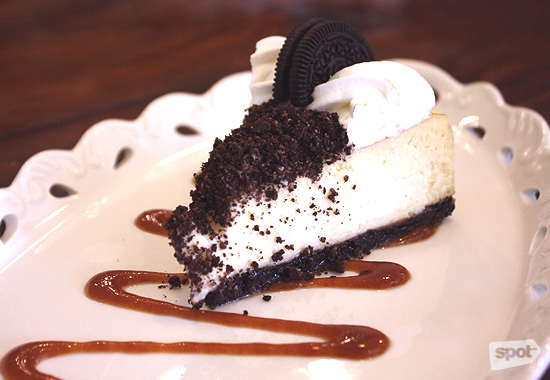 Oreo Cheesecake (P150)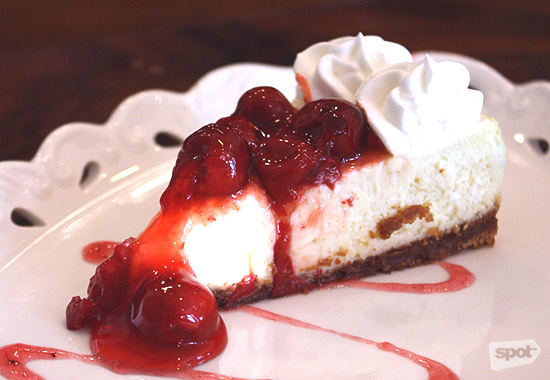 Cherry Cheesecake (P150)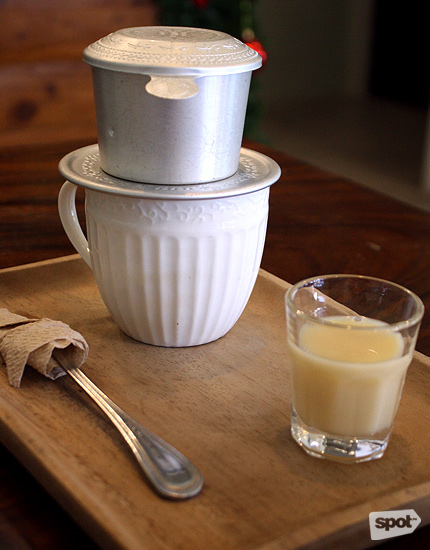 ADVERTISEMENT - CONTINUE READING BELOW
Drip Coffee
Someone told us to watch for the cheesecakes. Chef Vincent loves them and when he went to culinary school, he told himself that he was going to make his own one day. They're textbook. The texture is pure velvet, rich, and beautiful against the light flavor that flaunts just the right hint of cream cheese. It comes in either Oreo or berry. Enjoy it further their Drip Coffee (P80).
With their set of crowd-pleasers, you could accuse the chefs of playing it safe. But the hardest target to hit is always the one that's right in front you. And Test Kitchen Caffe nails the bull's eye every time.
---
Help us make Spot.ph better!
Take the short survey
Load More Stories