New Restaurant Alert: Ca Phe Saigon at Red Cedar Street, Marikina
Savor honest-to-goodness flavors at this neighborhood hangout.
Ca Phe Saigon
14 Red Cedar Street, New Marikina Subdivision, San Roque, Marikina City
Contact: 0917-801-6411, 646-1438
Open from 11 a.m. to 5 p.m. (Monday) and 11 a.m. to 10 p.m. (Tuesday to Sunday)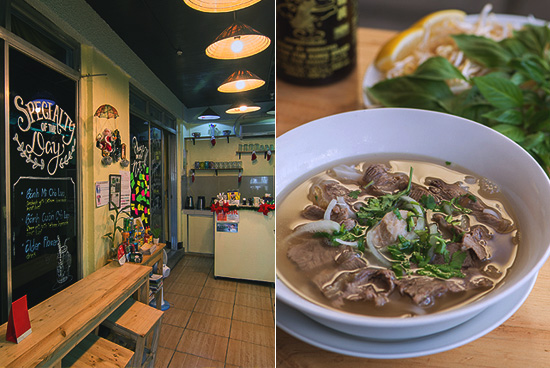 (SPOT.ph) Take it from us. You're going to have to keep your eyes peeled for Ca Phe Saigon, a hidden culinary gem located at a Marikina residential area. The hole-in-the-wall conceals itself as an unassuming home (it's partly true since the restaurant is an extension of someone's house) and it's so nondescript that you'll wonder if your darn navigation app has failed you yet again.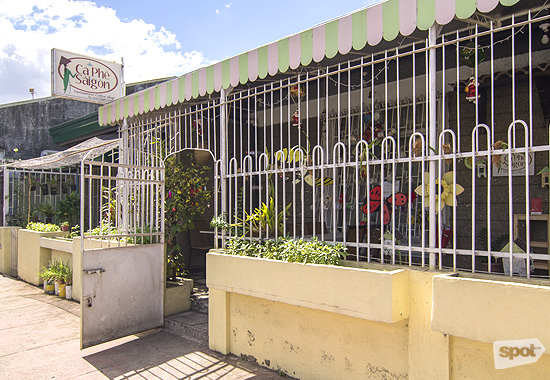 ADVERTISEMENT - CONTINUE READING BELOW
What you should watch for...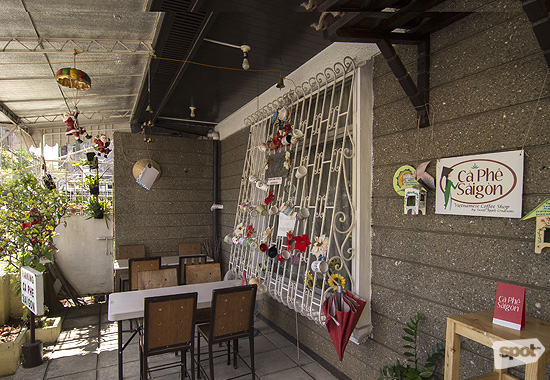 CONTINUE READING BELOW
Recommended Videos
Just like many other restaurants in Marikina, Ca Phe Saigon is part resto, part house.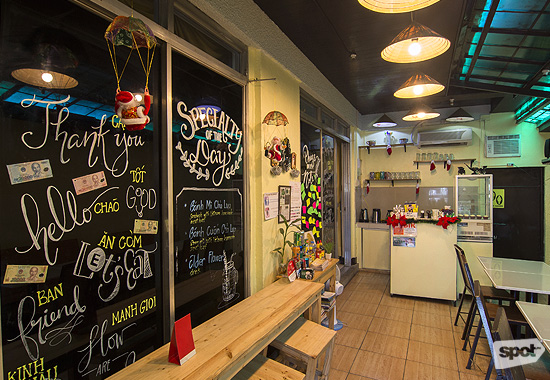 Decked out for the holidays
Watch for a heavily adorned porch–pinwheels, flowers, mismatched ornaments. Decorative butterflies mark the spot. Welcome to Ca Phe Saigon, owned by Apple and Mary Rose Bonifacio.
ADVERTISEMENT - CONTINUE READING BELOW
The Bonifacios' space is compact but functional. The indoor dining area can comfortably seat 16 people while the outdoor lounge can fit eight. Though the façade is modest, Ca Phe Saigon's intensive lineup of only the best stuff is what you'll remember most about the place. After all, their culinary delights are as authentic as they can get. Mary Rose, who heads kitchen duties, is Vietnamese.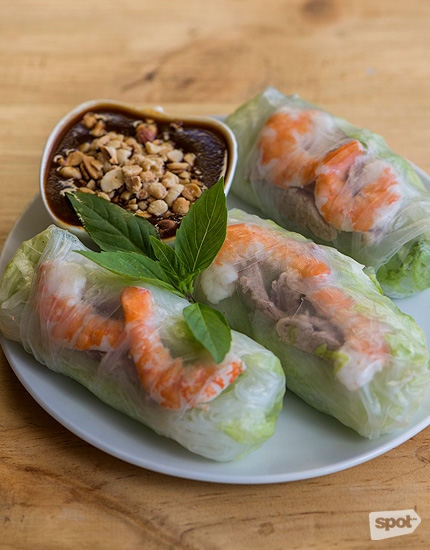 Goi Cuon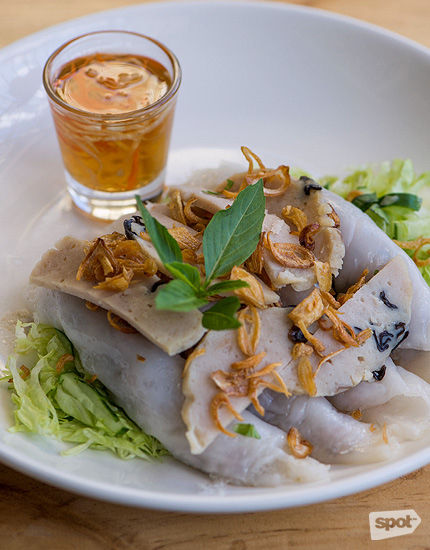 ADVERTISEMENT - CONTINUE READING BELOW
Banh Cuon
Start with some rolls as you wait for your pho: Goi Cuon a.k.a. Fresh Rolls (P120) or Banh Cuon a.k.a. Steamed Rolls (P100; add P50 for homemade meat loaf). The former is a take on our very own lumpiang ubod, but with more low-key flavors, staying true to its Vietnamese roots. Take the swaddles of noodles, pork, and shrimp against the side of mint leaves and peanut sauce and you get a pretty dynamite flavor profile. The latter, meanwhile, is more filling. The rolls are packed with pork, shrimp, mushrooms, lettuce, and carrots, topped with crisp shallots–flavors best perked up with their sweet fish sauce. The P50 add-on is worth it: Mary Rose's meat loaf is thin, slightly gummy, but incredibly tasty.
Slowly move on to any of their noodle variants. "[These require] careful preparation," says Mary Rose. "[As with the other dishes], we prepare the noodles only upon order. We don't have ready meals that we can just heat and serve."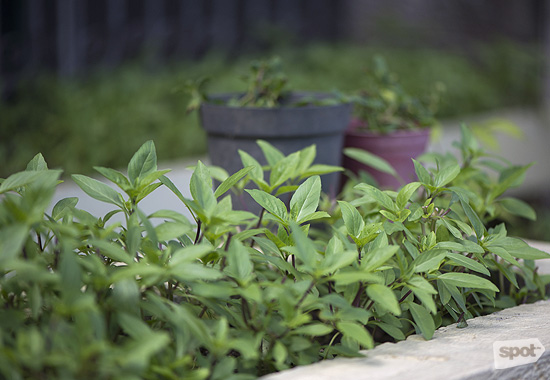 ADVERTISEMENT - CONTINUE READING BELOW
Fresh herbs from the garden
Taste the Pho (P150) and the first spoonful will tell you that this kitchen knows no shortcuts. The flavors of this noodle soup are deep, pungent, yet refreshing. Beef bones are simmered in the broth for about six to seven hours and seasoned with seven different herbs. The sprouts and basil on the side–which you can add to taste–are grown in their very own herb garden! If you are feeling adventurous with your soup, throw in a spoonful or two of their special sauces (fish, chili, or both). Other pho variants to try are the Pho Bo Kho (P150) or beef stew and the Pho Hai San Voi Nuoc Leo (P250) or Seafood Noodle Soup.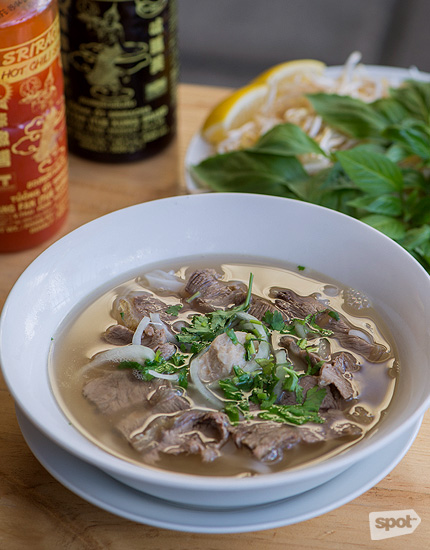 Pho Bo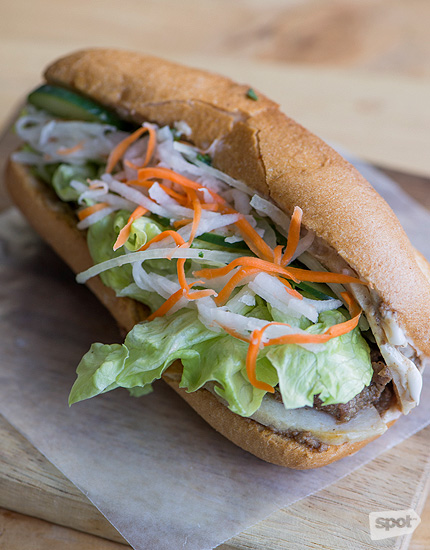 ADVERTISEMENT - CONTINUE READING BELOW
Banh Mi
Mary Rose recommends that you get a Banh Mi (P100/roast pork, chicken, or beef; P150/Vietnamese homemade meat loaf) or Vietnamese baguettes to go with those noodles. "This is how it's supposed to be eaten," she says. "Together." Ca Phe Saigon's six-inch long sandwich is lined with homemade chicken pate, topped with meat slices, and heavily packed to the brim with greens such as lettuce, cucumber, and pickles.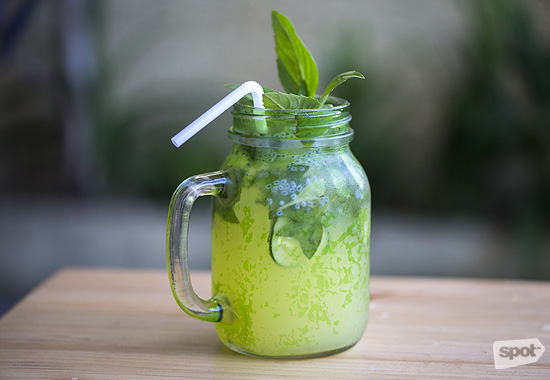 Basil Smoothie
Water everything down with their specialty drinks. Have your pick from detox juices such as the Basil (P100), which is all kinds of cool thanks to the cucumber slices and basil leaves, seeds, and syrup. Or, opt to sample their Vietnamese Coffee (P100) that you can have either iced or warm. For the iced kind, Mary Rose gives us a tip: "Wait for the coffee to brew completely before adding in ice and mixing everything together." Add sugar or milk done to your liking.
ADVERTISEMENT - CONTINUE READING BELOW
Though the entire spread may overwhelm just a bit at the outset, Mary Rose says Vietnamese food, in general, is "organic, fresh, and healthy." This just means one thing: You can definitely indulge in Vietnamese cuisine.
Photos by Hans Fausto
---
Help us make Spot.ph better!
Take the short survey
Load More Stories