The chef burned the mac and cheese, and it tastes incredible
Foodgasms all around as Chef Francis Lim unveils new twists on comfort food at Tipple & Slaw
Tipple & Slaw
2/F Forum South Global, 7th Avenue corner Federacion Drive, Bonifacio Global City
Contact: 500-0882
Open from 5 p.m. to 1 a.m. (Monday to Thursday), 5 p.m. to 3 a.m. (Friday to Saturday), 5 p.m. to 11 p.m. (Sunday)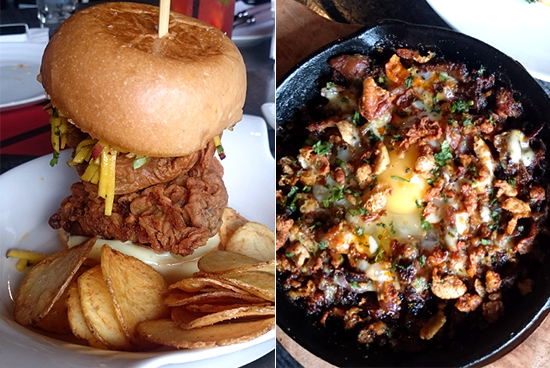 (SPOT.ph) Yuccie favorite Tipple & Slaw likes upgrading their menu. Whether it's an old standby that needs some refurbishing or a new dish that's rough around the edges, the folks behind this restaurant-slash-bar always seem driven to upstage the last great dish (we're looking at you, Frozen S'mores, P250). Their latest creations? Cheese and a lot of cheese—plus other iterations of classic comfort food.
ADVERTISEMENT - CONTINUE READING BELOW
CONTINUE READING BELOW
Recommended Videos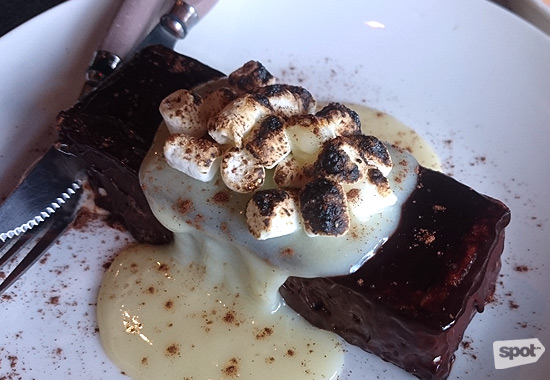 Frozen S'mores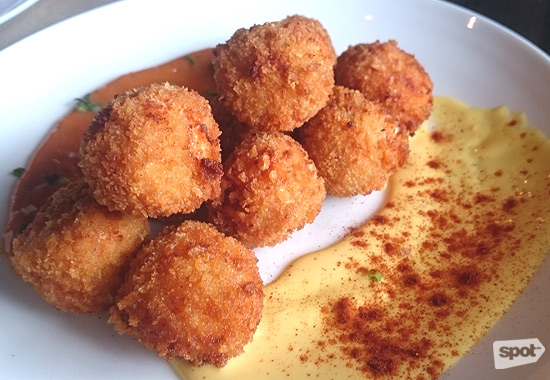 ADVERTISEMENT - CONTINUE READING BELOW
Kimcheese Risotto Balls
The Kimcheese Risotto Balls (P250) is a strong start. They're creamy arancini stuffed with a surprisingly complementary dose of Korean fermented cabbage. Swipe left for some cheese sauce or swipe right for the gochujang aioli. This dish is something you can enjoy both ways.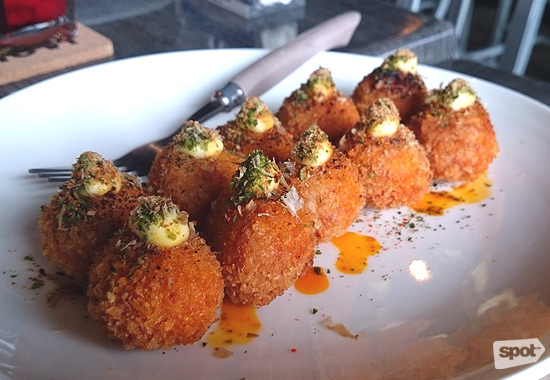 Spam Bombs
It would be a crime for Tipple & Slaw to get rid of their popular Spam Bombs (P250), but fans of this tinned meat don't need to fret. Additions like kewpie mayo, bonito flakes, and togarashi give it a nice lift in flavor.
ADVERTISEMENT - CONTINUE READING BELOW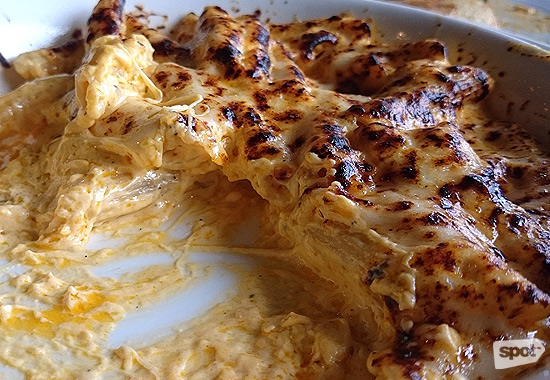 Burnt Mac n Cheese
The Burnt Mac n Cheese (P395) is a rich, tousled mess of four cheeses over penne. It's torched just enough to impart a charred flavor that cuts through the creaminess. This cheesy number is richer than the old Sriracha Mac n Cheese (which is no longer on the menu, but available upon request—shhh!), but the elements work so well together that you don't notice.
ADVERTISEMENT - CONTINUE READING BELOW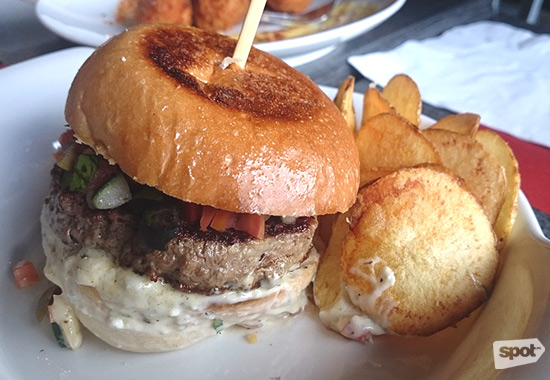 Lamb Burger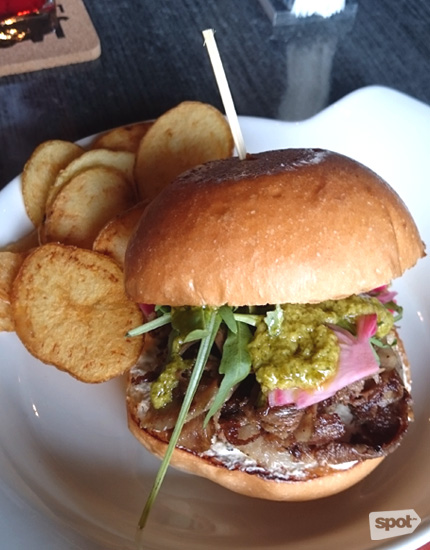 ADVERTISEMENT - CONTINUE READING BELOW
Lengua Sandwich
Mediterranean flavors naturally find their way into the Lamb Burger (P295), which takes a Greek turn thanks to cucumbers, tomatoes, onion, and a blue cheese spread. Another must-try is the Lengua Sandwich (P295). It's stuffed with thin, tender slices of ox tongue and given an unconventional treatment of horseradish and salsa verde. It sounds strange when you read it on the menu, but don't knock it till you've tried it. The spicy horseradish marries well with the tang from the Latin sauce.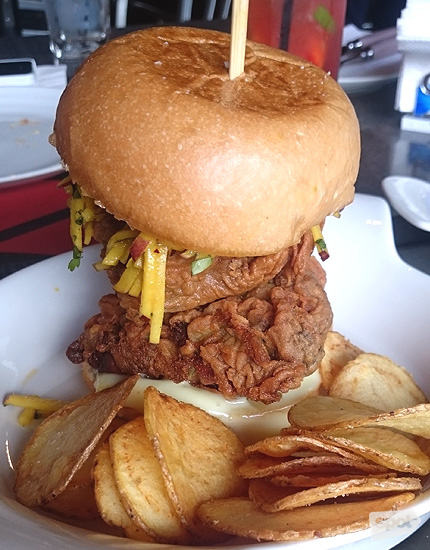 ADVERTISEMENT - CONTINUE READING BELOW
Fried Chicken Sandwich
Tipple & Slaw is known for their chicken, and Chef Francis Lim's massive Fried Chicken Sandwich (P250) is a daunting task worth undertaking. Choose your own strategy when you tackle this tall overload. Whichever way you choose, every bite yields that crisp, juicy thigh fillet flourished with apple mustard slaw.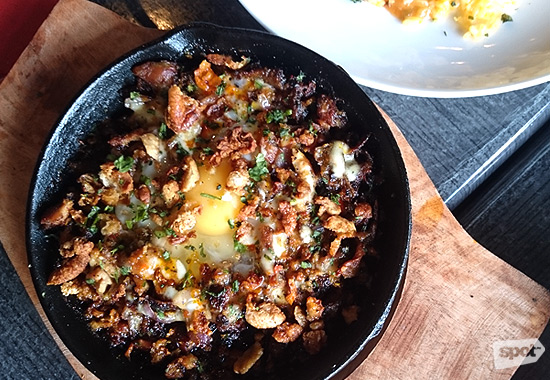 ADVERTISEMENT - CONTINUE READING BELOW
Peri-Peri Sisig
Tipple & Slaw uses the trimmings and drippings from their peri-peri roast chicken to make the Peri-Peri Sisig (P295). It's just as tasty as your favorite pulutan—maybe more, even—and the runny egg is absolutely perfect. Rice, please.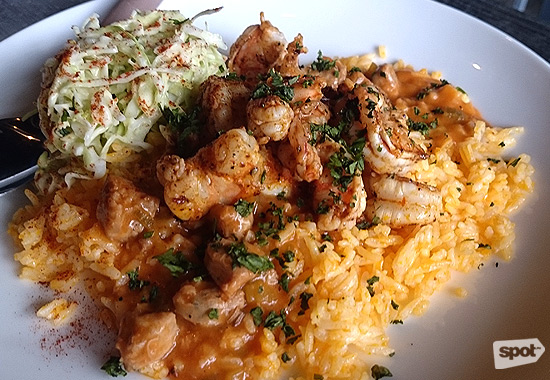 Shrimp and Sausage Gumbo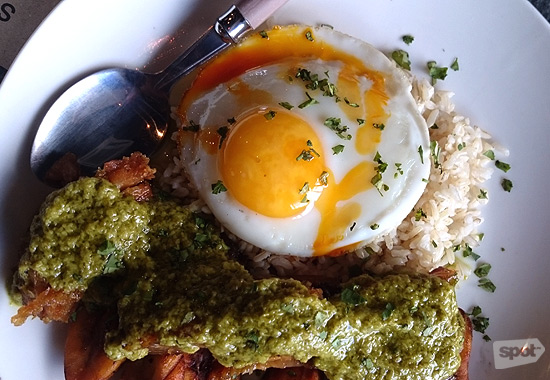 ADVERTISEMENT - CONTINUE READING BELOW
Pot Belly
If you like your rice meals easy and convenient, you will be more than pleased with these new offerings: the mildly spiced Shrimp & Sausage Gumbo (P350) and the crispy Pot Belly (P350). The former is your classic Louisiana rice dish tossed in an aromatic sauce, and is just on the right side of hot. The latter, meanwhile, is a crispy slab of pork belly smothered in homemade salsa verde: The Latin flavors are enhanced by a side of fried bananas and a topping of fried egg. The brown rice is not just a lighter option; its fluffy texture and natural nuttiness go well with the rich protein and the sauce's tangy zing.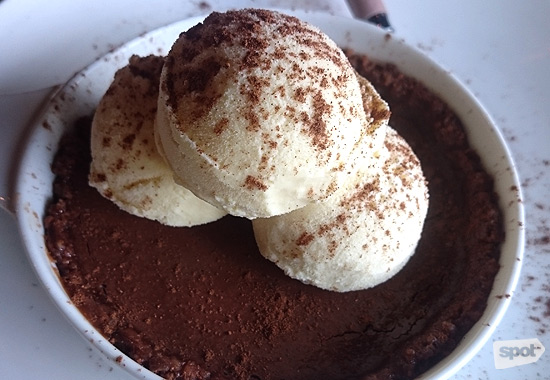 ADVERTISEMENT - CONTINUE READING BELOW
Chocolate Pie
The Frozen S'mores might find some jealous competition in the Chocolate Pie (P250). It's an easy-to-love dish: It has a deep, dark, bold filling with Chips Ahoy! serving as the crust. Boy, Tipple & Slaw really knows how to hit the spot.
Read more about Tipple & Slaw.
Photos by Sasha Lim Uy
Are you sure you want to delete this list?

Load More Stories