New Restaurant Alert: Taqueria 101 at Better Living Village, Paranaque
Chef Mikel Zaguirre's fun take on Mexican fare will be your next taco pitstop.
Taqueria 101
101 Doña Soledad Avenue, Barangay Don Bosco, Better Living Village, Parañaque City
Open from 3 p.m. to 1 a.m. (Tuesday to Sunday)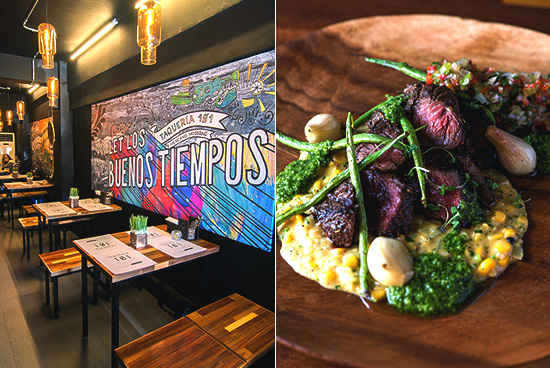 (SPOT.ph) Metro Manila has recently seen its own fair share of taquerias sprouting up all over the city. From hole-in-the-wall taco joints to homey neighborhood haunts, Filipinos have somehow always had a soft spot for tasty tacos and no one knows this more than Chef Mikel Zaguirre.
You might know him as the mastermind behind Kapitolyo favorite Locavore, and since he started talking to us in 2015 about opening up his own taqueria, we've been waiting with bated breath. And now, he is finally—officially—opening Taqueria 101's doors to the public on February 24 at 5 p.m.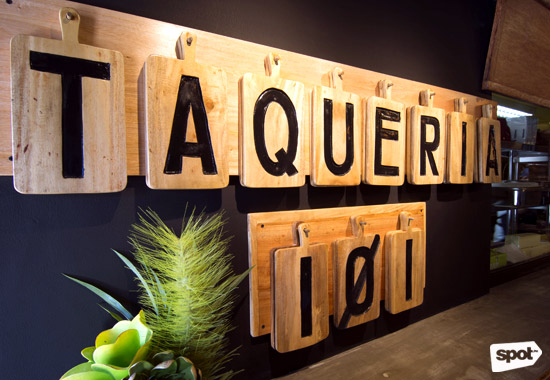 ADVERTISEMENT - CONTINUE READING BELOW
Menu boards turned signage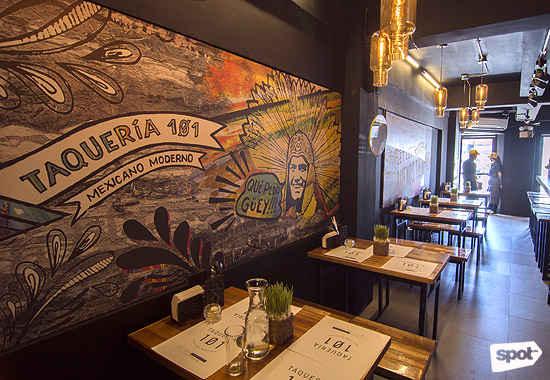 Vibrant artwork covers the taqueria's walls.
From the moment we step into the little taqueria, we're welcomed warmly by Rhoda, Zaguirre's mom. His dad, Jonathan, is somewhere in the back churning out taco after taco, and that's when we find out that Zaguirre's father is quite the wizard in the kitchen. Now we know where Zaguirre got his culinary flair. A family passion project of sorts, every aspect of the restaurant is meticulously handled with love.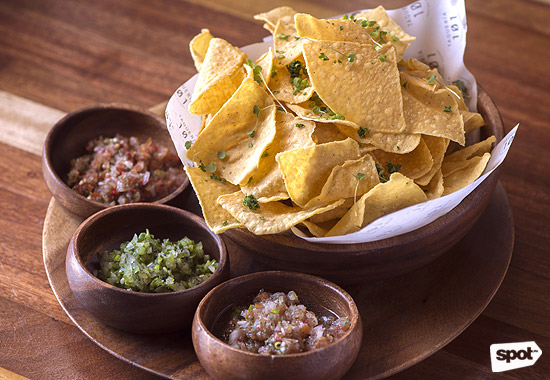 CONTINUE READING BELOW
Recommended Videos
Chips and three kinds of salsa!
Deviating from authenticity, Taqueria 101 is Zaguirre's own interpretation of modern Mexican cuisine. He only uses the best ingredients, which is already evident in his Salsa and Chips. The fried chips are unlimited (thank god, because devouring them is a breeze), and it comes with house salsa, salsa verde, and salsa caliente that are carefully hand-cut with each ingredient perfectly proportioned, totally amping up something so seemingly basic.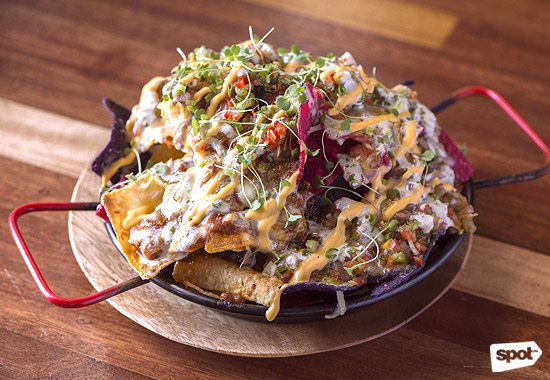 Nacho Fundido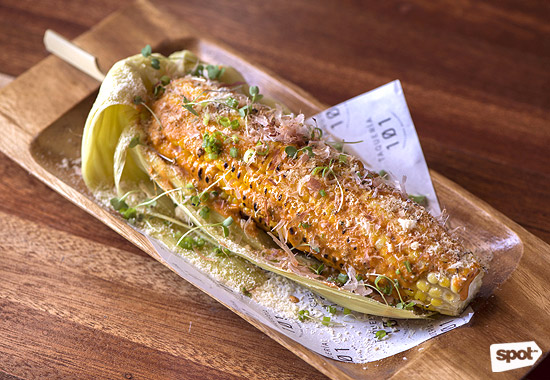 ADVERTISEMENT - CONTINUE READING BELOW
Elote (Mexican street corn)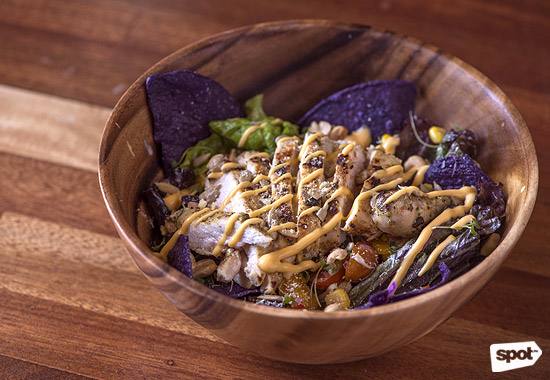 Taco Salad
The Nacho Fundido and Elote (Mexican street corn) are two appetizers that only prove how top-notch ingredients elevate familiar dishes. The former has angus picadillo that immediately excites the taste buds, while the latter has a chipotle mayo-katsuboshi-Parmesan combination that is absolute dynamite. The biggest surprise? The Taco Salad. A mélange of different ingredients (blue corn chips, mixed greens, pico de gallo, peanuts, mandarin orange, and chicken), this vibrant, flavor-filled dish proves that it's greater than the sum of its parts.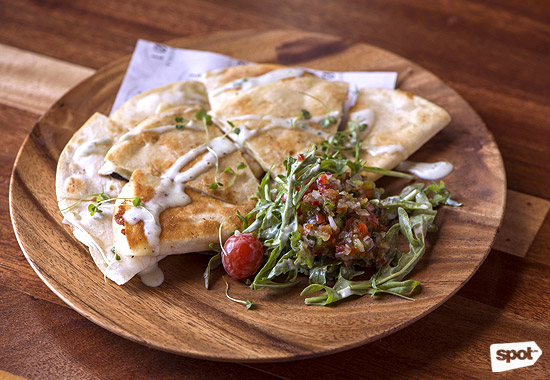 ADVERTISEMENT - CONTINUE READING BELOW
Three Cheese Quesadilla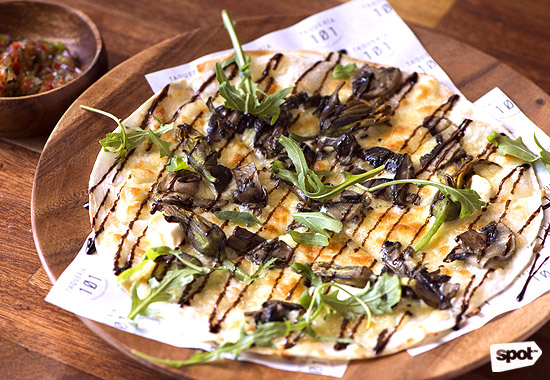 Zucchini Flower and Mushroom Tlayuda (open-faced quesadilla)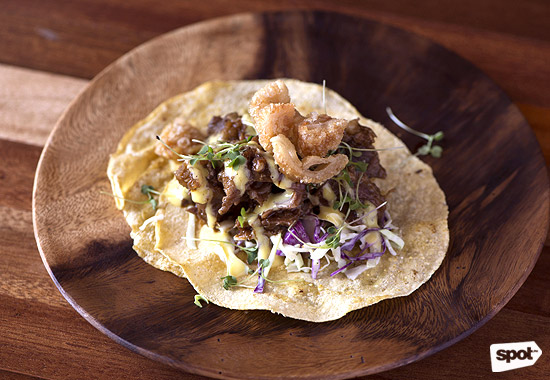 Oxtail Soft Taco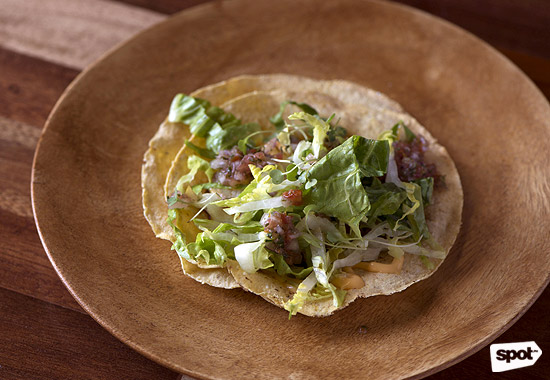 ADVERTISEMENT - CONTINUE READING BELOW
Lengua Soft Taco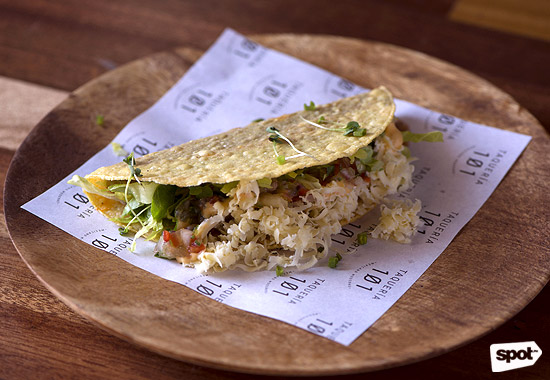 Classic Taco
No meal at Taqueria 101 is complete without tacos, of course. Taco purists, look the other way. These aren't your run-of-the-mill tacos, but that doesn't mean they aren't good—in fact, they're delicious. The tender Oxtail Soft Taco with mango mayonnaise and chicharones and the braised Lengua Soft Taco with mozzarella cheese easily become comfort food favorites, while the Classic Taco with angus picadillo and finely grated cheddar cheese will have you waxing nostalgic over your first hard-shell taco experience. The masa tortilla used for both the soft and hard tacos is always freshly fried, giving you chewy, crispy-edged tortillas with every bite.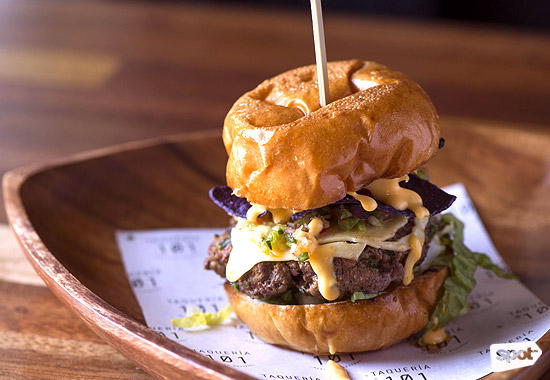 ADVERTISEMENT - CONTINUE READING BELOW
Taqueria Burger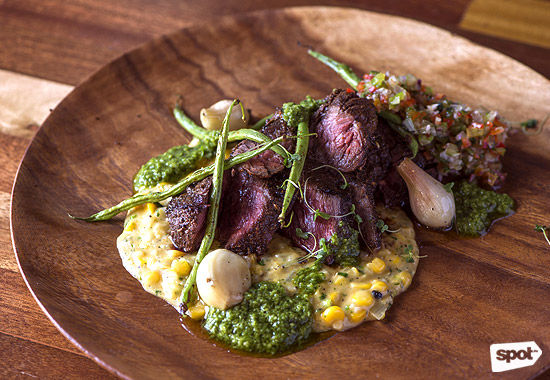 Hangar Steak
The entrees are hefty showstoppers as well. The Taqueria Burger—a half angus half chorizo patty with pico de gallo, slaw, queso, cheese sauce, and fried tortillas—makes for a tasty and filling companion to all the tacos you'll be gobbling down. The Hangar Steak displays Zaguirre's pristine technique: a perfectly seared medium-rare steak with creamed corn, chipotle, truffle oil, chimichurri, pico de gallo, and (his signature) confit vegetables.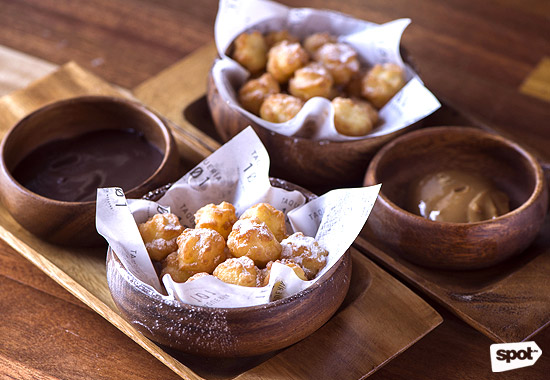 ADVERTISEMENT - CONTINUE READING BELOW
Churro Popcorn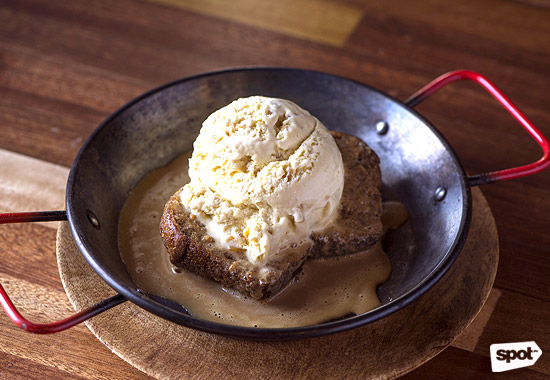 Sizzling Banana Pudding
End a flavor-heavy meal with Churro Popcorn. Light-as-air and fried in olive oil and clarified butter, these addictive bites are dipped in dulce de leche or chocolate sauce. Heck, try combining both! Either way, this dessert alone is worth talking about. But don't ignore the other sweet treats. We loved the soft Sizzling Banana Pudding topped with Sebastian Ice Cream's maiz flavor, and the Peach Mango Tacos (chocolate-dipped tacos with peach mango compote, mascarpone cream, and dulce de leche) is something we're going to want to come back for.
Zaguirre's innovative take on Mexican cuisine is fun and full of life. Here, you'll find something different from what you're used to. Flavor combinations are new and exciting, yet still familiar, piquing your interest long after the first bite.
Photos by Hans Fausto
Share this story with your friends!
---
Help us make Spot.ph better!
Take the short survey
Load More Stories