Black Sheep
2230 UPRC1 Building, Chino Roces Avenue, Makati City
Contact: 744-1569
Open daily from 6 p.m. to 10:30 p.m.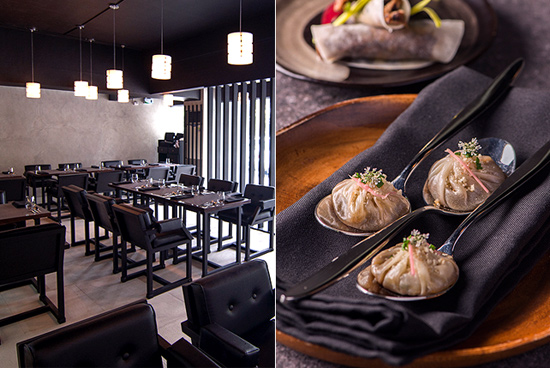 (SPOT.ph) It feels unfair to assume that Black Sheep picked up the pieces from W Fifth Avenue and glued them together as they transferred to Chino Roces, with a new chef and a new menu in tow. This Black Sheep, even with the familiar geometric logo and hush-hush location (hint: it's next to Nissan), is a completely different experience.
ADVERTISEMENT - CONTINUE READING BELOW
At the helm is 27-year-old Chef Patrick Go whose culinary muscles stretch to—so far—nine exciting dishes on the menu. He tells us he plans to go as many as 16, churning them out slowly and intimately as people get to know his rather unique permutations.
The menu is a refreshing arrangement of non comfort food, not even the overused bent-out-of-proportion meals disguised as "comfort food with a twist". Chef Patrick's dishes are unabashedly curious, intruiguing as they are perplexing and falling under the type that you can't pin down to a category.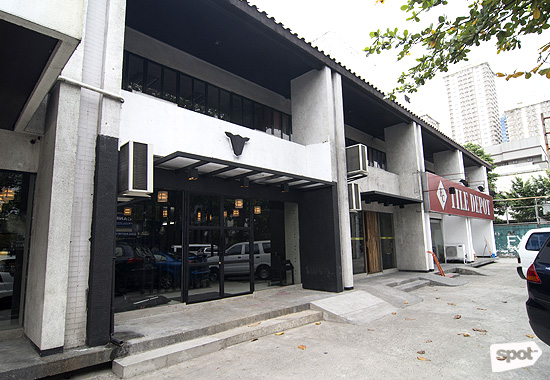 ADVERTISEMENT - CONTINUE READING BELOW
Recommended Videos
Find the sheep.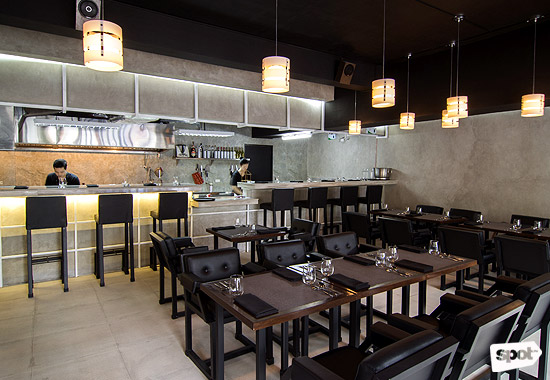 The vibe is completely different come evenings.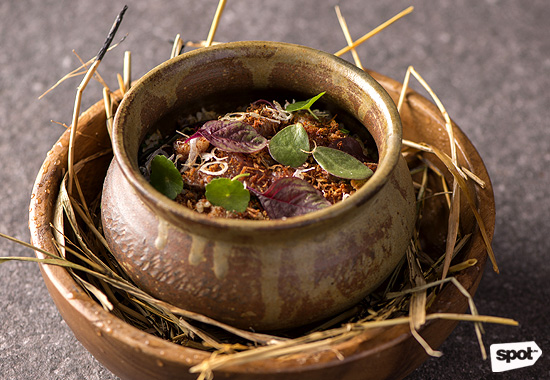 ADVERTISEMENT - CONTINUE READING BELOW
Black Sheep Jumps Over The Wall (P888)
Take, for example, the clay pot sitting in a nest of smoking hay on the table. "Black Sheep Jumps Over The Wall," says the chef, and it launches the evening of our visit. "It's my interpretation of Buddha Jumps Over The Wall, which is soup loaded with ingredients." His rice version comes with a good 23 elements.
It could easily have been blubbering chaos, but the dish, in essence, is fried rice. The grains are still the main premise and the only visible additions are beef tenderloin, onions, and chicken floss. The foie gras and bone marrow melt on your tongue as you enjoy a spoonful, while other embellishments, like the seafood, are turned into seasoning agents. "We made our own 'MSG,'" says Chef Patrick. They grind up dried scallops and tuna to develop a more assuring umami flavor.
Despite all these kitchen ambitions, Chef Patrick remains modestly rooted. He grew up eating Chinese food and admits to still loving fast-casual Chinese and nameless Chinese restaurants. "May isang Chinese restaurant sa may Rockwell na walang pangalan, pintuan lang. Alam niyo 'yon?" he asks excitedly.
ADVERTISEMENT - CONTINUE READING BELOW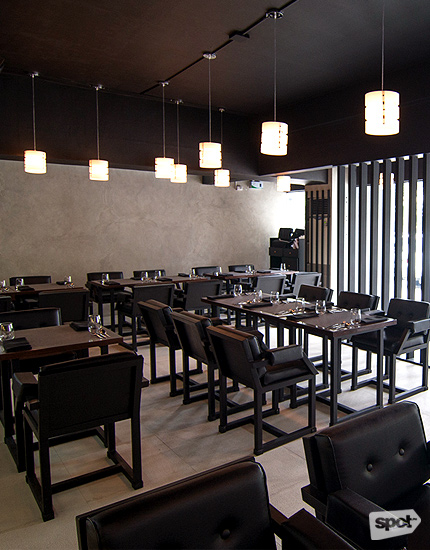 The setting contrasts its colorful cuisine.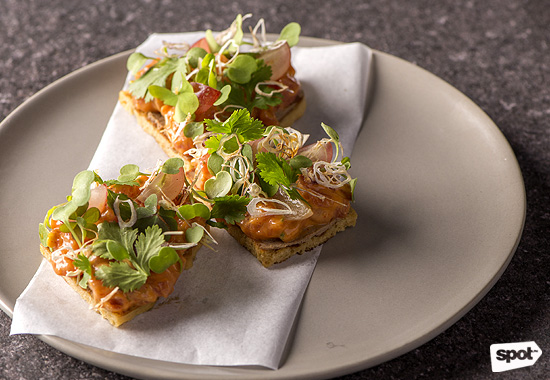 ADVERTISEMENT - CONTINUE READING BELOW
Two Na
Chinese and childhood serve as his primary sources for inspiration. "My mom used to make me tuna sandwiches and liver spread sandwiches," he says, explaining the Two Na (P300). This is, however, no grade school-recess variety. The ma lai gao, which is a Chinese bun, is dehydrated to become crunchy toast and the cubes of raw tuna are painted in a smoky-spicy sauce—it almost feels like a rainbow roll. With the chicken liver in the middle and grapes and cilantro on top, it's multiple layers of flavor in one bite.
The Foie Long Bao (P440) is a classic dumpling bolstered in a way goose liver only can, while the XOXO (P360) is his take on his favorite Peking duck. It's ox tongue smothered with homemade XO sauce, hoisin, and bagoong. It's so delicious that it makes you sad there are only three pieces per order. Black Sheep even makes their own mandarin wrapper.
ADVERTISEMENT - CONTINUE READING BELOW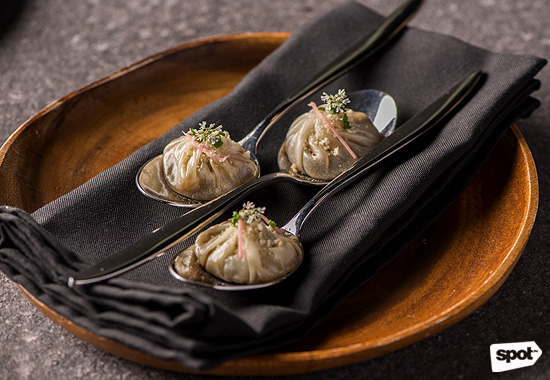 Foie Long Bao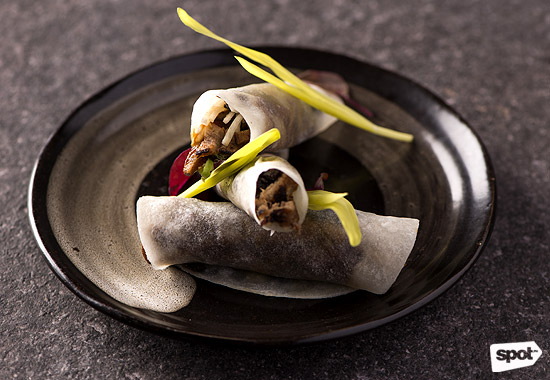 ADVERTISEMENT - CONTINUE READING BELOW
XOXO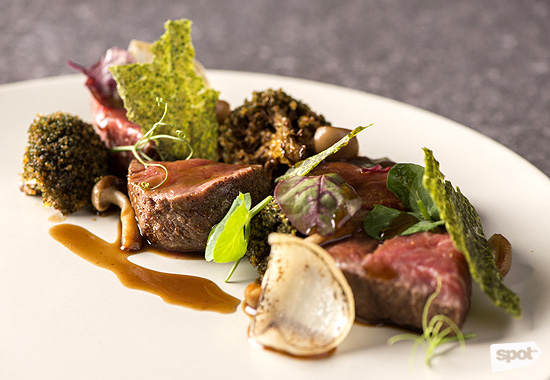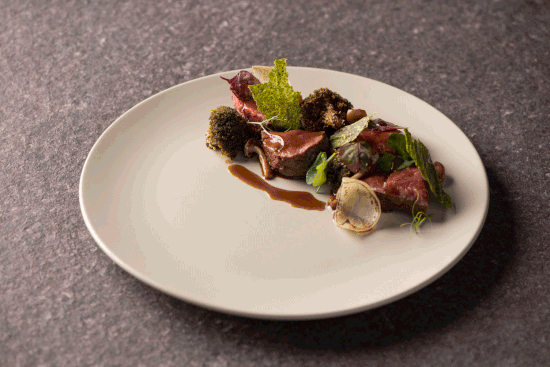 ADVERTISEMENT - CONTINUE READING BELOW
TLC
You could say that familiar dishes are dressed up in high-end, sophisticated fashion here. Beef and broccoli is reincarnated as the TLC (P1,500) or Kitayama Wagyu steak decked our in dehydrated broccoli and broccoli crisps (which are great with the rest of the ingredients but incredibly potent on its own), shimeji mushrooms, and drizzled with reduced black vinegar. The steak, which is smoked in coconut husk and applewood, then quickly seared, melts in your mouth like a piece of delicious butter.
Chef Patrick plans for a more immersive and interactive experience: Most of the offerings are finished tableside, with at least one of the chefs coming out to discuss the process of the dish. "I want to give my other chefs credit for the dishes they conceptualized. I only helped them. " He points at the desserts. "Chef Grace Siy made these."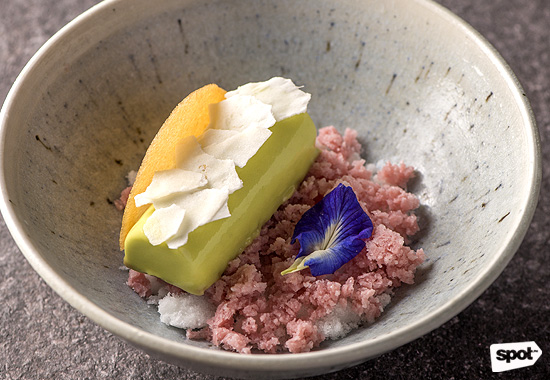 ADVERTISEMENT - CONTINUE READING BELOW
Ice Candy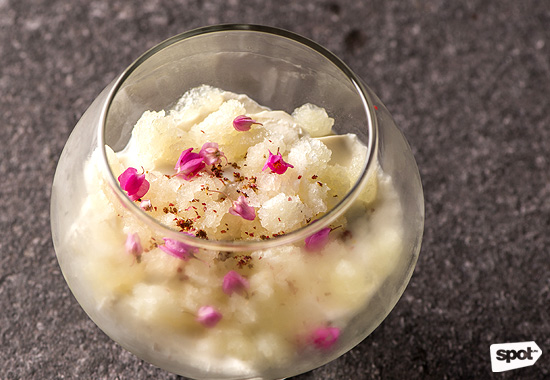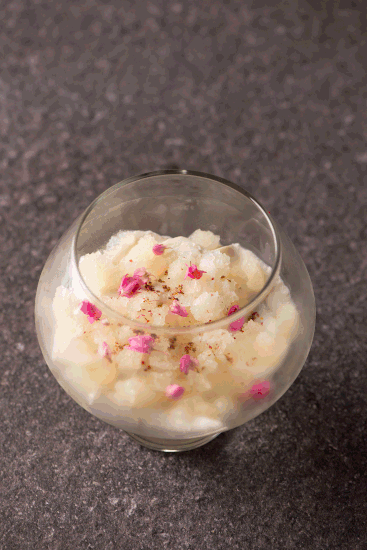 ADVERTISEMENT - CONTINUE READING BELOW
Tea Time
The two-piece dessert menu continues Black Sheep's path of playful nostalgia. The Tea Time (P320) is a clever and classy take on taho. Chamomile panna cotta is crowned with lemon granita and wild honey with tapioca pearls. That zingy addition is wonderfully refreshing. The Ice Candy (P360), meanwhile, is something you've never seen before. Avocado semifreddo is dressed with strawberry granity, shaved milk, and citrus sugar. The paper-thin layer of strawberry chiffon cake adds texture and changes the entire pace of the dessert. There's a candy-sweetness, but subtle enough for your grown-up taste buds to appreciate.
Reinvention, fusion, modernization—these are terms you throw around in the culinary word. But in Black Sheep they're more than just words. They put it on the plate.
Photos by Hans Fausto
Share this story with your friends!
---
Help us make Spot.ph better!
Take the short survey
Load More Stories