10 Best Things We Ate in March
Noteworthy dishes in this food-filled month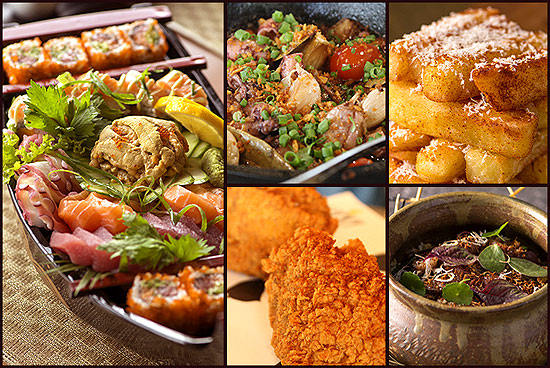 (SPOT.ph) If you didn't already know, here at SPOT.ph, we love food. You need it to live, but we find that there are some dishes that go well past the virtue of necessity. While others content themselves with a deep fryer and the usual salt and pepper, there are some who make—or at least try to make—an art out of it, with delicious displays and even yummier flavors. We believe those that go above and beyond their duty deserve necessary recognition. So here are our top picks among the dishes we ate throughout March.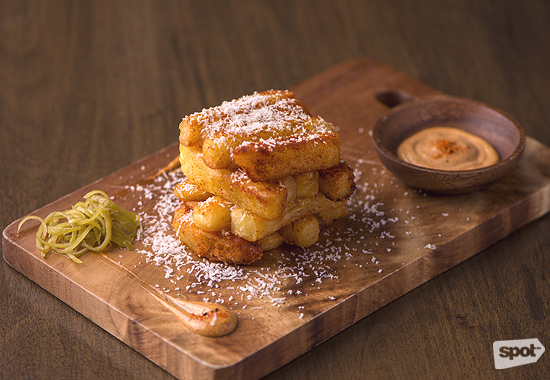 Desiderata Lounge's Parma Fries
These Jenga-style stacked potatoes take everything you love about french fries and improves on it 10-fold. Chef Borja Duran Cid slices the potatoes by hand, boils them, then fries them quickly to preserve their color. The batons are fried again upon order to make sure customers can get them hot and crispy. Seasoning is basic, with only a shake of Parmesan giving it extra oomph. Still, even with that seemingly simple process, these appetizers are definitely not run-of-the-mill.
ADVERTISEMENT - CONTINUE READING BELOW
Desiderata Lounge is at G/F Infinity Tower, 25th Street, Bonifacio Global City. Read more about Desiderata Lounge.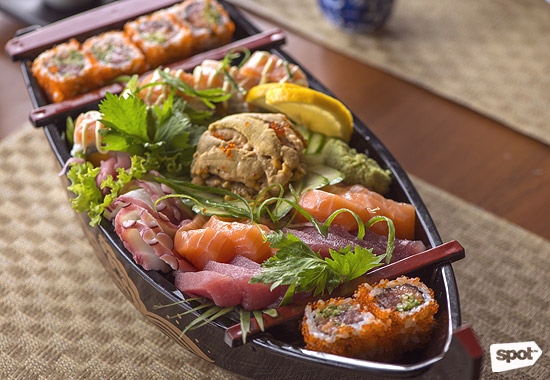 CONTINUE READING BELOW
Recommended Videos
Shinsen's Sushi Boat
It's pretty difficult to pick just one sushi item from Shinsen's amazing menu, so we're going for the easy choice—their pre-arranged set! Here, you can appreciate their melt-in-your-mouth sashimi (that salmon is just...heaven on earth), their dynamite Dynamite Rolls, their insane Crazy Rolls, and their mountain of juicy uni. You have the flavors of Japan all in one boat.
Shinsen is at Unit 202 Hampton Gardens Arcade, 100 C. Raymundo Street, Barangay Maybunga, Pasig City. Read more about Shinsen.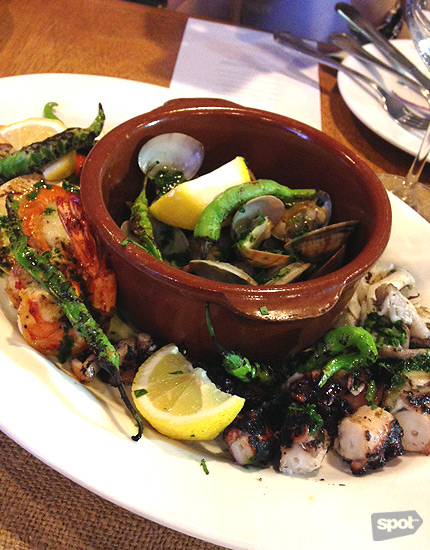 ADVERTISEMENT - CONTINUE READING BELOW
Cyma's Mezedez Tis Oras
This dish is also a sampler of sorts—a jumble of shrimp, scallops, octopus, clams, and calamari tossed in extra virgin olive oil, oregano, and garlic. We have to talk about that pulpo though, but just because it received some extra special love, which we can definitely taste. It's tenderized beautifully and what feels like a lemony glaze is actually from the natural juices that have caramelized into a shiny delicious crust. Sorry Ursula, but we just found our new favorite octopus.
Click here for a list of Cyma branches. Read more about Cyma.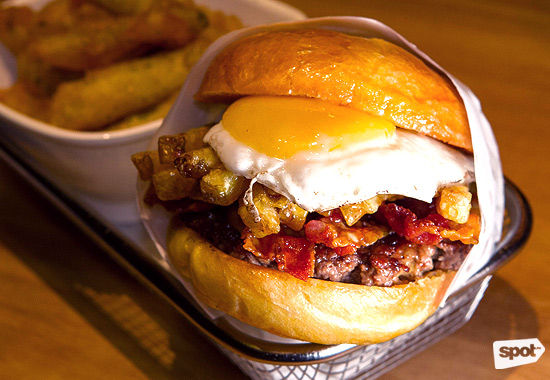 Burger Geek's The Hangover
Burger Geek definitely makes a trip to the south worth it. Everything is good: They have unforgettable onion rings, incredibly tasty fried chicken, and honest-to-goodness delicious burgers. Depending on mood and taste, a group of friends who chow here might have some varying opinions on which burger is the best. Today, we're picking The Hangover. It's a blur of juicy beef patty, maple-infused geek sauce, beer syrup, french fries (yup, in between the buns), and a fried egg. The only reason it helps you get over a hangover is probably because it'll shift your attention. You won't get over this for a while.
ADVERTISEMENT - CONTINUE READING BELOW
Burger Geek is at Molito Lifestyle Center, Alabang, Muntinlupa City. Read more about Burger Geek.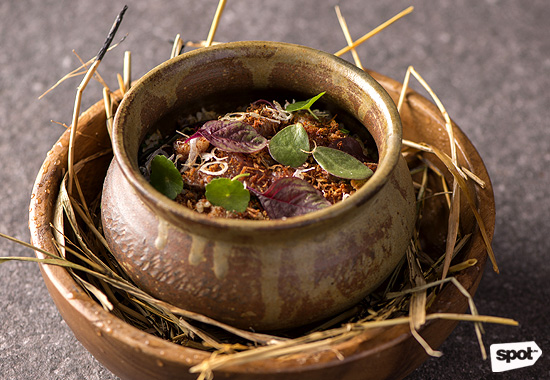 Black Sheep's Black Sheep Jumps Over The Wall Fried Rice
This little pot of fried rice bears 23 ingredients that are delicately and beautifully laid out to make an impact that doesn't overwhelm. Chef Patrick Go is careful not to toss everything in with the perfectly cooked rice, foie gras, bone marrow, and beef tenderloin. Instead, he uses the other elements to pull up the simple flavor of the grain—including making his own "MSG" by pulverizing dried seafood.
Black Sheep is at 2230 UPRC1 Building, Chino Roces Avenue, Makati City. Read more about Black Sheep.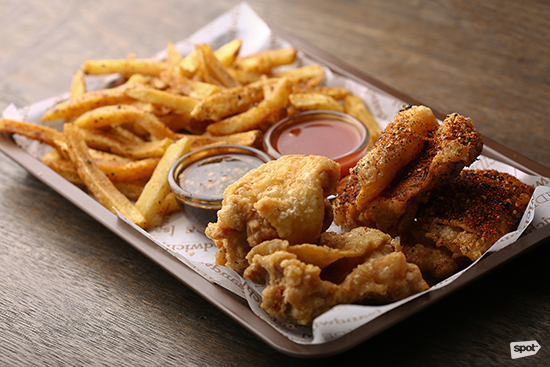 ADVERTISEMENT - CONTINUE READING BELOW
Bread and Botany's Family Meal
When your fried chicken manages to make your then-potential girlfriend's family fall in love with you, then you know you have gold. This is exactly what happened to Bread and Botany owners Jonathan Choi and Kristine Ongsiyping. Their new project on Aguirre may be about sandwiches, but this crispy perfection definitely steals the show with its tasty Asian seasoning. Get the Family Meal because the chicken is totally amazing with fries.
Bread and Botany is at The Prime Building, 115 Aguirre Avenue, Parañaque City. Read more about Bread and Botany.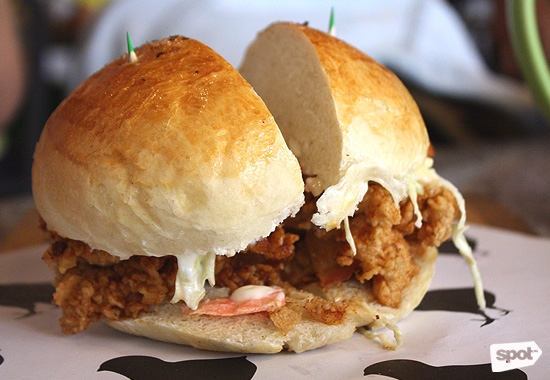 Lucky Chick's Hot Chick
Everyone knows that the best kind of chick is a hot one. We love how Chef Francis Asuncion puts the spices in the brine so you get that tasty fire right down to the bone. It's just so simply delicious, so simply peppery. The Hot Chick is really the kind of comfort food you enjoy straight away without thinking of anything else—except maybe which gravy to douse it with.
ADVERTISEMENT - CONTINUE READING BELOW
Lucky Chick is at 2/F UP Town Center, Quezon City. Read more about Lucky Chick.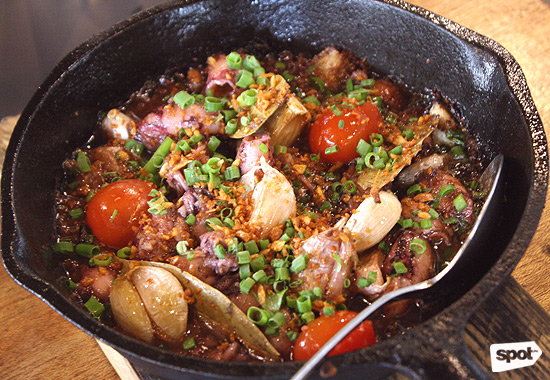 Locavore's Garlic Baby Squid
At first glance, this new-ish Locavore dish looks like their best-selling Sizzling Sinigang. It certainly has very similar accoutrements—cherry tomatoes, cloves of soft garlic, beautiful shallots. But this baby packs a different kind of flavor in its arsenal. It's salty—powerful without making you feel like you have to down a pitcher of water afterwards. The squid is impeccably cooked to be soft but still with a bite. You can't avoid the rice though, because it craves a contrast to blunt the squid's sharp flavor.
Locavore is at 10 Brixton Street, Kapitolyo, Pasig City. Read more about Locavore.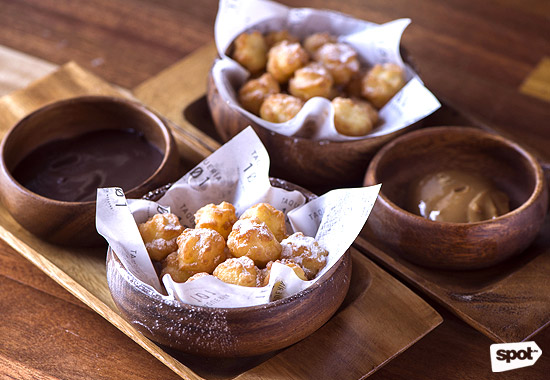 ADVERTISEMENT - CONTINUE READING BELOW
Taqueria 101's Churro Popcorn
It feels like a cheat not to pick a taco, but once you finish your meal with this addictive dessert, you just forget everything else. Think of them as donut holes fried in olive oil and clarified butter, then sprinkled with some sugar. They come with dulce de leche and chocolate sauces—either or none at all is just as mind-blowing.
Taqueria 101 is at Doña Soledad Avenue, Better Living Subdivision, Parañaque City. Read more about Taqueria 101.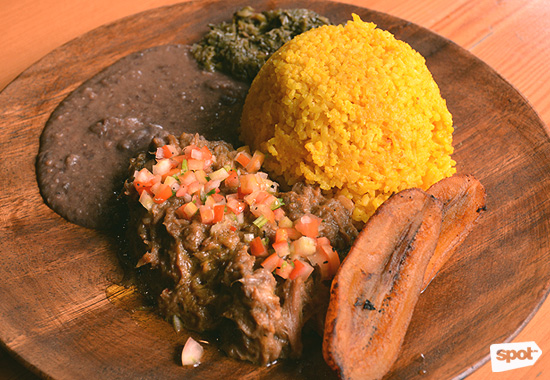 Wagga Wagga Jerk Chicken's Shredded Oxtail Stew
It's difficult not to love this dish. The oxtail is soft and shredded, which makes it take so much better to the slighty spicy, heavily spiced sauce. The freshly chopped tomatoes on top give it some acidity, the side of mung beans provides a bit of earthiness, while the fried banana finishes it off with some much-needed sweetness.
ADVERTISEMENT - CONTINUE READING BELOW
Wagga Wagga Jerk Chicken is at 88 Meralco Avenue, Ortigas, Pasig City. Read more about Wagga Wagga Jerk Chicken.
Share this story with your friends!
---
Help us make Spot.ph better!
Take the short survey
Load More Stories