10 Cheesy Dishes That Make Us Feel All Gooey Inside
Provolone, Gruyere, mozzarella, Parmesan...it's like a song we can't stop singing.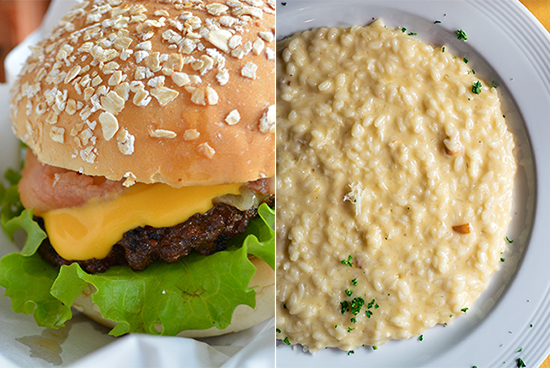 (SPOT.ph) McDonald's recently decided to pair their famous french fries with a cheese dip. We welcome this change, but we're also smacking our heads on our desks. It's a fairly obvious idea. Cheese is to savory food as chocolate is to dessert—and the best part about that is how you can switch those two around and still end up satisfied. But today, we are into cheese. We're not ones for pick-up lines, huge bouquets, and sweeping gestures, but present us with a cheese dish, and well...we're at your mercy.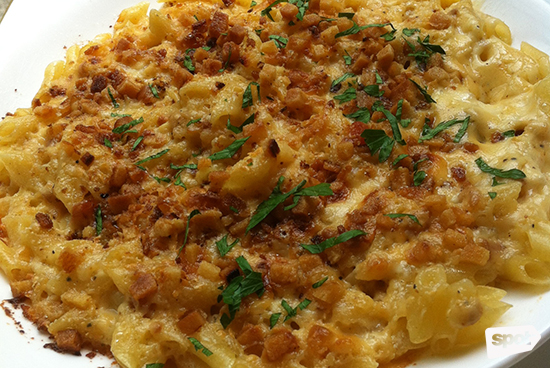 Lusso Luxe Mac & Cheese (P650)
Lusso's Mac & Cheese is the adult version of CPK's. It's just as straightforward but the flavors and textures are delightfully more complex and, okay, more luxe. The croutons on top give the creamy dish a good crunch, while cubes of pancetta bacon inserted in there lend it a nice saltiness.
Lusso is at 175 Greenbelt 5, Ayala Center, Makati City. Lusso's Luxe Mac & Cheese ranked No. 2 on SPOT.ph's Top 10 Mac and Cheese (2013 Edition).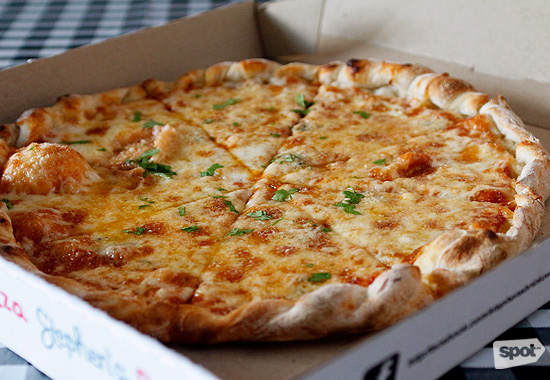 Four Cheese (P320) from Stephen's Brick-Oven Pizza
You'd need to keep your eyes peeled for Stephen's Pizza along bustling P. Gueverra Street, but trust us when we say this is pizza worth the legwork. The joint is so tiny that you can easily watch your pizza lovingly and painstakingly made from scratch, kneaded dough and all. It's a fascinating show that prepares you for the main event: a fragrant 12-inch pizza with bubbling cheese bursting at the edges and still steaming from its time in the oven. The pizza is a gloriously gooey marriage of mozzarella, fontina, Parmesan, and blue cheese. You'll taste the distinct flavors bouncing off each other, from the buttery and nutty fontina to the subtly pungent complexity of the blue cheese. The crust's texture is soft and chewy, yet light enough that you'll soon find yourself devouring every slice without realizing it. It's just that good. Sensational, even.
ADVERTISEMENT - CONTINUE READING BELOW
Stephen's Brick-Oven Pizza is at 89 P. Gueverra Street, Barangay Sta. Lucia, San Juan City. The Four Cheese from Stephen's ranked No. 1 on SPOT.ph's Top 10 Cheese Pizzas (2016 Edition).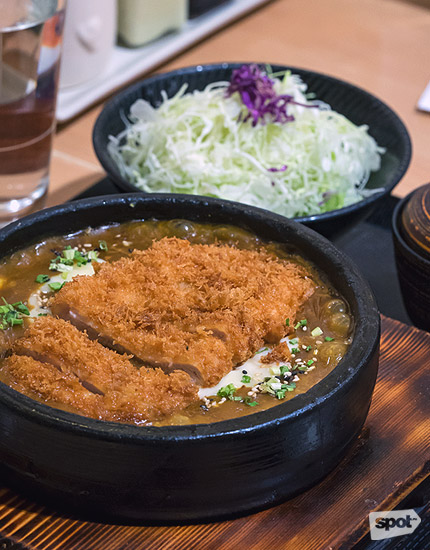 Yabu's Katsu Curry Don (P380)
Yabu has been making waves over the last couple of years, not just for its selection of katsu, but also for its many extras—refillable rice and cabbage? Yes, please! It is impossible to carve out a rice toppings list without including one of Yabu's offerings. Their Katsu Curry Don is a combination of rice, the meat of your choice (we favor rosu), beef curry, and cheese (yes, cheese!) in a piping hot bowl. You'll do well to share this extremely rich meal with someone—the bold flavor can be overwhelming to the taste and the servings are hefty. Make sure to spoon your serving onto a smaller serving plate—eating straight from the rice bowl can scald your tongue if you take a bite too soon!
Click here for a list of Yabu branches. Yabu's Katsu Curry Don ranked No. 6 on SPOT.ph's Top 10 Rice Bowls for Crave-Worthy Carbs.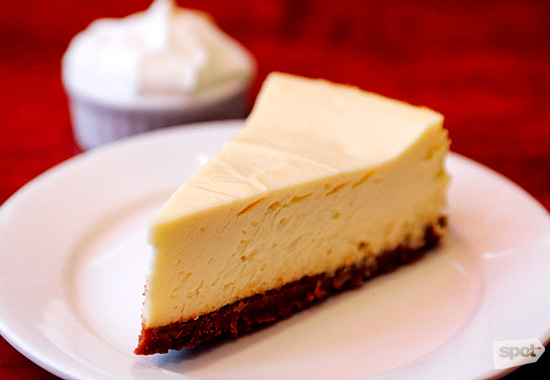 Mamou's New York Cheesecake (P325)
Amid the steak and the pancakes and the sinigang, Mamou's cheesecake comes out swinging. This creation is stripped down, perfect in its simplicity: It proves that all a good cheesecake needs is a velvety base and a tasty, solid crust. The side of slightly sweet whipped cream is a bonus for those who'd like a boost of flavor in each forkful.
ADVERTISEMENT - CONTINUE READING BELOW
Mamou has branches at Serendra, Bonifacio Global City; and G/F Power Plant Mall, Rockwell, Makati City. Mamou's New York Cheesecake ranked No. 9 on SPOT.ph's Top 10 Cheesecakes (2015 Edition).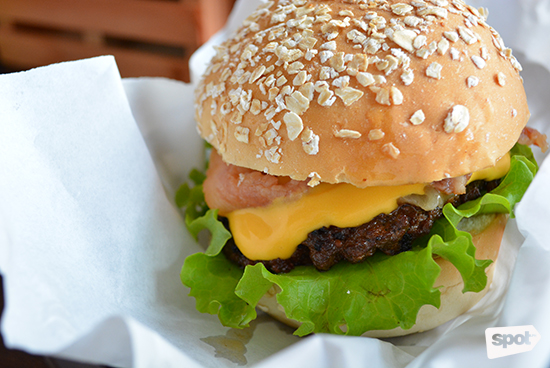 The Burgery's Fat Tony (P185)
The waiter recommends The Fat Tony, a burger made up of a one-third-pound patty and embellished with onion relish, lettuce, tomato, bacon, and cheese. You won't know what to expect from the "Bad Boys of Burger," but what arrives at your table is a brawny but clean-cut display of oat-speckled buns, a thick shiny patty, bright greens, and oozing cheese sauce. Nope, it's not "bad" at all, in fact, it's so good, you'll want everybody else to know about it.
The Burgery has branches at 231 C. Aguirre Avenue, BF Homes, Parañaque City; and Tuscany, Upper McKinley Road, Taguig City. The Burgery's Fat Tony ranked No. 3 on SPOT.ph's Top 10 Cheeseburgers Under P200 (2014 Edition).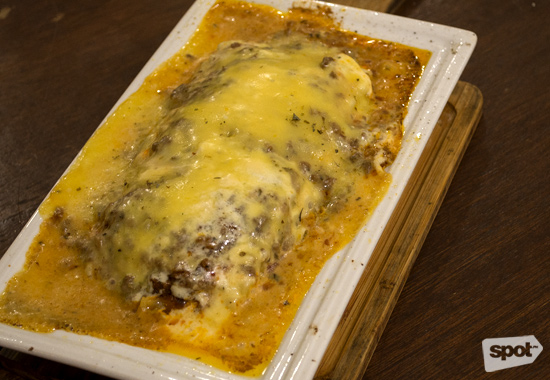 House of Lasagna's Beef Lasagna (P280)
This is the chain that lasagna built. From a small restaurant in San Juan to several branches at malls, House of Lasagna has something for everyone who loves the famous pasta dish. They have seven variants available, with the Beef Lasagna being the top favorite (because everything is a favorite here). It is served straight out of the oven, and the smell alone will make you want to dig into its cheesy, saucy, bubbling hot goodness. The servings are generous, and even though a portion may seem hard to tackle, the whole thing goes down easy because the ratio of meat to noodle to sauce is just right and the flavors go so well together. If you have enough space and are a fan of white sauce, we recommend that you also try the Carbonara Lasagna (yes, it exists!).
ADVERTISEMENT - CONTINUE READING BELOW
Click here for a list of House of Lasagna branches. House of Lasagna's Beef Lasagna ranked No. 1 on SPOT.ph's Top 10 Beef Lasagnas (2012 Edition) and No. 2 on SPOT.ph's Top 10 Beef Lasagnas (2015 Edition).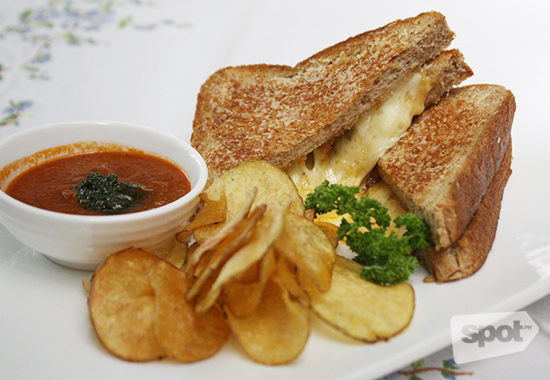 Nikko's Baking Studio's Ultimate Grilled Cheese (P290)
Tucked beneath the lush greenery (or what little is there left) of Urdaneta is this quaint little baking studio in the heart of Makati. Part-school and part-restaurant, their honest-to-goodness grilled cheese shouldn't be missed. Bold and full of impact, this six-cheese creation is nothing but cutesy as their interiors may suggest. If you're someone looking for a classic grilled cheese sandwich without anything but the basics, then this is the one for you. It's an imposing combination of Gouda, mozzarella, Gorgonzola, cheddar, Parmesan, and quezo de bola.
Nikko's Baking Studio is at 59 Paseo de Roxas Avenue, Urdaneta Village, Makati City. The Ultimate Grilled Cheese from Nikko's Baking Studio ranked No. 6 on SPOT.ph's Top 10 Grilled Cheese Sandwiches (2015 Edition).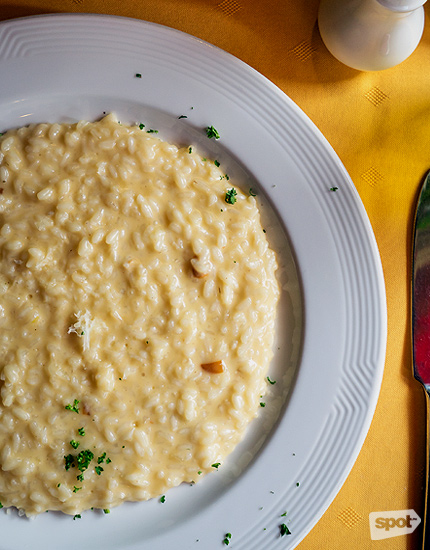 L'Opera's Risotto allo Champagne con Scamorza (P610)
This is risotto done absolutely right. L'Opera makes their risotto from scratch the old-fashioned way. (You know it's done the right way when your server tells you your order is going to take some time to prepare—we promise, it's worth the wait!). The long-standing Italian restaurant employs Acquerello rice to create a decadent dish that's best shared—just so you have someone to talk to about how good it is. Sensitive palates will taste a slight hint of bubbly along with a very distinct smoked mozzarella flavor. The dish offers a consistent texture with just enough playful gooeyness to make you weak in the knees. Supremely simple and sumptuous, this risotto will have you never looking at rice the same way again!
ADVERTISEMENT - CONTINUE READING BELOW
L'Opera is at The Fort Strip, 28th Street, Bonifacio Global City. L'Opera's Risotto allo Champagne con Scamorza ranked No. 1 on SPOT.ph's Top 10 Risottos (2016 Edition).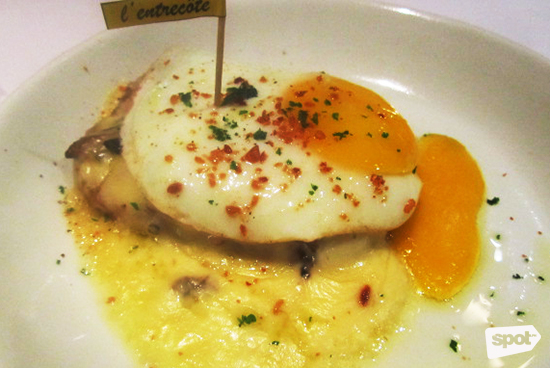 L'Entrecote's Rosti "Power" (P445)
L'Entrecote has great unlimited fries, but we're not talking about that here. Instead, consider the Rosti Tower. Dig into several layers of crunchy hash brown, savory ham, earthy mushrooms, and stringy raclette cheese that's topped off with a fried egg and drizzled with truffle oil.
L'Entrecote is at Burgos Circle, Bonifacio Global City. L'Entrecote's Rosti "Power" ranked No. 4 on SPOT.ph's Top 10 Potato Dishes That are Worth The Carbs.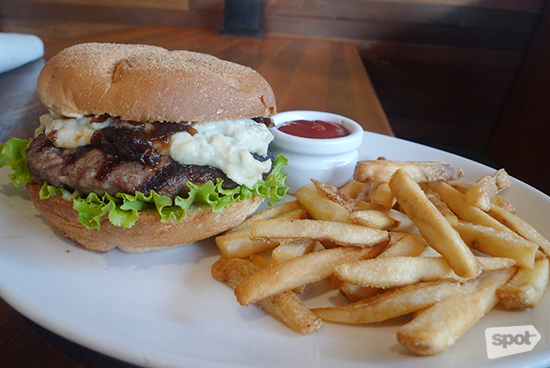 Draft Gastropub's Bleu Cheeseburger (P395)
The filling effortlessly oozes out as soon as the knife presses the bun. And since most of the flavors come out, you are forced to scoop and spread them back on, not letting anything go to waste. This burger is constructed pretty well. The bun is warm and not grilled to the point of being hard that it scratches the roof of your mouth. The sweetness of the onion jam cuts through the pungency of the blue cheese, making for a marriage of flavors that promise gustatory bliss. It's quite a complex dish, with punchy flavors trying to outdo each other, but in the end, not one prevails as it consequently strikes a pretty balanced taste.
Click here for a list of Draft branches. Draft's Bleu Cheeseburger ranked No. 8 on SPOT.ph's Top 10 Gourmet Burgers (2013 Edition).
ADVERTISEMENT - CONTINUE READING BELOW
Load More Stories