Can we stop ordering Cyma's Roka Salata?
There is so much more to this Greek restaurant and Chef Robby Goco just added more items to look forward to.
Cyma
Click here for a list of CYMA branches.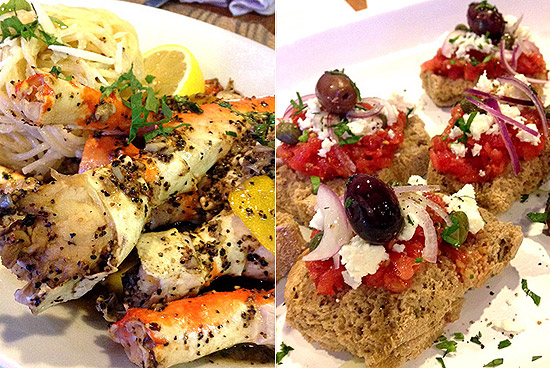 Also read: A Sneak Peek at The New Cyma Taverna
(SPOT.ph) "That Roka Salata really is both a blessing and a curse," chuckles the normally reserved Chef Robby Goco as he talks fondly about the bestseller at his Greek chain, Cyma. Zingy and packed with flavor, the salad—composed of arugula, romaine lettuce, sun-dried tomatoes, candied walnuts, Parmigiano Reggiano, all coated in traditional Greek dressing—has been a favorite for the last 10 years.
Chef Robby seems to have found a sweet spot with the Roka Salata. It's that rare combination of traditional Greek ingredients that strongly (and surprisingly) appealed to the Pinoys' love for contrasting flavors.
Cyma has been successful enough they haven't had to update the menu since they opened in 2006. But as they celebrate a decade in a usually fickle industry, Chef Robby finally felt that it was time—not only for his kitchen, but also for their loyal patrons. "Our guests have found their comfort zone in the Roka Salata, the Artichoke Spinach Fondue, and the Moussaka. But, I think they're ready for a more diverse menu, but still very Greek."
ADVERTISEMENT - CONTINUE READING BELOW
At the launch for Cyma's new offerings, straightforward Greek was a resounding theme: beautiful vegetables and proteins seasoned with the Mediterranean's big five: olive oil, oregano, lemon, salt, and pepper. The cold starters—the chef's gracious initiative to offer more vegetarian options—act as the perfect jumping board. The hummus is classically smooth and garlicky; the tzaziki is a Greek staple, a cooling cucumber and yogurt dip that can definitely hold its own.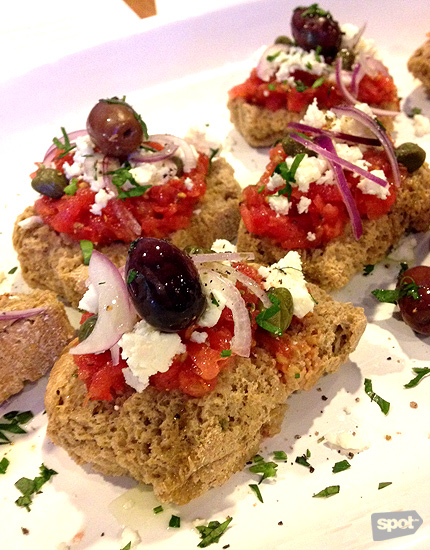 CONTINUE READING BELOW
Recommended Videos
Dakos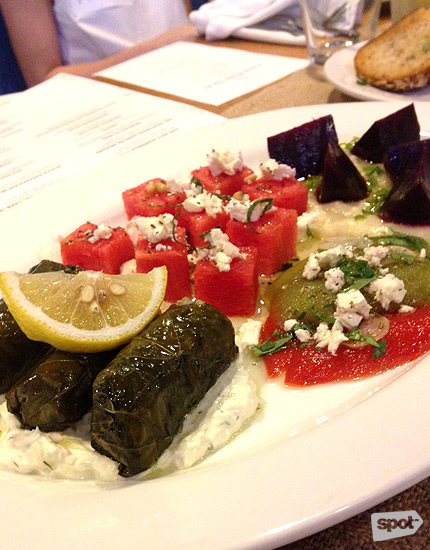 ADVERTISEMENT - CONTINUE READING BELOW
Krii Vegetarian Sampler
The Krii Vegetarian Sampler (P650) puts together olives and feta; roasted peppers; watermelon and feta; roasted beets skordalia; and dolmadakia. It is a light and healthy starter which is definitely not short on flavor. The Dakos (P120/piece), however, really sets the tone for the new dishes. It's a platter of crisp, rustic Greek bread called Cretan rusk, topped with crushed tomatoes, onions, feta, capers, olive oil, and marinated olives. Cyma is all about fresh flavors seasoned simply but generously.
The Mezedes Tis Oras (P900) reinforces this philosophy. It's another medley, this time of shrimp, octopus, scallops, baby clams, and calamari in EVOO, lemon, garlic, and oregano. The octopus stands out with its extra-tender flesh and lemony glaze. Chef Robby explains the laborious process of tenderizing octopus, then shares that the flavorful "glaze" is actually those natural juices caramelized in the fire. He makes it sound so easy, but it's not, and it will make you appreciate grilled octopus even more.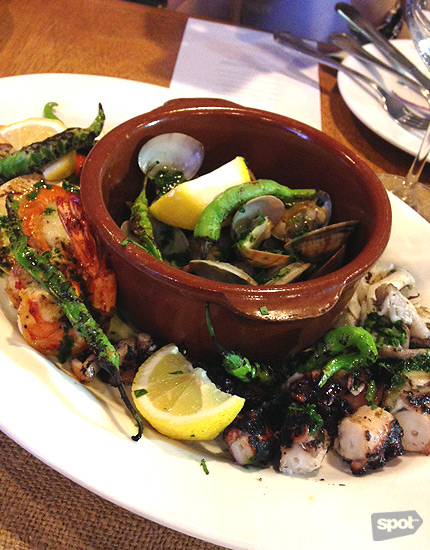 ADVERTISEMENT - CONTINUE READING BELOW
Mezedes Tis Oras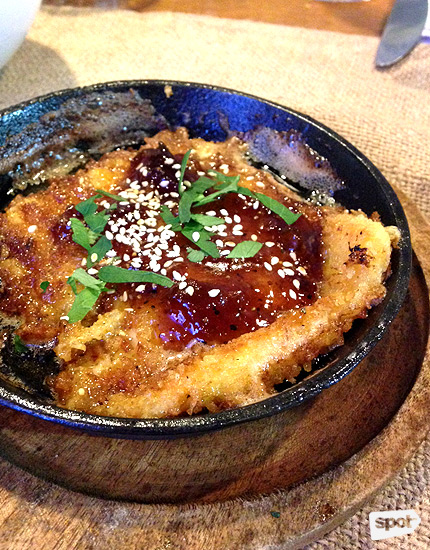 Saganaki
The Saganaki is a Cyma institution in itself and even merits a grand entrance (with the staff shouting "Opa!" as it is brought to your table), but the addition of figs (P350) makes it even more addictive than before. Sweet and salty, crispy and gooey, it's a fool-proof formula.
For the Roka Salata addicts, you might want to try the Watercress Salad (P300/solo) for a change. Sweet and salty are represented in a lighter and fresher way. The Fried Calamari and Black Rice Salad (P410/solo) is a heartier option. It's a balanced combination of tomato, cucumber, parsley, sultanas, and walnuts tossed in an onion pomegranate dressing. The textures and healthy carbs make this a great choice for those who complain that salads just don't fill them up.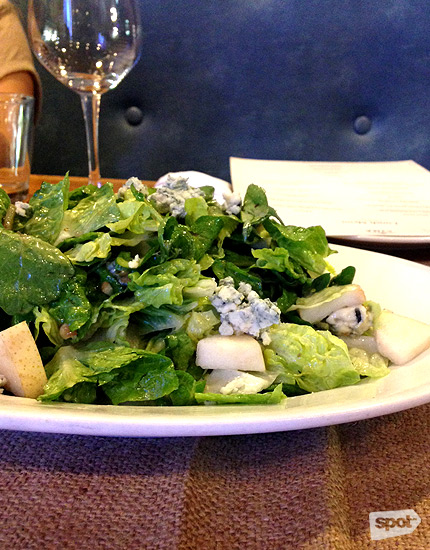 ADVERTISEMENT - CONTINUE READING BELOW
Watercress Salad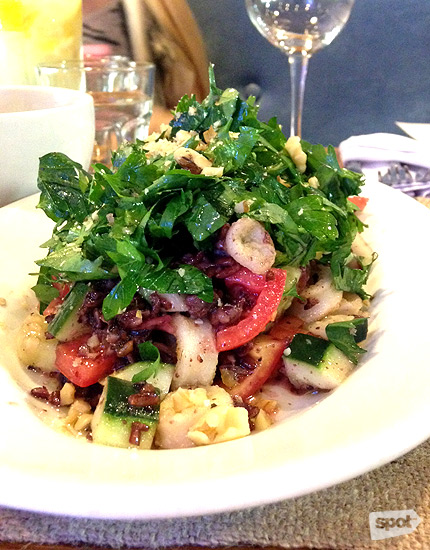 Fried Calamari and Black Rice Salad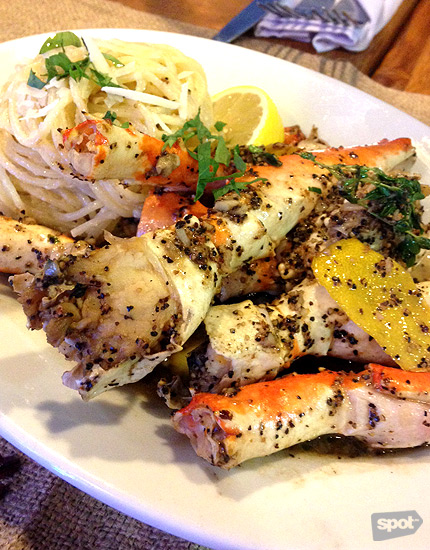 Alaskan King Crab Legs
Chef Robby found a great supplier for Alaskan King Crab Legs (P1,300/300 grams) and has made it a permanent fixture on his menu. Like the grilled Whole Saranggani Sea Bass (P700), it is flavored simply with the Greek essentials and cooked until juicy and flaky. The crabs also come with garlic pasta, similar to how they're served at Thanh Long, the chef's go-to restaurant in San Francisco.
ADVERTISEMENT - CONTINUE READING BELOW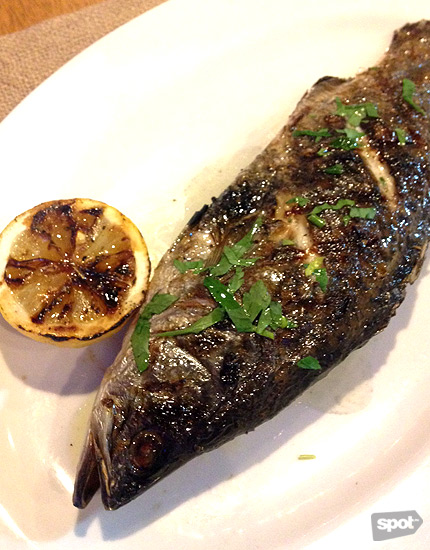 Saranggani Sea Bass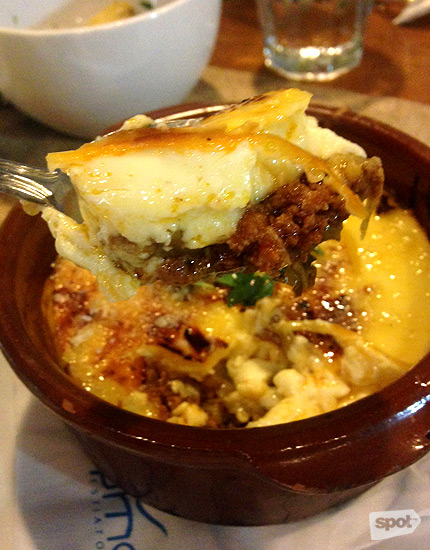 Moussaka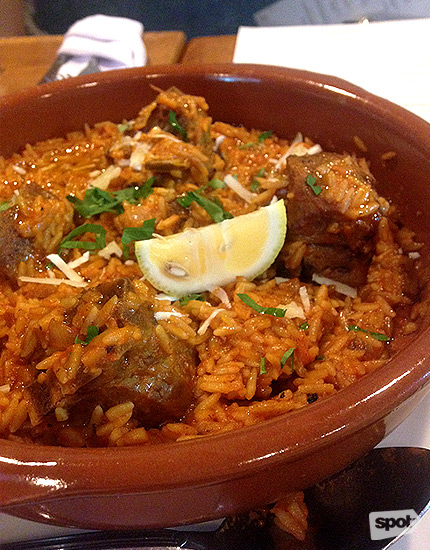 ADVERTISEMENT - CONTINUE READING BELOW
Greek Paella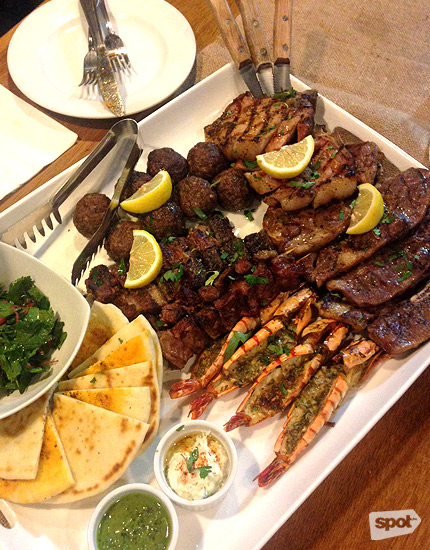 Grilled Meat Platter
But, just as the Greeks thrive on abundant seafood, they have the same appreciation for hearty meats. The Moussaka (P440) is the same Cyma favorite, but this time it is individually prepared and freshly assembled upon ordering. The Lamb Yiouvetsi (P850) is described as the Greek paella, but instead of rice it is prepared with orzo, a rice-shaped pasta. The result is a lighter mouthfeel, with the heavenly richness from the broth coming only from the lamb and complemented with a light shake of Greek cheese kefalotiri.
A gang of carnivores would love the Greek-style boodle Kreatika (P1,500/for two) a meat platter of lamb keftedes, pork chop, beef rib fingers kalamaki, lamb shoulders, and caper butter prawns (add P250/for two). The Greek chimichurri that it comes with should be bottled and sold. It works wonderfully with everything, especially the lamb shoulders. "It (lamb shoulders) was not a popular cut when we opened 10 years ago," Chef Robby reflects. "Now, people appreciate it more. I know because sometimes my supplier runs out."
ADVERTISEMENT - CONTINUE READING BELOW
If you still have room for dessert, keep it simple with Keri the Olive Oil Cake or the Ekmek. Again, just delicately flavored and laced with the Mediterranean essentials for a fragrant and citrusy finish.
The new dishes at Cyma not only reflect Chef Robby's confidence in the quality and freshness of his ingredients, but also his belief in a local market with a more global appreciation for food and a maturing, discerning palate.
Photos by Jaclyn Clemente-Koppe
Share this story with your friends!
---
Help us make Spot.ph better!
Take the short survey
Load More Stories